0 Comments:
Subscribe to Post Comments [Atom]



Sunday, August 31, 2003 Blogger is displaying weirdly on my computer - I won't say it's their fault, though it would be fun to - but it's hard to post when I can't really see what I'm typing.

Just know that LD is home on a surprise visit before moving back next week. Much furniture moving, long walks, visiting with grandparents, more walks, and boat stuff going on around here.

The rest can wait till technical problems are fixed. posted by Bess | 8:06 AM
---
0 Comments:
Subscribe to Post Comments [Atom]



Saturday, August 30, 2003 The new Knitters arrived. I wasn't sure if my subscription had run out or not, but I counted on the propensity of publishers to bombard you with renewal notices when you get really close to running out of time. My faith was not misplaced, either, for which I am glad. I really look forward to the autumnal offerings.

I'm a magazine junkie to begin with and I particularly enjoy knitting magazines. Our summers are so hot that by the time the fall comes I'm really ready for luscious thick, cable-y scrunchy knits. But deep cold weather that requires a coat won't get here till December - if then - so gorgeous sweaters can be worn for everybody to see. The fall knitting magazines are such a welcome joy and such a promise of better weather to come.

I really enjoyed the designs in this issue. The cowl necked cardigan, Construction Zone, with its offset buttons, made my mouth water. Bit of a sucker for cowl necklines anyway, and I like the red yarn. Well, dang, I like everything about it, except the flat construction - but that's just my little EZ circular quirk. The Cul-de-sac vest is elegant and just might tempt me too. Besides, I have deep admiration and respect for Elizabeth Lavold - only - I want to knit Ragnar first. 9-LaneInterchange is rather delicious looking cable knitting but I never wear boat necks. I hope someone I know knits it so I can just admire. Same with the Soft Shoulders design - another that would make my broad square shoulders look like your average linebacker for the Redskins. If I can ever get over my repugnance for the look of Noro Kureyon in it's skein form, I will buy colorway #88 - enough to make at least some sort of sweater. The colorway they used in RoundTrip is just so utterly Bess. I was intrigued by the architecture of the sweater too. Those were the highlights in this issue for me - not bad to find 3 garments I'd like to own. Not that I will own them. Not that I'd ever try to make them. But certainly, I would love someone to give them to me. Well, at least, I wish someone would give me Construction Zone. In that very red.

Truth is, I haven't made a design by someone else since 2000. I buy magazines for their inspirational potential, not for instructions. I am too slow a knitter to expect to reproduce someone else's designs very often. I am prompted, inspired, encouraged and tempted by the creativity of others. But even if I wanted to copy a pattern in Knitters, I don't think it would be possible. They have the worst layout for the instructions! I can't believe anybody, even in some psychedelic dream, would come up with such a cluttery, complicated presentation. I suffer from mild dyslexia and a page with schematics, charts, two colors of text and brand new icons, is enough to give me a headache.

Don't get me wrong - I like all that design information. I love a schematic. I prefer to read charts. I think it's nice they offer suggested yarn weights instead of specific yarns, though I think they ought to put the name and # of yards of the demo yarn in bolder print, and for all sizes given. And on the little icon that is supposed to show length, width and sleeve length, they ought not draw the circle around the garment's waist.

My complaint is that it's just too darn many gratuitous icons. And icon's that need to be explained merely heap insult upon injury. This is not a web page. I can't click on the icons and get further explanations. It is a paper format and trying to jerk my chain around mixed media in a cluttery knitting document is a stupid gimmick. Puhleeze, XRX, give my poor eyes a break.
posted by Bess | 5:23 AM
---
0 Comments:
Subscribe to Post Comments [Atom]



Friday, August 29, 2003 I will be glad when Mars is out of our hair. I have had enough high tension stress to last this Cheshire Cat a lifetime. My usual response, when things get stressful, is to go to sleep. Unfortunately this is not an option 24/7, or even 20/5 or whatever other ratio one types into the equation.

I should say here that BD, LD, and I are in good health, good spirits, and good charity with each other. All the issues are in the lives of people I love. My task is to remember a wonderful quote from my children's librarian "Each person has a suitcase full of stuff to carry around and only you can carry your suitcase. You'll never be able to lift someone else's."

On my spinning wheel right now is a drop dead gorgeous red merino/cashmere fiber Jen sent me to experiment with. When I opened the box, in the library, all the staff clustered 'round and a couple of hands reached out to touch the red at the same time, serenading each other with gasps and ooos and ahhhs. It is a vivid red. It's a Snow-White's-Lips red. It is simply, utterly, rederly red. Wednesday night I split half of it into small spinnable widths while BD read me a tale from the Arabian nights. Yesterday I sat down to the wheel and began spinning. Right away it insisted upon being spun fine. I'm somewhat in a hurry to get this stuff spun up, at least, to get enough spun to knit a swatch. I tried and tried to spin it at a worsted weight but it broke and whined and lumped up. So I went back to the fine spin and we'll see what it becomes. I hope sport weight. I suspect it wants to be knit into lace. Imagine a black wool coat with a RED lace scarf. mmmmmm.

I did get another pattern done on SGV the other morning when I was prowling around the house sans Internet access. But nothing since then. And I swatched some super bulky handpaint Jen had sent and was reminded yet again how much I hate knitting with bulky yarns. I knit it with size 11 needles and got 2 stitches to the inch. I think I'll rip out what I've done and try an experiment with those long loops that hang down like fringe.

I swear, some of the best time I've ever had with knitting is the imagining part before you ever pick up your needles.
posted by Bess | 7:33 AM
---
0 Comments:
Subscribe to Post Comments [Atom]



Thursday, August 28, 2003 How's this for a schedule

3:00 a.m. Wake up and can't get back to sleep- worried about party I'm throwing for 15 pre-teen library volunteers. These are good kids, but they aren't already friends. They're a combination of hip public school, protected private school, and even more protected home school students, who didn't even work together during the summer. Yaaaa! Is this going to work or will I have 15 pair of utterly bored eyes gazing silently at me for an hour and a half? And I am sure I need some Adult Large T-shirts for at least two of the kids.
5:00 a.m. Internet is down - kaput
8:00 a.m. Begin 45 minute drive to dentist, who really is that good
8:45 a.m. Begin 1.5 hour session with 2 pair of hands between my semi-dislocated jaw, while dentist puts in temporary crown
10:30 a.m. Begin 30 minute drive back to town, frozen from lying still in air-conditioned dentist office with jaw propped open, numb from ear to ear.
11:00 a.m. Drive into Wal-Mart parking lot (a feat unto itself)
11:10 a.m. Find frantic BD, who operates his business via the Internet, but who uses ME (!?!?!) as his technology expert, in library, insisting I "take care" of the Internet access. Explain that I will be unable to talk for at least 2 hours and out of the building another hour & a half. Convince him to "take care" of the problem.
11:12 a.m. BD hears note of panic in my voice and retracts his request.
11:10 a.m. Iron transfers on last 3 T-shirts, using workroom table as ironing board
11:30 a.m. BD can't get his car started and takes my car home (with game for party inside) I hear note of panic in BD's voice
12:00 p.m. Discover game is missing and BD is yacking on phone!!!
12:05 p.m. Frantically invent a "Library Jeopardy" game to play with kids
12:10 p.m. Get BD on phone, after 4 calls, who hears note of hysteria in my voice and promises to be there in 20 minutes with Scatergories game
12:30 p.m. BD arrives, his car starts! return her car key to my assistant, unpack her car, hop in mine and dash to pizza restaurant.
1:00 p.m. All kids are there - guess what! They love Scatergories, mix well, agree on pizzas, laugh through the whole party, simply love "Library Jeopardy" game - where some of the slower kids outplay some of the faster ones. There is a T-shirt that fits every kid (thank goodness I stopped and got those size large on the way back from the dentist). Nobody wants to go home, even though parents are here and looking at watches.
3:00 p.m. Collapse in my office, head on heap of unanswered mail and phone messages.
4:30 p.m. Realize I'm just sitting, not doing anything and go home early.

And people still say to me "I wish I could work in a library and read books all day.

posted by Bess | 7:45 AM
---
0 Comments:
Subscribe to Post Comments [Atom]



Tuesday, August 26, 2003 Hmmm. Very few blog updates today. KnitDad being an exception, most of my regular stops quiet. This, just when I am wondering whatever do I have to post about. For some reason I am not knitting on the SGV. I have only 8 patterns left to go, but I'm not going anywhere. hrm.

I have a lovely bag of 25 yard samples from Jen that I'm wanting to knit up and suddenly I realize there is a flaw in my life. My needles are in complete disarray. I can't find any of them. Now, I live in a fairly small house - 2 bedrooms, a living/dining combo, kitchen, den and some baths. I am sure I have at least one circular needle in every size but I can only find the pot of doublepoints, all size 3 and under, and the ridiculously expensive ebony circs. in size 7. I know I just dropped a bundle on an addi circ. size 11 to knit my Winter in the City hat, and I haven't a clue where it is. Yet to look at my house you would say I was at least an okay housekeeper. Not a slob. Sort of artsy cluttery.

Something must be done.

And the small appliance curse is still in effect. I have 15 T-shirts that need transfers ironed on to them and I can't get my iron to turn on. When you push the "on" button, it makes a nasty raspberry noise and then clicks off. This is not good. Another $25 right now is going to pinch hard.

Eh. But tonight is WW meeting and I always enjoy that. I'll worry about the iron later. At Tara.
posted by Bess | 7:53 AM
---
0 Comments:
Subscribe to Post Comments [Atom]



Monday, August 25, 2003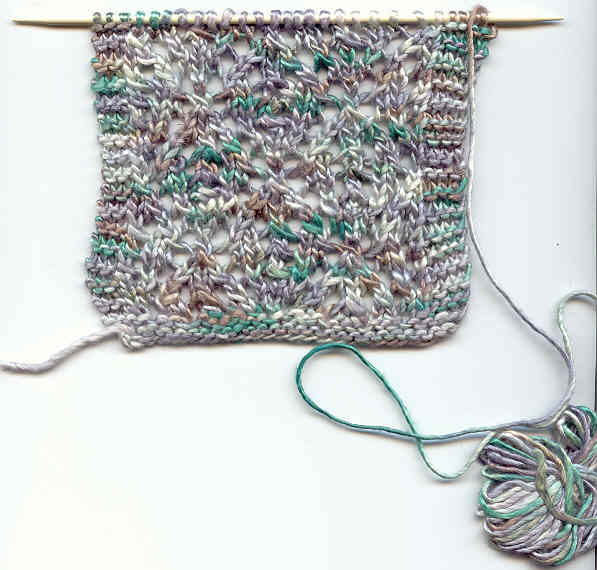 Wooee! Here's a little silk lace. Don't you need a silk lace camisole or scarf this year? Yarns and colors courtesy of Spirit Trail Fiberworks. posted by Bess | 3:14 PM
---
0 Comments:
Subscribe to Post Comments [Atom]

Yesterday was really a day worthy of my most poetic effort - only I slept so late this morning I haven't time to wax eloquent. Suffice it to say it was a glorious day. Slept late, knit a silk lace swatch out of a sample of hand dyed yarn Jen gave me, (ooo la la .. I want enough for a scarf!! soooo elegant), listened to 2 disks from the 4 disk set of Charlie Waller & the Country Gentlemen we bought at the concert, (wept through most of it because it so filled me with nostalgia - gad, I was 25 again and a young wife with baby), took a boat ride with BD (in his NewBoat) and strolled down the long mile walk on TheIsland.

Air so crisp and clear you could see blades of grass blowing a mile off. Deer so fat and plentiful both dogs could chase to their hearts content. Still fawns, half grown but spotted yet, silhouetted against the midnight green of hedges. Water reflecting the blue blue blue of a cloudless sky. Gentle talk. Utter happiness.


And I didn't do one thing of the stuff I was supposed to do. Like iron 15 transfers onto 15 T-shirts for the 15 All Star Reader Volunteers we had at the library this summer. The party is Wednesday!!! Yikes!
posted by Bess | 8:18 AM
---
0 Comments:
Subscribe to Post Comments [Atom]



Sunday, August 24, 2003 Yes! Just as I predicted (after looking at weather.com) the heat broke and yesterday was a gloriously beautiful day. And in the evening BigDarling and I went to Fredericksburg to attend the final Bluemont Concert of the season.

Well, who wouldn't, if he were a bluegrass fan. Charlie Waller and the Country Gentlemen were singing! If you know and love bluegrass music you were either there, or you are jealous right now. It was a splendid concert - and the Bluemont Concert series is a true bargain. Entry fee is $5.00 per adult! the concerts are held at the old Maury High School stadium, smack in town, an easy stroll through one of the loveliest neighborhoods you could find.

We often just drive to F'burg and walk around this pretty cluster of streets. When we wanted to build a large screened porch, we walked all over the place, looking at other folk's porches. We found a beauty of classic proportions with tasteful columns and, with the owner's permission, made sketches of the details. then BD came back and built one for us, just off the dining room, with a view North over the gardens and a glimpse of Occupacia Bay through the fringe of trees along the bank.

The Country Gentlemen play an important role in my memories of our early years here on the farm. We lived in a state so modest most people would call it poverty. (My dad referred to our cabin as "that tar-paper shack".) It was all by choice - it was our little experiment with living the LittleHouseInTheBigWoods lifestyle - part of the back-to-the-land movement left over from the hippie era. The story of our life in;

first, a rain- soaked pup tent;
second, a yurt and
only after 6 years, in a conventional house,

is something I am always promising myself I'll write down. But it's such a big task - we had so many adventures and so many misadventures! We got pregnant immediately, btw, while still living in the tent, but we brought home LittleDarling to the yurt - in a car that still had 4 weeks worth of dirty laundry in the trunk. ahh. those days. They were mighty sweet.

But woven through those earliest years are the songs we listened to on the little battery operated am/fm radio BD's mom gave us. Bluegrass had just knocked on my consciousness and I was utterly enthralled with it's sound of men's voices and plucked strings. I have always had a deep primal response to men singing. Even my dad, who never could carry a tune, could sing to me and make me feel safe, encompassed, enfolded, and loved. The CG's songs were sung by local bands at parties around here when we were young. They still are, actually, but that's how I stumbled upon them. RH told us about WAMU's afternoon bluegrass radio show and the F'burg country music station had a Tuesday night bluegrass show as well.

But it was the songs that the CG sang that I fell in love with. Two Little Boys, Bringing Mary Home, and of course Fox on the Run I can't even type the last song without hearing those harmonies in my ear. LittleDarling and I would be at home in the late afternoon, usually gathering close to the house after days of rambling in the woods and fields. Between age 2 and 4 he and I had more fun, just before starting supper, listening to those songs, trying to copy down the words so we could learn them and sing along - and even making up funny words to go along with some of the tunes. LD inherited the music-less ear of both his grandfathers, but to this day he loves bluegrass music. I think I'll ask him if he remembers trying to learn Rebel Soldier with me.

Lord - not only one fantastic concert last night, but a trip down memory lane.
posted by Bess | 9:24 AM
---
0 Comments:
Subscribe to Post Comments [Atom]



Saturday, August 23, 2003 We're expecting a break in the heat this weekend. At least, I am. Thursday I went out to the edge of the cornfield where BD was painting the bottom of the boat. It's a fairly good-sized field - maybe 70 acres - surround by forest, domed by the blue blue sky. And I heard crickets.

Crickets in my house are my most hated enemy. I would take 10 roaches for every cricket. I had not realized I was a cricket hater till the year zillions of eeensy weeensy miniature crickets hatched in the front yard and began hop-hop-hopping till they could get over the front door sill. They were all small enough to creep between door and sill and there were quite hundreds of them in the house. Cute little bugs. Jimminy Crickets. Chirpy crickets. Crickets on the hearth - and in the boots in the foyer and in my laundry baskets, eating my favorite clothes, and shrieking like banshees at 4 a.m., tearing me from precious much needed sleep - on work nights, even!

Then began the little flame of fury in my breast, now grown to a steady burn. Woe betide any cricket foolish enough to creep beneath my front door. It's a battle unto death.

Outdoors, though, is an altogether different story. That first rustling cheep along the hedgerows, the gradual crescendo into full Mormon Tabernacle Choir-type singing, fills my heart with the promise of ease. Once you hear their songs, you suddenly realize the knotweed is budding - MeadowBeauty is filling the ditches along the road - not just goldenrod, but the first of the tickseed and crownbeard are blooming. There's a golden yellow cast to the vista from all these late summer flowers.

And the scent! How the air smells like ripening. Ripening wildflowers, with their promise of mast for the birds; ripening trees, with the first fall of hickory nuts and the little green acorns filling out; ripening corn, with it's promise of a check from the granary in town. It's almost a salty smell, certainly a bread-like one. It makes me feel rich. It makes me feel snugly. It makes me feel at peace and yet full of hope. It reassures me that the cycle of life spins endlessly and I am free to enjoy its revolutions with every turn of the seasons.

Of all these seasons, though, Autumn belongs to me. I was born in September, right at the beginning of the celestial turn. My coloring is very autumnal. I blush to admit it, but I liked school - even High School, although I hated childhood and was very glad to be officially grown up. I wanted my own set of dishes and, in fact, I just wanted to be my own boss. So these days, when I hear the crickets in the hedgerows, when the sun shifts a little lower in the sky, when my nose catches that dusty yeasty smell, all the happy peace in the world seems to settle around my shoulders and arms and really - life is just so good.
posted by Bess | 5:18 AM
---
0 Comments:
Subscribe to Post Comments [Atom]



Friday, August 22, 2003 Hello folks.

I have had the sweetest encouraging letters from so many friends, so I thought I'd let everyone know what is going on. My daddy has had a serious health crisis. My folks live close enough to get to, but not close. It's a 2 hour drive unless traffic in the city is light, like on Sunday mornings. And there's no way but through the city to get to them. Fortunately there is a sister in same city who has broad shoulders and also different gifts to bring to the table. Together we can form a pretty strong familial net. There are other sisters, but they are flung far and the situation is not at the point where they must be reeled in.

And I have the greatest pillar of all right here at home, for BD holds me up 24/7.

I did get in 3 rounds on the SGV - knitting to the strains of Mozart's A-major violin concerto, played on flute. BD was reading from the sheet music I used when I performed, lo those many ages ago, as a 9 or 10 year old, back in the old RPI Hibbs building, before the school became Virginia Commonwealth University. Oh. how lowering. That was 40 years ago! What does time think it is doing?!?

The vest is growing smaller all the time, since I'm still decreasing for the v-neck. I also have done some gentle mindless knitting of swatches using Jen's yarns. It's doodling with yarn. It's utterly soothing. It's like eating candy - it doesn't have to go anywhere or become anything or do anything. It's just a swatch.

And a call from LD last night brought sweet light to my heart. He's going to be home in about 10 days. Only for a few days, of course, since he's off on an adventure, but that somehow seems different. That is a vacation. His address will be Essex Co. And that is what has me grinning at odd moments of the day. It makes up for the buckets of tears I cried on another August morning waaaay back 9 years ago.
posted by Bess | 6:50 AM
---
0 Comments:
Subscribe to Post Comments [Atom]



Thursday, August 21, 2003 Stuff is happening around me these days and I haven't either felt inclined nor really able to write much. Knitting is sort of idling as well. I did have a super lunch date on Tuesday with Jen and got lots of strokes and love and a solid kind of friendship that carried me through the rest of that day. Makes you really understand just how intertwined we are. Don't you ever doubt that just being your own sweet self isn't making a huge difference somewhere out in the world - in ways you may never even know.

I will be glad when Mars starts moving on out of the picture - hurry September. (Yes, Mom, I know, "don't wish your life away")

I'm again on the evening shift, though this should be the last week - while I help the new employee settle into the routine. That means I have some time to work on the SGV this morning. This is good, since I also have to work on Saturday, thus truncating my knitting hours even more.

Well - all things flow.
posted by Bess | 7:42 AM
---
0 Comments:
Subscribe to Post Comments [Atom]



Tuesday, August 19, 2003 A family emergency had me on the highway yesterday, so there's nothing to report on the knitting front, but since the tagboard only allows teensy replies, I thought I'd answer Marg's question here.

The Steek is 10 stitches wide. Here's how I got that number.

A normal steek has an uneven number of stitches so that you get a central stitch to sew and cut. This leaves you 2-3 stitches on each side of the cut, plus 1/2 of the central stitch which has sewing machine stitches in it. The machine stitches keep your knitting from raveling and also flatten that 1/2 stitch a bit, making it easier to turn under.

In my steek I have the following:

Center stitch
2 stitches that will be up against the back armhole
2 stitches that will be up against the front armhole
4 stitches for the WrapNTurns
1 stitch that will be between the WrapNTurn and the center stitch.

I may not have needed that last stitch but it won't actually be in the way either.

The wraps are only one stitch apart but they picked up neatly, disappearing when I finally finished the short rows and began knitting the entire circle once again.

My plan is to cut off all those extra steek stitches when I finally finish the vest body, leaving only 2 stitches up against the front and back armhole area. I may actually stitch down the third stitch from the front to prevent raveling. I don't want a bulky facing on the front of my sweater.

I put this steek over 19 underarm stitches. And I'm using the cruder sounding "armhole" because I can neither spell nor pronounce the more correct "armesche/armische" and am too lazy to look it up.

There is a steek technique I intended to try on this vest but forgot. It's called the crochet steek. And here's a bit more info from the same source. Rick Mondragon wrote it up in an issue of Knitters and Meg Swansen describes it in Sweaters from Camp. The idea is that you knit into the back of a stitch on either side of the central stitch. This twists that stitch, making it tighter. Then before you cut, you crochet a chain into each of those twisted stitches, making it even more secure so that when you cut the central stitch your knitting won't unravel. I love that idea, because I really don't enjoy sewing on hand knit fabric - it tends to move around a bit and it's hard to make the sewing nice looking. I know it doesn't matter a hoot, if the stitching looks tidy and neat. I have sewn for too many decades to be accepting of messy looking stitches. Can't be done. Period.

I intended, mind you, but I forgot. Eh. I will make another steeked sweater right away just to practice the technique - since I have never tried it.

There - a nice technical topic for a knitting blog.
posted by Bess | 7:25 AM
---
0 Comments:
Subscribe to Post Comments [Atom]



Monday, August 18, 2003 Here is a scan of the armhole steek with the WrapNTurns done within the steek. You should be able to see the extra pattern growing out of the steek.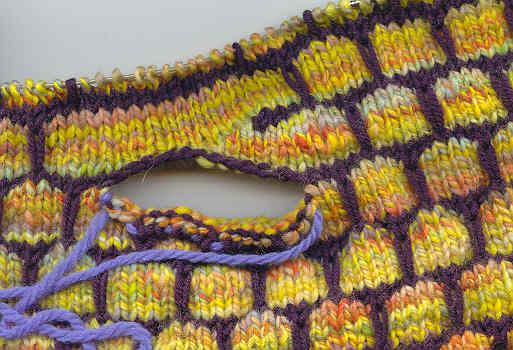 posted by Bess | 12:14 PM
---
0 Comments:
Subscribe to Post Comments [Atom]

This has been the stickiest summer I can remember in 30 years. We've had other long wet summers, but this one, I believe, is the longest. The last time I remember unending rain was in 1975, when BD and I had just moved to the country. Innocents straight out of city rental property, with starry eyes and romantic fancies, we lived for 2 months in the army buddy pup-tent my FiL had in the army-circa WWII! That summer, while I watched the rain put out the camp fire - leaving us with only a half cooked pot of navy beans for a meal, and BD built the cabin in the rain, grateful for hand tools, we frequently sat in the car with a carton of cigarettes and 2 cross-word puzzle books. Well, we were young and invincible and time has shown us some truths and given us some wisdom (we no longer smoke, at least).

It has also brought me the joys of fiber and a lovely outdoor grill. This has proved to be the perfect tool for dyeing fibers without endangering kitchen counters and steaming up the house. Yesterday my 4H girls had their fiber dyeing lessons. It's been 3 weeks since they were last here and both had been on family trips or to camp, so they had only a little yarn, all in singles. they also brought some washed locks. These went into the large pot to soak while they plied up their yarn - each ending up with about 20 yards of bulky weight yarn.

With yarn in to soak, we began mixing up the kool-aid pots - one purple (Grape), and one blue (Berry Blue). The two fleece the girls are working with are sufficiently different in structure to tell them apart fairly easily, so they each took 1/2 the pot, dividing it down an imaginary line between the handles, and placed their wool gently beneath the dye. Onto the grill these went, to simmer for 30 minutes. While the two pots cooked, we laid out newspaper on the picnic table and they mixed up one of every color of koolaid with 1/2 cup of water. Experimenting on white paper towels, they chose their colorways and then began handpainting their yarns.

The whole process took pretty near 3 hours and everyone was thrilled with the results. Parents were as excited as the children and, of course, I was beaming with pride. The girls have one more class - a knit/crochet class to show them how to make a little coin purse out of the yarn they made. They'll be done in time to enter them into the State Fair, should they wish to. This will probably be held on a weekday evening. I'm ready to have my weekends back for a while - since I hope to start up fall classes the last weekend in September.

I didn't get anything done on my SGV yesterday - I actually took a nap! And visited with LD, who's moving things out of his apartment. And tried desperately to stay on my diet. Yesterday was one of the few days I've had since I joined WW when I wanted to deliberately eat more than was allowed within the diet. I wasn't hungry - I had the munchies. Had to do lots of tricky stuff with the mind to keep out of the kitchen.

And now it is Monday yet again. What does the week hold? Sounds like something to ask the Tarot cards.
posted by Bess | 6:37 AM
---
0 Comments:
Subscribe to Post Comments [Atom]



Sunday, August 17, 2003 Knitting away on the stained glass vest, hereinafter to be referred to as SGV. I had a hard time working the decreases at the front in a symmetrical manner - undid the SSK decrease 3 times!! and still not satisfied with it. But it's okay looking and anybody that looks that closely at my front had better be a lover. Also decided that, while most of the decreases will be 3 rounds apart, if one landed on the first of the two purple rounds, I'd knit that round plain and put the decreases in the second. otherwise the SSK puts a handpainted stitch on top of the purple one and makes a glitch in the purple round.

I also spun, plied, and set the twist on some of Jen's hand dyed yarn. It's a soft warm brown with hints of peach and a hidden green cast to it that makes it pewter colored in certain lights. I'm knitting her a swatch out of the 50 yards I spun.

Stayed up way too late at friends last night and now wonder how I'll make it through the day. 4H gals show up about noon and I bet I'm taking a nap by 3:30. At least, I hope so.

One of these days I'll update the site of the week.
posted by Bess | 7:14 AM
---
0 Comments:
Subscribe to Post Comments [Atom]



Saturday, August 16, 2003 A hot but happy day was had by both, down in muggy tidewater VA. Left the car to be serviced and let S do the driving. A copy of Folk Vests was in an early morning delivery of new books for the library so I took it along. Nice patterns - inspiring enough. I tend to like Cheryl Oberle's designs and writing style. I'm not much of a vest wearer, though ... says the woman knitting a vest for herself this month. (head shaking and tsktsking)

The Trellis was nice, with fabulous bread, magnificent soup and a so-so entree. No desert for this WW gal, who had done enough water aerobics in the early morning to squeak under the point limit for the day.

LittleDarling just called and said he'd be home for dinner with boxes of stuff from his apartment. Can you see me smiling? Only we'll be out with friends for an evening of music. LD, bless his heart, inherited from his grandfather both a tin ear and zero rhythm. Pop was an extremely handsome man - a young blade in the 1920's, he rather looked like The Sheik, of movie fame. I once asked my MIL, who was extremely fond of dancing, if he was a good dancer and she laughed and said "no, he just stood there and sort of shuffled his feet. But he was so good looking it was a triumph just to stand in the middle of the dance floor in his arms." Well, dancing plays a different role in courtship these days, so I suppose poor LD has to fall back on his wit and sense of humor. He has had a powerful education in all sorts of music - who wouldn't with parents who met in music school? - but for the most part, he can take it or leave it.

So - the day dawns and it's raining once again, but cool. How much can I get done on this vest?

I'm spinning up a sample of blended finn from Spirit Trail Fiberworks. I am completely in love with this fiber. It almost spins itself as it slips between my fingers. I want more!!

I promise - scans and photos next week.
posted by Bess | 9:01 AM
---
0 Comments:
Subscribe to Post Comments [Atom]



Friday, August 15, 2003 Well, my dears, the short rows are done and I've worked three rounds, picking up the wraps and beginning the decreases for the v-neck in the first round. I've calculated that I need to decrease 19 or 20 stitches on each side of the center steek. I'll make the decreases every third row. That will be about 60 rows of knitting up an 8 (or 16) row pattern. Each 8 rows makes an inch of knitting so these decreases will take me about 7.5 inches up towards the shoulder. I'm thinking I'll need about 10 - 11 inches to go from armhole to shoulder. Probably 11, since I want to put 1 inch of either garter stitch or ribbing border around the armhole once the steek is cut and then do a three needle i-cord join along the shoulder.

I've steeked away 18 stitches which makes knitting go a good bit faster. Why so few stitches make such a difference I don't know, but the whole project feels smaller. And of course I'm also taking off 2 stitches very 3rd round - forgot about that. And I went ahead and knit only 1/2 of the 16 row pattern into the short rows so the pattern in the front will be slightly different from the one in back. It will never show because the armhole divides the rows. Because the hexagon design is completely symmetrical - [slip 1, knit 5] for 6 rows, 2 rows of purple knitting every stitch, then [knit 2, slip 1 knit 3] for 6 rows, 2 rows of purple knitting every row - the eye will never see that there are 8 more rows of design in the front than in the back.

Oh - and I found the missing stitch - I did something stupid around the steek - basically turned my 5 stitch center front steek into a 6 stitch center front steek. This too won't show in the finished project, so long as I make the decreases on both sides of the center steek the same number of stitches away from one of the purple slipped stitches. After I cut the steek, I can pick up for the button band in whatever stitches will create the perfectly balanced pattern - too many steek stitches are better than too few in a case like this.

Well - reading discussions about knitting when there are no photos or diagrams must be tedious beyond belief. I write this all out as much as a record for me about how I am designing this vest as anything else. That's why I go ahead and leave my errors in thought and design. I sort of like to see how I got somewhere.

I'm off to play today - going to Williamsburg - as in Colonial Williamsburg - my favorite Idle-the-Afternoon-Away place. S and I used to go there every other month to eat at the Trellis, but our lives have gotten a little too busy to do that lately and besides, they hired a business manager at the Trellis and it's not quite as good as it used to be. I've actually had a few "Eh, so-so" meals there. I'm glad now, that I frequented the place when it was at it's peak - when Marcel Desaulniers, himself, used to stroll through the restaurant chatting with diners - when Casey's was still open and wealthy Williamsburg ladies would don evening wear and saunter about the dining room stopping at your table to show you a lovely frock you might like to wear at some festive, holiday event. La - it was utterly fun.

Those days are gone now that some Harvard MBA manager type has taken over restaurant operations and Barnes and Noble bought the building Casey's was in, but I tell you, The Trellis still makes a soda bread you would crawl on your knees to taste.

Anyway, S and I will dine someplace delicious, preferably al fresco, and do a bit of shopping.

Gad, I love Fridays off.

posted by Bess | 6:47 AM
---
0 Comments:
Subscribe to Post Comments [Atom]



Thursday, August 14, 2003 Short rows are done. The look just fine. But now I realize I have to begin decreases for the V neckline. Hmmm. Think I'll do a little investigating - I'll bet there's some good guidelines in Meg Swansen's Sweaters from Camp and I know there's a good explanation on her Shawl Collared Vest video.

This is fun! posted by Bess | 8:46 AM
---
0 Comments:
Subscribe to Post Comments [Atom]

Okay - I began the steeks in the armholes yesterday and found I had 239 stitches in this sweater. Don't ask me how - I am too nervous about doing this technique to worry about symmetry. I've completed the two purple rounds and will knit some this a.m. on the handpaint part. The next round I knit will have the short row in it. Why am I soooo nervous? It is just knitting, after all. I wonder just how long I'll dance around this vest before I actually sit down and knit the stupid short rows.

All week I have been interviewing for a new employee at the library. I haven't done interviews in over 10 years and it's not easy when you are as inexperienced as I. We hired someone yesterday, which takes one load off my mind, but of course, adds a new one, for now we must begin training someone new. I'll be working her hours for a few weeks to make sure she's comfortable with the routine and the public - two different things, since the public is never routine. This means working late on Thursdays. This means I have more time on Th. morns to knit - or do housework so the weekend is free. At least, in theory that's what all this means. Who knows what I shall truly do - perhaps goof off or daydream.

The ceiling fan in the living room died last weekend and we're expecting 90 degree days this weekend. I believe Saturday would be a good day to go buy the new fan. More on the small appliance front - the dishwasher mysteriously began working again, much to my delight. There are chores and there are awful chores and there are hideous chores and then there is dish washing. Gad I hate that job. I've been using the machine and then running a siphon hose into a bucket to drain it after it's through its cycle. But the last two times I ran it, it drained itself. hmmm. But I'm sure the two of them, fan and dishwasher, are communicating via electricity, and have conspired to keep me limping.

Sunday my 4H students return after 3 weeks. We are to dye the yarn they've spun and some of the fiber they have left (they have plenty). This should be a fun class since dyeing is so magical. We'll do this outdoors and I must write instructions for them so they'll be able to continue at home. August 24 is the last class - where we'll begin working on the knitted or crocheted rugs/placemats/ whatever.

One of these days it will dry out around here and my house won't smell like old dogs live in it. LD comes home this weekend, bringing stuff he's moving out of his apartment. He's selling all his furniture, except the two family pieces, to the next tenant so he's only bringing home clothes, books and maps, but I suspect that will make a pretty good mountain. He finishes up his tour with the navy in early September and plans to drop resumes off around town, saying he'll be available to work in January. Then he's off on a long adventure out west, seeing the prairie at last, after longing to do so since I first read him Little House on the Prairie.

I can't describe how happy it makes me feel to know he's planning on living near by after being away for 9 years. What a glad tiding this is for this mom.
posted by Bess | 5:49 AM
---
0 Comments:
Subscribe to Post Comments [Atom]



Wednesday, August 13, 2003 Well, drat. The eye piece cushion thingey on my glasses has broken off and now there's a little metal stick poking into my nose. Since the optician is closed on Wed. I'm gonna have to use tape. Rats.

Hello, Jill! I learned this tip from my Mother in law. The first time we used it was when LittleDarling really was little. He was weeping with the pain of a really nasty splinter and horrified at the thought of me picking at it with a needle. It was late in the evening - near bedtime, and she came in with this piece of bacon fat and a band aide. She had an explanation, but the proof was when the splinter came out easily the next morning. We've used that trick ever since and each time we do, we indulge ourselves with remembering Granma and talking about her and keeping the spirit alive.

No knitting report - but maybe I will get those first two rounds of the steeks done before work today. And I go in late tomorrow so I'll put some time in on it in the a.m. A bit nervous about it but only a little bit.

Last night was WW and H and I had our consultation with the group leader about FinalGoals. The two of us had been discussing this for a while already and adding the input of the leader - who is not in love with either of us, so less likely to indulge us, was good. We're both pleased, both happy, both fitting into the world better these days, and both confident we'll get where we're going. Can't ask for much more than that. For anyone wondering, my loss was a rather substantial 2 lbs.

Ah well. These Wednesday posts are always brief. Think I'll go hunt up that tape.
posted by Bess | 6:40 AM
---
0 Comments:
Subscribe to Post Comments [Atom]



Tuesday, August 12, 2003 Okay - Monday is over with only a tad bit of it rolling over into Tuesday. I didn't do a lick on my stained glass vest except to slide 1/2 the stitches onto another circular needle and try it on. It's the right length so the next time I pick it up - probably not till tomorrow, since tonight is WW meeting - I'll begin the steek row.

I'm on a purple row, and plans are to:
· knit the 5 center steek stitches,
· knit 69 stitches,
· put the last 19 on a stitch older,
· knit 121 stitches,
· put the last 19 on another stitch holder,
· knit 50 stitches,

then

· knit 5 center steek stitches
· knit 50 stitches
· cast on - and here's the rub - do I add 4 stitches to the 5 armhole steek stitches, and make my Wrap'nTurn's only a stitch apart, or do I add 8 stitches to the 5 and put a stitch between each Wrap'nTurn. I guess it doesn't matter since I'm considering trimming away all but 2 stitches of the steek when I turn it under to make a facing. Zeeess eeees all vaiddy eentairestink. - a bunch of steek stitches
· knit 102 stitches
· cast on same number of steek stitches
· knit 50 stitches

· switch to yellow yarn and knit in pattern across to middle of steek
· begin short rows

· next Big Issue - I had intended to knit only 1/2 a 12 row pattern's worth of short rows and then return to knitting the whole thing - but if I do that, I'll have to remember to switch from the second half of the pattern when working on the front, to the first half of the pattern when working on the back!

$64,000 question? Can Bess remember to switch her patterns in the armhole steeks or will she stupidly keep knitting either the front pattern or the back and screw up the design?

I believe I'll need 5 patterns up the back from armhole to shoulder bindoff. But we'll just have to see about that when we get there, right?

You have now had a glimpse of what's really going on behind that interested looking smile and nodding head.

BTW, did you know that if you have a splinter that won't come out, and you put a tiny bit of bacon fat on it at night, and hold it in place with a Band-Aid, by morning it will slip right out?

And one other bit-o-beauty - last night BigDarling called me out onto the back porch to breathe in the scent of the garden phlox, wafting across the midnight air. A rich beauty - particularly dear because he noticed it first.


Final knitting bit: when I have done some on those steeks I'll post pictures. posted by Bess | 8:16 AM
---
0 Comments:
Subscribe to Post Comments [Atom]



Monday, August 11, 2003 I've knit my stained glass vest up to the armholes so it's time to take the plunge and do my experimental short rows in the steeks part. Since today will be a particularly stressful work day - good stress, mind you, but stressful - I don't plan to start on it till tomorrow. I want to knit it in my head before I try using yarn and needles.

I spent some time this weekend watching Knitting Glossary, Elizabeth Zimermann and Meg Swansen's video of knitting techniques. I just woke up sort of missing EZ one day last week and it was a treat to hear their voices in my house again. I also ended up giving away several small skeins of hand dyed yarns, including the wrapping paper yarn I dyed and spun last month. The wrapping paper yarn spun up quite dark blue with all those other lovely colors. I'm going to try again 2 more times with this colorway - once in just lighter shades, and once again in the darker shades, but with more light space in between. I didn't do any dyeing this weekend because A I was exhausted and needed a nap and B it was too muggy and hot and rainy looking. Also, BigDarling needed the Al Fresco Studio (a.k.a. the picnic table) to do something boatish. More alsos; LittleDarling was home and we sat long hours, listening to TalesO'theSea - the stories of a navy lieutenant's life on a U.S. Submarine.

Harumph. I just spent some time with blogger, trying yet again to republish my archives. It's a no-goer. Rats.

I've been staring hard at the calendar lately because time seems to be in it's telescoping mode - bringing what I thought were far away dates waaaay too close. September is only 3 weeks away. My birthday is in September - the 21st - which is only 3 more weeks off. Montpelier Fall Fiber Festival follows swiftly 2 weeks later and 3 weeks after that is the Knitters Review retreat! Woven among these dates are all the fall holidays - and I suddenly feel overwhelmed with time - or perhaps I should say, with the paucity of it.

Well. This is like the story of the Three Sillies - here I am seeking out anxiety. Idiot. I best quit writing and go spin some.
posted by Bess | 5:49 AM
---
0 Comments:
Subscribe to Post Comments [Atom]



Sunday, August 10, 2003 Whew. All done.

The reunion is over for another year and somehow summer feels pretty much over too, once we get to this day. Each year the reunion has it's own unique feel . This year was a good bit smaller, with perhaps just over 100 attendees. But one neat thing about it, I always meet a new and really wonderful cousin I hadn't known about. This year it was the Strong family from Connecticut. Mom, Dad and 2 teenage daughters - breezing in early with bright, loving, smiling eyes. Wow! Teens, with laughing smiles, who had never seen me before, asking what they can do to help in the kitchen. A twinkling eyed Dad with a camera who said "I'm pretty good at dish-washing". A slender mom who walked up to the clutch of young folk (that means 14-29 year olds) with a big plate of deserts to pass around. What a richness! I'd met her brother with his new blended family last year, and I've always been in love with her nephew, her sister's boy, ever since, at 6, he took over seating people outside like a professional maitre'd. There is nothing quite so much fun as cousins.

I like especially watching 7 year old girl-cousins fall in love with the 10 year old boy - running up to him and tagging him like Indian warriors counting coup. There is a particular squeal a 7 year old girl has when she's in ecstasy over a boy cousin. I loved seeing a cousin who had suffered a painful divorce some years ago show up with his new bride - and see how proud she is to be his new bride- even though I've know her for years as the mother of one of Little Darling's classmates. Well - it's a small town and I wouldn't have it any other way. And there is Joe Pollard's wife who beams happily at the crowd and suddenly you realize that it's that warm smile that makes her utterly beautiful and makes you happy you looked in her direction - and you understand what it must have ment to his three motherless children when she came to love them as their step-mother. You only ever see her once a year, but how glad you are to see that smile. And the news of the cousin who is a doctor caring for the wounded coming home from the middle east. And the sight of your B-I-L who had a heart attack last spring, looking strong and handsome and best of all - present.

It doesn't even matter that this year it rained - (it's rained all summer) and there were no way enough tables. We just sat on the floor, or in chairs or even in the church itself. There was surely enough food and surely enough room. Some folk didn't get here. We missed the B____ family, we'd have loved seeing the C____ kids, but at least some of the R____ family made it and there's a new great-niece, with her name tag on top of her little bonnet. There are all the photos of the original union that produced this group, back in 1853 - with the huge book of Letters From Midway that Cousin Elizabeth let H and me copy this winter - and there's Cousin Elizabeth beaming as she has a corsage pinned on by her son, in thanks for this gift. And all the young folk, including LittleDarling, playing slip-tag in the wet grass, with the clutch of handsome big boys chasing the younger cousins till the whole church yard is filled with their laughter.

And BigDarling took new cousins to the graveyard and pointed out where all TheSisters lie. There were 7 of them, and 4 brothers but not all of them are here. Some are in churchyards in other parts of the county and some are in family plots. TheSisters are the second generation and now the cemetery is pretty much filled with the third generation, and we are the old guys of the 4th generation. LittleDarling is the 5th generation and my beautiful god-daughters, and the new great-niece are the 6th. It is a long chain back to that marriage in August of 1853.

And this year we paid someone to set up and clean up so nobody had to be the family slave. And we still had a generous gift to give the church for letting us use their hall.

And later, H brought her family to our house for swimming and hamburgers and gentle talk and satisfied impressions.

And now it's done. And I'm glad. And I know I'll be looking forward to next year till I begin to worry about it, at which time I'll gird my loins and make my plans. It'll be one of the checkpoints in my year.
posted by Bess | 7:42 AM
---
0 Comments:
Subscribe to Post Comments [Atom]



Saturday, August 09, 2003 LittleDarling is here. House is clean. Ankle is better. Reunion starts at noon but I have to be there at 11. Four patterns finished on the vest.

Yep

That's about where I stand.

Will write a real entry tomorrow.
posted by Bess | 7:43 AM
---
0 Comments:
Subscribe to Post Comments [Atom]



Friday, August 08, 2003 There are 3 complete 12 row pattern repeats done on the vest and a few more rows of pattern repeat #4. This is good. This is very, very good. I only plan on knitting 5 repeats - with, perhaps, an additional 1/2 repeat, before I do a short row segment. In my idle daydreamy moments I've begun to imagine all the ways the Wrap&Turns will fail, but I'm determined to try them anyway. I'm out only a day's knitting if they do fail and wowie wow if they don't. I'll finally have a horizontally striped garment that looks right on me.

The pattern looks even more like stained glass now that there are so many repeats. Even BD, who's usual comment on my artistic endeavors is an "uh huh" floating up from behind a book, lifted the knitting (letting half a dozen stitches fall off the needles - it's good I'm not nervous about that sort of thing!), examined it closely and said "knitted light shining through the filigree of a cathedral window". High praise from that corner, hmm?

Something weird happened to the phones yesterday a.m. so BD drove me in to work, where I did all my important telephoning, checked out Knitting Glossary (which I'm going to go watch in a moment) and scheduled the farewell dinner for an employee who is leaving next week. BD went shopping for his mysterious boaty items and some ibuprofen for me. Rain fell like a solid thing, completely blanking out windows for moments at a time, but it was only drizzling when I headed home - to sleep the afternoon away! Nothing like sleep to cure one's ills.

When I woke, I got such a happy phone call - Sheryl will be coming Friday - TODAY - so she'll clean the house and I don't have to hobble around trying to do it. And LittleDarling comes home tonight for the weekend, Yippee! I think I'll buy a watermelon - the ones at the stand in town have been outstandingly good this summer. Melon balls can be made sitting down and, mixed with blueberries, that will be my no-cook contribution to the reunion meal. We shan't be having a crowd here afterwards, as we have in the past, only a few friends who don't mind casual and I can send BD out for ice and hot-dog rolls anytime.

But I confess - I'll be glad when the reunion weekend is over. I hope we have no overnight guests - or only the one young girl from Fredericksburg - so I can dye fibers on Sunday. And so I can really feel like the pressure is off.

Thank you for your kind words, guys, about my stupid ankle problems. They are extremely embarrassing because they are chronic - and so - seem trivial since they crop up so often. They aren't trivial to me, of course, but it doesn't seem like there is much I can do about them either. I did get a new length of shock cord to use in my exercises. I'd lost the one I'd had for years and years, and I am wondering if these repeat injuries are the result of not doing my special exercises. Seems to me, this is the worst year I've had with ankles since the Dr. taught me the workout and I haven't been doing it because I couldn't find the cord. Well, BD got shock cord yesterday too.
posted by Bess | 6:14 AM
---
0 Comments:
Subscribe to Post Comments [Atom]



Thursday, August 07, 2003 Almost another fiberless day. But for Jen's gift box of undyed roving and yarn, it would have been 100%. After a full day at work and a cocktail stopover to see L's photos from Scotland there was nothing for it but to dine on the porch to the strains of Brahams 2nd piano concerto and the Appsionata, played by Sviatoslav Richter - BigDarling's quintessential recording. And after that, while tossing watermelon rinds into the woods I slipped on some wet grass in one of the dogholes in the yard and crashed yet again onto my bad ankle. This is not good. The last time I had a spell of sprains like this was in 1985 and I really had hoped that was a once in a lifetime summer. I am seriously bummed about this.

I'm going to stay home today and send BD to the office to pick up some files so I can do some telephoning - the only timely work I need to do today. Thank goodness I got all those spine lables printed up yesterday. There should be lots and lots of new videos up on the shelves by Saturday. And I think I'll get him to check out some Elizabeth Zimmermann videos so I can sit and watch an old friend while I feel sorry for myself.
posted by Bess | 7:38 AM
---
0 Comments:
Subscribe to Post Comments [Atom]



Wednesday, August 06, 2003 A few more rows on my handpaint vest and I've 2 whole pattern repeats completed. It looks lovely too - and I've quit worrying about gauge. This slipped stitch design seems to spread wide as you are knitting it until you knit up that long slipped stitch and squeeze everything together again. I only had a half hour or so to work on it in the a.m. though because I go to the WW meeting on Tuesday nights and by the time I get home I'm too tired to knit. I nearly always make errors when I try to knit after 8 or 9 o'clock.

And I'll knit a few rounds this morning too - Hope I can get this thing done this month.

For the curious - I lost another 1.4 lbs last week and am having to reassess my obsessing. I don't mind having weird emotions - but I don't like to have wrong ones. I like my emotions to be appropriate reactions to the stimulus. Right now I'm thinking that the mind is having to make as big an adjustment to weight loss as the body is. And thank you Marg for the virtual hug - I needed that a lot yesterday.

To turn the subject here - Larry - et. al HP readers - I had the hardest time reading HPV. I read 1-4 over one long 4 day weekend 3 years ago - a marathon HP experience where I stayed in bed all day till about 5, when I'd get dressed, make BigDarling drive me to a restaurant for dinner, and then come home and read into the wee dawn hours. And I loved 'em. I was particularly interested in the complex relationship between Harry and Snape and in fact, believe that is the pivotal relationship in the book. That's the real issue that will give this series lasting value, because the good vs. evil is a given. We expect this to work out - though of course, JKR may want to leave it unanswered or dangling or she may even let evil triumph, since no human has ever seen good utterly triumph over evil in the world yet. But what we all have to deal with in this world is how do we make things work with someone who hates us. It's the pivot around which marriages spin; boss/employee situations dance; political, religious, ethnic and cultural clashes must circle. It sometimes seems to me it's our only reason to exist - to work out these monumental differences; to find that point where we can connect. Perhaps when that unity exists, the good vs. evil issue can be resolved.

So what was so tough about HPV? well, for heaven's sake, Harry became a teenager - a sullen, bratty, glum, irrational, self-defeating, naval-gazing, self-absorbed, I-am-the-only-thing-in-the-world teenager. With no faith or trust in anyone or anything, taking slight at every word or gesture and crawling into his hole so often he bored me to tears. In short - JKR gave us a lovely picture of, at least, the stereotypical teen. I suspect she's living with one right now. Or with the friends of one. The trouble with stereotypes is.... they are so stereotypical. They are difficult to care about.

And the adults were just as black and white. Dumbledore's confession in the end - it just got too .. it reminded me of the father's confession in Chaim Potok's novel The Chosen about the Hasidic father who never spoke to his teenage son - and poured out all his motives and methods to the son's best friend claiming his deep and true love for said son. Sorry - but - bull. Yech. O.K. if you have to live your life out that way, you have to - but I'm not interested. And I think it's sick and I think playing the "If you don't know I'm not going to tell you" game is a major sick-o way to live life. And I don't ever let BigDarling get away with it and by golly he never lets me. And we sure as hell didn't raise LittleDarling that way either.

I found this time around I didn't want to read the quidich parts which is too bad. I liked them a lot in the previous books. But it felt sort of "same old same old" to me this time around and since I was so bored with the whiny Harry, it was harder to stick with the details.

So, all this grousing and complaining about HPV is only to tell you how I reacted to the book as I was reading it. Because IDID read it and now that I'm finished I'm really pleased with where she's taken the story. Weird, aren't I? I think she hit lots of buttons dead on - because we are melodramatic and self-absorbed, arrogant, stupid and ineffectual; when we are green teenagers and when we are complaisant adults. Truth is - I think she's done a good job with a difficult plot line that's been sitting on the shelf so long it's gotten stale. I hear the next book is due out in spring 04 - but I can't site my source so consider that comment as gossip and rumor.

* * * * * * * *
Oh my goodness. Well. I am just halted right now with amazement. There is an uncanny way bloggers seem to get onto similar wave lengths. I have crushingly slow dial up access here at home and so I open several pages at once and while one loads I can read another. This is how I click through my list of favorite blogs in the a.m. so on Catherine's blog she referred to
Pioneer Melissa who explained exactly what I was complaining about in HPV. Instead of making love to your misery, just say what you want people to do! For god's sake, they'll nearly always comply! And if they don't, they aren't your friends anyway. Well. There. All these fine minds chugging down the track together.
posted by Bess | 8:24 AM
---
0 Comments:
Subscribe to Post Comments [Atom]



Tuesday, August 05, 2003 For Marg! Check out this site for info about the Vicar of Dibley and Dawn French. I saw the show in England last May and fell in love. When I got home, I bought the video set for our library and it's proving to be very popular - well - this is an Anglophile part of the US. As my beloved Florence King says, The #1 hobby in the south is proving you are a descendant of Bonnie Prince Charlie.

Psssst If you've never been to the south or if nothing down there makes sense, you simply must read her Southern Ladies and Gentlemen.

Knit a bit more on my vest yesterday and got to thinking about those steeks. I believe I shall have to do each Wrap'nTurn on a different stitch. There will be 8 rows altogether in these short rows, with 4 turns in each of the armhole steeks. 4 plus the center stitch for sewing, plus 2 stitches on either side of the center stitch as for a traditional steek would mean a 9 stitch steek, with the extra stitches all on the front part of it. Also, I plan to do the Wrap'nTurns between the 2 extra stitches that would be beside the center stitch, since the Wrap'nTurn creates a little hole and I don't want that right up against either the edge of the armhole or the stitch where I'll cut.

Well. If this is confusing just chalk it up to the creative process - a messy thing at best. Especially since I've never done this before nor heard of anybody else doing it. I've seen posts on lists and forums asking about short rows in garments with horizontal stripes but I've never seen a satisfactory answer. It'd be cool if this works. I don't think it would transfer over to a garment with sleeves though - unless the sleeves were not striped while the body is. I still don't know how to incorporate bust darts into, say, a fair isle striped sweater. And nothing could be uglier than upward arching horizontal stripes across one's widest part. I shudder.

While working on the vest last night, the gauge seemed to expand and instead of hunting down a ruler and checking, I just put it down and worried. Well, it was nigh on to bedtime by then anyway and I felt I needed to sleep on the possibility of ripping. I checked this morning, though and it's just fine. Still knitting up at 6 st. to the inch.

* * * * * * * *

Diet question for the day. Why is it when one achieves a goal one immediately tries to flee from success by reverting to bad habits and succumbing to inappropriate desires?

Heh! Bet you can read between those lines. No sooner did I achieve a 10% weight loss than I began to A. Lust after excess snacks, B. Find reasons to miss going to the gym, C. Drink entirely too many glasses of wine at a dinner party and D. Resent having to limit and monitor my eating. I am sure I didn't lose any weight this week and I only hope I didn't gain any. But I was fascinated by the truly immediate desire to abandon all my good, new, but not quite yet, habits.

This Weight Watchers stuff has been so easy for me. All the healthy food has tasted delicious. Cutting way back on sugar, fat, and soda has left me with tons of energy. I've never been hungry and always been able to participate in the Treat&Party fare I've been around. Absolutely, it's been fun to be able to wear favorite smaller clothes, to feel chic and svelte and great. I even had someone, whom I had not seen since May, tell me yesterday that I must be having a great summer. I look so refreshed and rested.

So what is going on? Why am I suddenly not in the mood, not enjoying healthy stuff, and resentful about having to pay attention and write it down? What is the appeal of Lots of junk food or snacks or whatever? It's that combination of drooling over junk food and resentment about having to set limits that hit me so hard this week and which came as such a surprise.

Of course, the good part is that I am aware of what is going on - of how I'm feeling - and am able to at least see what is happening. In the past, the binge would overtake me and I'd go into an unconscious state of denial, only to wake up like some poor drunk, dazed, no idea where I was, with the empty bag of M&M's clutched in my hand and a ring of chocolate around my mouth. Actually - I'm only partly joking about this. I really have blanked out the handfuls of trash I've put in my mouth in the past. A frenzy of eating it would be. Hmmm. well.

Well, anyway, this is the first time I've not looked forward to a WW meeting but probably this is the one most necessary for me to attend. And I'd go anyway - I'm hoping to encourage a friend and it will probably be just as good for her to see my setbacks as it is to see my forward strides. Besides, I don't feel like I'm a failure - just surprised to see such an abrupt turnabout in my emotional state.

La de da - who cares about this stuff anyway?
posted by Bess | 6:34 AM
---
0 Comments:
Subscribe to Post Comments [Atom]



Monday, August 04, 2003 A lazy day. What could offer more bliss. A do-nothing day. A napping day. A desultory reading day. A lie-beneath the fan and daydream day.

And yet, how much you can do on a day like that. You can lug the winter clothes up to the attic at last. You can pack up all the stuff you're going to give to the Goodwill on Monday. You can fold the laundry and put it in the drawer. You can watch the last episode of The Vicar of Dibley and laugh till your dog lifts it's head and stares at you. You can knit a few inches on your handpaint/Aurora8 vest that is looking like stained glass windows in it's hexagon slipstitched pattern. You can dream up fall classes that you might teach once it grows cool and people begin wanting to nest and snuggle and maybe learn to knit.

I guess it must be August.

A bit more about the vest. The pattern is 16 rows which knit up to about 2 inches. Since I've decided to knit 10.5 inches from ribbing to armhole I'll knit 5.5 patterns and then steek. And I'm going to give the short row Wrap-n-Turn in the steeks technique a try. I'll add 1/2 a pattern in the front. I believe even that much extra length in front will help the wasitband stay level. If it doesn't work, I'll only have to rip back an inch.

Of course, in order to do wrap-n-turns in the steeks, I'll probably need some extra stitches. an ordinary steek in this weight wool would have 5 stitches. If I wrap and turn the same stitch each time I would only need 2 more stitches in the steek. It won't matter if there are holes in the steek where the wrap-n-turns are, since it's never going to show up in the sweater. As long as I have a stitch to sew in, and 2 stitches to fold under as facings, it shouldn't matter if there is a sort of eyelet bit on the front facings. Might even make it easier to tack the facings down. Well - it will be an interesting bit of knitting math.

I think I'll do a garter stitch arm and neck band treatment and do it after I cut the steeks but before I join the shoulders via 3-needle bindoff; the way Meg Swansen did her vest in the Shawl Collared Vest.

And that's that. Off to knit a few more rounds.
posted by Bess | 6:46 AM
---
0 Comments:
Subscribe to Post Comments [Atom]



Sunday, August 03, 2003 I make no claims as a housekeeper. I'm not a slob but I would never reach hotel standards. Usually I pay someone else to clean up around here but I she's off for a month. Yesterday, by the time I'd done it all, including windowsills, 'cause I live in the country in a house sans a/c, I was beat. I needed a nap, not needles. We spent a musical evening with friends, and I took my knitting, but the flowing wine and rich conversation did not create ideal conditions for increasing from the ribbing, done at 5 st. to the inch, to the body, which my swatch says will knit up at 6. Not just a 10% thing here, I have to go up 53 stitches over 182. Got half way 'round and decided to just enjoy the flute duets. Besides, they needed a page turner.

But today is mine all mine. No students, no housework, no dooty stuff - I'm completely free to knit and spin and dye and enjoy. A gift day straight out of heaven.
posted by Bess | 6:57 AM
---
0 Comments:
Subscribe to Post Comments [Atom]



Saturday, August 02, 2003 I am so glad it's August. We finished up the kiddy program yesterday and though overall participation was down a bit over last year, we had a huge crowd at this final program. It was still a hectic time at the library. And the gal from the Wildlife Center of Virginia was a fabulous presenter - a real ham, with 3 animals from the center who couldn't take care of themselves in the wild and had to earn their keep by going on these shows. We invited the nursing homes to bring their ambulatory residents and the place was packed.

The rest of the afternoon we sort of mooched about, spent and dopey and glad we don't have to do this again till next year. We always schedule the grand finale for a Friday.

So - what does August hold for me? With Jupiter heading into Virgo I am supposed to spend the month contemplating and shouldering the burden in partnerships. Hmmm. that doesn't sound too fun to me. Scratch the horoscope.

We have the FamilyReunion on the 9th. But that's pretty standard, with only the welcome addition of hiring someone outside the family to set up and take down the tables - my innovation, thank you very much, developed last year when I realized I was still cleaning up the church kitchen at 3:30 while I had a house full of guests at my house with no hostess. Not this year, by gum.

Two more fleece spinning classes for my 4H gals. One on dyeing and one on knitting. Not onerous at all there.

Okay, that about sums it up. Really nothing to keep me from concentrating on fiber. I put in 2 more rounds on my vest ribbing - not sure how deep I want it but I'm thinking 3 inches. Ribbing is so tedious. My purl stitches are so much looser than my knit that I have to go way down in needle size to get nice looking ribbing. I'm really thinking of learning Annie Modesitt's combination knitting. It might even up the tension between my knit stitches and my purls. I'd like to be a tad bit faster too. I still prefer circular knitting with mostly knit stitches but that's as much because I like working on the outside of a project as it is that I don't like purling back.

I'll have to calculate some more on the increases for the vest body since I'll begin on that this weekend. I'm switching gauges once I move into the body part. I'm also contemplating what I will do about fit over the bust as I get close to the armholes. I'll steek them the same way I'll steek the v-neck but what will I do about my usual short rows. The pattern is basically horizontal stripes, though it's built out of slip stitch hexagons I found in BW's 1st Treasury of stitches book. I can, of course, forgo shortrows. But will the vest ride up in front? It's going to be fairly short anyway - with the patternwork stopping just below my waist (which ain't too far, baby, 'cause I'm short-waisted as heck)

Could I add extra length by making the front shoulder sections longer?

Would I do this after the armhole steeks are cut?

Can I put in short rows and do all the Wrap'nTurns within the armhole steeks?

Can I make the whole vest longer and just let it bunch up in back? (ICK But that's what it would look like if it were store bought ready made.)

What if I make it wider in the front, set the armhole steeks off center? Would extra width in front provide enough fabric to keep the waistband from riding up?

Well, the answer to these questions is 10 inches away so best get knitting.

The more I think about it, though, the more I like the idea of doing short rows within the steeks. Innovative at least. And yeah yeah, yeah, I know. If I were just making this in flat pieces I could easily make the front longer but I just don't want to purl half this thing.

One day I am going to take a class called Knitting Geometry. And If I can't find a class, by golly I'll teach one.

posted by Bess | 7:41 AM
---
0 Comments:
Subscribe to Post Comments [Atom]



Friday, August 01, 2003
WHY DO I BLOG
OR
WHAT THE HECK AM I DOING HERE?


Baaaaa Baaaaaa
Like the little lamb I am, I follow the pack on this topic and offer up my thoughts.

The reason I began blogging was to make public the progress I was intending to make on a diet so that I would be too ashamed to admit failure and thus, at last, drop the ____ty pounds I've been carrying around since LittleDarling went to college - YIKES! 9 years ago.

Translate that into elegant disclaimer and I would have said:

"I began blogging to erect an external structure within which I could more easily achieve certain personal goals."

Yes - that sounds good.

Only, of course, I was too vain and embarrassed to admit that I wanted to have an audience while I did extremely personal things in my kitchen, so I thought I'd sort of test the waters with a Knitting blog where my ego is not involved. After all, I am the woman with 25 journals of the Januarys of my life but not a word about the spring, summer or fall. I knew that just the act of journaling was going to require external discipline - forget about knitting frequently or, (wince), dieting.

Then, there is that even greater example of vanity; the diary as literature. Yes yes. I am aware that I (do you?) have little aggrandizement day dreams about being a STAR. Who doesn't? Isn't that what a music video is? Didn't you ever imagine you were the girl with the hair and floaty dress in some new car/perfume/halmarkcard commercial?

Once begun, though, I became ever so slightly intrigued with coding. Not intrigued enough to really do it up right, mind you, but curious at least. I fiddled a good bit with the format, till I screwed it up so badly I had to ask TheWiseOneInPortland, (who doesn't even read this thing!!), to fix it. And I did give some consideration to the importance of a little pictorial content, for visual interest, which forced me to learn how to use the scanner. Like Catherine, though, I have only linked to blogs I like when I'm in the mood to fiddle with coding programs. Even Blogrolling means I have to click and click and click again and then type and click and check to see I did it right and click more and oh brother, I'll just save this blog in my "favorites" list.

And then, I also enjoy putting my ideas down on virtual paper. I really do get a lot out of re-reading what I've written to see if it is what I really meant, or really feel or even, really believe (and to see if I've got really glaring spelling or grammar errors). Sometimes stuff is buried in the subconscious, just out of reach, and writing it down exposes it to a sort of truth bath. Not everything I write, certainly not everything I think, gets put into the blog.

Another thing I like about blogging has to do with a secret fondness I have for Christmas letters. I admit it. I love getting a catch-up letter from someone telling me all the important events in all the family's life over the past year. I'm not at all offended if they only tell good news. I wouldn't mind if they told me only gloomy news. If I know the person at all I'm interested in his life and if it is a stranger who accidentally got his business database mixed up with his personal one - well - there - how about a window into averageman's life? A true piece of personal literature. Nobody forces me to read the thing.

I do feel, when I'm writing these posts, that I'm writing a letter to friends. I even tell friends that if they're wondering how we are, they can catch up by reading my blog. If it's important, it's likely to be written about here. My mom even commented on how personal I get on these pages. Eh. probably so. Like I said, nobody is forced to read this. But I do enjoy it when folk comment and take an idea a step further or share a similar experience.

Finally, when I have a fiber breakthrough or fiber triumph or just a new fiber experience about which I am excited, I like having a place to share it and a way to share it that I can return to, myself, and relive it's advent.

Actually, the real question is not "why am I here?" but "why are you?". I hope it is because you want to be.

On a fiberly note - I've knit 12 rounds of ribbing on my vest - Aurora8 ribbing - the largest piece of knitting I've ever done in this yarn. I've had some in the house for 2 years now, and never knit it - well, there - I am an idiot - but I haven't had a project for it yet. No regrets, but by gosh, I'm sure glad I'm working with it at last. It feels like I am holding knitted butter in my hands - well, no. It's not greasy. But it's what knitted butter ought to feel like: soft, cushy, with a sleekness to each pillowy stitch. This is one incredible yarn. And yes, I know, it's not a Christmas present. Baaaaad Bess. If I am ever disciplined enough to do what I said I would do I'll be sure to let you know.
posted by Bess | 7:02 AM
---