0 Comments:
Subscribe to Post Comments [Atom]



Monday, June 30, 2003 Those blankety-blank missing archives. The worst of it is - well, the worst of it is they are missing. The second worst is that it's so arbitrary - why are some missing and others not! And the third worst is that nobody answers my query. And the fourth worst of it is that all the triumph of my short row shoulders in a circular sweater with set in sleeves is unavailable. I am really irritated.

And now that I've gotten out of my snit, I will say that yesterday's spinning day was wonderful. Lissa arrived about 10 and we played show and tell with our stashes till noon and had a little lunch and spun all afternoon, between hot political discussions between BigDarling, who loves the mental stretch of a good argument, but is married to the QueenOfPeace, (who will just go to sleep when conversation grows heated), and LissaOfTheStrongBeliefs. Everyone was respectful, though, and there was always swimming in the river for cooling off folllowed by grilled cheese - nature's comfort food.

And how we did play with our fibers! Lissa had Finn to share and I had silk, she had glorious purple handpaint, I had gold/red/and orange. She worked on spinning thick singles, I worked on my mohair boucle, adding shinny. Here's a sample of that, knit up.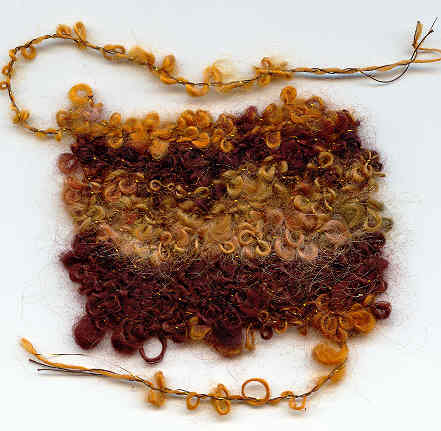 I can't wait to do it again.
posted by Bess | 6:16 AM
---
0 Comments:
Subscribe to Post Comments [Atom]



Sunday, June 29, 2003 So about that boucle.

It all began with the book Handpaint Country - put out by XRX - and the chapter on Rosalie Truong and her Exquisitely Angora yarns. And that jacket. I have lusted for that thing since the book came out. Since before I knew how to spin. Nearly simultaneously with the savings account I knew I'd have to start in order to afford that much hand spun hand dyed mohair boucle. I think I have seen kits for it for under $400. That's about all I can say and for such a beautiful thing it is worth it. Only not in my lifetime will I ever own a piece of clothing that costs $400. I am not even sure I would want an article of clothing that costs $400. I would probably spill India ink on it, or rip it on a counter corner or something. This is the girl who can only ever wear a dry cleaned garment once before it needs to be returned to the chemical people.

But when I learned how to make my own boucle yarn last summer things changed. Then I realized what those baskets full of dyed mohair locks I saw at Md. Sheep & Wool could be used for! oh be still my heart. Of course, crashing through the fiber jungle unguided, as I often do, my first mistake was to purchase mohair locks that were "dyed in the grease" and also in the chaff, seeds, twigs and leaves. As I've said here before - Do not purchase trash filled fiber - EVER! But I have some clean dyed locks now - one hopes, enough - though some is kid mohair and some is older goat - but the colors are pretty much the same.

Friday night I began working with the locks. They are very curly, a little matted, but not difficult to tease apart. I had planned to comb them open with the dog comb (for my birthday this year I want real combs!!) And I realized I was in trouble. The locks didn't want to open for me. It was tedious beyond belief using that little comb. 30 minutes and I'd combed and spun only 2 locks!! (5 yards? 10?) But I am now locked onto the track of boucle! What to do!?!

So out came the space dyed Wensleydale I bought off e-bay last winter. It's a similar fiber, long, no crimp, resistance to bends so it makes pretty loops - but it's not the color I really wanted. It's a wonderful rich rusty brown and a warm gold, but the 3rd color is navy blue - it's a good combination but not quite right for me. It works beautifully, though, because the fibers are soooo long and straight. Spun a little of the Wensleydale, maybe 30 yards and
made a sample yarn. It's pretty but ... that blue is so powerful. If the spaces of blue were tiny it would suit me okay, but it's so strong it makes the yarn a blue yarn with rust and gold accents.

Woke up Saturday morning with a dream about spinning the mohair and suddenly I thought I might try carding the locks open but not rolling them into a rolag - just opening everything up nice and loose. I enjoy carding anyway. I'd made a core spun boucle with carded mohair last fall. So. Down I went to card up some locks. They opened quickly, beautifully, dropping the few bits of trash easily, and I spun up a sample length of boucle yarn on a base of chocolate colored quilting thread. As I wound it off the bobbin I decided to knit up the sample to see if I liked thin or thick singles puffed around the thread. Using the largest needles I own. (yikes! #10 us . I really must buy some 11's and knit that hat)

On size 10 needles in garter stitch it looks like I'll get pretty much 3 st. to the inch. Maybe over a larger swatch I'd get 2.5 but I'll spin as if I were going to knit at 3 st. to the inch. And the swatch is lovely. It's loopy and puffy and soft and snuggly. It doesn't look like exactly the loopy mohair that EA sells, but it is close enough to create the fabric I want for a short jacket - a sort of Chanel style thing - to wear with my wool trousers and skirts next winter. Or maybe something a little looser with deep cuffs. Depends on how much I end up spinning.

The jacket in Handpaint Country is a swing style with a snuggly shawl collar . It is knit with one strand of loopy mohair and one strand of sport weight wool in a matching color on size 13 and 15 needles at a gauge of 14 stitches to 13 inches!! Fast knitting indeed. Well. I'm still in the designing stage. I've only just got that little sample to go by right now. I'll have a bobbin full by the end of today and can knit up a 2 yarn sample that's a little larger and then decide.

So happy happy me. And today, L comes to spend the day spinning. Who knows what will cover the dining room table (what LittleDarling calls the textile mill) by tonight. But whatever we create, I'll scan my samples tomorrow and post them.
posted by Bess | 7:42 AM
---
0 Comments:
Subscribe to Post Comments [Atom]



Saturday, June 28, 2003 What is sweet?

When something you've been envisioning turns out to be just what you'd hoped for. I'm working on the mohair boucle in autumn colors. I spun a little sample and knit it up. It's drop dead gorgeous perfectly heavenly what I want. It's the knitting up of the swatch that sent me into such ecstasies. I'll scan the swatch on Monday. And write more about it tomorrow.

In the mean time - if you ever offer up prayers for strangers or friends of friends, please say a little one for my friend Catherine who's bidding her terminally ill husband farewell at an agonizingly slow pace. She's one of the great women I know and I'd appreciate your help. Especially today - which is her birthday.
posted by Bess | 12:31 PM
---
0 Comments:
Subscribe to Post Comments [Atom]

Now that summer is in full swing - even we have had 4 days in the 90's - I just haven't felt like knitting much. I keep thinking I should do something about Sigvaldi. I keep thinking I ought to start on that special hat I wanted to make - those 2 special hats rather. I keep thinking I ought to do something besides daydream. But nothing is motivating me. Of course, it's understandable that someone would not want a lap full of heavy wool in an un-air-conditioned house. So, it's okay about Sigvaldi - but neither hat would fill a lap. Or I could work on Ben's socks. BTW, I finally just took one of the darned things off the needles so I am no longer knitting 2socks on 2circulars. I will not trick myself into doing that again.

The plan (last winter when I was full of NewYearsResolutions) was to knit Christmas gifts in July. If I am energized, I can get a pair of socks done in a week. Since my guys are all now complete hand-knit-sock-addicts, I have several pair to make. LittleDarling actually told me the only thing he wants for Christmas is wool socks. And there is a box of sock yarn by my bed. And every day I read about KnitDad's steady production and am filled with either awe or envy. His socks are so beautiful. Let us hope I can take inspiration from him.

I notice a lot of blogs are sort of on vacation too. Jahara? What are you up to? Have you started your vacation yet? Blitzkrieging the house? Being pampered by handsome guys who bring you tropical drinks on trays? On a secret mission?

And what the heck? my comments are down. I can't get my archives to post and would you believe it - this has been an issue I've been trying to get resolved since March and when I checked with blogger those guys had marked it "RESOLVED" !!! What is their idea of resolution - to tell me to lump it? I guess I'll have to tap my computer wizard and beg for help.

My best friend/cousin has been away on vacation and I am really missing her. She is the one woman I can confide the most awful truths and fears to and know she will never be shocked or repulsed or disgusted. Usualy, in fact, she laughs and tells me she feels the same way, fears the same issues, believes the same truths. We have a saying "She's one of us" when we meet someone we really like. She and I have been friends for 30 years and we've never quarreled, which only goes to show everybody else must be wrong. We have quite different strenghts, but they are complimentary. And she'll be home this week and I will be so glad.

(And the InnerBess comments "Touchy, this morning, aren't we?", pointing out the folly of taking things too seriously and reminding me that all things flow.)

So, as the sweet voice of temperance soothes my ruffled feathers, I will remember how pretty the tree looked yesterday when I came home to find all my skeins of yellow handpainted yarn fluttering among the branches - where they had been hung to dry. And I'll get out the cards and flick open those colored mohair locks. Somebody else cleaned the house on Thursday so I have the weekend to play. posted by Bess | 6:29 AM
---
0 Comments:
Subscribe to Post Comments [Atom]



Friday, June 27, 2003 650 yards more or less. That's what I got out of the 8 oz pour dyed roving I made at Stony Mt. Fibers last May. Nice. And a good bit more than I had thought I'd get when I first began spinning. It's such a bright yellow - not surprising, since I dyed it in the springtime. It just cries out to be knit with a solid color - to help contain the brightness. I'm thinking a medium, bright, warm green. I will swatch a little with a commercial yarn in the hopes that I can buy a yarn that works nicely with the handspun. If not, I'll have to dye and spin something. I think this yarn will knit beautifully in one of those checked slipstitch or mosaic patterns in Barbara Walker's stitch books or Jean Frost's jacket book. Somehow, this yarn has been whispering "vessssst vesssst" to me. I don't wear vests much - but I believe I could - and this might be very lovely. And it's nice to have the wheel empty in time for the weekend. I'm going to begin working on the autumn colored mohair boucle. I've a pound of the stuff - no it's not boucle yet - but a pound of locks. I am hoping it'll be enough to make an interesting jacket.

Color is just so much fun! I've always had a lot of confidence in my ability to use color - although, when I look at old photographs I sometimes wonder "What was I thinking?". In fact, perhaps it only seems like confidence to me when the truth is, I am just drawn to bold and vivid color with distinct contrast - confident colors. The light in a particular season will also incline me towards certain colors. That roving's bright yellow is probably a color I'd never have chosen had I been dying it in October - And there are blues and plums that I will only use between Christmas and March, but in March I'll be at the makeup counter hunting out some soft new lipstick.

There's a winter color combination I used to see when I would go get the newspaper just before the sun came up. The sky would be a pale blue so muted it was almost gray - and along the horizon, like a shawl about the earth's shoulders, would be the most gentle hazy pink glow. It's something you would never see in April - much less in July or September. So soft, so clear, so thin a color - actual sunrise would dispel it, often with a vividness that would make the river glow pink.

I thoroughly enjoyed the Color Me Beautiful phase - and still find myself guided by it when it comes to color selections for my clothing, but I break out of the mold often enough. No one should have to do without a color. Of course, when I wear blue, mostly what you see is a blue dress walking down the street, with some sort of grayish beigey looking humanoid held prisoner in it. This is sad, since blue is not only omnipresent but also the #1 choice of color among all men in general and MyMan in particular as well just plain beautiful.

But give me a Hershey's chocolate brown - yum! This color has been particularly popular in 2002-3 - supposedly because browns are supposed to make you feel comfortable and snugly and like staying at home. That's as may be, but brown makes me look awake and young and happy and probably even slim - everything blue takes away from me. Besides, I like to pair brown with Orange so I'm not sure how comfortable that would make some people feel. Actually I like to pair a lot of things with orange. I was once in the city and a voice behind me said "That must be Bess - look at all that orange". It was a friend from the country, shopping in the same store. (Are we creatures of habit or what?) And now that I thin of it - she's a blue girl, china blue eyes, beautiful white hair, and that clear skin that turns to mud in the deep sunshine colors. It probably hurts her eyes to look at my clothes!

I am musing about all this color stuff because a dear friend confided to me that she is starting a hand dyed fiber business. I am so envious - though in the nicest way - because I've done a little bit of dyeing and it is absolutely magically fun and I want to do more. Imagining having unlimited opportunity to play with colors and fibers is a bit like peeking through a window on heaven. She hasn't got her shingle out yet - still doing the start up activities as well as a good bit of marketing research - but when she's ready to advertise I'll put up a link.

As for me - even when I lust after the idea of making mountains of colorful fiber - I also know that I don't care for production work. I resist having to do the same thing again and again - the thought of having to have XXX hundred pounds of anything done in time for Maryland Sheep and Wool crushes me. I know this about myself. I like to make one, maybe two - but would feel imprisoned by having to produce fortylevendyhundred. I used to make pottery for a shop in Old Town Alexandria - a very trendy shopping area, and it was gratifying to know people wanted to buy my creations, but it was horrible to have to make another one of those (blanketyblank) pitchers with the leaves and flowers all over it. I got so I began to hate them.

My answer to this dilemma is to teach. Then, I can do a prototype, maybe a second new-and-improved edition and then teach others how to do it, sending them out into the world to do the production stuff. The feedback from their enthusiastic discoveries is balm to my soul. Their curiosity, questions and trust challenges me to learn more myself. Their triumphs and success are the golden sun rays that warm the garden of my own creativity. Understanding this aspect of my personality has gone a long way towards helping me resist urges that would lead me into dead ends of artistic misery.

And that's the point, isn't it? - this journey of self-discovery - the only reason I can see for even being born - to understand what it is we are supposed to be doing here - On the quest.
posted by Bess | 6:31 AM
---
0 Comments:
Subscribe to Post Comments [Atom]



Thursday, June 26, 2003 Real summer weather as come at last. Mind, now, I've never been a particular fan of summertime. It is okay. It's nice. The idea of summer is fantastic, but it was never a reality for me. Even as an adult, when I get the chance to just play all day long, I feel a little uncomfortable - a little guilty - and I still worry about what's going to happen when the grownups find out I've goofed off all day. I even sometimes get to thinking BigDarling is the grownup who will complain, which is ridiculous. He's the one who had the Huckleberry Finn childhood. He's the one who left the house in the morning and came back after dark, where his aunt's cook had something in the kitchen for him, only he had to eat it outside on the back porch. (Well, you do get this sort of treatment in the south, when you are Little Mr. Wright, the darling of all the childless old ladies in the family. I would probably have indulged him too.) He's the one whose mom put him and his buddy out in Fredericksburg with a canoe and let him paddle till he got home. 50 miles! Before he'd even started high school! In fact, it was hearing about his long open free summer days that made me decide that it didn't matter what we did there, we were going to move to Essex and raise a family. So, in 1975, two musicians from the symphony packed up bag and baggage, and Pop's old WWII army buddy tent, and hightailed it down the highway. What a summer! It rained 40 days and 39 nights. Well - I do know it rained 17 days and nights in a row. I lost 30 lbs. We were doing all the cooking ... ahem ... I was doing all the cooking over a campfire and since every day the rain would come and put out the fire, sometimes we didn't eat at all! We'd sit in the car with a carton of cigarettes and 2 crossword puzzle books, while the road washed out in front of us and the road washed out behind us. About mid-July, not long after the dog got into the car one rainy day when we were visiting cousin John, and tore open the bag of flour with his wet paws - think kindergarten paste all over the interior - BD said "Hon, I have to get building that cabin or we won't have any place to live this winter" so he just went out into the rain with saw and hammer and drill and started building.

Long about early August it did stop raining and by the 12th we had a roof and floor and wall frames and could put the wood cookstove inside, along with the old metal kitchen table, 2 chairs and a bed! There is no technological step so vast as the one that allowed women to cook standing up. By golly that was modernity. And none too soon, either, since, unbeknownst to us, LittleDarling was already on the way. Ain't that life?

That summer I also got to go to my first Hoskins Reunion. This is an ancient family tradition in BD's family and I was so excited to go. You were supposed to bring something, but I am sure we didn't have much to offer. What I remember is that we arrived after most folk had finished eating. And oh lord I was so hungry. There, stretching on into eternity, were trestle tables piled with crab casseroles, fried chicken, ham biscuits, everything chocolate in the world, peaches from Hillsborough, watermelon pickles from Retreat, Sally Lunns, and bundt cakes, which were still fairly new back then, made from a mix that gave you a sort of pudding filling. Oh how we did eat. In fact, we just ate down those tables till we got to the end. And then we discovered that - like divers unused to the change in pressure - our starved stomachs and circulatory systems couldn't handle the gorge. There came a time when the pain grew too great and we crawled beneath an ancient hydrangea bush in the yard at Midway and hid out, groaning softly, till everyone left.

Well - you can do that sort of thing when you are 23. And who'da thought I'd be one of the ladies (I can't quite say matrons, but I wonder what word all the new young brides would use.) organizing the reunion some day?

So what brought all this nostalgia out? Well, this is the first summer since then that we have had so much rain - and yesterday BigDarling was chopping up firewood when I got home from work - just across the little stream from where we camped that summer. I sat there by the stream, remembering, in all the soft warmth of a summer afternoon, while he finished up, so I could give him a lift back to the house. The air was so clear. Beautiful colors danced upon my eyes. The sound of the stream as it gushed through the culvert under the road and tumbled into the little pool where the dogs like to bathe, was like some tender melody from my youth. 6 o'clock sun threaded through the trees and kissed my bare arms.

There was a peace that seemed almost tactile and I wondered if it would even be possible to capture it in words. Perhaps it is a futile effort to even try. Perhaps these perfect moments of grace and beauty and charm and ease are ment only to be felt; to be tasted on the tongue and lifted up in stretched out hands even as they vanish. They are the food for our soul, keeping us nourished till BigDarling comes up and says "Let's go swimming".

posted by Bess | 8:10 AM
---
0 Comments:
Subscribe to Post Comments [Atom]



Wednesday, June 25, 2003 A day with the promise of unlimited possibilities - that's how yesterday started out - till I went into the living room and was assailed with Evidence of Dog - and realized that I was going to spend the day with the Rug Doctor and the enzyme stuff. And since that was the case, I also spent some time scrubbing down the woodwork and walls. I am not a clean freak. I heat with wood, for heaven's sake! I can't be. But there comes a day when the weather rolls around from cool to hot and I know the house has to have a scrubbing. Usually that day comes in late April or early May, about the time we put up the window screens, but we've had so much cool wet weather this spring it took till June for me to notice how deplorable things had become. That, and of course, the impending visit of a spinner friend. And, the realization that July is almost here - the season of family visits, reunions, company!

Not even a twirl on the yellow wool! Eh. well. At least I have a nice place to do some spinning, instead of an animal house. Pets have been banished to the outdoors (till a pitiful little paw scratches pleadingly on the French doors some evening, like, tonight) Pets-in-the-house is something of a standing joke here anyway. I always swore NO DOGS IN THE HOUSE after we moved into this place, from the little cabin where all carbon based life forms connected to us seemed to cluster. That lasted about ... a week. We'd just bought our first Lab puppy and I didn't know about Labs. They are not DOGS. They are more like beloved, but insistent, in-laws. They move in. They take over. They fill your life with joy. But they come inside, that's for sure.

So then it was NO DOGS ON THE FURNITURE which actually holds good most of the time. I do remember one year having bronchitis so bad I thought I'd just give up. I was shivering in bed and the old yellow lab came up to check on me. Somehow, the idea of snuggling up to that warm furry body was the only image of comfort I could find and I let her up on the bed. But she knew, in this area I was boss and never presumed upon her position. Now, if I weren't at home, well, that was another story. One late winter evening I came home from a town meeting. BD and LD, who was probably about 10 at the time, were up in our room. I could see the light on. It had been one of those surprise weeks of warm weather that hits VA, making you dig out shorts and T-shirts. Those days, which usually come in February, create soppy muddy - impassable - roads for farm folk, and also lots of evening fog. I had decided to leave the car out by the mailbox and walk in, softly muffled by the heavy cloud of fog. But while wet foggy nights aren't much good for driving down mud choked farm lanes, they are excellent vehicles for sound and as I approached the house I could hear every word those two naughties were saying.

"We won't tell Mama about being on the bed, now, will we, Tru?" floated out the window. I crept up to the house and in the gruffest, growliest voice I could achieve I said "Whozzat up in my bed?"

Three crashes hit the floor - as they all jumped out of the bed. I was laughing almost too hard to hear the squeaky "Nobody, Mama". Lord love 'em.

Anyway, we do let the dogs in winter evenings but come summer time I mostly keep them outside. That is - I did, till we got Ike, the black lab who just turned the door knob and came in anyway. There are so many Ike stories I could write for days, but there will be no more, because Ike died last October, leaving us bereft and aching. We still have pleanty of dogs, including Old Topsy, who I wrote about in April - second month of lost archives. Some day we will get another, but we're just not ready yet. Heck. Someday I will figure out how to get my archives to show up again!!

For the record, last night was WeightWatchers. I lost 2.4 lbs, but I think that is probably not quite accurate. I don't think I had on enough clothes - usually I go after work and have been trying to wear at least similar clothing. Yesterday I had on shorts. Well, it's nice to see progress. I went "shopping in the attic" later that evening, pulling out stuff that hasn't fit in a while. Some losses are so sweet. posted by Bess | 8:33 AM
---
0 Comments:
Subscribe to Post Comments [Atom]



Tuesday, June 24, 2003 Most of the yellow wool is plied - 194 yards in the first skein, but it was more than half the total fiber on the bobbins and I haven't skeined up the second bobbin. I'll do that next. Then, there is just a little of the fiber left to spin up. I plan to get that done this week so I have empty bobbins by the weekend since L is coming for a spinning day. Yippee. A wallow in the mud(pud)dle of fiber that is my stash. Maybe the order from Little Barn will be here too. mm mm mm I love packages. Especially packages with fiber in them.

Also my order from elann came yesterday. 12 balls of eyelash, 6 each, of a russet brown and a chocolate brown. Hat brims - these are slated to become. For this hat, to match the new coat I plan to buy next fall. And a spare, for some hat-wearing loved one. I bought a kit for this hat from Ram Wool, and it was supposed to be brown, but it is really a taupe - not a color I would have picked. I'll make it anyway, because there is always room for another hat in the world.

And I am off today to play. Don't know for sure what sort of play, since the date set with S was very casual and I haven't heard from her since last week. It doesn't matter. It's the idea of a DayOff that's such a treat.
posted by Bess | 6:55 AM
---
0 Comments:
Subscribe to Post Comments [Atom]



Monday, June 23, 2003 And the answer is "Yes". I am still working on the yellow yarn. At least I am plying it, but I spent the day flitting from one thing to another, staying on-line waaay too long, and reading the new Harry Potter. It's rare that I snatch up the hot titles people are waiting impatiently for, but now and then I do. Besides, I am not as interested in this one as I was the first 4 so I shall probably not read it thoroughly. This is no criticism of the book, either, but a hint about the mood I am in these days, which is flittery, of course. I don't seem to be able to drop into the trance of absorption that real projects require. These insubstantial moods usually bespeak the embryonic stage of a NewProject, but you can't hurry these things. I shall just have to wait till passion ignites. Oddly enough, the more concentrated I am in one thing, the more I am willing to dive into other things, while when I don't feel a deep passion for whatever I am doing, I don't tend to be interested in anything. Does this mean I like to be under stress or scattered? eh? who knows? who cares? We are what we are.


And I got one of those F-word phone calls last night which has put me in a really rotten mood. Even though I should know better and should consider the source. Rats. I wonder why those crappy little digs from family members have so much power.
posted by Bess | 7:01 AM
---
0 Comments:
Subscribe to Post Comments [Atom]



Sunday, June 22, 2003

You are a masterful knitter! I don't know how you
got this result, but what the hell... Enjoy
your title, and try selling some of your
"unvented" patterns- you may make
enough for that bundle of qiviut you've been
drooling over...


Are you a knitter?
brought to you by Quizilla


Okay okay - Sorry but now and then I really enjoy these quizes.

I'm thinking a lot, these days, about structure. There is a vision in my head - I can just close my eyes and see it: Some sort of caramel colored rods or pipes, joined to each other with connectors - all very architectural, like the framework of a geodesic dome gone haywire - open to the air, not walled up, so that ideas can still fly freely into the space enclosed, and out of it as well, but with distinct parameters. It gets erected by magic guardian "We-Love-Bess" spirits flitting about the air, consulting with me as to my specific needs and a goodly quantity of my desires as well, though not necessarily all of them. I am standing just to the left, directing its construction, anxious for it to be done so I can step inside, because I know that, once there, I can let go. I can surrender responsibility for something, at which I am failing, to the comforting restrictions of the structure. It's the structure's duty to see that what needs to be done, gets done; not mine. All I have to do is to stay within the structure. My own little open air, clear view, safe comforting cocoon.

Wacko? well, probably. But the realization that I need external structure sometimes, came to me when I was fairly young. When I was in music school I found a weekly private lesson was a disaster. If it was early in the week I'd goof off all week, figuring I had the weekend to practice. If it was late in the week I'd goof off all weekend, figuring I had all week to practice. guess what - I never practiced. So I came up with the idea of splitting the hour into 2 half hour sessions, one on technique, one on interpretation. Fortunately my teacher agreed. Well, after all, he was on salary and I had the right to an hour of his undivided time. So, I had 3 days to work on something specific before having to show progress. Monday and Friday I'd get new assignments and there you have it - no more hypocritical time wasting.

I don't always set up external structures. Last winter I saw several months ahead with no particular looming responsibilities and I just let myself drift sweetly along. Not that I didn't do anything, or anything difficult, or even anything structured; but I didn't do anything new and difficult that required structure. It was one of the sweetest winters I've ever had. Long cozy evenings, easy days at work with little joys and funny bits. Low stress, the comfort of friends. It was bliss.

Funny how drifting sweetness isn't perpetually satisfying. Sooner or later, along comes a desire for something hard to get; something I don't think I can do, or have, or find, or achieve. Creating these fantasy cradles is what I do when I have to achieve the daunting but desired. (Not when I have to achieve the daunting but futile, like last week - I fear no one can do that.) That's why I joined Weight Watchers. There is just something so cool about having guardian spirits who create fantasy jungle gyms in my imaginary playground so that I can get the hard stuff in life.

But it leads me to thinking about man's ambition; that drive to create - to fling up the grand - to delve deeply - to encompass the whole. What a thrilling, chest swelling idea. When we were in England I was constantly gasping at the glorious churches offered up to the sky in every village, town or city - even on sea walls facing the vastness of oceans. I believe it is why I burst into tears at Bath Abby - why I stopped dead in my tracks walking up the hill to East Berghold. It was the realization that man just can't stop trying to do the daunting. He just has to fling up the grand. And it is risky. It's dangerous. It sparkles about with hubris. It tempts. It leads astray. But by God - it ennobles as well. And it helps me to love mankind for his efforts - even when he fails.





well. hmm. swallow. blush. harumph. head toss. neener neener neener. It's my blog. I can write what I want.
posted by Bess | 8:25 AM
---
0 Comments:
Subscribe to Post Comments [Atom]



Saturday, June 21, 2003 Not much fiber news yet - though I did spin a little more, early this morning, on the yellow handpaint. It's so close to being done I have to watch myself or I'll get sloppy. Why is it so darn hard for me to spin an even yarn. I hope hope hope I can find a teacher/mentor/coach soon. I'm afraid I am practicing all sorts of bad habits. I also wrote down instructions for spinning loopy boucle and a core spun boucle and posted them on Knitters Review.

But today I went to meet the newest member of our family - 3 month old R S W, great niece on BD's side, and the first of her generation in the immediate family. Of course she is beautiful and looks like her father which means she's born for good luck. I adore this old sayng. When PABDOS, a.k.a. LittleDarling, was born, ancient ladies with tiny hands would peer at him, then look at me and clutch my arm, intoning Boooorn for good luck! Booooorn for good luck!. I thoroughly enjoyed this for, suburbanite that I was, I had never heard any old wives tales. And here were the original old wives passing on their wisdom. And what new mother doesn't want to hear her baby, which she already knows is beautiful, brilliant, talented, and kind, is also going to have good luck. So, I always pass it on.

Oh? Yes, well. When the daughter looks like the father, or the son looks like the mother, then either of them is "born for good luck".

I always give Love You Forever! by Robert Munsch and Sheila McGraw as my new baby gift. It is the best book about the unconditional love a parent feels for his child. I also read it at story hour around Mother's Day and every one of us, including me, is weeping before it's over. I love this book as much as I hate The Giving Tree by Silverstein - where the love is poured onto barren ground even unto death. I don't call that love at all, for what sort of parent raises a child to suck up everything and still be unsatisfied? sheesh! That book gives me the creeps.

oops. well. Where did all that come from? Leftover controversial emotions, I am sure.

Afterwards, BD and I went to Fredericksburg for Texas chilli - only of course, I didn't have that, but the vegetarian chilli salad which was high enough in calories, fat, etc. but full of fiber. We strolled down town afterwards, in that delightful river town with its tiny shops full of surprises, antiques, and history. Back home we took a stroll in the woods, but not for long, beause the sky keeps darkening and I keep taking out or bringing in laundry. Best of all, there is still another glorious day left over in this weekend. By Monday we will know the answer to the question "Will Bess still be spinning on that yellow yarn, or will she get to go on to the carded rolags of grey coriedale fleece? Or will she get Martheme's yarn spun instead?"

Oh and a bit of an update. The lovely people at LittleBarnInc. where I bought such gorgeous cotton fiber at Md.S&W are back online. Their website had been down for weeks and they were away at shows. They've switched providers and are back up and running and they still have 98 lbs of that chocolate brown merino roving, because I bought 2 lbs of it on Friday. posted by Bess | 6:45 PM
---
0 Comments:
Subscribe to Post Comments [Atom]



Friday, June 20, 2003
WARNING


The following post is all about dieting and may have unexpected side effects. Do not read this if you are:

Not interested
Have intellectual tendencies
Thought I had a healthy outlook on things
Were secretly in love with me
Don't understand what all the fuss is about
Were brought up better than that
Believe nice people don't talk about it

So.

Why is it that our emotions are so tied to our body image? This is especially true for women, though I suspect there are plenty of men who cringe when certain things disappear forever. It may be a hairline instead of a waistline, or toes instead of jawbone, but I wouldn't be surprised if guys suffer their own style of squirming as these body parts fade with time. But this endless yearning for thinness and fashionable style seems so unfair. Worse yet, I doubt there is an American woman alive who can realistically assess her own body.

A perfect example: Why does _____ lbs. feel fat when your weight is going up and feel positively skinny when it is going down?

Another example: Why would you dance out of the store on top of the world if the size _____ fit, yet look for the nearest bridge if you had to buy the size _____+? Especially if you had to wear either purchase at the wedding on Saturday?

Final example: Why is it that when I look at other people, if they are slim where I am heavy I think they are slim all over? My slender, but hippy, girlfriend is constantly telling me "Bess! you've lost weight!". This - as I've watched the needle leaning ever further to the right side of the dial!

There are those who claim it is advertising that pushes the wacked out body images. Victoria's Secret (which I hate sometimes, but can't wait to be small enough to shop in) is the only fun lingerie shop available at any mall. The biggest size they carry is teensy. Playtex refuses to put models of zaftig women in their adds, even in magazines that cater to the 19th century sort. In Terry Poulton's book No Fat Chicks: How big business profits making women hate their bodies--how to fight back, she states they claim that surveys (?!? nobody ever asked me!!) show that even fat women don't like to look at fat women - and prefer to pretend that they will look like the FashionModel if they only buy _____'s product. And many advertisers refuse to run in rags dedicated to big women. They don't want to be associated with the un-beautiful, un-wanted un-slim. So magazines like Mode fold and images of fleshy bodies slip back under the rock.

Of course, media sells lots of other ideas that twist the psyche. I remember when I realized that I dressed a certain way not because I liked it, but because I thought it looked sexy - a look I desired greatly since I was full of raging hormones. Funny, how these realizations hit you, for I remember exactly where I was and what I was doing when I suddenly wondered "Is this really sexy or just vulgar?" And I couldn't honestly answer. I only knew that I had accepted the idea that it was alluring simply because it conformed to an image in a magazine. In all honesty, I must admit that at that time I was in a committed relationship and had an outlet for the chemistry and suddenly didn't want to attract more. But I also felt betrayed by the media. Duped. Left hanging out like a specimen. I guess that means it was probably vulgar.

But does this mean obedience is what drives us? Is conformaty something we seek so we feel safe? Loved? Is it left over from years of childhood trying to please parents, even ones who made only perfecty normal loving demands? Are we fated to have the level of our happiness determined by others?

LittleDarling says the only happy people he knows are people who don't watch television. All the rest are dissatisfied with themselves and even if they have their happy moments, they are only on vacation from their normal state of dissatisfaction. Of course, he was raised by me, and without TV, so he's heard the party line for 27 years. And he is a guy. And he's 27 so, what the heck, he isn't worried about hairlines or bellies yet.

Yet, for all my seeming bitterness, I am dieting. I am aiming for that golden ring of sleek tiny-ness once again. I've been following, obediently, the Weight Watchers regime and finding it does feel good. And I ask myself "why haven't I always eaten like this?" There isn't anything new in the information they provide. No one who has struggled with weight her whole life is ignorant of the science of it. In fact, I've always known how to eat healthy food and portions - I just haven't always done it. What WW offers me is a parent who checks up on my homework. And it is working and I am losing weight and I am feeling better - in the main.

So why this diatribe? Eh. Well, you guessed it. Yesterday I slid over the protective limits of quantity. I had pizza for lunch and have been feeling just so grumpy since. I could feel the chemistry change in my body after nearly a month of low fat, low sugar eating. It was immediate and it was really crummy. And though the pizza didn't push me over the daily limit, dinner did, for I insisted upon the sweet ending that notched up the numbers. So I am feeling guilty and bad for not having the discipline to eat with honesty, but instead, childishly insisting upon what I want because I want it. And knowing it is stupid to feel bad. And knowing it's not the end of the world, or even the end of the diet. But feeling assailed by doubts of my future success and regret for lost perfection.

Heh. So. What better way to get rid of the bad stuff than by posting it here, where I can deposit it and go on, blithely forgetting it ever happened, or else, thinking it happened to someone else since it always feels like I'm reading someone else's blog when I proof read mine. There. I feel better already. Yep Yep. ALWAYS burden your friends with your troubles. They won't (or should not) make it their burden, but will toss your miserable doubts in the garbage where they belong. But each time they hear your fears, they carry some of your unhappiness away with them. It's at least a win/not-lose solution to the problem of doubt, gloom, and worry.

So that is the E.
In an E.N.F.P.
Can't fix it alone,
But need 2 or 3

Still, I ought to thank those who've lightened my burden.

so


Thank you.

posted by Bess | 8:12 AM
---
0 Comments:
Subscribe to Post Comments [Atom]



Thursday, June 19, 2003
For a Limited Time Only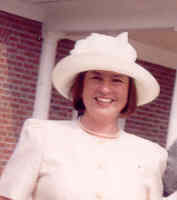 The real thing.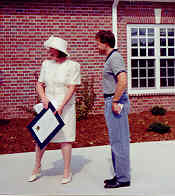 Bess with Important Person posted by Bess | 5:42 PM
---
0 Comments:
Subscribe to Post Comments [Atom]

The book 50 Baby Bootees to Knit by Zoe Mellor, arrived at the library yesterday and I would say its cuteness factor is about a 12 on a scale of 10. This is a book I would not have bought for myself, mostly because I am beyond the baby stage, few of my friends and none of my contemporaries have wee ones, and no one seems to be helping me move into the grand-baby stage. In fact, I still wouldn't buy it now, because I suspect once you figure out how one pattern works, the rest are pretty much just variations on a theme. But even the ad photos in the craft bookclub flyer made me go all melty inside.

Fortunately, there is a policy in the library that when 2 people ask for a book we don't own, we buy it, based on the theory that only 20% of people will actually ask for what the want. This policy came about to counter any prejudices on the part of staff - but sometimes it works in our favor. And happily for these two patrons/knitters they were both in the building yesterday at the same time and got in plenty of drooling.

Unhappily, though not a real deterrent to me, and probably unknown to them, the discussion on Knitters Review Forums, by folk who have knit some of these elf-shoes, is all about how these booties turn out far larger than the knitters had expected. I had read through a couple of patterns and was surprised to see the recommended yarn is Rowan Kid Silk Haze, knit with size 1, American, needles! The usual recommended needle is a size 8 American. Of course, maybe Mellor is trying to get some structure into them - whence the tight knitting with big yarn - but I am wondering - I already knit fairly loosely - am I going to have to buy multi-0 needles to make these or can I just use sock yarn and shrug my shoulders at her advice. Well - they are tiny enough to experiment with and might just be the thing for all the little sample skeins of handspun I have lying about the house.

posted by Bess | 6:35 AM
---
0 Comments:
Subscribe to Post Comments [Atom]



Wednesday, June 18, 2003 The past week has been a mega-stress week. You know the sort - when you have to do something difficult that will offend nearly everyone you know and it feels futile but you still know you have to do it. But in addition to that you have Deadlines and a cheery little performance in front of a bunch of kids and a bake sale to put together (in broiling heat) and a wedding to go to but you are still on your diet.

That sort of week.

And now it is over. Thank Goodness!

And for those following - another 1.8 lbs on Weight Watchers - my reward at the end of the race.

So now I have that funny light feeling one gets when the pressure is off. Now I have choices and options and think the coming days hold fun and adventure.


(and I'm putting entirely too much emphasis on things, hmmm ... must be relief)

BigDarling brought home some photos from the shop and by golly there are 2 more England ones. But I'm done posting. If you want to see all 380 photographs you will just have to come visit me. I was glad to get the whole trip posted, although blogger has done something with my archives and the first half of the trip seems to be on a "The following Blog*Spot page was not found:

/hosting/likethequeen/archives/2003_06_01_likethequeen_archive.html=likethequeen

You may wish to visit the home page for this site."


eh well. bummer. at least they're in a file I can access and save as an archival copy of my own. And I'm thrilled to hear Mama is reading about the trip. "Hellooooo Mom!"

In the stack of photos were these shots!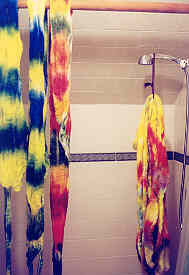 Drying in the shower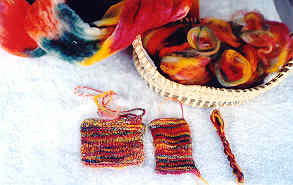 This one shows warm autumn colors in all 4 stages - dyed roving, stripped into pencil roving, in the sken and knit up.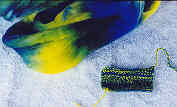 A cool yellow and green in roving and swatch.


Warm and cool colors drafted together then spun and knit into a swatch.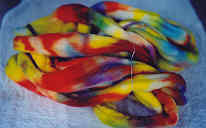 This is the large pour dyed roving I am spinning right now - posted a scan of it last week. It's much more yellow than I thought it would be. Still, rather pretty, no? if a little 1960's tie-die looking. I'm spinning the 2nd bobbin of the 2n'd 250 yards. There will still be some little roving nests left over after this, so I expect to get about 600 yards from it - so for the mathematically inclined that's spinning at 1,200 per pound. I also have some Wensleydale spun up and I see that SpinOff is seeking skeins of rare wool for their Fall edition. I think I shall send them the better of the 2 skeins since I haven't yet figured out what I want to do with this lovely wool.

So - the days ahead look to be wide open and spacious. A grand feeling after playing Atlas for a week. I believe I shall commit to no one and promise nothing and see how long I can indulge in my own happy pursuits. posted by Bess | 6:01 AM
---
0 Comments:
Subscribe to Post Comments [Atom]



Tuesday, June 17, 2003
AU REVOIR
ENGLAND IN MAY

Day 15

And now it is morning. I wake at 4:30 to singing birds, dress, slip downstairs to make tea. D is already up. J follows soon, and then A. I wake BD at ten after 5 - we are all in a quiet mood. There is such sleepy tenderness in an early morning good-bye.

Our train leaves Chelmsford at 5:57, though a slower, local one leaves at 5:45. This is commuter travel - and our train is packed! The man beside me watches a sitcom on his laptop. I watch over his shoulder or else look past at my last glimpse of Essex countryside. It's 30 minutes to Liverpool Station, 30 minutes on the tube to Paddington - which is not crowded - then about 40 minutes to Heathrow on a slick comfy smooth train.

We check in and ask for window seats together - and get them, the last 2 seats on the plane! We're both bodysearched - it looks to me like they are counting passangers and selecting the ___th person. The woman nods for me to step out of line. The male gaurd tells BD to wait and he does, but by the time she's through with me, he's counted enough to select BD. It doesn't take long, though, and everybody is very polite about it. Then we're inside the concourse. I sit waiting, chatting with a woman who is going to visit friends in Philadelphia. BD and I take turns wandering about the airport, looking into shops. I am tempted to spend the last of the pounds at the museum shop but don't and regret it all the way home. I do have a snack about 10:30. We leave at 11:00.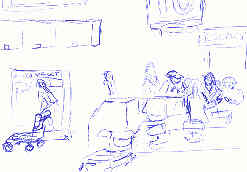 Is this really happening? Au revoir, England.
posted by Bess | 6:12 AM
---
0 Comments:
Subscribe to Post Comments [Atom]
ENGLAND IN MAY
Day 14


Today is a funny feeling day. BD and I walk into town for tickets. We must leave at 5:15 a.m. to catch a 5:45 train to Heathrow. I want to get gifts, so we part at the train station. BD has my watch to aid in returning in time to take all out to dinner.

I wander about, checking out prices in shops. Altogether, England costs more than the US, but not terribly much. I try on hats in Debinams, which is like a Hechts and sniff perfume in Marks & Spencer, which is like a Sears with a grocery attached. In a collectibles shop I can buy 2" resin bears for L20!! $36! or in a card shop I can get little ones for L3. I feel cheap, but don't buy pricey knickknacks. I do get Lizzie a little English bulldog and Emma some bangle bracelets. We live in such a global society, there is very little I can buy in England that I couldn't also buy in the US, but the one unique thing is their publishing industry - so everyone gets an English magazine - gardening, travel or fancy houses. Inexpensive but glossy and beautiful and able to suit the recipient's taste without burdening her with something to either wear or eat. Then, I am heading home, a little hungry and getting hungrier. I keep rejecting restaurants - everything looks hip and upscale and I find I definitely prefer the quaint type where the proprietors, soft middle aged ladies, serve. So I walk on home.

A is out cold, asleep in the living room. A thunderclap has me out taking in the wash before I even eat. Lunch is tea, and bread and cheese and tomatoes and pickled onions. I'm hot and change into cotton and by then A is awake. We are chatting over more tea when her brother J walks in. He looks just like her, same size and height, same eyebrows. And very nice, with just a hint of reserve. They're to go to Chelsea Flower show tomorrow. Both chatter about flowers and we watch a TV show about Chelsea.

I go up to pack around 3:30. It's a little daunting. We have bags enough, but they are so heavy! So many books & magazines. Here's what I wish I hadn't brought with me:

· hairdryer
· beard trimmer
· adapter
· extra shoes
· skirt & hose
· synthetic (wrinkle free) pants (hot hot hot)
· knitting
· book
· colored pencils
· so much underwear for us both
· dress-up trousers for BD

It all added up to about 20 pounds we have to lug from train to tube to train to plane in 2 locations! Ah well, at least there was nothing I wished I'd had and didn't bring.

BD is back by 5 and we go to a wonderful pub for dinner. It was more of a restaurant than most pubs. I have cider. This is the first time I've been served any rink in a large glass. I realize just how much we super-size things at home. I have watercress soup and apple cider sausage with cheesy mash!

We stuff while 2 rain storms wash the green countryside. As we leave, a gorgeous double rainbow bids us farewell.

The evening is a little short. I am sleepy from the cider and a little anxious about waking up on time tomorrow. I'll be happy to be home and I have a wonderful week of vacation left, but it all seems so far away. And I am soooo comfortable in England, so at home.

I'm in bed by 10, asleep by 10:30 and have only a toothbrush to pack in the morning.
posted by Bess | 6:02 AM
---
0 Comments:
Subscribe to Post Comments [Atom]



Sunday, June 15, 2003
PASSAGES

Yesterday we attended a wedding of a little girl - lovely woman now - the daughter of friends of ours. The wedding was in an old colonial church, the bride was beautiful, the ceremony was brief, and the reception was held on her front lawn which slopes down to the river in a green swath. It was a country wedding - a natural friendly gathering of most of the folk in the upper end of the county. The food was abundant, simple and local - without even a trendy crudite tray. The family had truly expressed themselves in this celebration. And it made me ache with a sweet sadness to think of the passage of time, for well do I remember the day she was born and her father came by to see us and share his happy news. We toasted her with whatever may have been at hand and how I hope our wishes will carry through the years to ensure her rich happiness.
posted by Bess | 6:20 AM
---
0 Comments:
Subscribe to Post Comments [Atom]



Saturday, June 14, 2003
ENGLAND IN MAY
Day 13


Each day has seemed more intensely satisfying than the one before, till now I'm almost gasping with wonder - awe - satiety.

Today we have our village-to-village walk and now I want, more than anything else, to walk the entire country. We drive the direct rout to Dedham, just outside of Manningtree, where we leave the car. We have toasted tea cakes (English muffins to my American friends) at The Rose Tea Room, about 11:30. Then begins our walk down to the Stour - Constable Country - with spitting rain all day.

We stroll across a pasture to the river, where, at the first bridge, a tour boat quietly putters by. I do a quick sketch of the interesting gate, while the others amble on.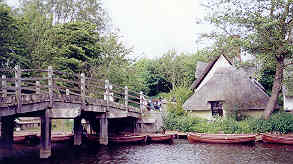 Rain begins just outside of Flatford, where John Constable painted so many of his works. We poke about, visit the very good National Trust free exhibit. A checks in the shop and reports that the guided tour is supposed to be very good, but we have an hour and a half wait for the next one. So, we order lunch - mushroom soup for me - Oh my it is so good. It's almost all mushroom, a milk based soup, not thickened with starch the way our canned variety is. I had never thought to put that much finely chopped mushroom in a soup, but I will do so at home sometime. Somehow, a rather large number of cakes ends up on our table - and in my tummy. Then we go in search of a disposable camera, since we forgot our own.

A word about Constable country and Constable's work, for those who have not visited England. I always have loved his work. I like landscapes a lot. They are so big and lush and romantic. I believe they actually went a long way towards creating the fantasy England in my mind: They did and so did the wonderful historical novels I've read over 40 years. But I always have thought they were idealized. I mean - those skies! The rich color (colour?) of the earth and water and trees. Well - let me assure you. It really does look like that in Constable country - the skies really are vivid, colorful, roiling masses of clouds and blue. The greenery is so deep you could tumble into it like Alice through the looking glass.

The tour is utterly charming. Janet Teape, our guide, is full of anecdotes including the fact that all of the women in Constable's paintings are "on their kneeeeeeeeeeez". The conversation is lively and funny and something she says causes D to comment that she sounds Unitarian, to which she answers "Sometimes I am Unitarian. Sometimes I'm Anglican. And sometimes I quake!" I am charmed.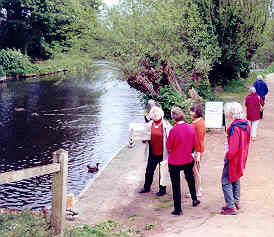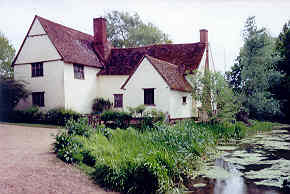 We snap pictures of the present day scenes of Constable's famous paintings. There is a school at the Flatford Mill now, run by the National Trust, where students can come for a week and paint.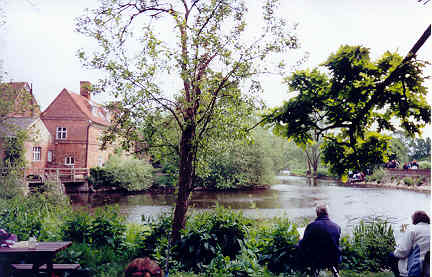 As perfect as every step in this glorious countryside is - my heart aches that my mother has never been here. There is no one I know who would have gotten more from this tour and I am feeling rotten and pricked by guilt that I didn't bring her here 10 years ago, when her health would have allowed her to experience this. She is a truly fine artist - one of those hidden secret ones who paints within her own circle - and what she could have done with scenery like this.

Carpe dium, my friends.

Our guide tells us cute little stories about the Constable family, explaining such things as the elaborate doorway to one part of the mill, where the dowager Mrs. Constables went to live, in order to distinguish their abode from the attached millworker's dwelling.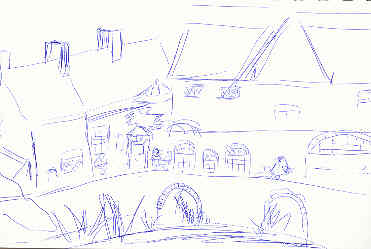 She is also full of the private romantic life of Constable which, while not racy or risqué, was sweet. For he married his Maria after she had held out for years against her wealthy grandfather's opposition to a union with a trumpery dreamer who painted pictures. I mean, if she had to have one of those Constable brothers, couldn't she have chosen the one who ran the mill?

After our tour we climb the hills to East Bergholt.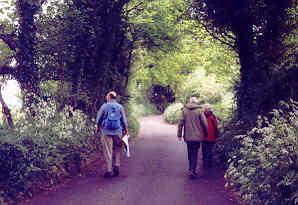 As we near the top a gap in the edge exposes the thrilling crenelations of another magical English church.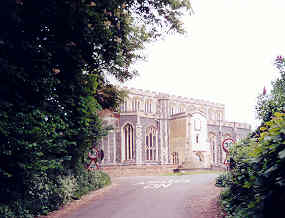 This one has a bell cage - there are four bells, too large for a belfry? Who knows, there is no one to tell us.

We seek out a tea shop but fail to find one so late on a Sunday, so back down we go to the turnoff to Dedham, back to the Rose for tea and scones. D is extremely tired now and I worry about him and murmur things like "sit down here by me".

A drives home through various villages, hamlets and small towns. We wind around to Coggeshall and stop to stretch our legs. It is dark when we get home and after tea, ubiquitous tea, A shares her sketchbooks with me and I catch a tip from her I will use when I get home. She tells me she copied the pictures in the how-to-draw books again and again, till she could draw them all!

DUH Bess!

Isn't that how I learned to write script handwriting? By practicing the same thing over and over till I could do it? As soon as I get home I shall do the same and learn to really draw at last.



posted by Bess | 8:12 AM
---
0 Comments:
Subscribe to Post Comments [Atom]
ENGLAND IN MAY
Day 12

Today I answer the question "Is it possible I can see anything new to strike me with awe?"

Yes

The Celtic Christian Saxon Church St. Peter on the Wall, built in 664 on the coast of Essex, just down from the Nez and Harwich.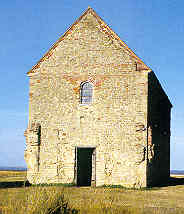 It's a pleasant drive to Bradwell-on-Sea, where we park. It's blustery and A has lent me her red coat. The walk goes across an 1800 acre "best practices" farm. We approach a tall, narrow building built of stone and roman Brick. We step inside and feel instant reverence. We whisper. I wonder who these people where who built this wonderful church, overlooking the North Sea.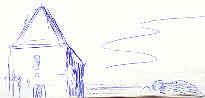 We make a donation and take both booklets. The church was built by St. Cedd, a missionary from Northumbria. There are lots of pamphlets about Celtic Christianity - including interpretations of the Celtic knots, and the inclusiveness of this branch of early Christianity. The site is ancient as well for an old Roman fort stood here before the Saxons came.

After a while we are all seated, silent - in prayer - in meditation - in our own worlds. I feel as if I can hear the voices of those ancient supplicants. My shin bones tingle as I sense the souls of all the petitioners, the prayerful, the seeking, who have found answers in this magical place. We give reverent due to their memories.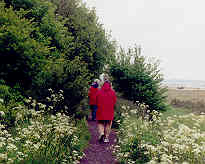 Then we walk along the sea wall to the beach access, where I must take off my shoes and wade in the North Sea. "You're true English Now" A says - for real English sea bathers don't swim - they paddle.

Along the sea wall is a W.W.II redoubt with Quonset huts behind the wall. There was is a retreat, a commune sort of place, where visitors can be accommodated.

Back in the car we drive to a little pub for ENORMOUS lunches - Steak and Ale pie. I can make this - beef chunks with ale flavored gravy topped by huge puff pastry. BD has curried lamb. Then to Maldon to see the Thames barges - oh so romantic with their tan bark sales. One is just rounding the bend in the river and all you can see are the mast and the sails gliding so gently downstream.

We had little time to visit, though we got some lovely views and took a short tour of the barge museum. But A was expecting her oldest son R and his family for tea at 5 so we hustle on home. The adults who visit are quite soft spoken and almost shy. I feel like a BrashAmerican when I talk to them. well - I have felt a little big and clunky on this whole trip. Like a happy friendly St. Bernard, maybe. So I clunk along for a while and then go chat with the kids who also start out a tad shy but warm up the way most kids will if they know you like them. These are very nice kids. 2 boys, 2 girls.

This is our first evening at home - all the rest of this trip we've not gotten in till after 9- which is still light, but hard for me to adjust to. I was glad for a home evening. It's all chat and lively talk and laughing while we do up the dishes. Tomorrow we are to go to Constable Country.
posted by Bess | 6:51 AM
---
0 Comments:
Subscribe to Post Comments [Atom]



Friday, June 13, 2003 Two posts about England today. Lucky viewers. posted by Bess | 10:20 AM
---
0 Comments:
Subscribe to Post Comments [Atom]
ENGLAND IN MAY
Day 11


Today is a RainyDay - a real English rainy day - chilly, gray, but, to my joy, exactly what I wanted on this visit. On our travels I overhear an American woman from California murmur that everything is so gloomy. Not for me. I am sure I could grow tired of it, but I haven't yet.

We go off solo, BD and I, to Oxford, to the Ashmolean Museum to see Pohatan's mantel - 4 hides, sewn together, embroidered in cowry shells. BD is busy photographing and taking notes. This cloak had been given to John Smith - the story goes P whipped it off his back, in a Raleigh-esque gesture, and presented it to Smith ... but of course, Smith told the story. Smith gave it to John Tradescant who left it to the Ashmoleans who used their collection to start the first public museum in England.

Our trip out is an adventure, though, for every train is packed full. At Liverpool, BD decides to take the bus to Paddington - across town in the rush hour! It's a traffic nightmare. An hour on the bus and 30 minutes walking after we find out we're on the wrong one.

Oxford is very august. The colleges are spectacular examples of stone architecture.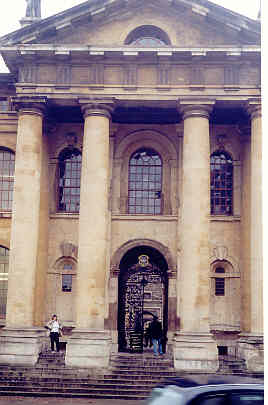 I get my obligatory LibrariansTouristPhoto on the steps of the Bodleian Library - though we don't go inside. We tramp around the city till 6 but many colleges are closed to the public. Is it exam time? I never ask. For L18, though, we take a brief bus tour and hear many interesting stories. But it's so foggy and rainy, we can't really see out the windows.

The town is full of scholarly looking folk, young and eager, middle aged and ... if not smug looking ... at least very fatherly. My question - how can these buildings all look so similar when they were built, or at least the colleges were all founded over a span of 300 years? The most impressive thing is the Magdalin Chapel -pronounced Maudlin.

Rain off and on all day, sometimes pretty heavy, that is the feel of Oxford. Without D, we get to every train station just as our train is pulling out, so we get lots of opportunities to people watch, and I, to sketch.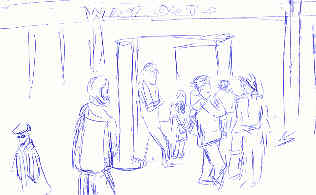 A fellow at the Oxford station is waiting with an Airedale - who leaps in joy when "mama" gets off a train. It makes me a little homesick for our dogs. This is the first pang of anything like homesickness I've felt on the trip.


The train we do catch is packed, and it's standing room only on the tube and almost as bad on the London-Chelmsford line.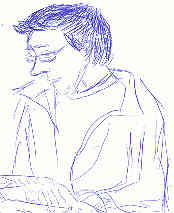 My fashion note for today is that nearly every man in England has his hair pushed up in front like this fellow - a daddy reading one of those glaring newspapers while riding home on the train.

We're home by 9 but BD insists we eat something, so as not to put our hosts out. We stop at a fish & chips shop run by Turks who are friendly and chatty and invite us to visit their country. Of course, A has a full dinner waiting for us at home, so BD manfully eats another meal.
posted by Bess | 7:14 AM
---
0 Comments:
Subscribe to Post Comments [Atom]
ENGLAND IN MAY
Day 10


Today D, BD, and I take the train to Harwich, HARRICH as D says. A train to Manningtree then switch to the Harwich line. One hour of travel. I am excited to recognize Colchester as we drive by. The countryside is beautiful and green and we're in Harwich for lunch at D's favorite spot, a tiny place, for fish & chips - fish is very tasty and flavorful, but the crust is not as special as at the Writle shop.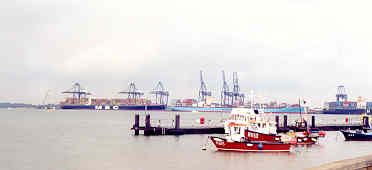 This is D's hometown and he grows emotional, but he's happy. Much industry for this is an international container port and a ferry port from Holland. Here also sailed the Mayflower, whose captain lived in the town, and about which we do not care a hoot, loyal Virginians that we are, but also here Christopher Newport was born and, in St. Nicholas Church, was baptized.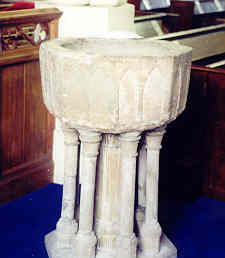 We are given a delightful tour. This church is the 1820 church built over the ruins of the original Norman one.

We walk past the lighthouse that saved D's house and family - when a bomb was dropped during WWII not 100 yards away. All the plaster was knocked from the walls and D & sister washed glass out of their heads for 2 weeks. D tells us he watched the Battle of Britain - and helped burry the bodies that washed ashore 3 days later. This is an emotional visit.

We stop in a pub for tea and I sketch a couple who are just in off the train.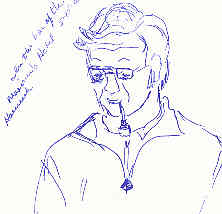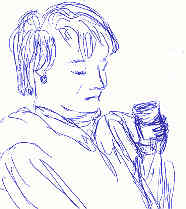 But it's smokey inside and there's a thrum of rock music coming from sound system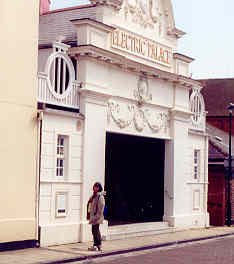 We visit every site on the walking tour. Most vivid is the Treadmill Crane.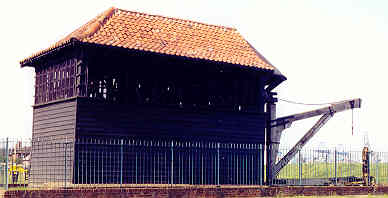 This ancient tool, worked by men - serfs? slaves? employees? walking inside a wheel to wind the chain to lift the heavy objects. The whole thing gave me the shivers. How awful a life - and yet - such technology - to build pyramids - monuments - commerce. I wonder what, if any, one was paid to do this. The literature stated this was not like prison treadmills, but a vast improvement, for the wheels are enclosed and the workers are out of the weather.

What with the late start, the 2 different temperaments of the men, we have a slow trip through town. We walk along the seaside, watch the ferry arrive, the ships go out. It's very windy so there's always a sail visible.

There is a redoubt built to defend the coast from Napoleon's army. It's closed - boo hoo - but we go take a look. The cutest little fellow, perhaps 12, dashes up to us and asks "'av yee seeeeeen meee bruthah?". We have and he joins us on a circumnavigation of the fort, telling us all about it, the history of the town, his own history and hopes to become a sailor. Later we see his bruthah and companion, 15? 16? - flirting with the girls. Our guide scampers off to hop along in their wake. Don't you just remember what that was like?

From Harwich we go along the coast to Dovercourt, aiming for D's cousin, where we never get, for we dawdle so. Tide is coming in -high and fast.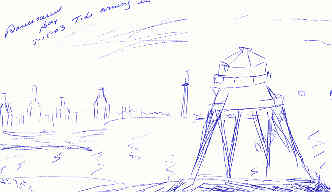 There is another lighthouse on stilts in the water. We walk the beach and I soon have a pocket full of shells - a cockle, a muscle, a live-alive-o.

We catch the train home at Dovercourt but in a backwards way - for we go from Dct. to Hrwch where the train ends and then from Hrwch to Manningtree to Chelmsford. I sketch views from the train window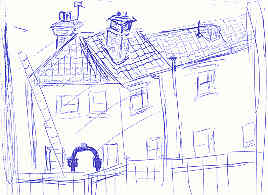 and of the view up the hill from Manningtree station of the little village of Cutawade.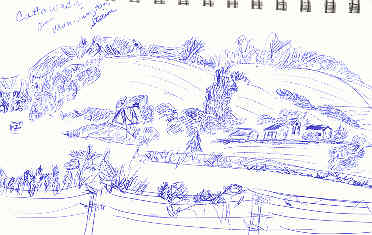 I grow tired - not so much physically, but just tired. D. seemed prepared to stay till the last train but instead, we are home by 9:30. A has prepared chicken w/dumplings. I eat and collapse. She's bought me a copy of a book about life in England at the turn of the century.
posted by Bess | 7:02 AM
---
0 Comments:
Subscribe to Post Comments [Atom]



Wednesday, June 11, 2003 Here is the pour dyed random roving I made at Stony Mountain Fibers. It's got a lot of lemon-yellow in it although I used fairly warm yellows in the dye bath. I expect to get about 550 yards out of it and it looks rather like it will knit up at 5 st. to the inch - although all of my handspuns have knit up at fewer stitches to the inch than I had expected so I will be prepared for 4 or 4.5 st. to the inch.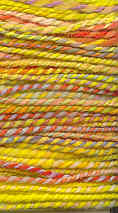 posted by Bess | 9:35 AM
---
0 Comments:
Subscribe to Post Comments [Atom]

Sheesh - you are getting to see an ENFP in action. I forgot to scan the yarn (which I had with me) yesterday and post that and I ought to finish up the tour of England - good gosh I've been home nearly a month! Well - there - I am sooo tempted to just quit but then I want this transcribed record of my journal. I wonder if the come-to-completion part of me will triumph or the dutiful-know-better-grown-up part of me.

Anyway, I'll haul the yarn back down town today. Last night was Tuesday Night Knitters and I wanted to show off everything I had been up to since Md. Sheep & Wool. It was a small gathering, but oh it was my 3 favorite women down here. These are the women who did all the cooking for a party I held for 100 people back in 2000, because I had to go out of town 2 days before the party. I mean - there are some women in this world who are really angels in disguise.

It was so good to be with them. C is working on her Lopi sweater - she took my class in the winter but had to set things aside while she taught her students through the last weeks of school and shepherded her daughter through HS graduation. she said she wasn't about to get to the decrease in the yoke pattern just as I left town for 2 weeks! K is working on a baby sweater knit out of Fly. She got it 1/2 price last winter and I am sooooo envious. It is a delicious yarn - 70% merino, 30% silk. Some lucky baby.

I am not knitting anything right now but things are cooking in the old brain. I'll make the leap sometime. and I promised to finish up Sigvaldi - which needs only neckband, steek cutting and button band to be finished. I promised to cut the steeks at next month's meeting.

Last night was also the regular WeightWatchers meeting and I am down another .4 lbs so that makes 5 altogether.
posted by Bess | 7:55 AM
---
0 Comments:
Subscribe to Post Comments [Atom]



Tuesday, June 10, 2003 I like this - there I am, in company with Helen of Troy. I will settle for being the "older" sister, though, perhaps she is truly the older of us. Who has time to think all this stuff up!?


The Dante's Inferno Test has banished you to the Second Level of Hell!
Here is how you matched up against all the levels:

Take the Dante's Inferno Test posted by Bess | 2:40 PM
---
0 Comments:
Subscribe to Post Comments [Atom]



Monday, June 09, 2003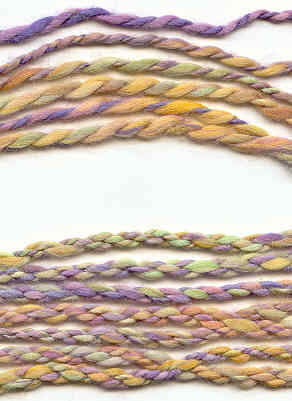 Here is a photo of the silk, spun 2-ply on top and cabled on the bottom. It's a thick yarn, even cabled, and I can't seem to figure out what I want to do with it. It was my first venture working with silk. The worst problem I had was with static for the fibers were very fly-away. I prefer the cabled yarn - but it uses up a lot of fiber for the length you get.

I will post a scan of the random roving I've spun up this past week on tomorrow's entry. posted by Bess | 12:24 PM
---
0 Comments:
Subscribe to Post Comments [Atom]



Sunday, June 08, 2003
ENGLAND IN MAY
Day 9


Ever since we've discussed with D the possibility of a visit, he's had a PLAN - a surprise he's wanted to give us and today is THE day for it. Of course I don't know this now - but I will find out later in the day.

We take our time waking up and D mentiones that he has scheduled a tour of the Globe Theater at 2. And as to be expected, BigDarling immediately resists anybody scheduling his time. D continues to press - E to resist - and A to worry. There is lots of stuff going on emotionally. I, true to my nature, slip into the background, ready to do whatever anybody wants, chuckling at the texture being woven out of these intense personalities. I do so love to laugh at human absurdity. And we do leave the house, we do make it to the train station, we do get to London.

Of course, the walking tour of London, being led by D takes us to several lovely sites. St. Paul's - grand and imposing, but lacking the mystical reverence of Bath Abby.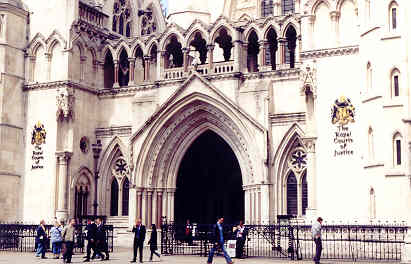 Fleet Street - with its secret alleys, hidden statues.



Yes - that's me in Flidas!

There is a magical moment in Kings College of London chapel, when we stop to listen to part-singing, while A&D take a romantic peek into the past, for this is where they met and fell in love oh those many years ago and I learn, to my surprise, that this is the first time they have ever been back!

We meander towards Big Ben and the houses of Parliament, but cross the Thames before we can see them for time is ticking away. The view of the enormous ferris wheel - the Millennium Wheel it is called - makes my blood run cold. A teases hard about taking a spin on it but it's a major turn-off to me because I know I'd be sick and trapped and probably go mad on something like that. It is huge though. But I don't do rides. I begin to wonder if this is the "surprise in London" D had talked about and if they are hinting about taking us on it but not about to say so. But nothing is said and we continue our stroll, admiring the bridges that link London's 2 sides.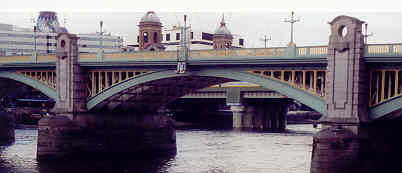 The closer the clock ticks towards 2 o'clock, the slower BD walks, the longer he lingers over the most trivial scenic view and the farther ahead of us A&D get. But we are at the Globe about 1:45 and D then stops, and, as if pulling a rabbit out of a hat, he says "You now have your choice -you can either walk around London on your own and meet us back here in 3 hours, or you can be our guests at the theater". Amazement and hugs and laughter and wide grins that still spread across my face as I remember it now, these weeks later, are our answers.

D had bought tickets for a production of Richard II. What a wonderful treat. The Globe Theater, reproduced in the early 1990's is simply perfect. The open roof, the 3 sided stage, the fine acting - perfect acoustics.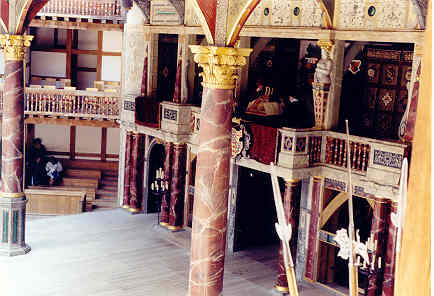 I sit enthralled and pleased with how well I can follow this play, which I have never read. That is the advantage of the historical plays - for in the comedy's there are so many puns and such a tapestry of language, that if you don't know them already, or havent been reading a lot of Elizabethan literature lately, it's hard to follow them. The histories are more linear, and I have a better knowledge of history anyway, so it's pretty easy enough to follow the action.

At intermission I buy some hot nuts and dried fruit to share. Notable in the performance is how the cast performs a dance to contemporary Elizabethan music instead of bowing at the end. Afterwards, we have dinner at the restaurant. It is an enchanting afternoon.

About 7:30 we stop by our hosts' son G's house in Stratford in the East End of London. He owns a little row house, reclaimed and restored. East End is the poor part of town, always has been, full of immigrants. It reminds me of the Fan in Richmond. G is slim, quiet voiced, very handsome. He has A's mouth but otherwise is more a combination of his parents than a copy of either. He is a computer programmer & software developer. Of course there is tea and of course there are biscuits.

We are home by 10:30 and I am out like a light before 11:00. posted by Bess | 7:49 AM
---
0 Comments:
Subscribe to Post Comments [Atom]



Saturday, June 07, 2003 It's raining of course - and hot at the same time so it's sticky. I went to a Weight Watchers meeting to make up for the one I missed on Tuesday. Progress: -4.6 lbs. hoorray!

Just about plied the first bobbin full, but BD and I spent the afternoon watching the BBC TV show The Human Face. posted by Bess | 6:03 PM
---
0 Comments:
Subscribe to Post Comments [Atom]



Friday, June 06, 2003
ENGLAND IN MAY
Day 8


We are off to London, A & I, on the train. About halfway there we switch to the Millennium Express again - that smaller quiet train, but we get off at an unknown stop in ?Stratford? - I don't know - anyway, we are on the sidewalk and walking somewhere at a brisk clip. Just as I'm about to ask if we should take a bus, we turn a corner and I stop dead for we are just 2 blocks from the Tower Bridge!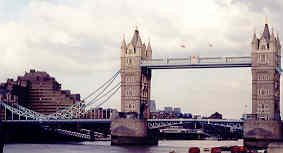 Yeah - the one in the James Bond movies.

I just have to stand and stare - 1898. All Imperial Majesty flung up to the sky. It's a draw bridge - a British naval vessel is moored upstream. But there's not much real river traffic.

The Tower of London awaits the other side.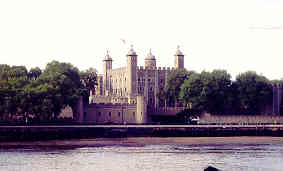 It's 12:30 - I feel the day moving on, though I forget that it's light till nearly 10 p.m. No wonder guests in English Country House Novels always stay up till midnight! We go on to the tower. The museum shop affords good gifts for Emma and Lizzie - my precious goddaughters.

The Tower is several periods - Norman Keep 300 feet high, Tudor barracks - Victorian repairs. We go first to the crown jewels - Lots of gold salvers, chalices and a punch bowl you could take a bath in, but the only jewels are the crowns. I had thought I'd get to see more jewelry and the moving floor glides you past the crowns & scepters pretty fast. You can linger at the "Crown of State" but I was only moderately impressed with this display. Well - it ought to be called the Crown Plate exhibit. Very golden.

The Tower is not a crowded place today, but there are plenty of visitors. We walk through the exhibit in Bloody Tower and see Raleigh's apartments. These make me sad. He was the first romantic figure I ever learned about in history - waaaaaaaaay back 41 years ago. Sweeping his cape off and tossing it in the mud before Queen Bess (do you see now, the connection?hmm?hmm?hmm?) so she wouldn't muddy her dainty foot. He wrote his history there and they let him out after 15 years just in case his theory of a northwest passage behind Guinea was correct. Took off his head when he got back a year later.

At the scaffold sight - no block with ax buried in it, but an "On This Spot" plaque listing the royals beheaded there including "the last Plantagenet". This was Margaret de la Pole and I tell A the story, for it is a bit obscure, but I'd read a child's novel about her when I was about 13 and never have forgotten it. And of course, any girl from VA who grew up in 1960's has read Katherine.

Walking around the Norman castle we pause to hear the story of Gryffud ap Llewellyn who was betrayed by his brother to King Edward and trapped in the tower, with his young son, for 4 years. He grew quite fat in prison and plotted his escape via a sheet ladder. He climbed to the top of the tower, lowered himself over but alas, the sheets couldn't support his new pulchritude - he fell head first - and was discovered by a laundry maid next morning, lying headless on his belly, though when they turned his body over they found his face staring out of his chest. Gory for you to read, but more grizzly for his son to witness and impossible for him to forget. And so upon his return to Wales and inheritance of his father's lands, he rose up against his Uncle David, slew him, fought the English to his death on the field, from which his own head, crowned in iron, was brought back to decorate the tower for a number of years. He was the last Welsh Prince of Wales.

Most of the Tower is given over to an armor museum, but you do get to visit a stunning stone chapel. It is all golden light inside - completely unornamented and very beautiful. The windows combine with the color of the stone to create a very bright room. I feel like I am in some cloud lit with sunshine. You can also see a gaurderobe - very clever bathroom construction from the 11th century.

We take the tube to the area of Oxford Street and walk past Thorntons, the chocolatier - stop in, actually, but decide to eat lunch first, and return for chocolate. I am unprepared for Libertys - a block further past modern high-rise stone facades. I am again halted by an enormous 5 storey half timbered beauty, all striped in black and white. What fun!

It's so quiet inside - every piece of wood is carved and polished by countless hands. The store is actually 6 stories. Lower ground, ground & first, then balconies around the court for level 2, 3, and 4. The lunchroom is on 2 - with table linens, sheets & towels.

We're hungry and have soup, cheese scones, and salad, plus wonderful meringue for desert, topped with syrup, berries and cream, all served by whispering maids with French accents.

But shopping is a disappointment. Very few fabrics and not very pretty. The only thing I wanted to bring Mama (the only person I intended to buy a real souvenir for) was a length of Liberty Silk. I haven't sewed much in the past 10 years, but when I was sewing a lot, there was nothing like a length of Liberty Silk for a summer dress. In that you felt ready to go to Ascott or The Country Club of Virginia or really anywhere. Sadly - there are only 12 bolts of silk - that's all - and at L29 a meter...well, I do end up buying 3 lengths to make scarves for Mama, Hannah and self, about $25 a piece after my VAT refund. Everything is very expensive. Too expensive in fact, and sparsely filled. It feels empty inside - like American downtown department stores I remember from the 1980's and early 1990's.

A is very upset, but there you have it - the modern person doesn't sew. A very nice clerk tells us the fabric section got to be like a museum - people came in to view and touch, but didn't buy. And the good buys are now a few blocks away in Chinatown! But - that won't be the Liberty experience I wanted to take home to Mama. So, we meander through the store, but the only real treat is the architecture.

I am eating way too much on this trip and we stop for chocolate at Thorntons - and a cake - but I vow to cut back after this - only to eat delicious sausages for dinner later!!

But we walk down New Bond St. to discover Jason's fine silks & woolens and there, for even more $$$ (or LLL) I get a glorious length of flowered silk - Christmas scarf-gifts all - for I will hem the lengths myself. Another thing about Jason's - the clerks, all men, were utterly charming. Teasing, elegant, friendly and quite willing to let you touch without buying.

We continue down Old Bond St. and I'm in a Georgette Heyer thrill looking always up, ignoring the first floors with their lights and modern goods. At Picadilly Circus is the life-sized bronze statue of Roosevelt and Churchill on a park bench. We take photos of us sitting between them. Very funny. Very touristy.

We peek in the Victorian arcades, Doulton China shop, jewelers, all the expensive shopping. There are shoe stores that have these little strappy sandals with a little sliver across ankle and toe, covered with glittery rhinestones for L700. Yes, my friends, that's $1,197 for a pair of rhinestone sandals. And toes pointed as sharp as needles - but I am country you see - I really do know there are shoes like that (though I didn't think they were so expensive - more like $500 a pair) at Pentagon Mall just outside of D.C. I just feel like such a rube. But it's chilly, showery and about 6 o'clock, so we catch the #23 bus and ride to Liverpool, past St. Paul's, Trafalgar, up Fleet Street....

We take an express home, only to have the engine break down at Ingatestone - where I sketch out th windows.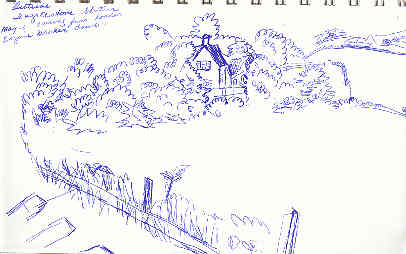 Home for dinner at about 9, exhausted, but happy, we hear all about BD's bike trip and D's appointment to a Harwich/Jamestown 2007 planning committee. A good day was had by all? I should say so. posted by Bess | 12:27 PM
---
0 Comments:
Subscribe to Post Comments [Atom]

For my fiberly friends - here are some swatches knit up from yarns made of the handpainted roving I made at Stony Mountain Fibers.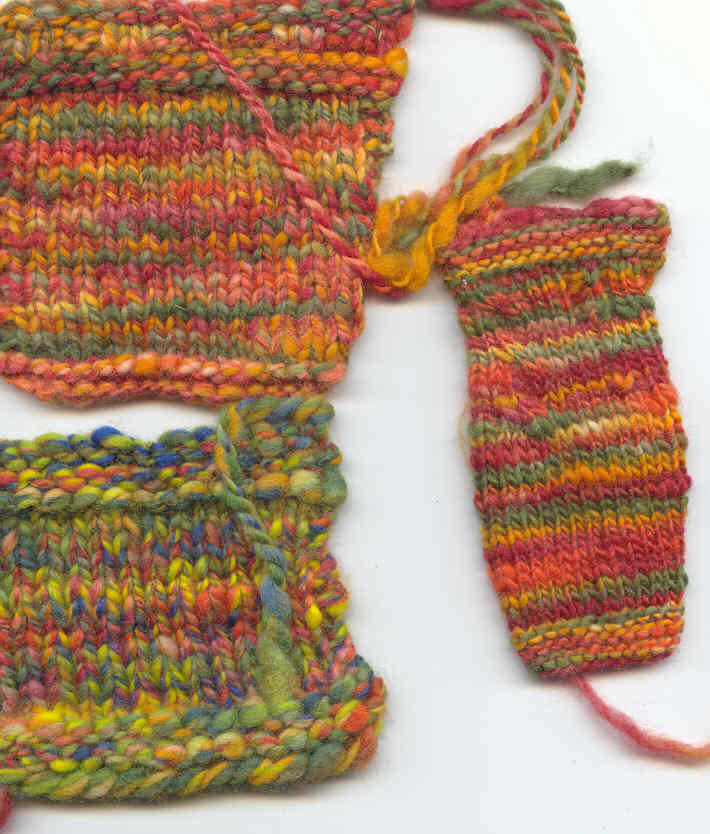 Right is singles spun from a combination of warm colors, red, gold, orange, and green. Upper left is the same yarn spun as a 2 ply. The lower left is the warm roving drafted and spun with a roving of cool green, blue and yellow. I like that one a lot. Well I like them all but I was surprised at how nicely the cool roving and the warm roving blended to an interesting, albeit bright, yarn and fabric. posted by Bess | 8:57 AM
---
0 Comments:
Subscribe to Post Comments [Atom]
ENGLAND IN MAY
Day 7


I wake about 6:30 and, with A, share a cup of tea. We chat a long time and let the men sleep in.

Today is Bartholomew Gosnold's House - Otley Hall. But sad news for D. - the death of a beloved cousin - in Australia - means tomorrow's trip to Oxford will be changed - perhaps even discarded. Don't exactly know the plans yet.

We head off, but are a little late. We drive to Sudbury, Suffolk and pick up J, D's little sister, who is tall, slender, lovely, gracious and deliberate - just like D. There is much love between all 3. J lives in a tiny perfect duplex on the outskirts of Sudbury - a perfect English village. And outskirts in Sudbury are not like outskirts in say, Tappahannock, where you'd drive 5 miles to a bubble development in the middle of farm land. Rather, another couple of roads are built onto the roads at the edge of town, and houses are built on them.

We have tea and simply delicious shortbread and ginger snaps.

The drive from Sudbury to Otley twists from one superb English village to another, each one a gem, worth visiting, lingering - but we are already late, so we go straight (?!?!) to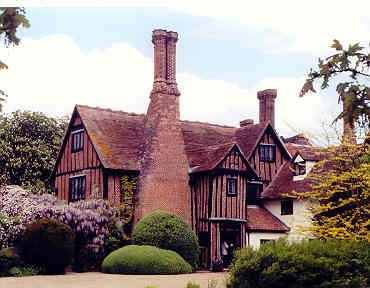 Otley Hall - a perfect English manor house with moat, hall, solar, playhouse and garden.

So - why Otley Hall? ahh. well. This is where English speaking America begins. When the Jamestown Company first began to coalesce, the men who planned the expedition met here, at the home of Bartholomew Gosnold. Gosnold was also the captain of one of the 3 ships, the Discovery, which sailed to Virginia in 1607. To be in this birthplace of the political, and largely the cultural, character of my homeland is a thrilling experience for me - for us all I believe.

It's stormy and cold - we are met by our lovely guide, Kay, who takes us 'round the outside first, then indoors for the most intimate old house tour I have ever been on. "Please be seated" we are invited - so vastly different from other historic places where there are ribbons across the furniture. We're served more tea and cookies - biscuits - and a very full history of the Gosnolds and Otley Hall.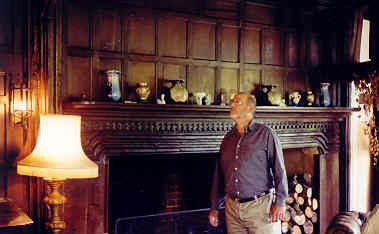 Fabulous panels in all the rooms downstairs (The linen fold panels in the dining room are purported to have come from Cardinal Wolsey's quarters after his fall from grace, for he moved to Otley to start a school.), ancient venerable furniture, yet, this is no museum. This building has been a home for so long, it is often modified - though only once in disgustingly bad taste, when, one family in the 1940's plastered over the frescoes in the bedrooms because their kids were frightened of the spooky looking painting. Good lord!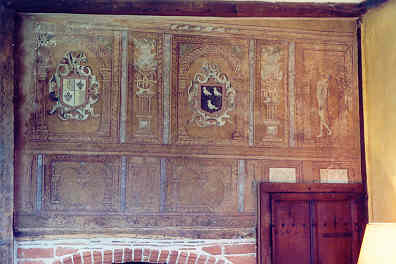 All that is left of the frescoes is this one marvelous wall in the hallway.

As we tour the gardens, afterwards, I get my first English rain - but OH MY GOODNESS what gardens!

I particularly loved the orchard - 12 trees and you had an orchard in Tudor times - and could prosecute, should someone steal your fruit! A mount, an artificial hill with a spiral path to the top, from which you can see the church where the Gosnolds are buried. This was a family which lost all it's fortunes to Cromwell, alas, so in the 1650's the house was sold. There is also a medieval garden designed by Sylvia Landsburg author of The Medieval Garden

By this time, heavy cold rain drives us inside, so we dash through the rest, barely looking. Our wonderful guide, Kay, is unflappable - with only a "brollie" - for "umbrella".

A very crowded damp drive takes us to Needham Market for lunch. This is a true "market" town - with permission from the Queen to hold a regular market. At least - it once was. I get the middle seat in back, since I am the shortest, if also the widest. It is nearly 3 o'clock by the time we get there and the tea room was finished with lunch, but the proprietors, a sweet couple, fix us a full meal; shepherds pie, sausage casserole, potatoes, and, of course, tea. The conversation is like something from Monty Python - Teasing D, chatter, puns, it goes non-stop. D & J obviously love each other so and A & J seem to be wonderful friends.

J asks if I want more (groan) and I say I can always eat cake, for I see several, but she says she has cake at home.

The proprietors tell us they have a son who married an "American girl" and lives in New Jersey. Papa says he has "Two American Grandchildren". They are going to visit in the summer for 5 weeks. They are very delicate looking. People here all seem so soft and white - not useless white, but pale colored - just whiter than folk in Virginia. And the fragrance here is sweet - even in Gravesend, which otherwise felt like east Broad Street, in Richmond.

Outside the tea room we are stunned by the beauty of St. John the Baptist Church.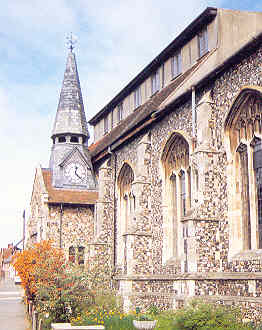 In fact, every village, hamlet, town, city has it's glorious church. This one, a flint beauty, suffered greatly from the time of Henry VIII through Cromwell's distruction of ornimantation - but still offers a carved cieling to die for.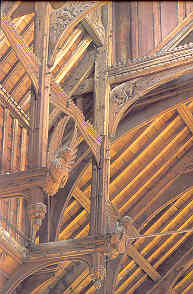 We drive to Lavenham next.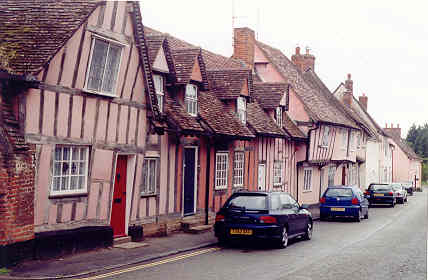 This is the town D has told me about so often - 100+ half timbered sloping twisted houses - a de Vere seat, complete with gorgeous stone church with square steeple marked by 8 de Vere stars.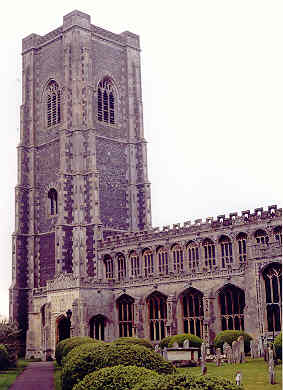 It's nearly 6 o'clock, so we can't get in, but it is reported to have the highest steeple in England.

A gate tucked beneath some branches at the back of the church yard - a kissing gate - opens onto a footpath that takes us back to a newer part of town. It's drizzling all the time and nippy, but not cold. BD uses the last of his film, but we never get a shot of the magnificent guild hall. This is a wool town of old.

We head back to Sudbury now and on the drive through Long Melford we drive up the entrance to Melford Hall and I see my first Tudor Palace - all bricks and towers and glittering windows. This thing is massive. It is beautiful. It is awe inspiring. And for some reason, in spite of it's 500 year age - looks nouveau riche. Beautiful nouveau riche, but all the same...

A large tent is set up or ready to be taken down and though the place is closed, no one is around to make us leave. We only look, never get out of the car, but there is a flock of sheep on the hill behind. Suffolk sheep?

Back to J's we have a cream tea! How do these people stay so slim with so many cakes? Scones, cake, quiche, ... we leave about 9 so A can drive home before dark. I'm in bed by 10:00.

posted by Bess | 6:30 AM
---