0 Comments:
Subscribe to Post Comments [Atom]



Saturday, June 14, 2003
ENGLAND IN MAY
Day 12

Today I answer the question "Is it possible I can see anything new to strike me with awe?"

Yes

The Celtic Christian Saxon Church St. Peter on the Wall, built in 664 on the coast of Essex, just down from the Nez and Harwich.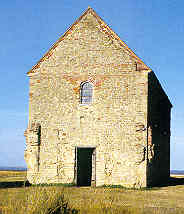 It's a pleasant drive to Bradwell-on-Sea, where we park. It's blustery and A has lent me her red coat. The walk goes across an 1800 acre "best practices" farm. We approach a tall, narrow building built of stone and roman Brick. We step inside and feel instant reverence. We whisper. I wonder who these people where who built this wonderful church, overlooking the North Sea.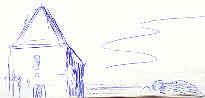 We make a donation and take both booklets. The church was built by St. Cedd, a missionary from Northumbria. There are lots of pamphlets about Celtic Christianity - including interpretations of the Celtic knots, and the inclusiveness of this branch of early Christianity. The site is ancient as well for an old Roman fort stood here before the Saxons came.

After a while we are all seated, silent - in prayer - in meditation - in our own worlds. I feel as if I can hear the voices of those ancient supplicants. My shin bones tingle as I sense the souls of all the petitioners, the prayerful, the seeking, who have found answers in this magical place. We give reverent due to their memories.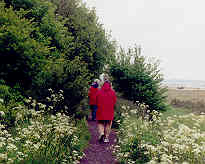 Then we walk along the sea wall to the beach access, where I must take off my shoes and wade in the North Sea. "You're true English Now" A says - for real English sea bathers don't swim - they paddle.

Along the sea wall is a W.W.II redoubt with Quonset huts behind the wall. There was is a retreat, a commune sort of place, where visitors can be accommodated.

Back in the car we drive to a little pub for ENORMOUS lunches - Steak and Ale pie. I can make this - beef chunks with ale flavored gravy topped by huge puff pastry. BD has curried lamb. Then to Maldon to see the Thames barges - oh so romantic with their tan bark sales. One is just rounding the bend in the river and all you can see are the mast and the sails gliding so gently downstream.

We had little time to visit, though we got some lovely views and took a short tour of the barge museum. But A was expecting her oldest son R and his family for tea at 5 so we hustle on home. The adults who visit are quite soft spoken and almost shy. I feel like a BrashAmerican when I talk to them. well - I have felt a little big and clunky on this whole trip. Like a happy friendly St. Bernard, maybe. So I clunk along for a while and then go chat with the kids who also start out a tad shy but warm up the way most kids will if they know you like them. These are very nice kids. 2 boys, 2 girls.

This is our first evening at home - all the rest of this trip we've not gotten in till after 9- which is still light, but hard for me to adjust to. I was glad for a home evening. It's all chat and lively talk and laughing while we do up the dishes. Tomorrow we are to go to Constable Country.
posted by Bess | 6:51 AM
---