posted by Bess | 8:18 AM
---
0 Comments:
Subscribe to Post Comments [Atom]



Saturday, December 13, 2003

Well.

Done shopping.

At least, I have no reason to leave town to produce Christmas and that's as good as being done. There will be some grocery shopping - and the Darlings like those baskets full of luxury foods - only they like me to make them up myself. And the foods need not be all that luxurious - a couple of cans of smoked oysters - a chunk of good Stilton from the little W&C shop across the river. Rather fun, supports the local economy, and doesn't' require 2 hours in the car.

There is one more sort of shopping to do - and that is with BD. I call it tag-along shopping. It is the only sort of shopping I like to do with him. For some reason, when it comes to actually putting the money down - I'm rather furtive. Or, to put it in a kinder light, I prefer to be alone. I have a couple of girlfriends I can shop with, though, even with them I feel the weight of compromise. We must split the time we spend at every counter, shop, even over every item, with some level of equity. At least they can understand why I might want to go to a particular shop or linger over a particular item. With BD it is impossible to even explain what the hey....?!?!?! Since I don't shop at either immoral or illegal places, I don't feel like explaining. I am reminded of a magnificent quote from a beloved author whose father would answer, when probed for the source of a particularly fine jug of corn whiskey: "If you like that whiskey, by God, then drink it" I feel same with BD. If he likes the results, then enjoy it. Don't ask how they are achieved.

So, when I am really spending, I go alone. And when I go "shopping" with BD, it is to keep him company, go to places I otherwise wouldn't, and enjoy watching his taste unfold. Hmmm. I wonder if he might enjoy watching my taste unfold. Never thought about that. Ahh the discoveries one makes when ideas flow from the fingertips.

Nevertheless, I am not inclined to change now. It has taken 31 years of marriage to allow the ever patient one to even see me put on makeup - I don't believe the chance to witness my brain unfold when shopping will ever happen.

At the moment, though, the weekend lies open like a brand new diary - blank pages, clean, white, full of possibility. Since SomeoneElse cleaned the house, there is only laundry to do and that doesn't require much attention, only small bits of time spread out over several hours. There are gifts to knit, (I know, I know, but I never promised to keep my promises to myself, for goodness sake, besides they are half done) and gifts to pack and Christmas cards to write - and lovely walks to take and oh any number of pretty things to occupy my weekend. And nothing onerous waiting on Monday. Only beautiful hours of life to pluck as they ripen, to savor in all their sweet richness.



posted by Bess | 8:29 AM
---
0 Comments:
Subscribe to Post Comments [Atom]



Friday, December 12, 2003

Ready to turn the heel on LD's sock - I'll do that before I leave for the city shopping extravaganza. Dithering over the scarf pattern too - I suppose I'll just knit to the widest point and make my decision about altering it then. It's just too difficult for me to know for sure if it's going to look balanced or cramped.

It's also difficult for me to work with a yarn that, no matter how delicious it feels - is basically a color I find uninspiring. It's not ugly - mind you - it's lovely for a blonde, which BD once was. It's taupe. What can I say. No warmth in it. No snugly coziness. I've had this yarn for years and never used it because it just doesn't ignite the sensual response I'm looking for in my pleasure experiences. The joke is it would look really good on BD - just like navy blue. But at least blue is a color - albeit impossible to see in my dimly lit, heavily porched house. Hmmm. Well. We shall all know tomorrow - what will happen to the scarf.

Reading some of my favorite blogs has me thinking about Christmas cooking - and cooking in general. The recipe I sent Annie was one of my own devising - grew out of spaghetti sauce - but, like lots of home cooking recipes, probably developed one evening when I didn't have any spaghetti but did have macaroni. It's LD's favorite recipe - the first one he asked for when he moved into his own apartment. It's also something I consider easy to cook - though I suppose frozen TV dinners are the only really easy recipes and they require a microwave - which I don't have. There is also a rotary dial phone in the kitchen, but the wood cookstove was sent to the cabin years ago. This is a little house in the big woods.

Usually in December I go into cookie gear. This year I'm trying to avoid that. I may not completely succeed - but I'm sort of hoping LD will do the honors. He said he thought he might and truth to tell - I just don't want the house full of festive fare. I've been 6 months on WW and am still pretty new at it all - not so much dieting, as living without all the junk food. Use to be that December mostly meant 31 days of a low grade upset stomach topped by a blissfully happy mouth. I'm just not in the mood for that this year.

No doubt about it - I was born to respond to advertising images. Cover of Southern Living books? You betcha - mouth watering, nostrils flaring - I can hear the clink of glasses at the party and feel the sensuous cling of stretch velvet as I toss my hair back and throw out some witty comment, languidly cradling my champagne glass, flirting outrageously with my companion. Those glorious cut-out cookies with royal frosting decorations? Uh Huh - and the little taffeta flounced children gathered 'round me in my colonial repro kitchen, their eyes sparkling with wonder at the shine of the dragees we use to decorate the tree shaped sugar confections?

'Course, we all know the stretch velvet shows all the bulges and the only thing I've tossed is the champagne, down the front of my blouse - and the kids are whining and the royal icing makes the air so full of sugar your teeth grow fur.

But those images!!! How they set us up for expectations that - well - it would be fun if they could be fulfilled - but I suspect that only happens in movies from the '40's. And when I contemplate heading off to the kitchen and digging out the bowls and pans - my stomach sort of clutches. Actually - in years past it has sort of cramped and twisted most of December. Funny - I've noticed this year that my stomach has cramped up on me even just looking at the holiday magazines. Well - it is all a journey - this weight loss thing - and I guess I'll just let it happen as it will.

Anyway - the cooking will occur - but not the fortylevendyhundred cookies - and we will have the party, but in my house, it's the sort where pillows are tossed on the floor and teenagers lounge on the staircase and wee ones will play with the magical toys in William's Room. Old guys still linger around the food table, but BD will cook the ham and friends will bring potluck type dishes. And so help me - every leftover is going home with LD.

It's off to the city for me now - or at least, in about an hour or so - and I must make a shopping list.


posted by Bess | 6:51 AM
---
0 Comments:
Subscribe to Post Comments [Atom]



Thursday, December 11, 2003

Well, well - though Saturn, that goal oriented task-master is telling me to hustle along towards my personal grail, the link between Venus and Jupiter reminds me that romance is in the air and I can let my hair down a bit, have some fun today. Thank you heavenly bodies. I am just in the mood for that.

Both of yesterday afternoon's meetings were not only productive, but proof that HrrrrHighness needs external structure to get things done. Normally folk 'round here don't even hold meetings in December unless they are the cheese ball/double chocolate mint brownie/eggnog type of meetings. Clubs gather in people's homes, or don't gather at all, work is left for February because, you know, "the weather is so unpredictable in January."

Only in the south - at least, only in Virginia, that buffer to all the rest of the south, against sleet and snow and cold north winds, is the month of January pretty much crossed out of people's lives. We also do this in the summer, but that's a different weather related phenomenon. Because we get so little snow, there is rarely enough money in state and local highway budgets to shove it out of the way. Because it is possible to go 2 or 3 or even 4 years without even seeing any snow cluster on the lawn, everybody forgets how to drive in inclement weather. A few dancing flakes appear on a gray afternoon and the schools are closed. Long after the roads are clear, they remain so, because once some inexperienced bus driver got stuck trying to pick up three pre-schoolers who lived down a forest lined tertiary backroad. The only people bold enough to go out on icy roads around here are teens and ladies, of a certain age, who drive enormous Bucks right up to the curb, and then maybe a little bit onto it, and perhaps smack into the bookdrop. It is better to stay closed.

I love living in Virginia.

As to my glorious sense of freedom - ah yes - well - the meetings were short, fast paced, productive, friendly and energizing. Scot Adams, eat your heart out. All the work done last week is now just that: done. No guilty return from the Christmas holidays suffering that foreboding feeling of looming panic - how will I ever get that done - besides, we're shut down for snow! There is nothing with a deadline hanging over it, till January, so I am waltzing happily the rest of the month. That golden glow you see in the east/north/south is my beaming smile as I prepare to wallow in festive happiness.

My mama used to say "can't you just like something - must you always LOVE everything?"

Alas. I can't. Even when I appear neutral, noncommittal or non-judgmental, it's just a ruse. I am a Virgo, after all, and have opinions on everything. I am sure I am right, too. I don't necessarily have to make these truths known to the world, but I acknowledge them to myself, nonetheless.

And right now I am unabashedly happy and filled with LOVE!

Did a wee bit of knitting on BD's scarf yesterday. I found a darling twisted stitch anchor at the back of Barbara Walker's first treasury (And told BD I want a copy of that book for my Christmas gift.) so I'm experimenting with that as the sole decoration on his scarf. I'm not sure if I made the scarf wide enough for the design - so may narrow the design down a tad. I'll know once I've finished the motif, if I like it enough to make a second one for the other end. It's 32 stitches wide and the whole scarf is only 36. I don't want it to be so wide the wings of the anchor look like they're dropping off the edge of the scarf. And it only left me 4 stitches for the garter band on the side. but it doesn't seem all that hard to make the anchor say - 2 or 4 stitches narrower. Well, I shall know after the weekend.

BTW - I'm using that Aurora8 in my stash, the stuff that might be called wheat colored, but I am sure is really taupe. Goodness that stuff feels sweet on your fingers.

Beloved friends are sending me gifts and, though I have at least gathered my own offerings, none of them are wrapped or packaged for shipping. That will have to be another weekend task. Fortunately, someone else will be cleaning my house for me today. And I'm taking tomorrow off to go Christmas shopping - alone. I can blitz through the stores and linger only where I want - prowl to my heart's delight and, I believe, even fit in a visit with the folks. I shan't tell them, so they can enjoy the surprise.

Yes yes. I am ready for pleasure. Ready to enjoy it and ready to wish it for the rest of the world.




posted by Bess | 7:44 AM
---
0 Comments:
Subscribe to Post Comments [Atom]



Wednesday, December 10, 2003

So, here it is 4 a.m. and I'm prowling around the house like a Christmas mouse. This is the result of a whacked out schedule and 3 - count 'em - 3 cups of coffee after 6 months of only one a day, thank you, plus a disgusting number of business workshop sweets. My poor body does not like this one whit.

For those who know me, it is no news that I don't "do" 95. That is, I don't drive north of Fredericksburg on Interstate 95. This is a severe handicap, since there are some gloriously special people (Yes, Lissa, sweetie, you are one of them) who live not more than 90 miles away, but whom I do not visit, because it requires driving on that river of death. If you live in the sticks long enough you forget how to drive around other cars - and if you never learned all that well to begin with, the idea of jockeying for position among the million vehicles scrambling through the asphalt corridors of NoVA is enough to make the heart stop.

Fortunately, other people are not such chicken hearts and yesterday one of them drove me to Arlington PL to take a book repair workshop. Fun - interesting - informative - hands-on - glad I went. But it ment I had to be up on Highway 17 to meet my ride at 5:30 and since it was Tuesday Night Knitters, I didn't get home till 9 o'clock. This is tough on an old body but worse was the heaping pile of Danish/brownies/bagels whispering from across the room. I can usually pass on much of that stuff but for some reason I didn't yesterday. 2 brownies later and a mocha latte on the way home, plus a cappuccino at TNK - I'm wide awake at 3 a.m. and wondering how I'll get through a Wednesday that includes story hour, the 5-year plan committee meeting and a by-laws rewrite committee meeting all before 6 o'clock. I think I'll be a zombie by the time I get home tonight.

Thank goodness the long drive home caused me to miss my WW meeting and I have a whole week to undo the sugar/fat damage.

Eh. But I am taking Friday off. Just keep clinging to that idea, I tell myself. Friday off. Christmas shopping all by myself Friday off.

I got the cuff of LD's first Christmas sock done yesterday - 9 inches of ribbing. I'll begin the heel flap today. I'm making it from some Interlacements Toasty Toes a friend brought me over a year ago. Fortunately, this yarn makes 2 pair - since I had intended this for socks for me. I've also cast on 36 stitches in Aurora8 for a scarf for BD who, out of the blue, told me he wanted a shawl for Christmas. After blinking a moment and trying to imagine what he would use a shawl for - and then asking if he meant something to wrap around his legs in the cold den on nights we watch movies - he pointed to his neck and said "something to wear there". I realized he meant a scarf!! Happy days - something almost mindless, out of stash yarn that perfectly matches his coat. Yes. Only of course - I don't like mindless and am scouring the pattern books for just the K P design I want to use to make his scarf special. A seaman's scarf with that ribbing that goes around the neck.

Been following the dilemma on Annie's blog - about design duplication and the responsibilities of editors - and what constitutes original design - especially in clothing!!!, for goodness sake, which mankind has been wearing since Adam'nEve so how original can any garment be!?! It's a tricky slippery slope - but I think I have to weigh in on Annie's side to say that any publisher has a responsibility to do due diligence before offering something as original and, if it is not truly original, ought, in the text, to at least comment that "Here's a new twist on an old theme".


posted by Bess | 9:44 AM
---
0 Comments:
Subscribe to Post Comments [Atom]



Monday, December 08, 2003

I didn't think there would be time to post this a.m. 'cause my prayers have been answered, I've been sleeping nice long 8 hour sleeps all weekend. But I zipped through the morning routine so here's an update on my knitterly activities.

Of course, one should truly never count one's chickens. I didn't get a whole day all to myself in the CleanHouse, which isn't all that clean any more, since on one of their forays, the dogs made a pit stop in a mud puddle, but I got some time and finished both the red lace scarf and the spinning project. I'm back to spinning the lovely merino dyed to look like a sugar maple in October and just before sleep last night I cast on a pair of socks. I really contemplated hard about knitting 2 on 2 but I just know I'll get frustrated with turning them, catching the inner yarn between two needles and always having to thread the ball back between them. Only one sock - let us hope they knit up fast. I have to ride to D.C. tomorrow (ugh, shudder, groan) so I'll have a long time in the car going up - it'll be too dark to see coming home. Maybe. Maybe is about all I can say.

Though I know one ought not wish one's life away - I will be heartily glad when 6 o'clock Wednesday comes. From that point on I have no obligatory stuff to do at work; only fun stuff. We can be cheery and bright and wish people Merry Christmas or Happy Holidays all day long. Sometimes, during December, I like to see how many people I can make smile when I'm in a store. I push my cart around (mostly the only store I go into is the grocery part of WalMart - that's about all there is in my little town) sort of looking for what I want, but all the time looking at people and seeing if I can catch their eye - and then I'll smile and say MC and watch what they do. It's really neat to see the change - as if whatever burden weighing on a person's mind is lifted a moment. Their heads lift upwards and most of the time shoulders straighten too. Yeah, I know, it's manipulative, but it's also a bit that, I just can't contain the excitement I feel this time of year. And with the full moon tonight - well - maybe you better stay out of the stores today just in case I happen to be in your WalMart.


posted by Bess | 7:42 AM
---
0 Comments:
Subscribe to Post Comments [Atom]



Sunday, December 07, 2003

Yippee! Knitters Review Forums are back up. Congratulations to Queen Bee Clara for pulling the all-nighter off. I hope, sugar, you get looooots of sleep now.

And the answer to yesterday's question is YES!! The house is clean, the pile of laundry is only 4 feet high and it's a sunshiny day. (yeah, I don't have a drier). The Darlings are going to be cutting firewood today so I not only is the house pristine and BE YOU TEE FUL, but I get it all to myself!! O wicked delight.

Hmmm. this sounds ominously like a segue into one of those "You know you need to get a life when you thrill over sitting in a clean living room" or perhaps "You know you're a slob when cleaning the place up is cause for celebration" or maybe "You know your brain has atrophied when you'd rather have a sparkling kitchen than go to a party"

But that's not really true. This joy, the savor of a tidy living space - is a familiar old friend - akin to pulling out your summer clothes after the long bleak gray days of February and March. It's very similar, in fact, to the changing of any of the seasons. Fall does tend to seep into winter around here, and summer can catch you unawares as well, but that special day, when you know it is smack on winter and not autumn, is an energizing day for me. My house is very warm - both in color and in temperature - for we heat with wood and the glow pulsing from the stove window enhances the feeling of coziness it's actual BTU capacity produces. I enjoy this house they way a dog enjoys a bed, or a pony will shiver and roll in grass when it's let out to pasture. I savor it.

BD designed and built (as in with his own hands) the house and I have always thought the rooms were particularly comforting to be in. He has delightful theories - such as - all conversations take place in 10 square feet so rooms should be multiples of 10 square feet. And he also told me he designed the proportions using the Fibonachi numbers.
"Huh?"
"The same dimensions as the Parthenon".
Lord love him. That's just the sort of thing he'd think of doing.

But there is more to the clean-house-delight than just my meager 2 hours of hustle and bustle. This is a country house - a real old-time country house, but without servants. Unless you count me as the servant - and Sheryl, every other week for a couple of hours. It's country in that not too much separates us from critters. Spiders and mice in particular. Competition for living space between them and us is fierce. The original plan was for Sheryl and me to spend yesterday morning thoroughly gutting the kitchen and tossing out everything selected by critters as dwelling places. Unfortunately I'd forgotten about the Santa Breakfast and we had to cancel. We'll get it done in January - but it did mean that whatever appearance of a deep clean the kitchen would have this holiday season was going to have to be done by me - and so probably it wouldn't even look very clean.

Ahh, but, as life is woven out of many threads, to form a rich tapestry of cause and effect, BD is once again on his quest for gallons of hard cider. LD and I neither seek it nor do we believe he is ever very successful, but it is common for him to purchase unpasturized cider in large quantities and to dot them about the house trying to get them to turn hard. (The nay-sayers think it merely turns to vinegar and are secretly amused when the hopeful enthusiastically sips that nasty sour stuff). Usually half of the gallons just go bad on the back porch, so this year he arranged to have a friend deep freeze some for him. So far, every jug he has thawed out has leaked - but so far the leakage has been in easy to clean places. Alas for BD, but hooray for me, the leak on Friday night was on top of the refrigerator. On top and behind and in front and all over the kitchen. Several hours of hard scrubbing were needed to get back to square one - and in the process, my dearest BD gave the kitchen at least the look of a deep clean.

He, on the other hand, was full of tales of discovery, of the riches unearthed when he pulled out the refrigerator. You don't want to know and I am mighty glad I wasn't present. It was a veritable tomb of trash and a testament to my utter slobishness. Sigh. Thank goodness it's done, and thank something greater than goodness that I didn't have to do it.

All this means that today, my time belongs to me. I shall be spinning a good portion of the day, and knitting a wee bit. Or maybe something else - it's just so much fun to have a whole day with no obligations attached to it. Like having money with no bills to pay.

And early this evening there is the first of the Christmas parties and the community chorus concert afterwards, so no cooking for this gal. The split pea soup is on the back of the stove (bubbled away while I did the whirlwind job on the house). Lawsee! I'm gonna become an absolute sloth at this rate.


posted by Bess | 4:45 PM
---
0 Comments:
Subscribe to Post Comments [Atom]



Saturday, December 06, 2003

Way too rushed this morning to post anything, I'm only now back home - and the house is a pit - so there is only time enough to say good morning. Yesterday was one of those "If you put it off till Friday you'll have an agonizing day." I tell myself that I really am working on things when I let them "cook" in my brain - but I am never sure if I'm not just procrastinating. Thing is - if I had only had what I had expected on my plate, I would have been done by 4:00 p.m., had 2 hours of sort of tidy up at work, have the books done up and the doors locked on the dot at closing time, and been out the door and home in 20 minutes. Only - it don't work that way. An issue cropped up on Tuesday that, in the end, demanded my attention, thought, and careful choice of words. And that got stuffed into the 4 to 6 p.m. slot that somehow stretched over to about quarter after 6.

Instead of leisurely ambling on home, to dress for dinner at friends, I was hustling, late, a little anxious, and slightly chilly, since I'd dressed in a suit for a photo shoot in the a.m. that didn't happen, as good as bare legged on the rawest day this autumn. Everything ran late after that and when we arrived at our friends, their heat had been out all day - and though on now, the ancient walls and high ceilings of 18th century architecture had had time to soak up all of the cold of 38 degrees and raining. And the guys decided that nothing would do but Mahler - in all his permutations - and it was after midnight before we left - and nigh on to 1 a.m. before I was shivering in bed.

This morning we woke to a dusting of lovely snow - I'm sadly just below the snow line in Virginia - not more than 30 miles due south of nature's snow fence. A local club was holding a Santa Breakfast and I was the roving Christmas lady, moving from table to table reading Christmas stories from the library. Though I had a selection with me, I ended up going with Berenstain Bears for the older ones and Eric Carle's Dream Snow for the wee ones - and perhaps the not so wee ones. I saw the gleam of Christmas Gift in the eyes of many a grandmother. I think I'll give our little local book store a heads up.

This was my first time reading at the Santa Breakfast, but it was enormous fun! I don't have little ones any more and to be surrounded by dozens of velvet trimmed darlings and their beaming grammas and grampas, mamas and dads, was so much fun. Also - I don't know that many of the young families any more. Cub scouts, PTA and even the high school regional championship football game, being held in the mud and wind this afternoon, are pretty much things of memory for me now. Between children and grandchildren comes borrowing, and I will surely be back with Santa next year.

Now the trick is - can I do a thorough houseclean in 2 hours so as to have a glorious free day tomorrow with a clean house and nothing to do but drift happily from room to room?

I'll report back tomorrow.




posted by Bess | 3:05 PM
---
0 Comments:
Subscribe to Post Comments [Atom]



Friday, December 05, 2003

Sorry about the lack of verbiage yesterday. Slept deliciously late for a radical change. Wish I could have done it this morning too but my eyes popped open at 4 a.m. I love waking up at 5 but I hate waking up at 4 - for some reason the latter feels unhealthy, while that extra hour feels right. I am lazily blaming it on chronology since I am at the M period of life, and I need something to explain why, for nigh on 2 years I've chugged along on 6 hours of sleep every night till the body rebels, throws out flu like symptoms, and I then sleep 20 out of 24 hours and everything feels right and tight. I don't like it - it's the sleep equivalent of drinking 10 cups of coffee a day - or smoking a pack of cigarettes. I only hope a time will come when I can get 8 nice consecutive hours of sleep every night and 16 lovely hours of awakedness.

I've spun up 1/2 of the Christmas Present Spinning I suddenly decided I needed to make Monday morning. It went deliciously swiftly and didn't interrupt my other suddenly-decided-on knitted gift projects a whit. Yes - the ever pontificating, stuffed shirt of a Bess has succumbed to the desire to MakeGifts after all. I've dug out the Toasty Toes sock yarn (can be knit on size 4's ) last night for LD's present - I love this yarn and it comes in a big enough blurging wad of bouncy merino to knit two pair - so if I am swift I will make a pair for BD as well. But I make no promises. Even to myself. I'll just start knitting and see what happens.

I'm still dreaming about a cropped sweater out of that red STARS I uncovered in my stash clean-up. (I'm still enjoying walking by that part of the den and just admiring - I haven't yet dumped anything new on the piles.) Sigh. It would be so much fun to have a cute, scrunchy red sweater to wear at Christmas time. 3/4 length sleeves - I'm thinking a yoke style sweater with no design till you get to the last decrease and then knitting that part in an openwork design out of the gold lame. Then, if there is any more STARS left I could knit a cowl that I could just pop over the lace yoke bit for a different, not so dressy look. Hmmmm. Awfully tempting to cast on right now.

This week has absolutely dragged. For a while I thought I was coming down with something, I actually ached so - but now I think it was all emotionally based. I do tend to make myself sick when issues are bothering me. I'm supposed to be leading a 5-year-plan project for the library and I am just so utterly uninspired about it. Especially at this busy time of year, the committee is going to get it's energy from me and I'm running on only one cylinder, not merely 3. Not just feeling guilty about that, I've been stymied and puzzled. I've never been so listless about work before, but when I got a call from a colleague about TheIssueThatWon'tDie (think here, skeletal hands clawing up out of the ground in an abandoned grave yard) I was able to unblock a bit. The upshot is that once again I will be at the keyboard today - creating a new position paper, altered slightly and perhaps even fundamentally, because I am now speaking to a new audience. It is actually the paper I ought to have written over a year ago, but didn't, because I was so P.O.'d. Well - I shall do my dooty. At least now I feel I can state my case to someone who is actually listening. Of even more help in re-energizing me was the staff meeting, where we could spit out the things that have been bothering us - mostly lack of adequate staff - and could really get this problem of subtle, deadly burnout into some bright light. We may not be able to do much about the underlying i$$ue$ right away, but at least we have identified them. We all felt a little more lively after the meeting.

And sweetly, happily, Friday has come 'round again and I get two delicious days to spend on myself. I'm reading Christmas stories at a Santa Breakfast, will probably slide on over to Mechanicsville and do a tad bit of shopping, and then I'll be home to play with my toys by mid-afternoon. Long live December!


posted by Bess | 6:08 AM
---
0 Comments:
Subscribe to Post Comments [Atom]



Thursday, December 04, 2003

So - What have we here? Three Muskateers? Three Knitateers? Three FiberFiends?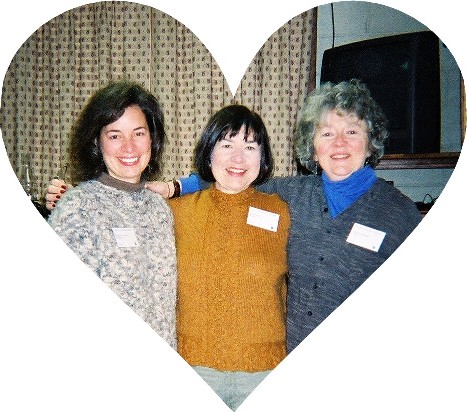 Naa - It's Bluestocking, BessH, and Marfa

posted by Bess | 9:55 AM
---
0 Comments:
Subscribe to Post Comments [Atom]



Wednesday, December 03, 2003
Hmm. Waddaya think?





you are deepskyblue
#00BFFF


Your dominant hues are cyan and blue. You like people and enjoy making friends. You're conservative and like to make sure things make sense before you step into them, especially in relationships. You are curious but respected for your opinions by people who you sometimes wouldn't even suspect.

Your saturation level is very high - you are all about getting things done. The world may think you work too hard but you have a lot to show for it, and it keeps you going. You shouldn't be afraid to lead people, because if you're doing it, it'll be done right.

Your outlook on life is very bright. You are sunny and optimistic about life and others find it very encouraging, but remember to tone it down if you sense irritation.


the spacefem.com html color quiz



Thank you Fillyjonk.

posted by Bess | 3:54 PM
---
0 Comments:
Subscribe to Post Comments [Atom]
Let us sing a song of praise for


ERIC
Blogger Techie Extaordinaire Prince Of Problem Solving Hero of the Day.
Not only did he fix the posting problem, he went in and finally fixed the archives.

With alacrity!

And courtesy!

And he even answered my e-mails!

As the flowers shower upon his anointed head, may electric impulses always obey his every command, may all coding instantly succumb to his slightest wish, and may his bosses give him a fat raise. This is the first time I've gotten such personal, friendly, effective service from blogger ever. Pretty darn good service from the technical department in any business.


Thank You, Eric




As for news from the Life-O-Bess :

Yesterday was a slightly more effective work day for me than Monday. I did pop off my statistical report to the state, fortunately after printing a paper copy of it, 'cause once you send it, you can't even see it again till they've crunched the numbers and since that's an outsourced job, it's none of your business when they do that. And I at least copied the worksheets for the 5-year planning work that has to be done and mailed, by Friday. I am soooooo unstimulated about that. And got stuff ready for story hour. Wednesday does mean Story Hour. Oh yes, and I had a lengthy phone conversation with an affected colleague on the ProfessionalIssueThatEvidentlyWon'tDie. It's been thrown out into the political ring yet again!!!! How many calories does one burn while throwing a hissy fit?

And of course I created valuable visuals for my blog.

Speaking of calories - my WW meeting was last night and I went down a pound over the Thanksgiving holiday. Woo woo! This would be a smiley moment, only I don't have smiley faces coding so just insert your favorite *here*. There are now 2.2 lbs of soon to be forgotten Bess lingering and I will be at my goal! Stayed late with the leader, who is really a darling, after class and we talked about things - and about how hard the maintenance is. She laughingly admitted that she tries not to dwell on how much harder it is to maintain than it is to loose - because she doesn't want to ever discourage anybody - and even though I hear her and somewhere deep in my teensy bit of intelligent heart I suspect she is right, all the rest of me, flush with success, is shaking it's collective head, thinking, "Oh No Not Me - I am almost finished - almost done - almost free at last."

Well, I am sure empirical evidence will once again prove to me that reality is what I always suspected it was, not what I always wished it would be. (Virgo-speak, Chapter 3 Dealing with Chronic Doubt) Thanksgiving was not nearly the issue some might have thought it would be. That meal was planned out and sufficient padding cushioned any damage it might have done. It was Saturday's abandoned excess that shocked me - a day of constant nibbling off of blocks of cheddar cheese and glazed ham. I honestly haven't any idea how much I packed away, never feeling hungry and never quite feeling full. All that saved me was a ramped-up exercise program that was actually quite delightful and, since I was on holiday, easy to fit into my day. I can only look at it as an object lesson on how easy it would be to return to my former dimensions. When I think that I used to eat like I did on Saturday, pretty much all the time. Good gracious!

I'm more than half way through the red FURZ scarf and have a spinning project I suddenly must begin today. It's difficult to get much work done during the week. BD is watching the video series about Verdi in the evenings and though it is interesting, it's also extremely long and a bit amateurish ... didn't there used to be something called Spaghetti Westerns - well - this is a Spaghetti Biography. It is packed with information and I rather do love Verdi's operas - have you ever really listened to that duet in Rigoletto when he plots with Sparafucile to murder the duke? The melody is only played by the cellos - it's too secretive for even the singers to use! It's really effective.

Anyway - not only does BD like to watch movies, he likes company and he likes to discuss them afterwards. If the movie stinks I walk away but if it is fair to good I frequently stay. Sometimes I resent the theft of my time and sometimes I feel enriched. How do people with television reception ever get anything done?

Ahh well. I am rambling. This is a sure sign it's time to go do something else. Bon Jour mes amis.



posted by Bess | 5:48 AM
---
0 Comments:
Subscribe to Post Comments [Atom]



Tuesday, December 02, 2003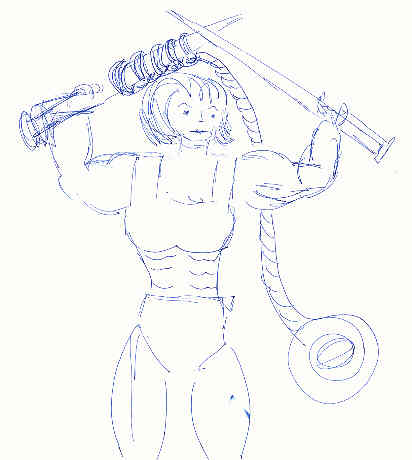 Bess gets 5 stitches to the foot now that she's bulked up and can heft those size 158 needles. posted by Bess | 10:42 AM
---
0 Comments:
Subscribe to Post Comments [Atom]

My Christmas gift to myself this year has been arranged. No. It is not a fiber gift, nor is it clothes nor jewelry, though I had thought long and hard about getting a gold necklace. I will just pick out one and point it out to BD with bold subtlety.

I have repeated myself enough on the subject of gift giving and getting, so it should come as no surprise that I buy something special for me each year. This year it is 5 weight training sessions with a personal trainer at the gym. If that isn't the jock-est thing I've ever done - I don't want to remember what was. Weight lifting?!? Me!?!

I am descended, down the maternal line, from generations of sitters. My beloved mama did not approve of sweating. I believe her goal, from June through September, was to sit as still as possible and drink celery juice to prevent any of that nasty, sticky sweating. She bore with great patience, the repulsive habit my Dad and I had, of playing tennis on the weekends - and was overjoyed when my violin teacher told her that my wrist would be ruined if I continued to smash and jam it against flying tennis balls. Field hockey? - the only team sport for which I ever showed the slightest aptitude - Impossible! It required staying after school too many days - I had orchestra practice on Tuesdays and lessons on Thursdays.

My dad, on the other hand, is almost manic in his need to move his body and like many guys, even becomes mean if he doesn't get enough hard physical exercise. BD requires regular doses of HurculeanTasks and LD is just the same. When the say "we'll walk home from town" honey, that's a 13 mile walk. In fact, realizing the male need for hard body usage was the first inkling I ever had that Daddy wasn't crazy - he was just a guy! One of my sisters inherited 100%+ of his extreme physicality and I am no slouch when it comes to getting off my duff. I'm more likely to incorporate it into daily living, but we have always lived half a mile from the mailbox and I carved my garden out of cut-over timberland using hand tools.

But I've always known that my upper body strength was - meager at best and with the WW program and the nice weight loss - my skin is sagging on my arms. So I sat down yesterday with the PT gal at the gym and told her I wanted something to tighten up the skin that I could do at home - and of course, she told me you can't just fix one part of the body - and I knew that and we ended up scheduling the next 5 Mondays to get poor saggybess started down the road to muscular magnificence.

Knitting jock. Hmmm. I believe we need a visual here. Stay tuned.


posted by Bess | 6:09 AM
---
0 Comments:
Subscribe to Post Comments [Atom]



Monday, December 01, 2003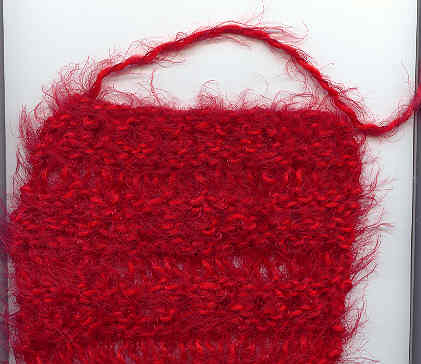 Here's a scan of the red lace scarf knit in FURZ.

posted by Bess | 12:29 PM
---
0 Comments:
Subscribe to Post Comments [Atom]

Well, O Best Beloved, 'tis Happy December at last. Those who know me are not surprised to see my face brighten and eyes sparkle when The First Day Of Christmas comes. "What?" you ask. "This is Saint Edmund's Day! or St. Philaret the Merciful or any of a number of virgin martyrs like Sts. Bibiana, Candida, or Florentina" Or - at best, the Monday of the First Week of Advent. Perhaps so, liturgically speaking, but for me it is the day the Christmas music comes out of the wardrobe in the den and thus - 'tis the First of Many Days of Christmas".

Bare trees against clear pastel sunsets thrill my heart this time of year. Holiday lights twinkling in fantastical configurations trigger excitement. That sense that nothing very important is going on at work, even if the governor's budget is coming out December 19th. I have a favorite Christmas time perfume for December. I enjoy the challenge of celebrating the entire holiday within a tight budget. I have certain particular ritualistic activities for certain days. I only see the smiles on people's faces - some inner shutter closes over the Grinches and Scrooges, imaginary felt pads close out their complaints. I am an UnabashedChristmasLover.

Every evening this week I will address Christmas cards - a few each night, till everyone has been contacted. I love Christmas cards. I love to get them and to send them. Sometime this week I will buy two small green wreaths for the front doors. This is also the time I get BD to take down the screens and trim back the ligurstrum. In the coming weeks I'll check out my favorite holiday books from the children's section of the library and snuggle in bed with them. For some, it is the Cratchet's Christmas Dinner - but for me it will be Betsy Ray's trip to Milwaukee and Laura's Christmas in the Big Woods, John Woodall's Edwardian Christmas and Peter Spier's Christmas. I will read to the children Jan Brett's Wild Christmas Reindeer, though it is really intended for the parents, and Alexandra Day's Christmas We Moved To The Barn.

BD will be gone most days this month, for his Christmas Spirit, a far more tender, nostalgic and melancholy one than mine, is assuaged by assembling bicycles for the Salvation Army. The folk there call him TheBicycleMan - in fact - they once sent a letter addressed merely TheBicycleMan with our post office and zip code. I am proud of him - and I'm proud also that, living here, that is enough of an address. Now that he has found a way to put meaning and justification into the celebrations, he has much happier Christmases and his happiness has freed me to let my own joy bubble over, for I'll admit, I'd put a bit of a damper on in years past. I can ignore a gloomy celebrant, but I have no desire to change him and I certainly don't want to rub him raw with my own exuberance.

And on the weekend before Christmas Day, we'll go out into the woods and find the prettiest spruce pine we can find and bring it back to decorate. It will fill the same corner of the living room, where permanent screws are in the wall to hold it up and pine sap stains streak the walls, to be hidden by a cluster of small pictures the rest of the year. Huge tubs of ornaments will be lowered through the air vent into the attic - so that one doesn't have to tramp up and down the stairs. In the space of an afternoon the house will be transformed into a wonderland of secret hidden magic. We'll listen to Old Time Radio's holiday programs and sip some delicious thing in a room lit only by the dancing colors of tree lights.

Every year I seem to let go of more expectations during this season, opening myself up to serendipity and chance, and each time that happens I have even more fun. Time was, I wanted the perfect Christmas tree and the maximum number of Christmas cookies and the ultimate gifts for everyone - all home made and exquisitely wrapped. Now I really don't care - so long as I get the music I want and some days off - that is enough for me. Perhaps the day will come when I shan't even require them - but, as the music is free - or at least already purchased - and the days off are pretty much legislated - I doubt I'll ever have to sacrifice them.

My favorite astrologer tells me that this month I am to lighten up - to refuse to bear other's burdens, to savor my joys and to put my house of romance in order - rather ominous sounding but then everything holds portents for Virgos. Still, I always like to take advice I want and I want to be light and airy and ready to laugh this month. I feel I've been gloomy long enough. How perfect for the desire to match the season.

On a more fiberly note:

My Winter Knitters magazine came on Saturday and there was a pretty little lace and dropped stitch vest in it. I have been swept away with dropped stitches lately, am knitting a red scarf in something fuzzy ( I believe it is FURZ, but I don't have the ball band with me) and ripped it out so as to begin again using that little 8 row pattern - so easy, so elegant. It works extremely well in an eyelash yarn, knit on size 11's I believe. 2 balls will make a 6 foot scarf - destined to be somebody's gift because I want a red cropped sweater out of the STARS and one red fluffy eyelash garment for this 51 year old feels like a statement, but 2 begins to feel like a signature. I like chic, but not ubiquitous.

Yesterday LD and I went to visit my parents and on the way home stopped at Barnes & Nobel where I picked up Beadwork Creates Bracelets, a little new book from Interweave Press. More and more I am being drawn into the world of beads. I dream about socks with beaded cuffs and sweaters with beaded yokes.

Ah well, there you have it - the sun and the moon are having a party in my fun zone and I intend to indulge completely.



posted by Bess | 7:23 AM
---