0 Comments:
Subscribe to Post Comments [Atom]



Friday, January 31, 2003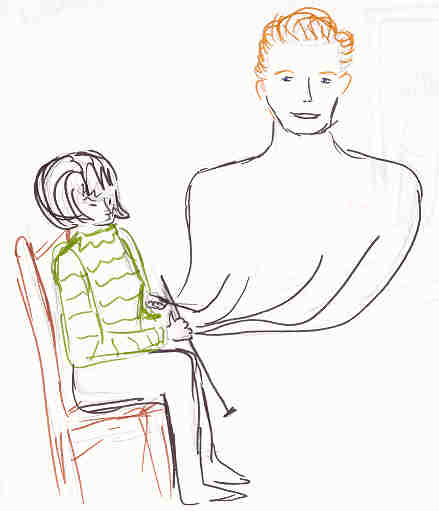 Bess decides to forget the sweater and concentrate on the good part posted by Bess | 8:51 AM
---
0 Comments:
Subscribe to Post Comments [Atom]

I love everything to do with sleeping. I love the clothes you wear in bed. I love to be naked on sheets that just came in from the clothes line. (though maybe not on these sheets.) I really love bedrooms - they are my favorite room in the house, in fact. And I absolutely love the power of dreams. Even bad dreams - which, I have been having ever since I put up this blog. All of them about being exposed and vulnerable. Heh heh - not too difficult to figure out where they came from. posted by Bess | 7:32 AM
---
0 Comments:
Subscribe to Post Comments [Atom]



Thursday, January 30, 2003 There is luck and there is stupidity and put them together and you get dumb luck. Thank goodness.

After all the math of the past 2 days I started knitting the color pattern around the hem of Sigvaldi and as I poured over the chart I realized they had added not 1, but 3 extra stitches on one side. This allowed a little blue cross to begin and end each round. "So what?" you ask. Well, there is enough picky Virgo in my DNA to make
me niggle and nag and worry over that till I decided to rip back to the ribbing and add those 2 stitches. Trouble is, that made my sweater, already oversized, 1/2 an inch bigger. and so darn many stitches around! (sigh, the burden of zaftig).

By this time I was yawning pretty seriously so I took Best of Lopi upstairs for some bedtime reading. And lo, here's where the luck came in.

The size XL sweater, which is 51" around when done in Lopi, comes out to be 179 stitches around. My 46" sweater is 184 + 1 extra stitch for a total of 185. If I were to add the extra 2 stitches to my sweater it would be 187 stitches around. BUT -
What if I were to subtract 5 stitches?!? Not only would the pattern fit, but I can actually follow the book's directions whenever I come to pattern knitting! Is this just great luck?!? So my sweater will be 45.25" around (boy who do I think I'm kidding - my knitting is never that exact).

And best of all, the careful decreases at the neck, the reason I like this sweater so much, in fact, won't take any reworking. I'll just knit a 51" sweater in smaller yarn and end up with what I want. ..... I hope.

As for my grousing about distributing increases evenly - well... it stands to reason that if you decreased 10% of your total stitches to make your ribbing you should only have to K9,M1 around to increase evenly back up. You start with 10 stitches and make them 9, then make 9 stitches back into 10. Right? Doesn't Elizabeth Zimmermann tell us this in every one of her books? So - why
don't I believe it?

Because I think math is really magic, that's why, and I don't believe I'm that good a magician.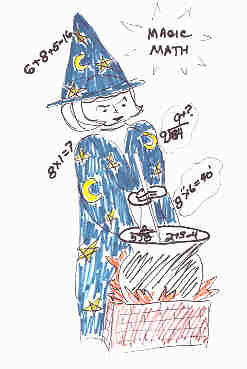 Bess stirs up some math magic posted by Bess | 7:33 AM
---
0 Comments:
Subscribe to Post Comments [Atom]



Wednesday, January 29, 2003 Been working on the numbers for Sigvaldi. I love this kind of math but, alas, I'm still that careless girl who was always in a hurry and made stupid math mistakes. Here's what my workbook looks like: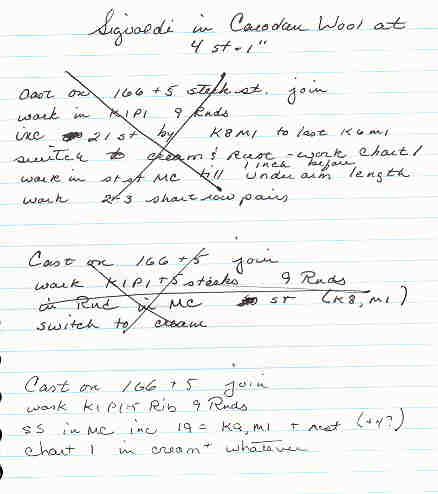 So what is going on?

First the sweater gauge is 3.5 st. to the inch.
My yarn knits at 4 st. to the inch

Okay, not enough of a difference to make the pattern look awful. I'll just have a few more zigzags than the photo.

Now I want the sweater to be 46 " around. Big but I envision wearing it more like a coat than a sweater. So more math:

46" x 4 = 184

How nice. The pattern is an 8-stitch pattern, which goes neatly into 184 stitches.

But WAIT!

If I just slice down the sweater to make the cardigan, one side of the front band will end at the top of a zig, while the other side will begin on the second stitch down the zag side.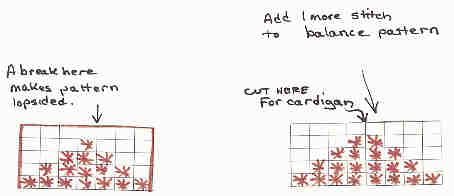 So I have to add 1 more stitch on the top of the zag so that each pattern ends on the top most stitch of the design.

Okay that means 184 + 1 extra stitch

I want to knit this sweater in the round. (Did I say that earlier? Nope? Well, shame on me) Now I know I can just cut down the center of a pullover and make a cardigan but after much thought I've decided to knit 5 steek stitches in the center front for cutting.

So – final math (in stage 1) is this:

184 +1 + 5 = 190 stitches in the body of the sweater, always remembering that 5 of those stitches are steek stitches and don't go into any future calculations. (Lord I hope I always remember)

Now I want to put in 1.5 inches of k2p2 rib on 10%, or 19, fewer stitches but see? Already I've forgotten not to use those darn steek stitches in my calculations. Let's go back and do it right.


10% of 185 is, GASP , 18.5 stitches. I can't knit a half a stitch. And if you remember rudimentary estimating, I'm supposed to round up at .5 so I'll take away 19 stitches. WHEW that one worked out the same.

Okay, then here I am with 185 + 5 – 19 = 171 stitches to cast on.

It only took me 3 tries in the workbook.

One final bit of idiocy: I cast on, knit the 5 steek stitches, did my lovely rib for 9 rounds and what do you know! When I came to do the increases, I ended up with 183 stitches in the body. I'd cast on only 169 instead of 171 stitches. Corrected that by ripping back a few inches and sneaking in 2 extra increases.

I'll complain about how hard it is to figure how to increase 19 stitches evenly across
body of work tomorrow!
posted by Bess | 2:11 PM
---
0 Comments:
Subscribe to Post Comments [Atom]



Tuesday, January 28, 2003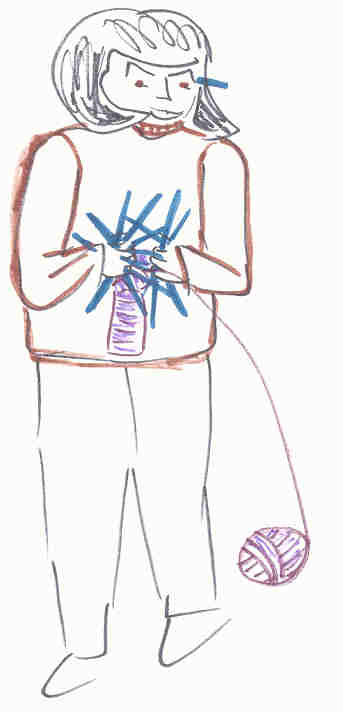 Bess demonstrates how easy it is to use double points. posted by Bess | 2:54 PM
---
0 Comments:
Subscribe to Post Comments [Atom]

Heh Heh! I had no idea how easily one could use a blog to get revenge! I've been remembering how I came up with the name of this blog: "Like the Queen". I was taking a seminar at Mary Washington College in Fredericksburg, VA from 2 professors in the psychology department - who shall remain unnamed but oooo what revenge I'd have if I could only remember their names. They were
very unctuous and arrogant and one of them, the department head, in fact, refused to remember my name. And so I told him, "My name is BESS. Like the queen". At which point, he would have failed me, but it was a pass/fail course and all I had to do was show up.

You will be pleased to know that I never did ask him if he had always been threatened by verbal women or if he was just dealing with being short.

*smirk here*

And I will do something about adding pictures and eliminating the ads here when it is not so darn cold.

Now time for some important stuff:

My knitting classes begin in February. 3 of 'em.

There will be an ordinary "learn to knit" class for adults which I have taught enough times that all I've done to prepare was to order the supplies. In 4 weeks we will knit a watch cap with a stranded color pattern in it. Everybody gets a circular needle and 2 skeins of wool. Yep yep - I'm a wool pusher.

There will be a bi-weekly "My First Sweater" class for advanced beginners. Most of them graduates of my beginner's class. Based on the EPS (Elizabeth Zimmermann's Percentage System) sweater or else on her basic drop shoulder sweater; student's choice. I'll be knitting Sigvaldi from Best of Lopi (hmmmm wonder if that man comes with the kit?) but out of Carodan Farm's wool which knits up at a slightly smaller gauge.

Why not knit along with my class? I'll be posting about it regularly.

The final class is the coolest -it's a children's class and I've been making up the prototypes for the projects. Lots of inexpensive acrylic
yarns, but all interesting and at least soft to touch, if a bit plastic-ey. I'm trying to keep the materials down cheap enough for these kids to buy their own supplies and stay within their allowances. Home made needles, yarn bought from Smiley's, and Koolaid dyeing.

hmmm. gotta learn how to work with blogging tools, but I'll certainly try to get photos and links up soon.

God what an ego trip this all is! posted by Bess | 6:52 AM
---
0 Comments:
Subscribe to Post Comments [Atom]



Monday, January 27, 2003 Hi. My name is Bess. Like the Queen.

And this is my first step into blogging. Gotta go read the instructions now. posted by Bess | 6:03 PM
---