0 Comments:
Subscribe to Post Comments [Atom]



Thursday, January 30, 2003 There is luck and there is stupidity and put them together and you get dumb luck. Thank goodness.

After all the math of the past 2 days I started knitting the color pattern around the hem of Sigvaldi and as I poured over the chart I realized they had added not 1, but 3 extra stitches on one side. This allowed a little blue cross to begin and end each round. "So what?" you ask. Well, there is enough picky Virgo in my DNA to make
me niggle and nag and worry over that till I decided to rip back to the ribbing and add those 2 stitches. Trouble is, that made my sweater, already oversized, 1/2 an inch bigger. and so darn many stitches around! (sigh, the burden of zaftig).

By this time I was yawning pretty seriously so I took Best of Lopi upstairs for some bedtime reading. And lo, here's where the luck came in.

The size XL sweater, which is 51" around when done in Lopi, comes out to be 179 stitches around. My 46" sweater is 184 + 1 extra stitch for a total of 185. If I were to add the extra 2 stitches to my sweater it would be 187 stitches around. BUT -
What if I were to subtract 5 stitches?!? Not only would the pattern fit, but I can actually follow the book's directions whenever I come to pattern knitting! Is this just great luck?!? So my sweater will be 45.25" around (boy who do I think I'm kidding - my knitting is never that exact).

And best of all, the careful decreases at the neck, the reason I like this sweater so much, in fact, won't take any reworking. I'll just knit a 51" sweater in smaller yarn and end up with what I want. ..... I hope.

As for my grousing about distributing increases evenly - well... it stands to reason that if you decreased 10% of your total stitches to make your ribbing you should only have to K9,M1 around to increase evenly back up. You start with 10 stitches and make them 9, then make 9 stitches back into 10. Right? Doesn't Elizabeth Zimmermann tell us this in every one of her books? So - why
don't I believe it?

Because I think math is really magic, that's why, and I don't believe I'm that good a magician.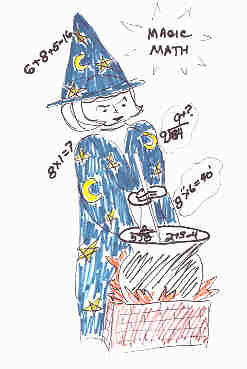 Bess stirs up some math magic posted by Bess | 7:33 AM
---