4 Comments:
Quick! Someone come to my office so I can go home and spin!

Oh, what fun, and what gorgeous product you've got there! LOVELY!

Be very proud of yourself - you deserve it!

I wanna I wanna I wanna! But, I'm not going to be able to, unless you can post some in-process pics of how you did it. Learning disabilities are a bite. Your yarns are just lovely, dearest!!

Love,
LWLY

Absolutely gorgeous!
Oh, and so are your spinning successes!
XOXO
Martha

Hello!
phone tarot reading is a very interesting subject and I really enjoy Your blog.
If You are really interested in this You must visit phone tarot reading
Here You find a complete directory regarding phone tarot reading

So please, don´t miss phone tarot reading

Subscribe to Post Comments [Atom]



Thursday, September 29, 2005
Experiments with boucle spinning



This is the swatch knit from a 2 ply brown lambswool - then a 2 ply made of one ply of lambswool and one ply of a mohair/merino blend. I love that tweedy effect of this very definitely barberpole yarn. There is a little stripe in the middle of the stockinette stitch that is knit in seed stitch - didn't do a thing for the yarn either. But the ribbing at the top looks nice to me. I think this is a real possible for a nice rugged autumn sweater.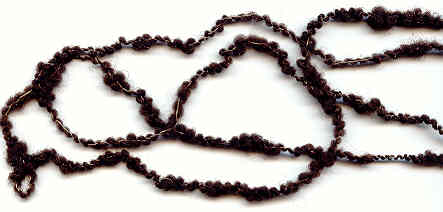 Here's that same brown wool spun into a boucle yarn. Note how fat and puffy it is. If it were also soft it would be a fun yarn to work with. Unfortunately, the bumps of a boucle yarn are difficult enough to knit with - I don't fancy the idea of adding the stickiness of the fiber to the process. Sort of makes knitting a chore.

Still. There's something I do like about this yarn. In time I may figure out what it could be used for.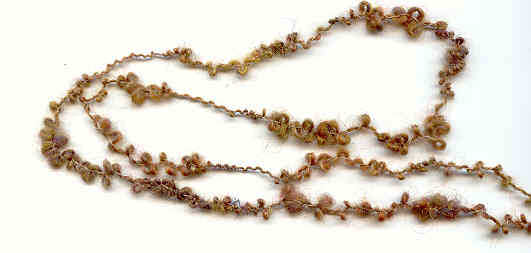 Note the fuzziness the mohair adds to this boucle. The loops are more defined than they were in the lambswool, but still not as round and loopy as the 100% mohair or the Wenslydale that follows.





This is a pretty yarn - all loops and swirls. Not as soft as mohair but still quite lovely.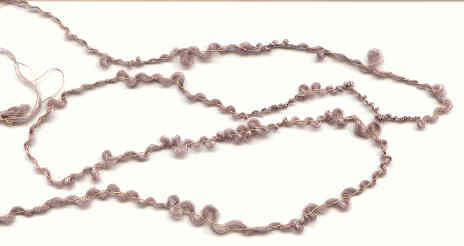 This was the surprise for me. The tencil, which behaves very much like a rayon, gives the loops a slickness, but the merino keeps it from really looping into circles. It's more squiggly. It's delicious to touch. It's a winner, in my book and I'm delighted, since I've had this fiber forever and wondered if I'd ever use it. In a plain spun 2-ply yarn it's just not a color I would ever wear. Too taupe for me. But as a sort of Russian fur cap yarn - yum! Ideas are really humming in my brain now.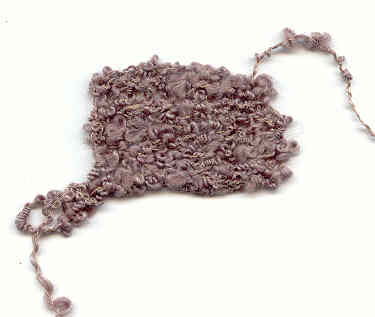 Here it is knit up. This is the purl side. The knit side is almost as nice but I still prefer the reverse st. st. with heavily textured yarns.

Aren't you tempted to try boucle now? posted by Bess | 1:20 PM
---
4 Comments:
Oh, Bess, is this the woman you were just telling me about a few weekends ago? What a sweet story, and what a lovely finish - it's always too soon, but this seems peaceful and blessed, and there is certainly need of that...

RE: the brown fibre -- perhaps something felted? A chic bag or svelt fedora?

R.I.P., Mrs. B. God bless.

Mrs. B sounds like a good example for many of us. How good to know of her late-stage-in-life love/happiness.
Your blog posts about spinning & fiber are mini-tutorials for me - can't wait to have a Robin wheel that will allow me to try all these great fibers.
XOXO
Martha

Hello!
tarot reading uk is a very interesting subject and I really enjoy Your blog.
If You are really interested in this You must visit tarot reading uk
Here You find a complete directory regarding tarot reading uk

So please, don´t miss tarot reading uk

Subscribe to Post Comments [Atom]

That does it, Margaret - I'm going to go ahead and spin the spider web. I rather like knitting with very fine yarn sometimes - especially in that magical way you can knit it on surprisingly (proportionally) big needles. And the fact that I can spin so fine is so intriguing I simply must explore the idea. I wet set the little 3 yard sample I made and a lot of the unevenness smoothed out.

But what has been fascinating me the most this week has been spinning different fibers into boucle. I'm taking advantage of the fact that I have some empty bobbins to pull out some of my deeply stashed fibers. After my satisfying effort with the Azalea Boucle I had to see what I could spin for the body of the jacket type sweater which is to be embellished by the boucle shawl collar. (whew! how did I fit all that into one sentence?) Truth is - I don't care for either of the fat bags of brown wool I have. The boucle is so silky - it's made from kid mohair - and these two wools - one is a very low count merino and one is an undetermined lambswool - are very springy and bouncy - but a little stiff. So far, I can't seem to spin a yarn that I like. Of course, I am still inexperienced enough to have to depend a lot on mood and energy levels and the alignment of the planets to spin a particular yarn. My technique is way far from a master's level.

I don't actually know what I want to spin to go with that boucle - I only know the color. But while I had the brown wool out I thought I'd try it spun up as a boucle. And then why not try that Wenslydale and the mohair/wool blend? I'd already plied some of that (m/w blend) with the brown lambswool and quite liked the result. But what about that tencil/merino blend hiding in the bottom of the chest?

So I made up some little samples and practiced my technique at the same time. The brown wool makes a very spongy textured yarn. I love the look of it, but I'm not so fond of it's scratchiness. Something tells me there's a use for it but I can't think of it right now. The mohair/merino blend has qualities from each fiber - there's a sheen and a bit of looping from the mohair, but the merino keeps it from really forming those fat lush circles you get from 100% mohair. The Wenslydale mimics the mohair with it's round loops and it's sheen, but it's not quite as soft as the mohair. The merino/tencil turned out to be my favorite. It's very soft and silky - and lush and squiggly. It doesn't make circles, but it makes fat half loops. I immediately thought of silver astrakhan fur when I saw how the sample was making up. So I spun a second sample of it to see if I could get a little more size to the loops and knit it up.

And I will have pictures of all these later today! I don't have a digital camera - all the images I put on this blog are scans made with the public scanner at the library. One of these days I'll buy and learn how to use a digital camera - but it will be one of those days off in the future.

I'm going in late today because I'm going to a funeral. It's not a sad funeral. It's the end of a 99 year old life and Mrs. B has been out of touch for a long time. She was an avid reader the first 15 years I worked at the library - and an interesting conversationalist. She had been a divorcee at a time when that carried some social stigma but in her 80's she was swept off her feet in the most romantic courtship, by a tall handsome fellow who courted her like a princess and filled her world with every beribboned token of love a woman could desire. They had about 8 years of joy before he died and, though it was sad she had to lose him - their love seemed to buoy her all the way across the bridge to a point where she couldn't remember anyway. The end came gently, a clock winding down, a spring uncoiling. And when I go to pay my respects today - they will be the most admiring kind. She never gave up on the possibilities of love. I hope I can follow her joyful lead. I hope we all can. posted by Bess | 8:53 AM
---
2 Comments:
Ooooh! I am drooling over your boucle!

As for the Q, I am making mine (from our Alaskan Adventure) into a lacy confection found in the Spring '04 Knitter's -- pp. 76-77. I've been told that because Qiviuk is so warm, you have to knit something lacy with it, or smother. ;-)

I haven't even touched my Q yet (aside from some occasional fondling)... life keeps getting in the way, and I had that baby yarn on the wheel until recently...

So now the wheel is sitting there.... hmmm... maybe Fiona should get a little Q & A time (tee hee)

Subscribe to Post Comments [Atom]



Tuesday, September 27, 2005 Work days are difficult to squeeze fiber into. Sometimes I'm very tired when I get home. Sometimes BD wants to watch a movie. Sometimes I get sucked into the Internet and just never get around to picking up needles or sitting down to wheel. Yesterday was that way BigTime. Work was busy and interesting but when I got around to 6 o'clock I was bushed!

Besides - I have a pretty empty spinning wheel and can't seem to decide what fiber to put on it next. I do have some of the (gasp) Q word stuff - Qiviut - a staggering gift from A. I spun a very very tiny bit of that and was shocked to see that it will spin about the thickness of a spider web if I really want something that tiny. It created a 2-ply yarn that was about 36 or 38 WPI.

It's so intriguing to even contemplate spinning something that fine, but I'm not yet sure I would want to knit with something that fine. It would make a fabulous airy lace scarf - and I need not necessarily knit with extremely fine needles. Lace weight can be knit with 5's.

So - I guess I have to decide what I want to actually make from this caviar of fibers, before I spin it up.

Ah well. This is no great burden - sometimes thinking about it is an equal pleasure to actually doing it.

But - with nothing new on the fiber front I will just side off the computer chair and pet dogs. Or read one of the Betsy-Tacy high school books. This is an annual ritual, for Maud Hart Lovelace can capture the tangy crispness of autumn like no other author. Yep. looks like I have about an hour to play. See ya later. posted by Bess | 7:28 AM
---
3 Comments:
WOWIE ZOWIE, this is absolutely gorgeous, sugar! Way to go!
XOXO
Martha

Oh wow! You really have doing boucle down to an art! Bee-yoo-ti-ful!! (See you on Saturday!)

Your boucle' is amazing! It was so nice to see you today.

Best, m

Subscribe to Post Comments [Atom]



Monday, September 26, 2005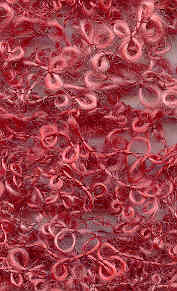 Here's the azalea pink mohair and silkboucle.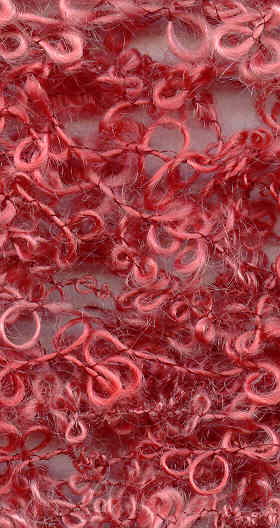 Here's a closeup of the yarn. You can see the burgundy silkthreads wrapped around the core loops. Eventually I'll gain the skill to make those plied threads more even but for now, they're good enough. posted by Bess | 10:17 AM
---
5 Comments:
Build up something more daunting? How unlike you! (ha!)

Well, good, you deserve a leisurely (if metaphorical) splash in the rivuh.

Your boucle took my breath away. WOW.

It's very pretty. I don't think I am brave enough to try that yet. I will give it a go when uni ends and I have more time to try t wrap my head around the technique.

celia

YOW, is that gorgeous!!!!

And, you know, that other thing...

Love,
LWLY

Sweets,
Glad you are getting more sleep - our bodies need more rest as the length of the days shorten.
Thanks for the Virgo starry advice - works for me!
XOOX
Martha

Hello!
tarot reading is a very interesting subject and I really enjoy Your blog.
If You are really interested in this You must visit tarot reading
Here You find a complete directory regarding tarot reading

So please, don´t miss tarot reading

Subscribe to Post Comments [Atom]

Woops. Another sleep-late morning, a pleasant surprise over the past few weeks, to find myself able to sleep a full 8 hours. It's been a bit more of a surprise to find it has me sleeping later in the a.m. Well - seasons change and so do bodies. I'll just be thankful for the ZZZZZ's and not question their origin.

I finished up the bobbin full of boucle yarn. It made up about 61 yards and I have at least that much mohair left. I'm quite out of practice with this technique and it manifested itself in some bad spinning, especially when I was wrapping the mohair around that first silk thread. In places I put on too much mohair. Sometimes it would tangle with the thread and sometimes I just wound on too much. Tangles are just too difficult to deal with when making a boucle yarn. My option for them was to just be sure there was enough mohair scooched up on both sides of the tangle to spread the loops up as close as possible to what would become a "dead" spot in the yarn. Winding on too much doesn't leave you with a "dead" spot - a length of yarn without any loops on it - but it does leave you with very tight loops, so tiny and so tight they look like bumps or ridges. They're not bad - but not what I'd have chosen.

Overall the skein is gorgeous (if I do say so myself). It will knit up into a fluffy scrunchy fabric. But I am really fascinated with the technique of making boucle and I'd like to get really good at it. I'd like to be able to create exactly the number of loops I want, be they big, bunched, loose, small - whatever. I'm going to try winding on a little less fiber with the second half of the mohair and see if I can achieve 2 things:

A longer length of yarn
A more uniform distribution and size of loops

But I didn't begin the second bobbin of mohair last night. I played around with some of the chocolate brown fiber I own and a drop dead gorgeous roving I bought at MS&W '04. I forget who I bought it from, though I've got it recorded somewhere, but it's a mohair/wool blend called Bonfire or Forest Fire or some other kind of autumnal fire and it's enough for a sweater. Alas. So many fibers. So little time.

Good girl that I am, I also sent in the homework sheet for the KRRetreat class I'm teaching. Nice to tick another thing off the list.

And today, Mr. Horoscope gave me absolutely good advice. Spot on the money. I can't believe how often this man hits the bull's-eye when he writes his daily messages. For all you Virgo's out there, here's what he has to say:

How difficult will this week be? How tricky, how trying, how stressful, how impossible? Actually, the answer is, 'Not very!' All will be fine as long as you get on with what you have to do. If you sit around thinking about it and talking about it, you will build it all up into something more daunting than it truly is. Likewise, if you try to ignore the big issue and focus on something that seems easier. Then, you may resent having your attention drawn back to some essential matter. Really, though, if you just dive in at the deep end, you won't sink - you will swim.

Good thing I still have my bathing suit out.

Have a great one. posted by Bess | 7:47 AM
---
2 Comments:
Can't wait to see your boucle yarn!

celia

Hello!
allison day free reading tarot is a very interesting subject and I really enjoy Your blog.
If You are really interested in this You must visit allison day free reading tarot
Here You find a complete directory regarding allison day free reading tarot

So please, don´t miss allison day free reading tarot

Subscribe to Post Comments [Atom]



Sunday, September 25, 2005
Hooray for boucle


I finished the first ply - the scooched up one - and started on the second ply of my pretty mohair boucle yarn. That one goes very slowly because I want this to be an even yarn full of round loops. When I come to a stopping point, I wrap the mohair around the mother-of-all and the silk thread around the end of the bobbin support to keep the two threads from tangling. It means HeyBaby has to sit smack in the middle of the floor, a not insubstantial inconvenience for the other person living in this house, so I will try to finish up the entire bobbin full today. I'm thinking a chocolate brown sweater with a huge loopy boucle shawl collar and deep cuffs in warm azalea pink.

I'll try to put a picture of it up tomorrow - though lately, while I've had no trouble loading pictures into the blogger database, I haven't been able to post the durn things. This is because I depend on their software to do what it says it will do, not on my understanding of code to type in all the little squiggles, dots and dashes to make everything magically work. So - we shall do our best, yes?

Upper Tidewater Virginia is having a terrible drought right now - and it looks like we shall have a bare brown autumn. Fully one third of all the trees have turned yellow or brown and dropped their leaves. My yard would be a Zen garden if I were to rake up the leaves. Instead I'm leaving them on the ground so that even more dirt doesn't get tracked into the house. This is a sad thing to watch - we just went through this 3 years ago - not just dry weather, but killing drought. I hope something happens before cold weather because we could lose trees if they go into freezing temperatures without enough water in their spongy little cells.

If I get lucky, though I will try a new agriculture trick I read about in the local paper. It was an article about not trying to fight wiregrass (the only thing left holding down the soil in my front yard) but pursuing it instead. They said to plant Bermuda grass, which is, essentially, a wiregrass, and overplant it with annual rye in the autumn. So - if it ever rains I'll put in the annual rye and in springtime see what I can do with a bag of Bermuda grass seed. Wouldn't it be thrilling if I could have a lawn instead of a sand box?

But - while it stays dry like this I will stick to fiber and spend the day making 100 yard balls of worsted weight yarn for my upcoming beginner knitting class and making azalea boucle yarn. Yep. That sounds like a plan. posted by Bess | 8:50 AM
---
1 Comments:
Hello!
free tarot and rune reading is a very interesting subject and I really enjoy Your blog.
If You are really interested in this You must visit free tarot and rune reading
Here You find a complete directory regarding free tarot and rune reading

So please, don´t miss free tarot and rune reading

Subscribe to Post Comments [Atom]



Saturday, September 24, 2005 I am really ready for the weekend. It's another restful one with minimal tasks, possible shopping and definite spinning. I want to get back to that mohair boucle on my spinning wheel. I am just ever so slightly thinking of going to F'burg for some knitting needles and some thread. But I can do the needle ordering on-line and a long stretch at home does sound sweet.

The week at work seemed slightly fractured, though punctuated with a great big happy birthday Wednesday. Happily, I finally wrapped my brain around the new software for bookkeeping and straightened up the bills which had been piling up and mounting and looming and threatening to give me nightmares. A big chunk of paperwork cleared off is a splendid way to end a work week. I actually cleared off my desk (instead of just shoving the heaps in the drawers) for the first time in months. Yippee. Won't be so dreadful to go back to work on Monday, now.

I'm decidedly unliterary today so I shan't continue trying to wrestle this entry into anything witty. Instead - I'll go play with toys. posted by Bess | 8:20 AM
---
0 Comments:
Subscribe to Post Comments [Atom]



Friday, September 23, 2005 I seem to remember taking this quiz a year or so ago. Cute. I was probably Mohair then too.



You are Mohair.
You are a warm and fuzzy type who works well with
others, doing your share without being too
weighty. You can be stubborn and absolutely
refuse to change your position once it is set,
but that's okay since you are good at covering
up your mistakes.


What kind of yarn are you?
brought to you by Quizilla posted by Bess | 8:02 AM
---
2 Comments:
I'm reading Room With a View too! I decided it was high time, and though I'm enjoying the listen (good old Audible), it does tend to verge on the silly. I agree with your take on the theme of personal courage, which is what is carrying the book for me. I read House of Mirth this summer, and I can't keep from thinking about the fate of Lily Bart as I listen to Mrs. Honeychurch complain to Lucy about her choices, or to Miss Bartlett as she feigns innocence. Verrry interesting.

Thanks for provoking my thoughts!

Jane [delurking}

Hello!
personal reading tarot is a very interesting subject and I really enjoy Your blog.
If You are really interested in this You must visit personal reading tarot
Here You find a complete directory regarding personal reading tarot

So please, don´t miss personal reading tarot

Subscribe to Post Comments [Atom]

One of the benefits of a Wednesday birthday is that by the time you're down from the party high, it's almost the weekend. Friday I have to work till 6, but we don't open up to the public till 1 so we have a somewhat casual morning. This week I will spend my morning with a software coach learning how to work the Quickbooks program that I thought I understood, but now can't make print checks.

This is good, since I woke at 2 and couldn't get back to sleep at all. Everything I tried failed. Reading? nothing. Meditation? nada. Visualizing - nope not that either. So I got up and paid bills - which didn't make me sleepy but it did empty the check book. Good thing I get a pay check today.

Of course, it's nigh on to 7 o'clock, now, so I'll probably get good and sleepy in the next half hour. Oh well.

BTW, I'm reading A Room With A View and having a difficult time slogging through it. I'm so picky these days about fiction. I probably should have read this when I was younger. I was a lot more romantic in my 30's. My taste runs to a bit more straightforward styles these days. The toughest thing about this book is keeping the Merchant-Ivory film version of it out of my mind while I'm reading it. While I adored the lush beauty of all the M/I films - their choice in actors, particularly the romantic male suitor roles, nearly always gave me the creeps. Nothing will ever convince me that Julian Sands could possibly have a romantic interest in either Lucy or Helena Bonham-Carter. Eh. There. They really are pretty movies. The book is very silly. But it does deal with solid human issues - particularly the issue of courage.

Not physical courage, but that inner strength that compels a person to look at the truth and then act upon it. Since I will be leading a book discussion on this I'm relieved I've found a useful nugget in among all the pin tucked handkerchief linen blouses and gored duck skirts.

Okay - BD is awake - I think I'll go natter with him about it.
Ta. posted by Bess | 6:32 AM
---
2 Comments:
What a splendid b'day feast! I could just picture it as it sounds like a beautiful time was had by all.
XOXO
Martha

Hello!
free instant tarot reading is a very interesting subject and I really enjoy Your blog.
If You are really interested in this You must visit free instant tarot reading
Here You find a complete directory regarding free instant tarot reading

So please, don´t miss free instant tarot reading

Subscribe to Post Comments [Atom]



Thursday, September 22, 2005 It was a perfect perfect birthday. I wish I could describe it all since 24 hours of joy is such a wonderful thing to contemplate. Alas, I haven't either the skill or the time to do it justice. But know it was a splendid day full of gifts and hugs and loving words and the songs of happy hearts.

It was a splendid evening too. BD and I drove over to the YD's house with 2 canine outriders, for Priss and Jack were sure that the YD's wouldn't hold a party and not invite dogs. (I wasn't so sure, but they were.) Priss, who has learned how to be a good guest while visiting a cat's front yard, didn't make a pest of herself. Jack, a little newer at this visiting stuff, was utterly fascinated with RufusTheCat, who showed off a little, but mostly kept his distance. There were a few moments when Jack lost his composure, but the watchful eyes of the adults kept him in line. The YD's prepared a sumptuous meal, set out on the lawn in front of their house. Al fresco dining, complete with candlelight, beautiful dishes and magnificent food, is a new birthday format for us. We have always dined in restaurants, which is certainly lots of fun. But nothing could compare to the glory of last night's birthday supper. The sky was a crystal clear blue which faded gently into the deep black of a star studded night blanket. Each dish was a delight, fish with almonds, curried acorn squash, - triumphant chocolate chocolate cake. I'm sure GD (with some help from LD) spent hours on this but it was all effortlessly spread out with elegant ease. I felt like a queen - hey - well - of course I did!

And now it is the day after and there won't be another for a whole year. But the glow if this one ought to last just about 365 days. And it's still September and today is the equinox, which means that even the weather dot com guys are ready to say it is autumn, and Cousin Cathey has a birthday in a few days and the fall fiber festival at Montpelier is only 9 days away. Sounds like there is still some celebration to do around here. posted by Bess | 8:10 AM
---
5 Comments:
Well, then Bess, Happy Birthday to you from the bottom of my heart with blessings galore.

Happy Birthday to you,
Happy Birthday to you,
Happy Birthday SoulSisVirgoDarling,
Happy Birthday to you!

All knitting I do this day will be in your honour! :-)

Happy, happy birthday Bess!

Happy birthday, dearest dear!

love,
LWLY

Somewhat belated happy birthday to you! Your birthday dinner sounded exquisite!

Subscribe to Post Comments [Atom]



Wednesday, September 21, 2005 Wow - slept late but then, had stayed up late to watch a movie with BD, so no duh. And Tuesday was a long day, starting with an early meeting and ending with a WW meeting. Today is a shorter one and a more fun one, since today is Wednesday and we all know what that means.

Yes! I get to have a birthday party with a bunch of toddlers. I've got my parties skirt, with ruffles on the skirt - and I'll wear my high heels that light up when you walk (for the one hour of story hour, that is) and we will sing happy birthday together and make paper birthday cakes.

Yesterday BH joined the executive board of our library friends group and POW! did she light some wonderful fires under them. It's a good group of people who had gotten stale. She couldn't be stale if she had to - she's such an energizing person. She's also one of the bravest people I know and I cling onto her coat tales whenever I am feeling nervous and scared. It's rather cute the way I admire all her good qualities and she admires all mine. I've been just waiting till she had time in her life to help me with this group and within 30 minutes she had transformed them - much to their own surprised delight.

That was my early meeting and it set the tone for the rest of the day. An energizing Birthday Eve - and now it is TheDay itself. I adore birthdays, everyone's birthday, but I adore my own the most. I like to work on my birthday so I can tell all the people who come in the library that it's my birthday. When they answer back "Happy Birthday" it's a kind of blessing and it makes the day one notch happier. To share it with wee ones is like putting sprinkles on the frosting on the cake. And in the evening we dine with the Young Darlings at their house. Their house is modest is the extreme, but it is set with one of the most beautiful evening views imaginable, across a little pond, full of frogs, and over a stubbley field full of doves to a deep forest fringe that tickles the glowing belly of sunset.

After dinner we'll stroll outside and savor the wonder of this glorious earth, this whirling ball that holds us while we journey on the quest. GD and I share this happy birthday month. Her birthday was on Sunday, and we've always been both giddy, silly, happy and smug about being September babies. It was a bond we shared long before we wove in other ties. It's actually a bond I feel I share with all the September babies I meet. It makes me smile. It means I share, with all northern hemisphere SB's, a personal celebration at the time of greatest bounty. We are the harvest babies. We are the babies of the full sacks of wheat, the stooks of corn, the fat round pumpkins in the barn, the pantry shelves full of preserves, the attics strung with peppers and onions and garlic.

In some ways, it's always seemed that we autumn babies are mankind's harvest as well. We are the promise fulfilled. Agriculture may have decided that springtime is the time of new birth, and you can be sure I was mighty glad my baby was a springtime baby and I didn't have to carry him through the long hot summer - but I'm glad my mama did me such a favor. In fact - though I've thanked her for a number of wonderful things she gave me as I was growing up - I don't think I've ever thanked her for having me in September. So, perhaps it's time I did.

Thanks Mom. Thanks Dad, too. Thanks for giving me my favorite month for a birthday month. posted by Bess | 7:47 AM
---
1 Comments:
This is a wonderful site about weight loss plan, of course I have a similar page weight loss plan

Subscribe to Post Comments [Atom]



Tuesday, September 20, 2005 Running a bit late this a.m. and I have an early morning meeting so I'll just drop in here on my Birthday Eve to note down that I still haven't finished the homework page for the KRRetreat class because it's all Wal-mart's fault. Just you remember that. Not mine. Wal-mart's.

And I spent all my fiber time yesterday reading about Kristie Alley and her weight loss in People Magazine. After all, the Information Guru has to keep up with pop culture. Of course, I didn't want BD to know I was slumming so I kept having to whip the magazine out of sight every time he came into the room. But I am popculturally ready for the week now.

off to work
Ta. posted by Bess | 7:38 AM
---
3 Comments:
How I oohed & aahed as I read of your week-end fiber frolic - good for you, sweets, to dive into all those great fibers. They sound yummy & I look forward to seeing them.
XOOX
Martha

Greetings,

I Really think you have a great blog here, and see you have a very high page ranking, I found this info out from this page. http://pr.blogflux.com/ Try it out.



I have several pages of my own,

I'ts about femme Clothing. This site is in French language.
My second site is about Chaussures that is Shoes in french and bottes that is boots in french.

My Third site is about Chocolate that is made in France. The Frech language just drops to e at the end so it is chocolat

Hello!
free internet tarot card reading is a very interesting subject and I really enjoy Your blog.
If You are really interested in this You must visit free internet tarot card reading
Here You find a complete directory regarding free internet tarot card reading

So please, don´t miss free internet tarot card reading

Subscribe to Post Comments [Atom]



Monday, September 19, 2005 Just to prove this really is a knitting blog (though, it's more of a diary and a little more an all purpose fiber blog) I thought I'd pop in with fibery updates in the life of TheQueen.

The great stash contemplation of the past few weeks has revealed at least one good thing: I really want all the stuff I've bought. There's nothing in the piles and baskets and chests that I stare at in puzzlement, wondering what could I have been thinking of? Even the very first e-bay Wenslydale painted roving I bought has a future, and that was one thing I had serious doubts about. The effect of that knowledge - that I really did buy fibers and yarns I wanted - is that it answers the vaguely troublesome lurking question "Is TheQueen buying all this stuff because she's trying to fill some emotional black hole?" It answers it with a firm "No" and that is a big relief.

This doesn't mean I won't give some of this stuff away, but it does mean there's nothing I've been deliberately ignoring - possibly something Important that will sneak up Behind me and shout Gotcha!

I have been working away on the homework assignment for the Knitters Review Retreat class on Crochet for Knitters and I realized I need to make a revision. Students will have to come to the class with 3 swatches on which they will practice the techniques I want them to learn. The techniques they learn will turn the swatches into a Useful Object because I've observed that 99.99999999999999999999% of knitters hate to make swatches but they love to make Things. (I'm in the .00000000000000000001% group) But the really cool and (I think) really useful object I had in mind requires some moderately large swatches and even the most well intentioned student might show up in class without them. So I will shrink the swatches for the Useful part of Useful Object and give them a pattern for the More Useful Object that they can make when they get home - practicing the Useful Techniques they have learned in my Useful Class.

Of course, this means the homework I'd hoped to e-mail to Head Honcho of KR yesterday will not go out till tonight or tomorrow - but hey - the swatches are so much smaller it ought to balance out in the end, right?

I had a wonderful day of spinning yesterday. Filled the bobbin with beautiful alpaca blend and decided, since I had less than half the roving left I'd ply from a center pull ball. I wish I could remember to divide my rovings in half before I start spinning so I can ply from 2 bobbins - my preference. The alpaca yarn looks like it will knit up nicely on size 7 or 8 needles. I got 120 yards of it and there looks like about 1.5 oz of the roving left.

But after that I filled another bobbin with mohair singles. I bought this stuff 2 years ago at Md.S&W to make boucle and my hunch that mohair roving would be a fun preparation to work with turned out to be oh so right. I filled that bobbin in less than 2 hours!! It's spun way too tightly though, so I'm going to put it back on the wheel and spin it z a little to loosen it up before I go ahead with the thread part. I have two large spools of silk thread, one a burgundy and one a peach. This yarn is more of a pink than a peach - the color that all the magazines were calling Azalea in spring of '04. It's the most pink I can wear and I bought a lot of it last year in both yarn and ready-wear because unusual colors never stay in vogue long and I like being able to wear some kind of pink now and then. So - I may use one of the silks or I may go buy something that matches better.

But whatever threads I use I promise this: I will be sure to use the boucle properly - not like I did with the blue hat disaster of last year. Either it goes into something that is supposed to flop down; a collar or cuffs, or it will be knit with some springy carry along wool. This stuff ain't going in the failure basket.

And just think! I have a whole pound of undyed mohair top just waiting for color! Woo Woo. posted by Bess | 7:46 AM
---
2 Comments:
I wouldn't have even picked it up if it had been accurately named - PONCHO STYLE. At least the photos are better than Scarf Style, for which they should be embarrassed....

How darling that you, after 34 years, still have so much to talk with your darling man about! Give him a big kiss for me and do be very proud of the library you've built, the family you've grown, and the amazing blessing of a woman you are.

My heart soars to hear that you & BD stayed up talking to the wee hours. It's inspiring!
Am sure your library missed you & bet they did A-OK while you were off.
XOXO
Martha

Subscribe to Post Comments [Atom]



Thursday, September 15, 2005 BD and I stayed up till 4!! ugh!! talking last night - over slept, dragging off to work, no fiber either, but I did get a chance to look through Wrap Style. What a waste of time. But then. I don't like ponchos or capelettes.

It was good to get back to work, though, and all sorts of things that I left hanging - albeit right over the correct landing spots - have begun to drift lightly down into their nests. The sort of situation that leads one to tempt a bit of hubris by saying "Man, I set that up? How cool."

Glad to be back, sweeties. Thanks for the welcome. posted by Bess | 7:58 AM
---
2 Comments:
Happy week before your birthday! I've missed hearing from you - hope all is as well as it sounds here!

XOXOX

Sweets,
Lovely to read about your MIL & to read of your week off. All the fibers & WIPs plus the scarf sound gorgeous. Your words allow me to clearly picture them.
XOOX
Martha

Subscribe to Post Comments [Atom]



Wednesday, September 14, 2005 Today is Grandma's birthday. It was always a twinkling delight to me to share the Birthday Month with my mother-in-law. It was particularly fun that our birthdays were exactly one week apart. On the 14th we would take her out to dinner and one week later she would take us out to dinner. This was back when going out to dinner was a Big Deal. For more years than I'd care to remember, money was tight in the Champlain household and this week of extravagance always had a little bit of naughtiness about it - a bit of devil may care, caution to the wind throwing to it. Sometimes we'd drive over to the Potomac or down to Urbana for dinner, but more often we'd just eat locally. It was the celebration that mattered.

Grandma, nee Baby Margaret, was born to an ante-bellum papa and a very Victorian mama. She was the second child, the baby, the delight of her father's eye, the precious gift, vouchsafed this quite elderly couple. She was a born story teller and delighted me with memories of her childhood that are so vivid I sometimes think her memories are actually mine. I can walk with her to school, all the way from Champlain to Lloyd's. I see her, 7 years old, on that first day, inviting the entire school (there were 4 classrooms for 12 grades at the old Lloyd's school). Her mother had told her she could have a birthday party and invite all her friends. Now here was a whole room full of children who might be friends too. Many of them beat her to her house that afternoon and by the time she got home they had commandeered every toy in the house and were loose in the barnyard with her best dolls. I asked her what her mother did and she said she'd cut the cake very thin, but told her later that she was never to invite the whole class home again.

She was only partly successful in obeying that dictum - for she was a legendary hostess. There was always someone staying with her, someone who was traveling through, or who had talked (and sipped) so long into the evening that driving home was unthinkable. Someone who was a friend of a cousin or a cousin of a friend. One neighbor of her daughter's came and stayed almost 10 years! There was always another pallet or mattress she could spread out on the floor. There was always another serving of whatever she'd planned for dinner - add a little more rice, another can of tomatoes, and there would be enough.

There were other wonderful stories Grandma told us. Like the one about the Baylor boy, who'd been refused from every boarding school his parents could find, and was rusticated one winter. He was big and exciting and adored her mother. He is the one who plucked the half frozen buzzard from the fence post on the way to school and secreted it in the closet so that when the principal opened up the door to find out what was causing such a racket he was liberally spewed with stomach contents - a common buzzard defense.

There was the story of Miss Vic Pitts, one of many indigent post civil-war maidens with no place to live. She was then living at Rock Springs, as was Grandma's Uncle Ned. This was Papa's brother who had only just survived the war and consoled himself with whiskey. These long staying guests had dislodged both Grandma and her brother Ben from their rooms and Ben was quite tired of it. Knowing that Baby Margaret could get away with most anything, he prompted her to ask, at the supper table, why Miss Vic and Uncle Ned didn't marry. Gobbling in indignation Miss Vic rejected even the thought of such a suit by such an old reprobate. "Marry? Marry?! Why, I wouldn't have him!" she claimed, to which Uncle Ned murmured loud enough for everyone to hear "Hmmm. First time I've ever seen a mule kick before she's spurred."

Both Uncle Ned and Miss Vic stayed for several years at the farm in Champlain.

Grandma's stories were wonderful to hear, but I always listened to them with a cocked ear. She did embellish things now and then, and sometimes she flat out changed them. I once caught her telling a story that involved LD and it was not true. When I took her to task she merely made a little gesture with her head and laughed. "I know, but it makes for a better story that way." That made me think it was a shame she never wrote down all these splendid tales. Never tried her hand at essays or short stories. I think they would have been very popular, for she could capture a scene, an era, a memory with the most charming turn of phrase. Many of the little things she used to say have become catch words in our household.

We have all the letters she sent to Pop during WWII. BD's sister is transcribing them so that everyone in the family can have a copy. They are full of little stories and tales about the children and life in a small southern town in the 1940's. They are a rich resource of cultural and social, as well as family history. But they are of the moment and don't have quite the same literary feel her stories hold. Perhaps it's time I wrote down all her tales, for it would be a tragedy if they disappeared altogether. If for nothing else, I hope, one day, to pass those tales on down to my own grandchildren, threading the 19th century into the 21st.

* * *

And all the above just goes to show you that I never know what I'm going to write about when I sit down here. I've been away for almost a week now - and I'd not intended to lie utterly silent during this time, but somehow I just didn't have any urge to expound. I've been home, during this glorious weather, reacquainting myself with my fibers. I've knit on several UFO's - even completed the sage green scarf knit from my second wheel spun yarn. GD admired it just as I was wondering whatever I would do with another scarf. Happily, it found a good home with her.

I plied up that lace weight mohair single spun from naturally blue (steely grey) roving. I've knitted 2 patterns of an open airy lace pattern from BW's 2nd book. This is the fiber I picked up at Montpelier last October, from Cecil's Follies Farm. He has the most beautiful blue and cocoa colored goats and a great display about them - but he has the tightest spun sample of yarn - thick and hard and harsh and not at all what I think of when I imagine mohair yarn. This sample of lace weight yarn, knit up into a big swatch will be a gift to him.

I've knit 1/4 of a garter stitch diagonal rectangle to be made into a cap sleeve top. It's from 2 different hanks of silk, one I spun and one I dyed - over a year ago. Silk is my favorite inelastic fiber. Its slippery softness makes up in ease of knitting for its lack of spring. It's half a blue hand paint and half a vivid orange/gold. It will look great beneath a jacket in winter and solo as a summer top.

I'm also knitknitknitting on the sample pieces for my KRRetreat class. I want to get the homework assignment off to Clara as soon as possible - as in, like, yesterday. It's mostly just "knit 3 large swatches in stockinette stitch", but I want to be absolutely sure how big I want the swatches to be.

And so. My vacation comes to an end. It was just the rest I needed. Staying off the computer has helped my hands rest. I also have an inner peace that has been missing a long while. Yesterday I even thought "hmmm. I wonder what's going on at the library?". So. I believe I am ready to get back in harness. Just in time too, since it's 8 o'clock and time to get dressed. posted by Bess | 7:58 AM
---
2 Comments:
Dear Heart, finally took the time to read and savour your latest Stash Lament...and boy! I know we are Soul Sisters. I have spent a good part of the last year buying to fill the Black Hole of Grief! However, I do tend to pair yarn with patterns...

Then there is the delicious Knitting Retreat that I will be going on at the end of October. The theme this year: UFOs! So. I have a box organized with 4 UFOs in it -- typically, like yours, seams and button bands and such. My aim will be to finish, finish, finish -- and I'll have 3 lovely knitsy days in which to do so, in the company of other Kindred Spirits. It's up near Banff. Wanna come? ;-)

AAAAAAHHHHHHHHHHHH!

Love,
LWLY

Subscribe to Post Comments [Atom]



Friday, September 09, 2005 Yesterday was a no fiber day. I'm taking a few days off for Recreation - as in - Doing Things I Want To Do, not as in Rest Or You Will Drop Dead - nor as in Hurry - Lets Go Somewhere. Spring and fall are the most beautiful times of the year in Virginia and in the past I've made a point of having some time at home in my own house, to be. Not to do, just to be.

I didn't even obsess about, much less pick up any of my fiber projects. I went to town and got a manicure, came home and tidied up the house so it would be a pleasant place to BE and then - I just was. posted by Bess | 7:44 AM
---
3 Comments:
Oh, I so know how you feel! I have dozens of projects started, and while I know I'm not a slow knitter by any real stretch, I don't understand why things never seem to really get finished... must be my lousy atten... How's the ankle?
;)

Oh, Bess! How alike we are in so many ways. You could be my brain talking to me. I'm going through some of the same quandries right now. I feel like a repository of useful, sometimes useless, information. And people come to me all the time for just the sort of thing you're talking about. But actual knitting, or completion of knitting projects, eludes me. I'm feeling ovewhelmed by the size of my stash, and I don't even have spinning to blame it on. But being a mentor has its merits. Someone brought me chocolate yesterday.

On Ample Knitters, we have UFO night every Monday - we can only work on UFOs! Might this type of specified UFO night work for your Virgo-oriented neurons?

Love,
LWLY

Subscribe to Post Comments [Atom]



Thursday, September 08, 2005
Continued evidence that this is a knitting blog


And more chatter about my stash and What I Am Going To Do About It!
Which is mostly - use it up. One of the things I found in the HugePileOfUFO's was a rather pretty sage green scarf, almost completed, knit in a very simple brioche stitch I found in a BW stitch book. It's an easy 2 row repeat that makes a very deep rib, just perfect for the merino/silk handspun - my second "real" wheel spun yarn. I began knitting on it in October of 02, to have something easy and mindless to knit at the first KRRetreat - and never finished it. That is because scarves are so unspeakably boring to knit. The same old same old same old thing for 6 feet. There are many, utterly beautiful things I'd like to knit, but I have held off starting them because I dread the curse of boredom their size and repetitiveness promises. Shawls, especially circular ones that start in the middle and get bigger and bigger and bigger. Once, 100,000 years ago, when I was only 18, I began crocheting a ballet length circular skirt in a gorgeous pineapple pattern. It is somewhere, unfinished, likely unfinishable, hanging just below the knee with the last round of pineapples cut off at the half way point. Or perhaps I was wise and got rid of it. Who knows? And yet - I adore shawls, want one badly, and dream of beginning something Big and Lacy and Cuddly.

That scarf in the Scarf Style book that looks like needlepoint (the Tunisian stitch one? - don't have the book here.) makes my mouth water and I sometimes tell myself I will make it. But I know better. I might be able to make a foot of those tiny multicolored stitches - but 6? Ha. Who am I kidding. I might, though - make a little purse in that stitch - or a glasses case.

Glasses! Ugh. I lost my newest pair yesterday. Lost as in kaput, not misplaced. They evidently slipped out of their soft case in the parking lot and were squished into a crumble of wire and plastic. I will have to order another pair today because the other pair in the right prescription has big white scuff marks smack in the middle.

But back to other things that I want to make but doubt my ability to complete. I would like one of those ab-fab type afghans. Ooooo. I lust for one of them and I could spin up the yarn for one without having to spend a penny. I have all sorts of fibers in the house, enough of it white so it could be dyed. I could. I think about it. I doubt I'll ever do it.

I also think about making a Dale of Norway sweater. I think they are gorgeous. I enjoy stranded colorwork. But oh my - so many many little stitches. And so much money invested in the supplies. Just the thought of that much dormancy makes me sleepy. All I can say is, "not yet."

How I admire these prolific knitters - who seem to be everyone I know. Lounging confidently in their completed sweaters, whipping out their lovely hats, flinging their long scarves about their necks - not fun fur on size one million needles - but real scarves with ribs or dragon scales or yarn overs. Perhaps that is my role in the fiber world - the librarian role - the info-conduit - the one who shows you where to find the pattern and what those instructions mean, not the one who gets to actually make it up. Perhaps. Who can say. Today I don't feel too definite about anything except that fiber brings me joy, no matter if I am playing with it or teaching about it or just admiring others projects. And that is a gift anyone should be happy with. posted by Bess | 8:09 AM
---
0 Comments:
Subscribe to Post Comments [Atom]



Wednesday, September 07, 2005
Stash Lament, part II - Long


Ahh, LWLY, sweetie - that's just the point. I don't want any more yarn. Or fiber. I didn't actually want any more yarn or fiber when I was at MAFA last July, or at the little yarn/t-shirt shop in Irvington, where the silky wool was 50% off, or in Richmond at Lettuce Knit, where the sweetest lace weight mohair was available at $5 for 250 yards. Honestly. I did NOT want more. No more than I want to over eat, do I want to over consume other things, and yet, blindly, mindlessly, when I am out there in the Land 'o Shops (a.k.a. any where else but home) I buy. And buy and buy and buy.

I buy because I am there. I buy because I get caught up in the excitement of shopping with friends. I buy because I feel obliged to - or maybe the shop will go out of business - and then I'll never be able to buy any yarn again as long as I live world without end. I buy because it is on sale and it's that red that looks so good on me - even though I already bought that red that looks so good on me. I buy with no idea of when I'm going to use it - because who knows, the economy may implode and I'll be left with no money to buy any yarn and then I'll have to spin milkweed down and dog fur to knit my socks.

These are all negative reasons for accumulating. They are what I think of as Black Hole Purchases. I'm no enemy of therapeutic shopping. At several times in my life when the deep pit beckoned, I shopped for stuff and threw it in the pit in some futile effort to fill it up before I was lost in it. Some of that kind of behavior is perfectly harmless, like some chocolate eclairs are perfectly harmless. But chocolate eclairs do not a nourishing diet make, and negative reason shopping is not a solution to the Black Hole of Bad. It's merely a distraction.

The comparison of mindless shopping to blind eating is so apt. In neither case does the action cause the desired reaction. Too many eclairs don't make me feel well nourished, which I'll admit, was not what I was hoping for. But they don't either make me feel happy, loved, or indulged. Mostly they make me feel bilious - and guilty. And I can promise you - one more yarn purchase would not cause any desirable reaction. I won't come home with the yarn, pull up some needles, sample for a stitch and calculate a design. I'll stuff it in the box/bag/cabinet/wardrobe/under the bed for later - when I am what? ready? needy? bored? Sheesh. I don't feel happy with all this accumulation spread about me. Especially the unfinished knitted projects - which highlight another serious character trait that is not always admirable - the inability to finish things. Oh yes. I can abandon a sinking ship - but I am far too likely to also abandon a ship 5 yards before we reach the shore. On a hot summer day it's all right - but by golly - there are way too many abandoned knitted projects in my house.

The Icelandic sweater that has only the neck and button bands to go.
The hand dyed hand spun slipped stitched vest that needs the shoulders altered and a button band.
The angora/mohair boucle pullover that needs only a neck band and the ends woven in.
The 4 single socks - and the two sock cuffs.
The rolled brim hat with stranded color work.
The mohair blend lace sweater knit up to the armhole bindoffs (even the sleeves!).

Now - as I type this list out I see that all these projects have a common thread besides their state of languishment. All of them are completed up to a math problem. The Icelandic sweater was knit when I was 40 lbs heavier and the neck opening is so big I haven't a clue quit how to fill it in. Even when finished it won't fit. Perhaps it ought to be sent south as a relief donation. The handspun vest is flat out in need of alteration and I may just knit sleeves into it instead of fiddling around with shoulders. Besides, I never wear vests. The angora/mohair sweater I will finish - this weekend. The socks I will mate, the cuffs of socks I may rip. The stranded colorwork hat - I don't know. The mohair lace sweater - I just don't know. It's beautiful knitting - but I'm so nervous that there won't be enough yarn to finish it that I am having a hard time committing the time to a completion that may never occur. That one's a Think About It at Tara project.

The trouble with so many large, close to the end, but unfinished projects is that it makes me afraid to begin Another one. Which means that the boxes and bags of yarn bought in quantities large enough to make whole sweaters (translate: real projects) languish and gather dust. And of course that also means the boxes and bags of wool to spin into boxes and bags of yarn in quantities large enough to make whole sweaters clamor unheeded from behind chests and doors and within drawers. The cacophony is deafening. It's discordant as well, making bad vibrations of karmic distress in my house. It's time to address the problem with all the feng shui I can muster. I want the energy to flow. I want my chi to be clear and free to create harmony and productivity and peace.

Ahh. I knew my inner beauty pageant contestant would soon emerge. Give me World Peace, please. And longer sentences for felons. And give Sandra Bullock long life and a happy marriage. Look! A bird! posted by Bess | 7:15 AM
---
4 Comments:
Hmmm...no purchases till after Christmas? As my beloved mother used to say, "And then another cow flew by!" ;-) Hugs, Marg

Naughty naughty - you are supposed to encourge me!

There is, of course, another option - I could open up a fiber shop.

Sorry, can't support you in this one - I think that you should have whatever you want to have, and if that is more fiber, then more better.

Love you bunches!
LWLY

You can do it, Bess! I will purchase at the retreat, because I have a personal rule of buying at least one thing from every vendor there. And I bought cotton yarn for a sweater that needs to be made by January 1, 2006. It had to be cotton and I don't have that in my stash (some cotton sock yarn, but not enough for a sweater). But otherwise, yes, I agree. I have too much. The events of the past week are forcing into my head just how much I have, and how silly it is to want more. Having more won't make me happier, and I can do better things karmically with the space and money that would be occupied by further aquisitions.

So I'm behind you 127% on this.

Subscribe to Post Comments [Atom]



Tuesday, September 06, 2005 I've done stash inventory before. I've found it's a good idea to do a reality check before the big festivals. After all, I don't need yarn or wool for a 6th rust colored sweater. Last spring I sorted through all the spinable fibers I already own and actually found a gap to fill in my collection of Everything Anybody Might Ever Want To Own. You need not ask if I filled that gap - some things are just given.

Alas, all this massive fiber collection far outstrips the space I have to hold it in some orderly and retrievable fashion. What few Virgoan Librarian Instincts I have, and they are far outmatched by my Southern Think About It Tomorrow - At Tara Instincts, are outraged by the clutter of my den, with it's tufts of plastic bags peeping from behind the bulging blanket chest, the 7 baskets stacked helter skelter on top of each other on top of the wardrobe crammed full of wool and yarn. We will not mention the two huge boxes - as in "big enough for your new computer" - with more fiber in them - because that's the only thing I store in boxes big enough for your computer. I know some of it is corriedale roving and some is Polworth but I thought that was all in one box - so I am not sure what is in the other.

Of all the awful storage dilemmas I suffer from, the Where To Put The Circular Needles is my worst bugbear. I have never yet found the right storage container for those Medusas of the knitting world. They catch on everything, their cables bulge and blurge in all directions, tangling with all the other precariously tilting things on top of whatever piece of furniture they've managed to find. Couple their natural unwieldiness with my natural instinct to put it down instead of away and you have the makings of one enormous collection of circular needles. I've resisted needle rolls because they require you to always put your needles away when you are done with them, each size in its corresponding pocket. Since I suffer from the above mentioned PutItDown Syndrome, I don't know what size needle I'm actually holding when I pick it up off the table in the living room or unthread it from that tangle of yarn beside my bed - since it obviously wasn't knitting the project in which it was threaded. Of course, I could hang one of those little gauge thingies with the circular pocket thingy once I actually decide to put it away. Actually an easy solution, right? So. What's my problem?

Ahh well. I have a vision you see. In my mind - yes yes I have a mind, albeit a quirky and lazy one. I see this block of wood, with little perfectly sized holes drilled into it that I can plunge my needle tip into, allowing the cable to arch up and out in fountain of circular needles - perhaps even on a turning lazy Susan type of mechanism so that I can swirl it around to find just the needle I'm looking for. Perhaps it's cone shaped with the shorter needles on top and the longer ones around the bottom. Of course, then it would have to sit on one of the non-existent flat surfaces in my house - rather than hang on the wall (also a flat surface, but not horizontal).
That's the trouble with fantasies and visions. Though they are needed to spur mankind to invention, they are often more desirable as visions than as reality. It's just that I can actually see my hand putting that size 2 circ. away in it's perfect little hole because that's the only place it fits. It can't be put away wrong because it doesn't fit anywhere else. It's amazing how much a size 7 looks like a size 9 when you've been knitting socks - and vice versa - when you've been knitting a sweater you will never be able to tell if those are 2's or 3's or maybe even 4's. But if you had only the one option for putting a given sized needle away - then, at least, if it were put away, you would always be able to select the needle you wanted right then, when you wanted it, not later, when you had found that durn needle gauge, if you could find that durn needle gauge, and made sure.

Hmmmm.

Well. I am always surprised where my mental meanders take me. I had ment to rant about my overweening stash and I ended up yammering on about needle storage. While they are related, they don't cover the important issue here - which is that I have

too much fiber

- too much yarn - too many unfinished projects. So much that, before I'd even finished sorting through it, I was sickened by my greed. There is a vow in here somewhere - a vow that includes absolutely 100%, not even a cent's worth of fiber purchasing till I have performed some undecided, but measurable, amount of de-stashing. I had actually hoped that writing this down would push me closer to identifying the measure - it didn't. But know this all ye Friends of Ye Queen - there will be No Fiber Purchases till after Christmas. Not for my birthday. Not at Montpelier. Not even at TheRetreat. Nada. None. Just letting y'all know. That's all. posted by Bess | 8:11 AM
---
1 Comments:
Happy Almost Birthday, dear heart; may you have a blessed, gentle, lovely day -- and year!

Subscribe to Post Comments [Atom]



Sunday, September 04, 2005
September


It seems I can put together one lengthy post a day and it can be either an e-mail, a KRForum post or a blog post. Then, a combination of time constraints and hand tingling reminds me to Be Good To My [Aging] Body. I hope, given a spate of good behavior, I will soon be free to soar into the heights of rich and fascinating insights displayed in witty prose. (I hear that - let us hope I am able to soar...!)

We've rounded the corner of summer here. September came in with a decided drop in humidity and heat and now we have days of splendid air, crisp with the promise of changing seasons and holiday joy. Silly of me, I know, but I always feel that Labor Day is the beginning of the holiday season - in a broad and celebratory sense. Labor Day itself is a holiday, and following every few weeks come all those other autumnal pleasures, like birthdays (mine, GD's, Dad's and 2 sisters') and Monday holidays and fiber festivals and retreats. I always feel like September is the reward for making it through a Tidewater Virginia summer. For those who don't know what that is, just keep in mind that a diplomatic posting to D.C. from Europe has long been considered a hardship post because of our unbelievably humid, muggy, buggy, swampy weather.

But when Virginia weather decides to be pleasant - ahh then - nowhere else can beat it for energizing crispness, glorious landscapes, gushing and tumbling beauty, night skies with a clarity presenting the smallest of constellations to the late night viewer. Some years summer lingers on, deep into September, with its gasping hot nights blanketing restless sleepers. Some years, like this year, it comes smack on the dot. One of the most vivid of those perfect September autumns in my memory is 1975, the year we moved to the country. We had had 40 days and 40 nights of rain the previous July and were only just beginning to dry out as August rolled past, when September burst upon us with every promise of relief, comfort, and, of course, the hope of a brand new LD on the way. We didn't even have a front door yet, on the little cabin BD was building, and Dusty, Ray Ellis's dog, would wake us in the mornings, covered in dew, by jumping on our bed. That was the year R visited, while we still had only one, albeit, enormous, bed and we all slept in it together. BD still likes to tease and say R is the only other woman I've ever let him sleep with. (I was in the middle, thank you very much.)

The old water driven grist mill down on Essex Mill Road was still in operation, Eddie, the miller and Bessie, his wife - I kid you not! - lived in the little gray house at the top of the hill. Eddie would take your grain and make it into the most silken flour or crumbly meal. I used to like to plunge my hands deep into the flour and scoop up handfuls of it, savoring the delicious smoothness of it as it sifted back into the bin. He had all sorts of flour, including something he called gurgens, which he told me baked a bread that diabetics could eat. I haven't a clue what it was but the bread made from his flour and baked in my little Atlanta Stoveworks wood fired oven was a food fit for the gods. La - I wonder if there is a picture somewhere, of that little stove.

That September we'd bought two lard tins full of flour, one graham, one white, and I distinctly remember baking high rounded, golden crusted loaves on that first Saturday in September. Bread. Staff of life. Foundation stone of western civilization. The combination of dreams fulfilled by that first baking was staggering. We had spent the past 2 months in a wet, steamy, army pup tent, waking every morning to warm damp sheets, trying to build a cabin and cook meals in the never ending rain. I had had so many meals rained out by the camp fire I had lost almost 30 lbs. Dinners of half cooked beans were common place. Now, canopied by September's blue skies, roofed in a house with walls (though no doors), a bed, a stove, and a tin of flour - I could not only guarantee meals on the table 3 times a day, but also begin to fulfill those childhood Laura fantasies.

By my birthday we knew for sure there was a little darling on the way and I was so secretly pleased I couldn't ask for anything else in life. Oh - I soon found other things to long for - other issues to deal with. Life will always provide you with things to struggle over, complain about, slog through. Some might even wonder where my brain was hiding, getting pregnant by an unemployed flute player of a husband while still living in a tent. My father sure did - and had only one epithet for our house - "That tar-paper shack". But we were happy. We were doing what we wanted to do. Making our funny way along The Quest, different from everybody else, sure, but being true to ourselves. Learning how to build a house, cook with wood, be a family, become good neighbors - we were doing all these things. And to help us along the way came September - month of renewal - month of harvest - month of blankets, bread and babies.

Now, 30 years later, comes another September - another crisp gift from the universe. Cerulean skies, emerald leaves blooming into gold and red and orange, night singing crickets and bread baking ovens. September. I celebrate it with all my heart. posted by Bess | 8:50 AM
---
1 Comments:
Sure hope the doc has a miracle cure for your poor hands, dear!

Love,
LWLY

Subscribe to Post Comments [Atom]



Friday, September 02, 2005 Busy day today - and hand is hurting a bit too. I'm off to the city to take care of some Important Responsibilities. Fortunately, I can visit Mom and Dad for lunch while I'm at it. But I must be back home by 4, sinceI have a nother doctor appointment then. Besides, I want to be off the road before 5, on the Friday before Labor Day. After that it's sweet cool September weekend at home.

Maybe I will find some fiber inspiration this weekend. posted by Bess | 6:14 AM
---
1 Comments:
Happy pre-birthday, dear Bess.

Love,
LWLY

Subscribe to Post Comments [Atom]



Thursday, September 01, 2005
H

A

P

P

Y

B

I

R

T

H

D

A

Y

M

O

N

T

H !




All my sister and brother September Babies.



I overslept this a.m. due to blessed dry cool night air. I haven't time to say more than that. But I can't let September first go by without giving it due honor.

Wishing everyone the best of cool fall weather. posted by Bess | 10:18 AM
---