0 Comments:
Subscribe to Post Comments [Atom]



Friday, June 06, 2003
ENGLAND IN MAY
Day 8


We are off to London, A & I, on the train. About halfway there we switch to the Millennium Express again - that smaller quiet train, but we get off at an unknown stop in ?Stratford? - I don't know - anyway, we are on the sidewalk and walking somewhere at a brisk clip. Just as I'm about to ask if we should take a bus, we turn a corner and I stop dead for we are just 2 blocks from the Tower Bridge!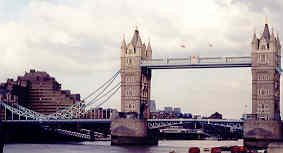 Yeah - the one in the James Bond movies.

I just have to stand and stare - 1898. All Imperial Majesty flung up to the sky. It's a draw bridge - a British naval vessel is moored upstream. But there's not much real river traffic.

The Tower of London awaits the other side.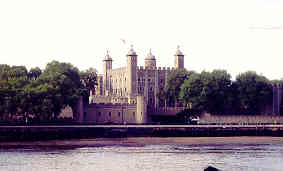 It's 12:30 - I feel the day moving on, though I forget that it's light till nearly 10 p.m. No wonder guests in English Country House Novels always stay up till midnight! We go on to the tower. The museum shop affords good gifts for Emma and Lizzie - my precious goddaughters.

The Tower is several periods - Norman Keep 300 feet high, Tudor barracks - Victorian repairs. We go first to the crown jewels - Lots of gold salvers, chalices and a punch bowl you could take a bath in, but the only jewels are the crowns. I had thought I'd get to see more jewelry and the moving floor glides you past the crowns & scepters pretty fast. You can linger at the "Crown of State" but I was only moderately impressed with this display. Well - it ought to be called the Crown Plate exhibit. Very golden.

The Tower is not a crowded place today, but there are plenty of visitors. We walk through the exhibit in Bloody Tower and see Raleigh's apartments. These make me sad. He was the first romantic figure I ever learned about in history - waaaaaaaaay back 41 years ago. Sweeping his cape off and tossing it in the mud before Queen Bess (do you see now, the connection?hmm?hmm?hmm?) so she wouldn't muddy her dainty foot. He wrote his history there and they let him out after 15 years just in case his theory of a northwest passage behind Guinea was correct. Took off his head when he got back a year later.

At the scaffold sight - no block with ax buried in it, but an "On This Spot" plaque listing the royals beheaded there including "the last Plantagenet". This was Margaret de la Pole and I tell A the story, for it is a bit obscure, but I'd read a child's novel about her when I was about 13 and never have forgotten it. And of course, any girl from VA who grew up in 1960's has read Katherine.

Walking around the Norman castle we pause to hear the story of Gryffud ap Llewellyn who was betrayed by his brother to King Edward and trapped in the tower, with his young son, for 4 years. He grew quite fat in prison and plotted his escape via a sheet ladder. He climbed to the top of the tower, lowered himself over but alas, the sheets couldn't support his new pulchritude - he fell head first - and was discovered by a laundry maid next morning, lying headless on his belly, though when they turned his body over they found his face staring out of his chest. Gory for you to read, but more grizzly for his son to witness and impossible for him to forget. And so upon his return to Wales and inheritance of his father's lands, he rose up against his Uncle David, slew him, fought the English to his death on the field, from which his own head, crowned in iron, was brought back to decorate the tower for a number of years. He was the last Welsh Prince of Wales.

Most of the Tower is given over to an armor museum, but you do get to visit a stunning stone chapel. It is all golden light inside - completely unornamented and very beautiful. The windows combine with the color of the stone to create a very bright room. I feel like I am in some cloud lit with sunshine. You can also see a gaurderobe - very clever bathroom construction from the 11th century.

We take the tube to the area of Oxford Street and walk past Thorntons, the chocolatier - stop in, actually, but decide to eat lunch first, and return for chocolate. I am unprepared for Libertys - a block further past modern high-rise stone facades. I am again halted by an enormous 5 storey half timbered beauty, all striped in black and white. What fun!

It's so quiet inside - every piece of wood is carved and polished by countless hands. The store is actually 6 stories. Lower ground, ground & first, then balconies around the court for level 2, 3, and 4. The lunchroom is on 2 - with table linens, sheets & towels.

We're hungry and have soup, cheese scones, and salad, plus wonderful meringue for desert, topped with syrup, berries and cream, all served by whispering maids with French accents.

But shopping is a disappointment. Very few fabrics and not very pretty. The only thing I wanted to bring Mama (the only person I intended to buy a real souvenir for) was a length of Liberty Silk. I haven't sewed much in the past 10 years, but when I was sewing a lot, there was nothing like a length of Liberty Silk for a summer dress. In that you felt ready to go to Ascott or The Country Club of Virginia or really anywhere. Sadly - there are only 12 bolts of silk - that's all - and at L29 a meter...well, I do end up buying 3 lengths to make scarves for Mama, Hannah and self, about $25 a piece after my VAT refund. Everything is very expensive. Too expensive in fact, and sparsely filled. It feels empty inside - like American downtown department stores I remember from the 1980's and early 1990's.

A is very upset, but there you have it - the modern person doesn't sew. A very nice clerk tells us the fabric section got to be like a museum - people came in to view and touch, but didn't buy. And the good buys are now a few blocks away in Chinatown! But - that won't be the Liberty experience I wanted to take home to Mama. So, we meander through the store, but the only real treat is the architecture.

I am eating way too much on this trip and we stop for chocolate at Thorntons - and a cake - but I vow to cut back after this - only to eat delicious sausages for dinner later!!

But we walk down New Bond St. to discover Jason's fine silks & woolens and there, for even more $$$ (or LLL) I get a glorious length of flowered silk - Christmas scarf-gifts all - for I will hem the lengths myself. Another thing about Jason's - the clerks, all men, were utterly charming. Teasing, elegant, friendly and quite willing to let you touch without buying.

We continue down Old Bond St. and I'm in a Georgette Heyer thrill looking always up, ignoring the first floors with their lights and modern goods. At Picadilly Circus is the life-sized bronze statue of Roosevelt and Churchill on a park bench. We take photos of us sitting between them. Very funny. Very touristy.

We peek in the Victorian arcades, Doulton China shop, jewelers, all the expensive shopping. There are shoe stores that have these little strappy sandals with a little sliver across ankle and toe, covered with glittery rhinestones for L700. Yes, my friends, that's $1,197 for a pair of rhinestone sandals. And toes pointed as sharp as needles - but I am country you see - I really do know there are shoes like that (though I didn't think they were so expensive - more like $500 a pair) at Pentagon Mall just outside of D.C. I just feel like such a rube. But it's chilly, showery and about 6 o'clock, so we catch the #23 bus and ride to Liverpool, past St. Paul's, Trafalgar, up Fleet Street....

We take an express home, only to have the engine break down at Ingatestone - where I sketch out th windows.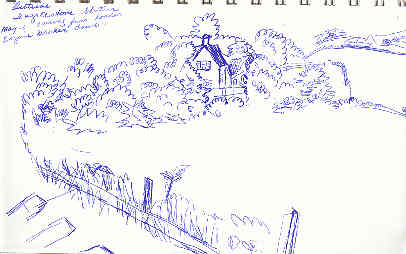 Home for dinner at about 9, exhausted, but happy, we hear all about BD's bike trip and D's appointment to a Harwich/Jamestown 2007 planning committee. A good day was had by all? I should say so. posted by Bess | 12:27 PM
---