0 Comments:
Subscribe to Post Comments [Atom]



Sunday, June 08, 2003
ENGLAND IN MAY
Day 9


Ever since we've discussed with D the possibility of a visit, he's had a PLAN - a surprise he's wanted to give us and today is THE day for it. Of course I don't know this now - but I will find out later in the day.

We take our time waking up and D mentiones that he has scheduled a tour of the Globe Theater at 2. And as to be expected, BigDarling immediately resists anybody scheduling his time. D continues to press - E to resist - and A to worry. There is lots of stuff going on emotionally. I, true to my nature, slip into the background, ready to do whatever anybody wants, chuckling at the texture being woven out of these intense personalities. I do so love to laugh at human absurdity. And we do leave the house, we do make it to the train station, we do get to London.

Of course, the walking tour of London, being led by D takes us to several lovely sites. St. Paul's - grand and imposing, but lacking the mystical reverence of Bath Abby.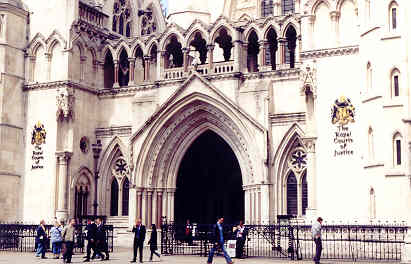 Fleet Street - with its secret alleys, hidden statues.



Yes - that's me in Flidas!

There is a magical moment in Kings College of London chapel, when we stop to listen to part-singing, while A&D take a romantic peek into the past, for this is where they met and fell in love oh those many years ago and I learn, to my surprise, that this is the first time they have ever been back!

We meander towards Big Ben and the houses of Parliament, but cross the Thames before we can see them for time is ticking away. The view of the enormous ferris wheel - the Millennium Wheel it is called - makes my blood run cold. A teases hard about taking a spin on it but it's a major turn-off to me because I know I'd be sick and trapped and probably go mad on something like that. It is huge though. But I don't do rides. I begin to wonder if this is the "surprise in London" D had talked about and if they are hinting about taking us on it but not about to say so. But nothing is said and we continue our stroll, admiring the bridges that link London's 2 sides.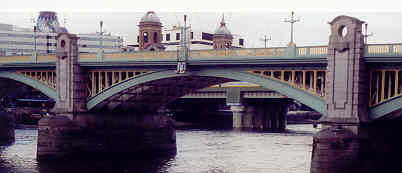 The closer the clock ticks towards 2 o'clock, the slower BD walks, the longer he lingers over the most trivial scenic view and the farther ahead of us A&D get. But we are at the Globe about 1:45 and D then stops, and, as if pulling a rabbit out of a hat, he says "You now have your choice -you can either walk around London on your own and meet us back here in 3 hours, or you can be our guests at the theater". Amazement and hugs and laughter and wide grins that still spread across my face as I remember it now, these weeks later, are our answers.

D had bought tickets for a production of Richard II. What a wonderful treat. The Globe Theater, reproduced in the early 1990's is simply perfect. The open roof, the 3 sided stage, the fine acting - perfect acoustics.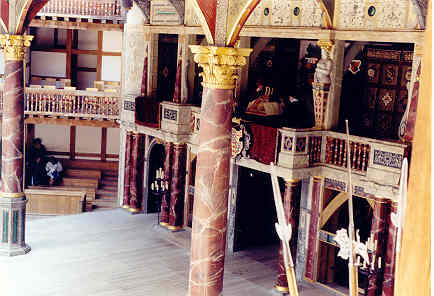 I sit enthralled and pleased with how well I can follow this play, which I have never read. That is the advantage of the historical plays - for in the comedy's there are so many puns and such a tapestry of language, that if you don't know them already, or havent been reading a lot of Elizabethan literature lately, it's hard to follow them. The histories are more linear, and I have a better knowledge of history anyway, so it's pretty easy enough to follow the action.

At intermission I buy some hot nuts and dried fruit to share. Notable in the performance is how the cast performs a dance to contemporary Elizabethan music instead of bowing at the end. Afterwards, we have dinner at the restaurant. It is an enchanting afternoon.

About 7:30 we stop by our hosts' son G's house in Stratford in the East End of London. He owns a little row house, reclaimed and restored. East End is the poor part of town, always has been, full of immigrants. It reminds me of the Fan in Richmond. G is slim, quiet voiced, very handsome. He has A's mouth but otherwise is more a combination of his parents than a copy of either. He is a computer programmer & software developer. Of course there is tea and of course there are biscuits.

We are home by 10:30 and I am out like a light before 11:00. posted by Bess | 7:49 AM
---