0 Comments:
Subscribe to Post Comments [Atom]



Friday, June 06, 2003
ENGLAND IN MAY
Day 7


I wake about 6:30 and, with A, share a cup of tea. We chat a long time and let the men sleep in.

Today is Bartholomew Gosnold's House - Otley Hall. But sad news for D. - the death of a beloved cousin - in Australia - means tomorrow's trip to Oxford will be changed - perhaps even discarded. Don't exactly know the plans yet.

We head off, but are a little late. We drive to Sudbury, Suffolk and pick up J, D's little sister, who is tall, slender, lovely, gracious and deliberate - just like D. There is much love between all 3. J lives in a tiny perfect duplex on the outskirts of Sudbury - a perfect English village. And outskirts in Sudbury are not like outskirts in say, Tappahannock, where you'd drive 5 miles to a bubble development in the middle of farm land. Rather, another couple of roads are built onto the roads at the edge of town, and houses are built on them.

We have tea and simply delicious shortbread and ginger snaps.

The drive from Sudbury to Otley twists from one superb English village to another, each one a gem, worth visiting, lingering - but we are already late, so we go straight (?!?!) to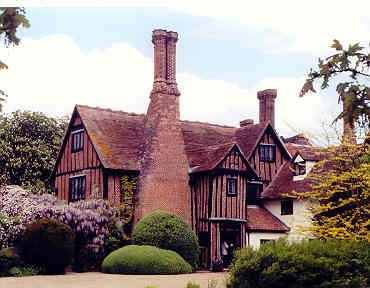 Otley Hall - a perfect English manor house with moat, hall, solar, playhouse and garden.

So - why Otley Hall? ahh. well. This is where English speaking America begins. When the Jamestown Company first began to coalesce, the men who planned the expedition met here, at the home of Bartholomew Gosnold. Gosnold was also the captain of one of the 3 ships, the Discovery, which sailed to Virginia in 1607. To be in this birthplace of the political, and largely the cultural, character of my homeland is a thrilling experience for me - for us all I believe.

It's stormy and cold - we are met by our lovely guide, Kay, who takes us 'round the outside first, then indoors for the most intimate old house tour I have ever been on. "Please be seated" we are invited - so vastly different from other historic places where there are ribbons across the furniture. We're served more tea and cookies - biscuits - and a very full history of the Gosnolds and Otley Hall.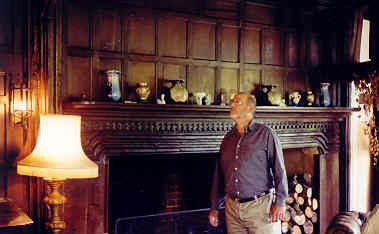 Fabulous panels in all the rooms downstairs (The linen fold panels in the dining room are purported to have come from Cardinal Wolsey's quarters after his fall from grace, for he moved to Otley to start a school.), ancient venerable furniture, yet, this is no museum. This building has been a home for so long, it is often modified - though only once in disgustingly bad taste, when, one family in the 1940's plastered over the frescoes in the bedrooms because their kids were frightened of the spooky looking painting. Good lord!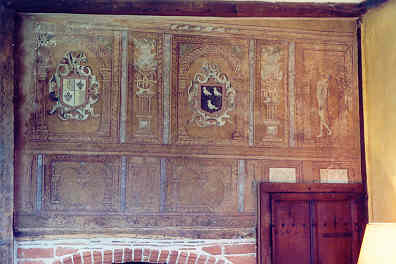 All that is left of the frescoes is this one marvelous wall in the hallway.

As we tour the gardens, afterwards, I get my first English rain - but OH MY GOODNESS what gardens!

I particularly loved the orchard - 12 trees and you had an orchard in Tudor times - and could prosecute, should someone steal your fruit! A mount, an artificial hill with a spiral path to the top, from which you can see the church where the Gosnolds are buried. This was a family which lost all it's fortunes to Cromwell, alas, so in the 1650's the house was sold. There is also a medieval garden designed by Sylvia Landsburg author of The Medieval Garden

By this time, heavy cold rain drives us inside, so we dash through the rest, barely looking. Our wonderful guide, Kay, is unflappable - with only a "brollie" - for "umbrella".

A very crowded damp drive takes us to Needham Market for lunch. This is a true "market" town - with permission from the Queen to hold a regular market. At least - it once was. I get the middle seat in back, since I am the shortest, if also the widest. It is nearly 3 o'clock by the time we get there and the tea room was finished with lunch, but the proprietors, a sweet couple, fix us a full meal; shepherds pie, sausage casserole, potatoes, and, of course, tea. The conversation is like something from Monty Python - Teasing D, chatter, puns, it goes non-stop. D & J obviously love each other so and A & J seem to be wonderful friends.

J asks if I want more (groan) and I say I can always eat cake, for I see several, but she says she has cake at home.

The proprietors tell us they have a son who married an "American girl" and lives in New Jersey. Papa says he has "Two American Grandchildren". They are going to visit in the summer for 5 weeks. They are very delicate looking. People here all seem so soft and white - not useless white, but pale colored - just whiter than folk in Virginia. And the fragrance here is sweet - even in Gravesend, which otherwise felt like east Broad Street, in Richmond.

Outside the tea room we are stunned by the beauty of St. John the Baptist Church.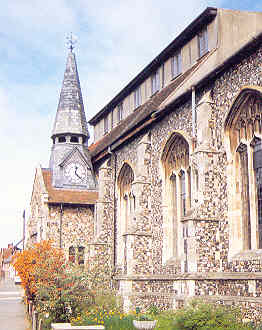 In fact, every village, hamlet, town, city has it's glorious church. This one, a flint beauty, suffered greatly from the time of Henry VIII through Cromwell's distruction of ornimantation - but still offers a carved cieling to die for.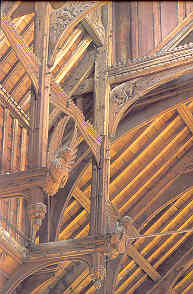 We drive to Lavenham next.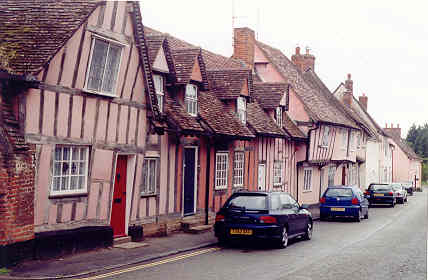 This is the town D has told me about so often - 100+ half timbered sloping twisted houses - a de Vere seat, complete with gorgeous stone church with square steeple marked by 8 de Vere stars.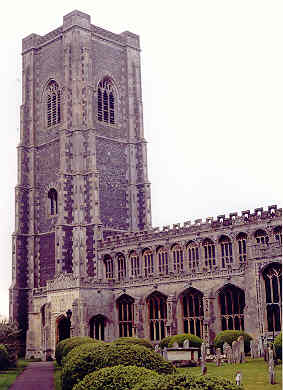 It's nearly 6 o'clock, so we can't get in, but it is reported to have the highest steeple in England.

A gate tucked beneath some branches at the back of the church yard - a kissing gate - opens onto a footpath that takes us back to a newer part of town. It's drizzling all the time and nippy, but not cold. BD uses the last of his film, but we never get a shot of the magnificent guild hall. This is a wool town of old.

We head back to Sudbury now and on the drive through Long Melford we drive up the entrance to Melford Hall and I see my first Tudor Palace - all bricks and towers and glittering windows. This thing is massive. It is beautiful. It is awe inspiring. And for some reason, in spite of it's 500 year age - looks nouveau riche. Beautiful nouveau riche, but all the same...

A large tent is set up or ready to be taken down and though the place is closed, no one is around to make us leave. We only look, never get out of the car, but there is a flock of sheep on the hill behind. Suffolk sheep?

Back to J's we have a cream tea! How do these people stay so slim with so many cakes? Scones, cake, quiche, ... we leave about 9 so A can drive home before dark. I'm in bed by 10:00.

posted by Bess | 6:30 AM
---