2 Comments:
Bess, you are one Brave Gal to knit that KipFee...and it's so lovely! Bravo!

If Interweave Knits is out your way, it'll be out mine soon too. And I just had a boo at the newest Knit Simple from Vogue...I'm going to spoil m'self and get both!

Hugs,

I'm dying for the winter Interweave to show up on the shelves at B&N -- I want to see Eunny Jang's sweater pattern. She mentioned it a little bit on her blog -- she designed and knit the entire thing in five days. Crazy stuff! But it's gorgeous! Right up your fair-islin' alley.

Subscribe to Post Comments [Atom]



Saturday, November 04, 2006 November 3 may just have to become my new Knitters Holiday - one worthy of repeating, of celebrating. Of course, any time I'm going to be riding around in a car I'm likely to do a good bit of knitting - even on glorious autumn color rambles I'll have something in my lap. Yesterday's project was the KipFee sleeve #2, which I'm pleased to say, I completed up to the point of putting it on a stitch holder. It's ready to be joined to the sweater body. Before bed last night I'd also ripped back sleeve #1 to the proper starting point, wet set the crinkly yarn I'd pulled out and loaded the cuff stitches onto the pair of #3 circs I use to knit socks and other small tubes. One sleeve to go, the shoulder section and all that button band stuff and this KipFee is ready to wear. I am of two minds about the hip ribbing. I have to decide before I cut the steek and knit the button/neck bands. I'll be able to try it on first - as a pull over, of course, but that will tell me if adding the ribbing will make this sweater just way too long for me. If it does, I believe I'll knit a facing hem because my ribbed checkerboard curls.

I did try on what I've knit of the KipFee body so far, just to ease my mind that I didn't knit a size too small. Whew. I didn't. It has a close fit, but not a tight one. There's enough ease to move comfortably - no stripes stretch across the bustline - but it's not an oversized cardigan. That many colors and that much horizontal stripe in a flowing garment just doesn't fit my own self image.

So. The most nerve wracking thing about knitting is taken care of - You know what that is: it's the question "are these 175,000 stitches being knit into a garment I will never wear?"

Answer?

Nope. Nothing but happy knitting from now on! I believe I'll try to see how much of sleeve #1 I can get done this weekend. It took 2 weeks to do Sleeve #2 but there was some figuring to do in the beginning.

Other happy knitterly stuff:

Once BD was through with doctors and tests, we browsed some used book stores. Poor darling, he didn't find what he was looking for but I stumbled upon treasure! At Black Swan I found a copy of Kaffe Fassett's Glorious Knits - a book I've borrowed via interlibrary loan several times. His boldness with color is an inspiration to me, but I've never thought of actually knitting one of those things. So many stitches. They've looked like future unfinished objects to me in the past. But this KipFee sweater has wrought a change in me. That, and perhaps, the energy work I've been doing. But the combination of the two are surely what has given me the confidence to tackle other Big Knitting Projects.

I've always been attracted to the fiddly, complicated, color work, projects. Kwik Nitz on Big NEEDLEZ have never made my eyes pop or mouth water. I've always wanted the multi-stitch, stranded colorwork, intarsia, tiny stitches things. A flat sweater is something I can pick up at Walmart. I'm not making any promises, mind you - but I am thinking about What I'll Knit Next.

At Chop Suey Books, on Cary Street, way down in the VCU campus area I stumbled on more knitters gold. Two gems from the late '80's, early '90's:




Country Knits by Debbie Bliss (of Cashmerino yarn!) and Fiona McTague

and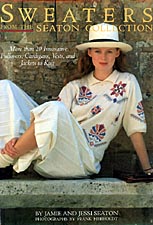 Sweaters from the Seaton Collection by Jamie and Jessi Seaton.

Here's a photo of a finished sweater from the Seaton Collection.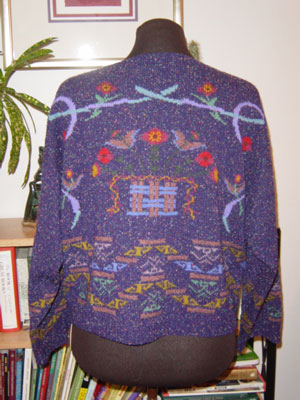 Both for $6.95.

And this is a heads up for my Richmond knitting friends. Chop Suey Books also had 2 copies of Kristen Nicholas' book Knitting the New Classics.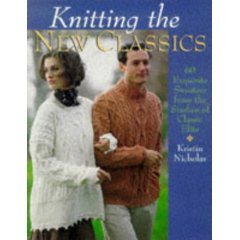 This out-of-print book is one of the best knitting pattern books of truly classic knits I've ever seen. It also has the wider range of sizes that came in in the mid-nineties. Prior to that, a large sweater was for 40" around - and usually only for men's sweaters at that! Now and then I see paperback copies of Nicholas' books in B&N or other book stores, but only rarely. If you had wanted to add to your collection, here's a way to do it on the cheap.

So - for just over $20 I came home with 3 beautiful knitting books. And in my mail box?

This!




and this too, just for good measure.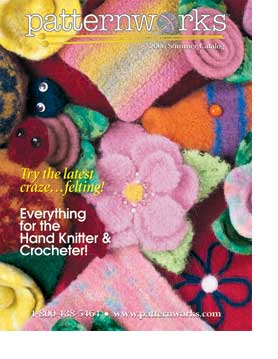 I really like the winter Interweave Knits. I'll probably wax elloquent about it in a later post, but for now I'll just say there are 4 designs I'd wear in a heartbeat - might even knit in a heartbeat! Well. Several weeks worth of heart beats, anyway. Very good issue.

If I can get to town this a.m. I'll load a photo of the sleeve progress. Otherwise, you'll get even More Progress Photos on Monday.

Good knitting to you all! posted by Bess | 7:49 AM
---