3 Comments:
Hi Bess--Is there any chance that I might finally get to meet you at this year's Virginia Library Association meeting in W'burg? Please say you'll be attending...please!!!!?? (With sugar on top?)

Hmmm...lace...Well, Bess, dear, you might try one of the lace inserts (there are variations) for a jacket (front/cuffs) in the new fall Knitters -- if you can find a copy! It took me ages to find one here, but it was worth it. :-)

Hugs,

Your sweater is looking gorgeous - so impressive! I may have to make a little movie of you knitting on it when I come visit! :-)

Subscribe to Post Comments [Atom]



Wednesday, October 18, 2006 Such a lot of ideas and thoughts are swirling around in my head this morning, none of them connected, but all of them belonging to my life. There is this afternoon's quarterly library board meeting, when I must bid adieu to the board president, with whom I've worked in a splendid partnership for 15+ years. If I am the mother of this library, he is the father and I hate thinking that he's not at the helm of the ship any more. And though he said he would be glad to serve on the board again - I know how things happen - and coming back onto the board a second time is not the same...

Jostling among my nostalgic farewells today is another good-bye that the whole family will be saying to the last of the Hoskins grandchildren - of the famous August reunion. I came back from lunch yesterday and found a cluster of cousins at the circ desk, all looking tender and gentle and my heart swelled like some Wagnerian crescendo. Cousins! Favorite Cousins! when I suddenly stopped and realized that these far away cousins wouldn't be here unless it was Bad News - which it was. Joe Pollard, 93 years old, had taken ill on Saturday and died on Sunday. How like him. To take the first opportunity to slip through the door, leaving everything behind tidy, organized and ship shape - like the old-time navy man he was. You can see him on the History Channel's autumn show Battle Station: Sick Bay in a few weeks.

He is to be buried at the other old home church, beside his family, on Thursday. Not a one of his children or grandchildren live around here, and they were really feeling the weight of making arrangements - especially gathering up family contact info - and - how do we feed all these people coming at noon to bid their papa good-bye? Then they thought of the library ... where the keeper of the Reunion Database worked - across the street from the funeral home. That's me. And while I was helping them, in walked BH, the best organizer and best contact person in a family noted for .... for keeping a reunion going for 152 years! So we were able to love our dear cousins in the way that would make the most difference, by setting up the phone tree and getting the caterer and spreading the cell phone numbers around. There is great satisfaction in being Martha sometimes. And the chance to love these cousins by helping them is one of the greatest joys I could have - at any time.

There are also knitterly ideas and thoughts nudging for attention. My Winter 2006 issue of Vogue Knitting arrived yesterday. I subscribed last January, having found the previous 4 issues both creative and inspiring enough to purchase at the news stand. VK had languished for a long time on my You Knit What? list, with way too many ugly sweaters knit at 1 stitch to the inch. I don't mind an example of Knit Lite in a magazine, but I don't want to look at pages of them.

I expect fall and winter issues of knitting magazines to be good, but I was absolutely floored when I turned to the contents page of this issue and saw that simply drop dead gorgeous blue cabled coat, designed by Vladimir Teriokhin (p72). (Boo hoo - no picture on their website) I'm still gasping a little at it, this morning. It's stunning. It's way more knitting than I can imagine myself doing, but oh man - I sure think it's fabulous. There are so many beautiful designs in this issue - as many in the ads as are in the featured patterns - I could do another long review of it - much like the one I did on IK's spring issue. That blue coat takes first place, but a heckuva second place is the knitted jumper, a few pages on; #28, by Norah Gaughan.

There's a lot of architecture in knitting these days: asymmetric, modular, short rows. So much knitted shaping, so many ways to make a string mold itself into three dimensions. In spite of my lazy brain and pre-liberation math education, I adore the usefulness of math; its building block nature, like crayons for shape instead of hue. Lately, when I've picked up a new knitting book or magazine, I've wanted to just down all other tools and start knitting a shape. I'm not sure if I'd really want to be a knitting designer. I am always reluctant to turn a hobby into a dooty. But I am lured by the desire - or pushed by the urge, even - to design my own. And when I knit someone else's design, I am probably going to alter it somewhere. But these new shaped knits tempt and I can imagine following a design closely just to learn how the designer came up with them.

I am wondering a little about all the asymmetry. There's an awful lot of it tossed about in a gratuitous abandon that feels a little desperate. Why have a jagged hem or weird sleeve just to look different? At my ripe stage of life, with the soft round little Austrian baker figure bequeathed me by my mama, I'm unlikely to flirt with too many random angles, but I certainly was charmed by the graceful slope on the hem of Tierra, the blue cabled sweater in Berroco's ad.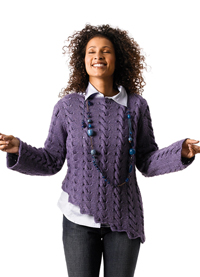 So - how is my own knitting going? Colorfully! Beautifully, as well. Brightly. I'm on color band #9 right now - about 11.5 inches up. At 14 inches I will set the body aside and begin on the sleeves, after measuring my underarm length to see if I can start with the same color sequence or if I must change it. I'll leave off the red and blue cuff round - or make it a different color - if I have to jump up too high on the pattern chart. I forget how long my arms are and I can't ever seem to find a tape measure when I want one. They must all have gone off to live with the missing socks and other long lost household items.

I continue to delight in knitting this sweater. There was a bit of a struggle with the set-up row in color band #8 but all is smooth knitting now. There will be a lot of yarn left over, though - enough for several stranded colorwork items - I think some hats and some socks and who knows what else. I also plan to make up a color card with these yarns, in case I want to order more sometime. The putty and pink colored yarns lit a fire of desire to create my own colorwork design - some kind of all over arabesque sort of thing ..




I finally settled on a stitch for the merino/silk yarn I offered to knit into sample socks for J's booth: a 5 stitch lace-rib that doesn't hide the beauty of the handpainted colors in the yarn. But I am thinking I will knit only one sock - and then make another small item out of the other skein. Silk always speaks to me when I knit it and complains if I try to force it into something it doesn't want to be. While my feet beg for the luxury of this soft silky wool to fit itself around them, the silk in this blend, says it deserves to be something more visible and more luxurious. It wants to ruffle. It wants to be knit into detachable ruffled cuffs that slip up underneath a plain sweater or t-shirt sleeve. It wants to be lacy ruffles! It will not let me be. It whines and complains and stamps it's little silken feet every time I knit those sock cuff ribs.

I will obey. I will make a second, small, one-skein sample for J's booth and it shall be ruffled silk lace. posted by Bess | 1:33 PM
---