5 Comments:
What on earth is NORO doing in your house???

:P

You can come to my house and play with fiber ;) It's just as hot here, but I can ratchet up the air conditioner.

I wish my own heat-stunned brain could look at a tub of yarn as creatively as yours does!

Even in air-conditioned comfort I've not felt all that inspired to knit much. But I did teach someone else how! More on the blog soon! :-)

Ain't it the truth about that Noro, Amie. But I bought it in a kit before I knew about my past life experience as a slave in a Japanese Fiber sweatshop. :D

If the sweater turns out to bring me bad luck, I'll have to find someone who looks good in it ...

stay cool guys.

Subscribe to Post Comments [Atom]



Wednesday, August 02, 2006 The dog days have slipped out of the kennel here in God's Country - or might I be forgiven for saying Dog's Country? - and everyone is cranky or stupid. I've taken the stupid route so it takes a double header like Saturday to inspire me to write at all. I might feel bad about this sloth if I thought I were the only one so sluggishly afflicted. Instead, though, this lizard like silence seems to be spread across the wide desert of my acquaintance. No one is writing email, blog posts are few and far between. We are all trying to suck in enough air to stay upright. It's so sticky I rub corn starch on my forearms before I sit down at the computer to keep from I adhering to the desktop. It was 80 degrees this morning at 6:45. We're promised triple digit temperatures again today - this is the hump day in both the weather cycle and work week, so I expect to whip through my morning routine of blog-reading in record time.

Almost needless to say ( since I am saying it) this is no week to play with fiber. Not in an un-airconditioned house, at least. There are only a few days a year when I really long for A/C. Most of the time I'm comfortable enough with fans'n'forest. Even this week, our floors are deliciously cool. If you don't mind taking a nap on the rug, the cool floor will suck the heat right out of your body and leave you a little shivery after an hour. Walking around, trying to be active, even trying to be upright, though, and the pressure of heavy hot air from above can put you into slow motion after a few days of temps above 99.

But my lack of desire to touch fiber doesn't wipe out my interest in it. Sunday I pulled out my three drawers of one and two skein yarns - some bought from sale bins, some left over from past projects. I have a drawer of greens, of golds-to-burnt oranges, and of rusts-to-browns. Though any one or two of them may be pulled out to knit hats or mittens, the plan is to one day make a sweater of many colors out of each drawer of yarns. The reality is that, for all I have so many skeins and balls of yarn, I've yet to come up with a total concept of sweater design and adequate yarn in a pleasing colorway - until Sunday.

Having sorted the yarns by color, I've always pulled out just the one drawer and pondered its potential. Each drawer holds about 2500 yards of yarn, all capable of being knit at approximately 5 stitches to the inch. It runs the gamut of Classic Elite's waterspun to silky nylon fur stuff by way of some glitter, some boucle and some handpaint. But the gorgeous handpaint merino I got from Kelly is just a little too tan for the rusty browns and the green alpaca is actually enough for a whole sweater. The three colors of peachy/orange all go together but if I use that palest one, I can't use any of the goldy oranges. Too much color quarreling going on there.

Still and all, I always buy yarns from the warm half of the color wheel so I just knew there had to be a way to combine them. Sunday I once again tried to make my yarns play nicely but this time I pulled out all three drawers and it took only a moment for me to realize: I could pull from all three drawers and come up with a wonderful and even more exciting combo.

And what did I come up with? Let's see what's in the project bag.

4 skeins of Classic Elite Waterspun felted merino 540 yards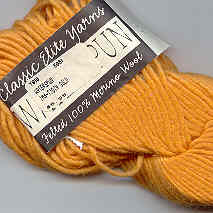 2 skeins Brown Sheep Handpaint Originals in the old version of New England Fall 200 yards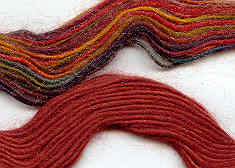 2 skeins same in matching solid Chestnut 200 yards

1 and a piece of Anny Blatt Chimere ($10.50 a ball!!) Orange mohair boucle @185 yards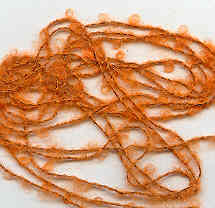 1 ball Lane Borgosesia Swan (silky fury eyelash) in goldeny burnt orange 89 yards




1 ball and some pieces of Smart Superwash tweed - the gold yarn I knit Flidas from @100 yards




1 ball Trendsetter Dune in color #49 99 yards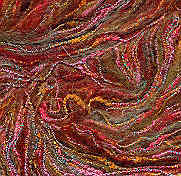 2 balls NORO(!!)in unknown colorway, lables long gone 200 yards?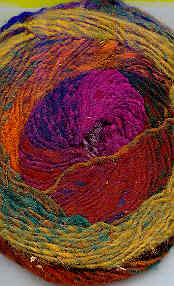 The sweater design will be a classic EZ seamless yoke sweater done in feather and fan lace with garter stitch edges at bottom, nekcline and wrists. The sleeves will be a little flared and I'll do either a garter or seed stitch seam band underneath for the increases.

That's the plan, anyway. And planning is half the fun.

No spinning news. No knitting either, because the very next thing I must do is knit 2 pair of socks for the Friends of the Library Auction.

Stay cool out there y'all. posted by Bess | 8:06 AM
---