3 Comments:
The sock is beautiful, but I have to agree about the Wildfoote. It is my least favorite sock yarn ever.

Wildfoote is crap. It's not like cotton, it's like bad, cheap wool. Good cotton is much nicer.

I bought some Wildfoote too and don't like it. I need to unload it somehow. Yarn swap here I come! ;-) That sock is gorgeous, though. Nice cuff!

Subscribe to Post Comments [Atom]



Wednesday, June 14, 2006 Whew! I am crazy busy and haven't been able to post for 2 mornings. I have been able to dabble in fiber, though. While looking for a pair of #1 needles I found them hidden in this sock!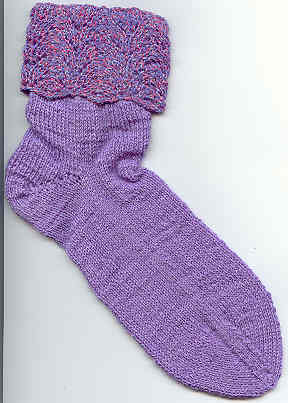 I started these about 3 years ago - no - at least 4 years ago and never got around to finishing them. The yarn is Brown Sheep's Wildfoot and though the colors are wonderful, the yarn has little spring to it. It's a bit like knitting cotton socks. Not so much fun.

There is supposed to be a mate, but I started a pair out of Lorna's Laces with those needle. Toe up socks in a flat merino with boucle cuffs. posted by Bess | 10:01 AM
---