1 Comments:
Can't wait to see the romeldale! Yum!!

Hugs, Jen

Subscribe to Post Comments [Atom]



Tuesday, June 20, 2006 Those two bobbins of Romeldale singles plied into 275 yards, so it looks like I'll get 1100 yards altogether. Though I haven't tried yet, it just looks like it will knit up at 4 st per inch. This, of course, assumes that I will spin the 3 other bags at the same twist and grist. I certainly will try. I've got sample yarns and sample singles. It's such a neppy fiber it will be textured, in a deep tweedy sort of way. I'm very satisfied with it. And at this rate I'll have enough yarn to begin a sweater, oh, say, in 6 weeks. In a perfect world. When my attention span lasts. And nothing interrupts.

I think this sweater begs for a loose turtleneck.

The other good news around here is that Virginia has a budget for next year. The game of chicken being played on East Broad Street has not yet been pushed to the next level. We don't have to find out how a government runs when there is no money to pay the electric bill, the salaries, or the bathroom supply bills. We can save that for the next time. Thank you gentlemen and ladies.

The above news is good news only if you spend the budget, or perhaps, if you receive a benefit from it. If you pay the taxes that supply the budget, you may be slightly dissapointed. If, like me, you do all three - you have deeply mixed feelings.

BTW, today Mr.Horoscope just says - suck it up. And I will. But what I shall also do is concentrate on that 275 yards of yarn. And the delightful fact that come Sunday a cold front is supposed to move through. You must know that means we're likely to get rain. Rain in June is always good.

Oh man - someone from the Ivory Coast has visited TheCastle! The result of a search engine, at that, not someone trying to spam for porn.

I've been dithering around on this post, writing little snippets as I am inspired by thoughts, comments and ideas discovered out there on the KnitterNet. I tend to write during the long slow Download of Deathlike Dial-up, but I just remembered - today is the day the library goes wireless. Men with tools and configuration discs will show up and do their magic. I can't wait to see how it all turns out. It's also the first of the SRC afternoon programs. We have 4 weekly programs for the next 6 weeks. I'm doing a little more than half of them, because that's how I can get paid for playing with crafts. We have never done more than 2 a week before and that is why I've been so anxious about things. Once I get through the first week I'll know how many kids to expect and get a feel for how close I got to the entertainment bullseye of middleschoolers. I must keep reminding myself - if it's a bust well, I'll only have to struggle through it 5 more times.

A most disorganized post here today, but I will leave you with this discovery - a gift from M.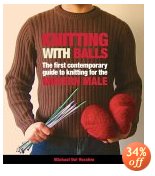 posted by Bess | 7:26 AM
---