3 Comments:
Oh, how nice to see a picture of your loved ones!

What a sweet picture -- and it'll do till you have time for a longer post!

The Mary Stewart book I most remember was Wildfire at Midnight
It sent shivers up and down my spine!

Subscribe to Post Comments [Atom]



Thursday, June 22, 2006 I'm insanely busy and not sleeping much either. Today is the real Hump Day at work; in at 10, out at 7. I know I'm headed for a crash but it can come tomorrow at 3, after which I don't have to get out of bed till Monday morning – if I don't want to.

Haven't knit or spun a stitch or ounce either, but when I surface after the deluge – probably Saturday, I'll tell you all about it.

In the mean time – here are a couple of lucky ones with a less hectic schedule than mine. Socks is the yellow one, Priss is the brown one, BD is the one with glasses. And of course, the background is ... The Rivah.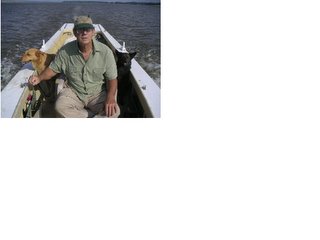 posted by Bess | 10:55 AM
---