4 Comments:
I don't think your heel looks bad, but what do I know?

Yes, I'm very interested to hear how the KnitPicks needles compare with Addi's. I did read that they don't have the needle sizes anywhere on them - you have to use those little tags -- which I would find annoying. I also read that the cables don't come with connectors, so they're not like Denise's in that sense. Maybe their next iteration will solve those minor issues. The blog I read did say that they're nice and slick and pointy and have a good heft to them. Anyway, looking forward to your review.

Your short row heel looks fine to me. I can't make a decent one to save my life, but that's OK 'cause they don't fit me as well as the traditional heel flap and gusset.

Finding "lost" and "forgotten" UFOs and WIPs is actually rather fun. I've recently found a few more, and it's rather frightening!

I am craving those Knit Picks circulars too, I have a set of Denise needles and they are great for airline travel because they are plastic, but they aren't slippy enough for a lot of things. And the sharp points on the Knit Picks needles totally turned me on - Clara had me sold at that point of her review.

My dear VirgoSoulSis, I wouldn't obsess about that heel. Just stitch a wee bit when you're finishing and voila! Those little holes will vanish. :-)

Hugs!

Subscribe to Post Comments [Atom]



Friday, June 30, 2006 I wasn't much in the mood to type today. My wrist are aching a bit. So here are some scans of:

LORNA'S LACES TOE UP SOCK WITH HORRIBLE SHORT ROW HEEL.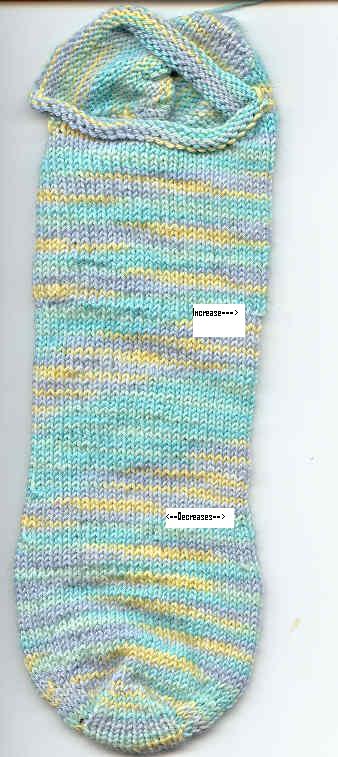 I beleive part of the reason my wrists hurt is that I've been fighting with those bad needles. They aren't slick enough and the joins are a struggle - It's a fight each time I push the stitches up onto the shank. I've ordered some of the new KnitPicks circular needles - we shall see if they perform any better. If not - It's More AddiTurbos for me.


WOOLESE SOCK WITH GARTER STITCH HEEL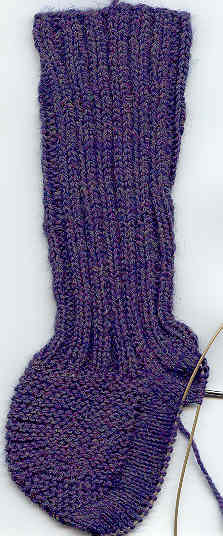 The hope is that the colors will show up. This is a rather pretty yarn - sigh - if only it weren't Woolese - which has very little strength. The needles here are Addi's and how much easier this sock is to knit!

CUTE EMBROIDERY ON HAT BRIM





This DVD just came in to the library. The hat is woven wool but the embroidery is so cute and you could do it on a knitted hat as well. I think .... yep. One on order for next winter. posted by Bess | 10:38 AM
---