2 Comments:
Great pictures! I love looking at evdrything that Morgain(sp?) has at Carolina Homespun. I could look through her booth for hours! Next year! jane

Hey you gorgeous thing! (that's you, Bess - Bella's not the only beauty at your house!!!) What a weekend. Oy.

You were missed, but I'm ready for a warm (dry) weekend on thuh rivuh, when we can play with Bella together (and you're like a little tease - I'm DYING to do those fast ratios she's got!!!)

Subscribe to Post Comments [Atom]



Monday, May 15, 2006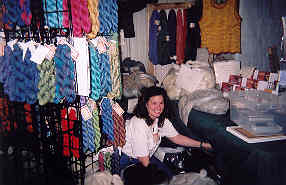 There are booth babes and there are booth beauties. I need one of those T-shirts that says "I'm with her".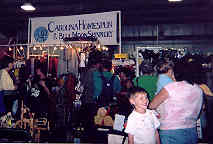 A great place to shop. Lots of books, lots of tools. Bryspun circular needles. woo woo!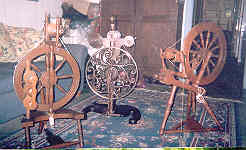 Here are my 3 wheels, KittyBoy to the left, HeyBaby to the right and Bella in the center.





I really needed to see this photo - because - ugh. But the wheel is beautiful and the day gorgeous. 2 out of 3 ain't bad. posted by Bess | 3:32 PM
---