4 Comments:
I bet your summer hair is wonderful. I've been thinking of going shorter,too! You've inspired me. Have a good weekend, Jane

Can't wait to see photos!

Love the drawing! Enjoy the new do!

I agree about the hairstyle magazine for the over 40 - those magazines are full of 15 year old models, except for the occasional token with silver hair. How about those of us who are fighting the good fight against old age and want to look good, but not silly, and aren't old enough to be silver?

Subscribe to Post Comments [Atom]



Friday, May 26, 2006 Our New England Spring went home, but do not think we are lonely. Florida Spring unpacked her bags sometime yesterday and we are now moistly 86 degrees with nary a breezy cool day in sight. The best thing about a sudden warm spell is that, for the first few days at least, I can leave the front door open. The house is still cooler than the outside so bugs are not tempted, but I don't have to keep getting up and down to let dogs in ... and out.

Lorinda - You lucky lucky thing you! I would love to take Theresa Schabes' class knitting the Pink Mimosa. Not that it looks that hard, but the discipline and schedule of a class would probably mean I'd knit it in time to wear it for the summer. It really is a gorgeous garment.

I woke at an ungodly hour this morning. I'm blaming it on the weather even though I am sure the moist breeze dancing outside my window is not really to blame. I have a long, though happy, day ahead of me, so it's a good thing I have all weekend to recover, for I suspect I'll need one of those 20 hour sleeps after last night.

I dabbled a bit yesterday on the scarf and the sock yarn spinning but the big fleece info for May 25 is shearing job done on TheQueen herself. I've been bored silly with the decade+ hairstyle I've had and this winter I began to plot with my hairdresser for Something New. After pouring over magazines filled with photos of 20 year old models with 40 lbs of hair cut in varying stages of spikedness, layers, and bi-color dye jobs I found something I could work with. I'd prepared BD, who voiced the mildest of objections in a sort of X chromosome knee jerk dedication to Long Long Hair, but of course he'd forgotten by the time I got home yesterday. There was a very long tease about the new look assuring me that he likes it too. It's short layers that still tuck behind my ears and I am at the maximum body fat for this style. Let us hope it spurs me on to greater glory with WW. It's also an ab-fab hair style for earrings. So much so I had to stop by M's store after the haircut and buy a pair for my ears were naked yesterday.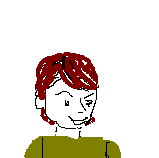 When there is a photo I will share.

If you wanted to get rich, though - you could start a magazine of haircuts for the 40+ woman. Stylish, flattering, double chin hiding, eye crinkle diminshing hairstyles for women with character in their faces. It would be a runaway best seller, because we Baby Boomers will cling hard and we have Disposable Income - at least for another 15 years or so before nursing homes suck it all up.

My idea fee is $1,000 in cash or bluefaced leicester roving. posted by Bess | 6:24 AM
---