2 Comments:
Ooh, I love your yarn. Very cool. Once I finish the yarn I'm working on and take my novelty yarns class, I'll be all set to make some really crazy but cool yarns.

That is so cool to see spindle-spun yarn knitted up and plied like that. I agree that the seed stitch makes it look quite nice. I'm gettin' psyched for my lesson! :-)

Subscribe to Post Comments [Atom]



Tuesday, March 14, 2006 There won't be time tomorrow to post anything. I have to be on the road by 7. So here are a few shots of some of the spindle spun yarn I took to the class last Saturday.

Here is blue merino 2ply. The yarn ended up pretty bumpy and uneven - top is tricky for me using a drop spindle. Heck. It's tricky for me all the time. But in a bumpy stitch like seed stitch - it is very pretty.





Here you see the same yarn, spindle spun thick and thin, then plied with a commercial effect yarn - a thin multi-colored rayon cord. I only made a tiny bit of this but I think it's very pretty.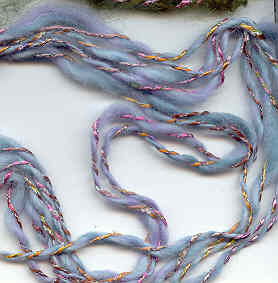 This is a green mohair lock, spun as roughly as I could on the drop spindle, then lightly plied with that same rayon cord. Similar, but different look.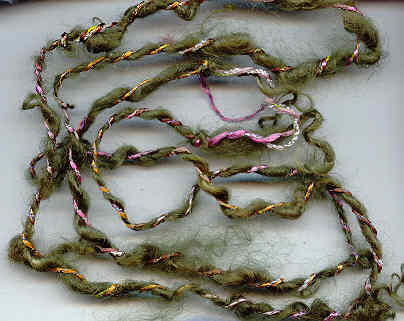 posted by Bess | 6:24 PM
---