3 Comments:
I just can't decide. Which one do I like the most? Well, all of them actually.

I use seed stitch quite a bit, especially when I want all the bits of color to get their chance to show off.

Oh, they're all beautiful!

I love seed stitch for variegated yarns - it makes the colors look like jewels!

Wow, you've been busy! I hadn't stopped by your blog in awhile, shame on me, and was delightfully surprised to see all the lovely yarn you've spun. I'm so impressed! Kudos, lady, on a wonderful job well done! Here's hoping I get to see some in person one day! ;-)

Subscribe to Post Comments [Atom]



Tuesday, February 21, 2006 More spindle spun yarns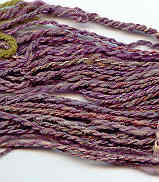 The first is a merino top blend from Ashland Bay called Rose Garden.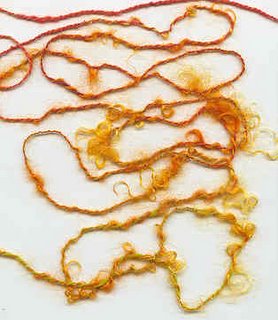 This one is a mohair novelty yarn spun extremely sloppily to leave lots of curls and hairs floating about, then plied against a thin tight single of merino, spun out of one of the smoother of those rolags.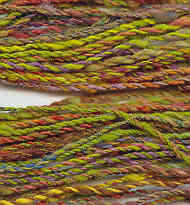 This yarn is spun from all those felted merino tops that I carded into rolags. The first ones I carded turned out awfully neppy, thus the highly textured nature of this yarn. I'll knit it up in seed stitch which seems to enhance textured yarns and play up their good features. posted by Bess | 10:36 AM
---