2 Comments:
Bess - I just wanted to tell you that I just found your blog and have really enjoyed the bit of it that I have gotten to read so far.

Aria (a fellow librarian/Pride and Prejudice/Colin Firth fan)

Bess you enabler you! Just looked up the book Glorious Crocheted Sweaters on Amazon and someone is selling a used copy for 2 bucks! Can't pass that up can I (when there are other copies of a different printing selling for 25) Is there anything I need to know about the book to make sure I get the right one? my email is Aria2124 AT yahoo DOT com

Subscribe to Post Comments [Atom]



Tuesday, January 03, 2006 I'm flattered at the response to the 1/1 post and thank all of you for your kind comments. It was fun to write and has left me still with that sweet glow of memory wrapped around me. A nice feeling to have, as we've been socked in with heavy winter rains; soft gray wetness that cloaks the world and hides the view from our windows. I never went outside all day yesterday. I almost didn't open the door, since Captain Jack found a skunk on Sunday night and he reeked to high heaven.

Now - you know you are a dog nut when you linger at your front window, longing to whistle up your wet white Labrador, all perfumed with skunk, and quite comfortably ensconced in the doghouse. Aunt Socks didn't mind the smell and cuddled in there with him. But life is just not right when three dogs aren't lying by the fire of a winter's evening. BD, ever responsive to my blue moods, took all the dogs on a long rain drenched hike, out to Robert's Landing, and threw sticks in the river till Jack was only half-scented. And I let him in after that. After 30 years of country living, a little skunk smells normal to me.

I spent most of the day with needles in my hand, adding a bit of length to GD's Christmas socks, working on a swatch of that Austerman Barkerole I bought in the final moments of 2005, and doing real production work on the BSHP deep ribbed turtleneck sweater. I've completed the arm hole bindoffs on the back and am zipping up the shoulder area. Hope to be done with that today. The BSHP is turning out to be my real pleasure, buzz off project. I'm using #8 needles, which is pretty much the outer limit of my comfort zone in needle sizes. Once I slide into #9's my hands complain and my dexterity level begins to drop. But this yarn loves this needle and the loose almost "Hey, what's happn'n baby?" sensation I get when I combine the two actually makes me giggle.

My goal is to finish this sweater up in January, timed to coincide with another goal, to be much closer to my WW weight so that I can knit the NBP sweater to the dimensions I've plotted and it will still fit. I'm pretty committed to the sweater dimensions since that's all the yarn I have, but I ought to also be pretty committed to the WW dimensions. I've been cooking out of my WW cookbooks and we've had some great meals. Sometime this week I'll plot out next week's meals and write up the grocery list for them. I am sure that planning ahead will snip out the roots of bad eating habits before they can really take hold.

I'm also contemplating a New Year's List of Good Ideas. Something like Crazy Aunt Purl's, but probably not so profound. More along the lines of "clean out one cluttered closet or cabinet each week, or month or, maybe at least one in 2006". I have some time to do that sort of contemplating since I'm home, I'm not in pain, it's raining and one can not knit even moment of the day.

That's two lists - hmmm. Better not plan on any more.

But I will inform you that I am (yes yes good girl) doing the PT exercises. They are so easy and so slight that it's really hard to commit to them - to actually do them at all. It's not like "walk 30 minutes on the treadmill" which is easy to accept as a real exercise that burns calories and makes you healthy! But putting your right hand on the left side of your head, stretching it to the right, then slightly forward, then back again, then with same hand pushing head back into upright position, then switch hands and sides - 5 reps - 3 times a day.

Honestly, could you remember to do that? All the rest of them are the same. Sit in chair. Flex right foot and lift right leg. Reach right hand towards right foot as far as comfortable and hold. Repeat with left hand and foot.

These are exactly the sort of things you just think "oh man. That can't possibly make a difference and besides, I'm tired and any way I'll start tomorrow." But they do make a difference and I had no idea how much I was slumping and shrugging and head tossing and doing all sorts of Bad Things in Little Gestures to this aging body. So - even though I have actually had to make myself do all three complete PT routines - I have done them, and I've felt better every day. I've real hopes of being all fixed sometime in the not too distant future.

In the mean time - while the rest of the world is heading off to work, since nobody has any Christmas holiday left by now - I plan to pamper my Inner Princess.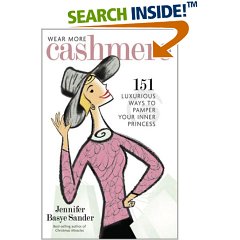 posted by Bess | 6:42 AM
---