2 Comments:
Either Parasol, or perhaps Alice (in honor of her Ssscotttiiisssshhh color?)

I can see the sleeves on you because you've shown a photo...but I admit to having trouble visualizing the whole sweater (I'm just not good at it!!) Still, I love the lace pattern. Yummy!

Subscribe to Post Comments [Atom]



Thursday, November 10, 2005 That New Beginnings Project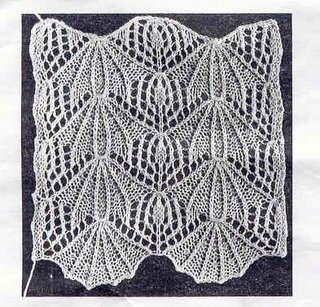 This is Barbara Walker's Peri's Parasol lace - "An ancient pattern kin to Bear Track..." It looks to me as if it were knit in cotton on fine needles. Clever and pretty. What I was seeking was an interesting lace pattern that could be strung or stacked and that would give a scalloped edge along the hem of a garment.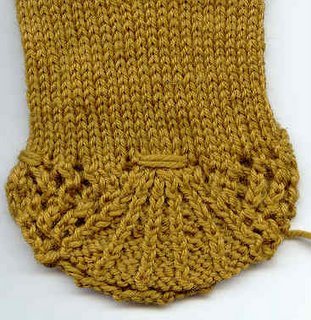 Here it is, knit in wool, only one pattern deep. This is the cuff end of the sleeve - the left sleeve, since I'm leaving the lace unsewn on the inside edge. I'm planning on the scallop hanging over the back and palm of my hands. This is not a fashion statement I normally try to make, but it just looked so pretty when I tried it on I decided to indulge in a wee bit of trendiness. It lies beautifully flat, both on the table and on the arm, so I don't believe I shall add any sort of edge treatment to it. If it had curled I'd have put i-cord all along the edge.

I plan to put two rows of the lace pattern on the body hem and then decrease to the waist. Usually I wear short sweaters - I am very short waisted, no point in trying to do the tunic thing. It makes me look like a battleship in full sail. But maybe - just maybe - hmmmm Well. I shall see how I like the proportions as it knits up. 5 patterns across both front and back would equal 40 inches or so - a tad wide for the top of my hips - or maybe a couple of tads. But for a longer length sweater you can put in a little width.

Obviously I'm still at the planning stage. The only other thing I have in mind is to run one parasol straight up the center. See how it scoops down in the center - won't even have to fiddle around with bind-offs for the neckline front.

Cool. Now - what shall her name be? posted by Bess | 7:10 AM
---