2 Comments:
Yes, yes, the Life o'the Queen should be regal and relaxed indeed! Glad you're back, sorry it wasn't a royal ball... and I love that bowl, too, just haven't gotten around to playing with the techniques (and you and I seem to have the exact same feelings - I keep meaning to send Cat an e-mail politely asking "what on earth were you thinking with that contortion?" though I do think the concepts she presents are brilliant)

Hi, Bess-- If you were naval gazing, were you looking at sailors? hehe.

I have dowsed, though have never had a class. It's like fishing with one's eyes closed-- but that same feeling of electrical excitement when you get a "hit."

We just had our state library conference, too. I narrowly missed being tapped to be the next conference chair, which for a Pisces is a great blessing (to have missed it, that is). Hope all is well with you and yours.

Subscribe to Post Comments [Atom]



Saturday, October 22, 2005 Whew! What a week! Packed, cranky, fractious, stupid, and just when I thought I had the weekend to veg out - I am reminded that I'd signed up for a class in dowsing waaaaaay last summer and guess what. Yeah. 10 a.m. And not only is it pre-paid, but I do want to take the class. But there goes my loaf about the house in p.j.'s plan. On a delicious rainy Saturday too. ahh well.

I'm back from the annual library conference, held this year in one of my favorite towns - Williamsburg. Somehow this year seemed duller than other years. Too bad, too, since it was the 100 year birthday of the organization. It fell flat though - or perhaps I was flat - which could easily be the case. Some good enough programs. Some really dull chicken at each meal - both of which were pricey and both of which were served after it could be guaranteed that the food would be lukewarm. The anniversary dinner didn't include desert (as if I need it) because there was a cake, which wasn't going to be cut till 30 minutes after the 2 hour dinner was over. So I passed, and went back to my room. Truth? I wish I'd not paid for the dinner ticket. I wish I'd ordered room service instead.

One thing really obvious at the convention was that this was the year that all of us got fat. Oh, not the naturally slender. Or the ektomorphs. Or those who are always more disciplined. Just those of us who are prone to bulk up. I've noticed that there are some years when people seem to DoSomethingAboutTheirWeight in unplanned hoards so that when you show up at events you see NewClothes and FreshOutfits and

C

o

l

o

r

and sometimes even DifferentHair. Then there are other years when everybody seems to give up the effort (self included) and let the lbs. pack on and wear monochromatic black. It made me feel part of the group, but also reminded me that the temperature is dropping and I have very few clothes that will meet in the front anymore. And no disposable cash.

I did get by the Knitting Sisters - well, I'm not going to hit W'burg and skip one of the nicest shops I know. I had intended to do a real review of the shop but I didn't have enough time to get into a conversation with the owners and this shop is good enough to deserve the effort. I believe I shall just take myself down there some slow day, like a Tuesday morning, and chat. They're still in the same little shopping center on the way from the colonial part of W'burg to the theme park stuff but they've moved into a bigger shop. They seem to have all the Noro that's made and plenty of other yarn lines too: lots of Rowan, the obligatory novelty stuff, Hanne Falkenburg kits, Collinette .... you get the picture. The classroom is big, bright, full of natural light. The needle selection is still the best I've seen in any store. All the staff was happy, as they've been every time I've visited and teen age sons sleep in cozy chairs in the window.

I really really really really really don't need any more yarn. And I didn't buy any either, thank goodness. But I fell under the spell of this.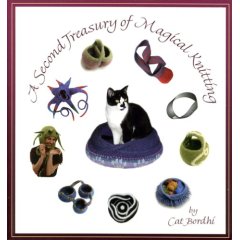 To be specific - I was utterly captivated by the felted knitted bowl at the end of the book. The sample on display, tucked full of yarn skeins, with it's secret pockets, perfect for storing knitting gadgets, tape measures, stitch markers, all around the belly, tempted me, for the first time ever, to steal in a yarn shop. Instead, I bought the book.

I love and use Bordhi's 2 circular method for knitting narrow tubes. It's a brilliant knitting idea. Her explanation of it was a little difficult to read and the crazy way she insisted (at least in the first edition of her first book) you knit the gussets on socks was almost enough to drive me crazy. It is enough to turn off loads of otherwise interested 2 circ. knitters. When I knit socks I put all the back half of the stitches - the heel flap, heel, gusset - onto one needle and just knit the instep stitches on the other needle. It mimics the traditional division of stitches for socks and puts your decreases at either end of the knitting on a single needle, with no need for stitch markers. But be that as it may - if you read her instructions and just do what she says, you'll discover a useful new knitting technique.

I suspected it would be the same with this mobius technique and as I've read the instructions I've found them a little confusing. But then, I haven't had a needle in my hand yet. I've never been particularly lured to the mobius circle. It's clever. It's interesting. I get it. Yep Yep. Clever knitting math, but I never felt the need to knit one. These bowls, though, oh my. Yes. I must make one. So I'll just follow her directions as written and see what she reveals to me this time. One way or another, I will have that knitted felted bowl. And talk about a stash buster!

I also liked her funny jester hats, though I doubt I would ever wear one.

So I am back home now. Last week was All The Stuff That Demands Attention till after Christmas. Not that I don't have as much to do as anybody else has in her life, but nothing to do with my job will be weighted with shoulds or musts or pointing fingers. At least, that's what it looks like from this side of the calendar. Let us hope the vision is true. Let us hope that the Life-0-Queen is easy and relaxing and full of fiber joys for a while. posted by Bess | 6:46 AM
---