1 Comments:
The grand poobah prize winner (Best in Show) at VAFFF was a qiviut hand processed/spun/knit scarf... it was GORGEOUS!

Subscribe to Post Comments [Atom]



Monday, October 03, 2005 Slept late this a.m. so have only a moment to put up this picture of the teeny tiny qiviut yarn swatch I spun over the weekend. This is a 2-ply yarn. I didn't measure the wraps but the penny gives an idea of the scale. Those are #3 Bryspun needles. The fiber is pure joy to spin but I'm so inexperienced at spinning such a fine single I get very tense after a little while at the wheel. I kept expecting the thread to snap but it never did. I'm not sure I would want to spin anything thicker than a fine lace weight with this fiber.

I didn't get around to blocking the swatch so the knit stitches are still scrunching up on themselves. If I stretch out the fabric, though, the stitches are pleasing to me. I don't think I'd knit on anything larger than #3's. That limits the size of garment I'd likely knit myself even if the amount of fiber I have didn't already put me within scarf parameters. A pretty lacy scarf - yes. Looks like we have a vision dawning.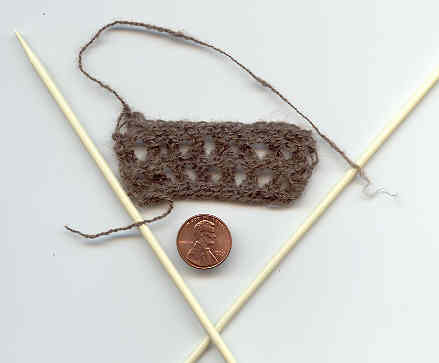 posted by Bess | 10:24 AM
---