3 Comments:
I LOVE that sweater, too! But I'm just dreaming as I'm on a yarn diet and don't have yarn for that in my stash! Have a good day, Jane

Lawsee that's a gorgeous sweater.

Make one for me, too, wouldya?

XOX

I've been lusting after one myself.. but it is a secret lust.. and I feel so much better saying it on here :)

Subscribe to Post Comments [Atom]



Wednesday, October 12, 2005 It worked! Thank you Amie and Sheila.

There were only 3 for Knitters Night last night - it's been rainy, gloomy, cozy stay at homey for a few days so that didn't surprise me. The diehards were there and since we'd canceled the September meeting due to tons-o-ill health, we just couldn't stand to be away from each other another moment. K had been making small projects; small but oh so elegant. A gorgeous cabled hat, fingerless mittens in Classic Elite's Lush, and a ribbed cashmere tube that she, delicate slender thing she is, could wear as a cowl, a hat, or a ski mask if she ever took up bank robbing. I like that idea as a murder title: "The Cashmere Cashier" "The Ribbed Robber"

Okay, okay.

B had been almost completely wrapped up in Other Things for the past two months. In August she had the two cashmere scarves she'd knit from kits she bought at MS&W. This time she brought in carded batts. She'd bought the most absolutely delicious merino fleece at MS&W also, and was finding that merino is a fiber quick to pill even in the preparation stage. We pulled those little balls apart and could see that they really were not second cuts, just pills. The sad thing is that I'm the "expert" around here for all things fleece and I can't really tell her how to prevent those things. But it's a great research question, so we'll do lots of studying, discovering and questioning. And in the mean time, she plans to spend all today at the wheel.

Since I've knit almost nothing in months, I was at least glad I could take in some skeins of handspun. Imagine - blog readers had seen it all before my (almost) next door neighbors. Looking at everything I'd done laid out on the table, it didn't seem like such a meager effort. I've been somewhat under the weather for a long time and it helped to see that there was still something to show for the months of chatter I've put up on this blog. Alas, I didn't have the taupe boucle yet - though I did have that little swatch. I'm working more carefully with this yarn and taking longer to adjust all the loops and swirls. In fact, I'll do a bit of spinning on it this morning when I'm through here.

In the mean time, I'm lusting over BigProjects. This is what I'm spending idle moments daydreaming about.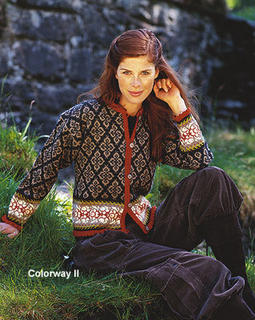 posted by Bess | 7:26 AM
---