4 Comments:
*swoon*

If I hugyouandloveyouandofferyouchocolate(ornot,asyouwish), will you PLEASE, PLEASE teach me how to do this at the retreat???

And if so (hoping,hoping,hoping), can you tell me what materials to bring?

Lovelovelovelovelovelove,
LWLY

Oh my! The boucle makes me drool! Ever thought of coming to the Canadian Rockies so you could give a certain VirgoSoulSister lessons on her little Ashford 'Joy'?... ;-)

Wherever do you get the patience to do all that beautiful boucle work? I just cannot seem to make myself tackle it long enough to master.

Subscribe to Post Comments [Atom]



Monday, October 17, 2005 Here are some pictures of the spinning I've been doing. Below is the control card showing the brown wool as a 2-ply and as singles, then the merino&wool blend as same: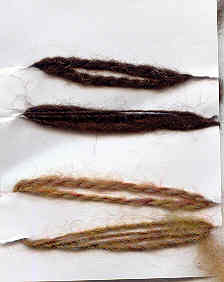 These two singles spun into a yarn that looks like this: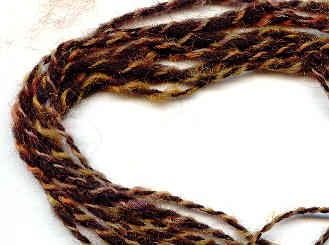 Here is a very loopy boucle I made out of mohair locks. I like the look but working with the locks is very tedious. You have to comb them out and the fibers become wisps that float all around your house. It was while spinning this particular mohair single that I decided I'd rather try hand painted mohair top. You could still get the wonderful color variations, but the single would spin up quickly from that smoothly combed top.

I plied this onto a silk binder thread and then added a sparkly gold machine embroidery thread with the second silk binder to lock everything down. I like this a lot but I have a long way to go before I'm actually confident in my ability to put those loops where I want them, when I want them.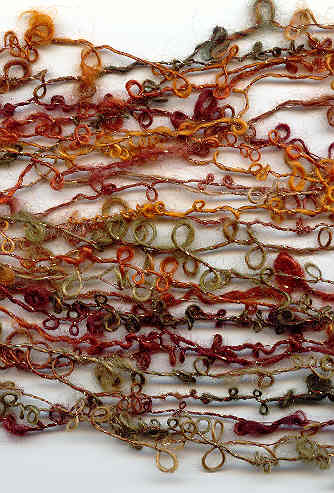 This is the merino/tencil boucle, with matching sewing thread as the binders. I have some more of this fiber and will spin the boucle again with a lavender colored sewing thread. It's a very different look with almost no loops but lots of bunchy puffs.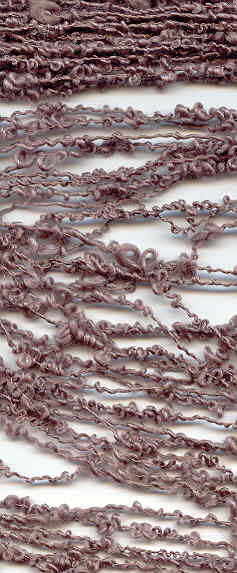 posted by Bess | 11:47 AM
---