0 Comments:
Subscribe to Post Comments [Atom]



Wednesday, July 27, 2005 One more day - just one more - and earth will once again be an oxygen rich environment. At 7:15 a.m. it is cool enough to just walk around the house naked but by 10 I suspect even skin will be a burden. Of course, today is Wednesday, which means air conditioned story hour for me, and BD insists he doesn't mind the heat, so long as he doesn't have to move. Each of the dogs finds her own cool spot - Socks is under the yurt, Priss is beneath the arborvitae by the front door, Capt. J is down in the marsh - unless he's in the bathtub. He doesn't like the shower, though he'll get in briefly, but he's happy to sit in the tub if the water's not running. A dog in my bathtub is a new level of spoildom for this pet owner - but then, Jack is the dog of our mature years. Like a grandchild, he is ours to indulge.

The puppet show went off like a darling laugh-fest. The 12 year old volunteers got into a giggle fit - but since they were performing for 8 year olds, it was utterly appropriate - the entire room fell into a giggle fit. I brought up the idea of an after school program during the school year and they were all enthusiastic. Time to get out the old planner for this project.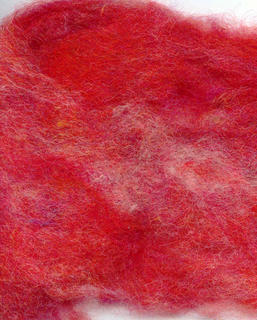 In weather such as this, it's hard to be enthusiastic about fiber but I did ply up the last of the singles on the lazy kate and pulled out a new colorway. A nice warm medium red. Not too many flecks and bits garnetted into the fiber; very few noils either, so it spins up a little more smoothly. It seems to have a bit more mohair in the blend than the green, so I may spin it tight and fine and make a loopy boucle with it. It's just so easy to pull out mohair thin thin thin. But it is such a pretty yarn when spun loosely - well - I have enough to spin up two batches so I can actually do both.

La - It's just too hot to keep thinking - much less writing. Stay cool. Drink water. September always does come. posted by Bess | 7:15 AM
---