2 Comments:
Well, I'm going to let the great reviews that you and Jen have done speak for me, too! It was great to spend time with you both, and I really enjoyed the classes too, my felting one as well.

Darling Bess, I do hope it was BD doing the nibbling! ;-j

Thank you for sharing your wonderful weekend, and pics of J & S, whom I never get to see.

Counting the minutes until the 6th!

Love,
LWLY

Subscribe to Post Comments [Atom]



Friday, July 22, 2005
MAFA Report at last!


Begun on Monday the 18th but not finished till Friday.

I'm back from MAFA, totally refreshed, relaxed and recharged. The perfect - absolutely, completely utterly perfect - antidote to the blues, blahs and bugbears that have been chasing me for the past month. It was just far enough away to be a get-away but close enough to home to get back in 3 hours. It lasted just long enough to fill up all my brain cells but not so long I got dopey. I did remember how to spin, I mastered new techniques, I met my video-mentor and found her infinitely more fun and warm and knowledgeable and generous than I had hoped. I wallowed in the affection of old friends and glowed in the warmth of new acquaintances.

Yep. Perfect.

This is the first fiber conference I've gone to where I had no responsibilities and it was really fun. There's a bit of the helper bee in my personality, it's always going to clamor for an outlet, but in this case, I got to be the helpee-bee instead and it was fun.

The drive up to Leesburg, which used to be a 100% pleasant drive through the country, is now only a 50% pleasant drive and the rest of it is a slog through NOVA traffic and vinyl villages. This is too bad - but I can't see any way to stop it. Dreadful $500K town houses crowd the narrow lanes of Rt. 15, with one lane traffic past the new construction and 4 lane turns where the bulldozers and concrete trucks have done their damage. Who are these people and why do they want to live here and spend 3 to 4 hours a day in their cars? It's a mystery to me.

But at least it wasn't I95 so I ought not to complain.

And from my house to the center, just outside of Leesburg, you just take 17, 15, 7, and make a left. So I barely needed a map. The National Conference Center is a concrete Chinese Imperial Palace. Parking is in huge lots around the perimeter and there are shuttles to take you back to the center. There are several buildings with graduated tiers of floors but a system of underground tunnels will take you from one building to another. Since J, S and I were not staying at the center we had to learn only the North and the West buildings. Food and classes were in N, registration, shows and vendors were in W.

J&S met me at the front and guarded my possessions after I'd unloaded, then hopped back in my car, parked it and returned. Then they dashed off for a hurried lunch while I signed in. Finding my way around that warren of grey tunnels was frustrating, though eventually I learned how to read the secret iconographic signs. A little more assistance up front would have been welcome, but the truth is, I did learn my way around well enough eventually.

The first class was at 1:30, taught by Patsy Zawistoski; Spinning Downy Fibers. Angora, Camel, Possum - short, crimpless fibers that often slip right out of your hands. She had lots of good handouts - including a card stock sheet for you to hook your samples onto.

Once again I was reminded that you get what you pay for. I have bought camel down at bargain basement prices - and it turned out to be bargain quality - 1 inch long or less. I pretty much decided I didn't want to bother with camel. Patsy had great samples for us to work with - and the camel was not only longer, by about half an inch, but also in a roving preparation.

She also gave us little dowel sticks to sand smooth and use to make punis. Ooooo I am in love with making punis. They are tiny rolags good for managing short fibers - and on Sunday, when I was working with Priss Fur I was glad I had learned how to make them. All in all we worked with angora, dyed angora blend roving, cashmere, camel and NZ possum blended with wool.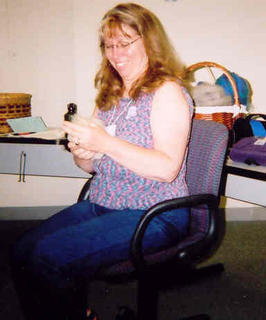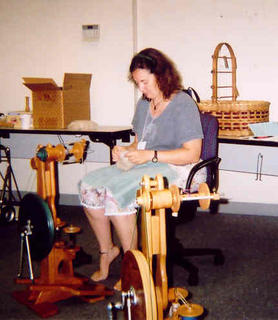 Here are happy spinners learning new skills and practicing old ones.

J, S & I hustled off to check into our motel room between the end of Friday classes and the end of dinner. We had to go perhaps 5 miles, but alas, it was over NOVA roads on a Friday night in the summer at 5 o'clock. It took us about an hour and a half to get there and back. Where are all these people coming from!?!? I believe I would shoot myself if I had to live up there in that congested morass of auto exhaust and asphalt.

The food at the convention center was good institutional food, lavishly offered, with way way way too many desert options. Though I had thought I might eat like a normal person and put all my energy into fiber arts, alas, I succumbed to the herisy that this would be my last chance ever, for the rest of my life, to ingest sugar and made sure I stocked up on a lifetime supply. I ate desert at every meal! I will skip Weight Watchers today - there is no point in rubbing my nose in the obvious.

The fashion show, moderated by Daryl Lancaster, contained lots of beautiful garments. There was a linen ensemble of pants, jacket and shell that was so beautiful my mouth still waters remembering it. And I saw the one and only poncho I have ever admired - would ever consider making for myself. It was two rectangles sewn together, short sides to long, so that the borders on the long edges formed interesting stripes. The corners of the garment were worn over the wrists, giving the garment a sweater look, but not a sweater shape. Mostly I hate ponchos and can't imagine wanting to wear something so confining and unflattering, but this was anything but that.

We were in bed early and back at the convention center in good time for breakfast. The cost of the convention included meals and we could have stayed there too, but at the time we registered, I didn't have the $ for a motel room and J still lived within a reasonable commute. In the intervening months I earned some $ and J sold her house, so we chose to take a room in town.

Saturday was 6 hours of spinning long luxury fibers - Llama, alpaca, both Huacaya and Suri, Kid mohair locks, and two novelty yarns, one using a crimpy wool and one using woolly nylon thread. In addition to experimenting around with the different fibers, we worked with some novelty techniques like intentionally pulling threads out of the drafting triangle and tangling it onto the yarn. Patsy called this a hairy spin and it's fascinating and pretty plied with itself or against a thin smooth yarn.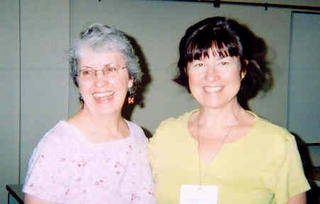 Here's a shot of the star and the groupie.


She also gave a good demonstration of both long draw and modified long draw. The 2 points of twist long draw had, so far, eluded me but watching up close and personal, while a real pro did it, gave me confidence to try it again. What do you know - I can do it! Not well, mind you, but that will come with practice. Working with so many different fibers gave me a chance to get to know HeyBaby again. I had put her aside last November when I started on TheWeddingDress and hadn't really picked her back up again. The longer I stayed away from her, the more clumsy I was on those rare moments when I sat down to give her a whirl. That made me begin to wonder if I had any skill/talent/interest in spinning at all. A good solid 12 hours with a good dozen fibers in several preparations reaquainted me with her many fine qualities - and I've been spinning at home every day since. (working on the Wall-0-Color project)

Saturday night was shopping night. I have mixed feelings about the shopping experience at fiber conferences. I've been in the vendor's area both as seller and shopper and in both cases I've felt a serious problem is being - not ignored - but deiberately unadmitted. The problem is this:

Attendees go first of all to take classes - as many classes as can be stuffed into the time frame as possible. It costs the same to take 12 hours of classes as it does to take 9 or 6 or 3.

Vendors set up at the beginning of the conference, and then wait till meal time for any customers to wander in. If they want to eat, they too must hustle into the lunch area during its brief open hours or else bring food from home.

It's expensive for a vendor to travel, pay for booth space, hire help, set up, but its part of the cost of doing business. But to sit doing nothing while potential customers are in class, then linger long after class, to chat with their fabulous teachers is rough. It is certainly a terrible expense. Last year when I was at Creative Strands as a booth babe, I watched the vendors drift from booth to booth taking each other's pulses - and in some sad cases, shopping from each other. The experienced vendor knows that she's at a show to make money, not spend it - but hours spent undistracted by eager customers, while looking into that booth across the isle, with those baskets, or those spindles, or that roving is enough to weaken the resolve of the steeliest.

One would think a captive customer base, charged up by their teachers and their new skills, ought to be a guaranteed money maker. But those customers have to have some time to actually get into the booths and make their purchases. The best retreats I've seen have a scheduled shopping time and for my part, the best shopping time is not from 8-10 at night - which was the shop till you drop slot at MAFA. But that is only because I am not a night person. I have to give the MAFA folk points for making sure there was a designated shopping time.

I did not, of course, shop till I dropped, but I did drop some $ for a gorgeous 2 oz of dyed silk roving, another delicious 4 oz of alpaca & silk blend in a color called pumpkin that glistened with autumnal highlights. I would have stopped there, but a soon-to-be-open shop in Warrenton, VA had alpaca blends to die for - in all those chocolate QueenColors and 8 oz of it came home with me. Imagine a really great add for a really really great chocolate company - with all the flavors from mocha to dove dark - now imagine it in alpaca - now imagine it in my bag coming home with me. Ahhhh. Pure bliss.

Sunday's class was spinning pet fur - Fuzz, Fluff and Fur - taught by Andrea Mielke, who had simply fabulous garments spun and knit out of mostly dog fur. She walked us through the steps using angora which she provided, but the 4 students in the class were all intent on working with our own pet fur. I had a bag of PrissFur I'd carefully brushed and washed (and washed and washed) and experimented with several different preps; spun very fine by itself, with corriedale spun fairly fine, with finn cut to 1" bits. I rolled all the fur preps into little punis and spun from them. The silkiest of all was the Priss Alone fur. The prettiest was a thicker looser Priss/Finn blend.

What I have in mind is to work up a little dog shape and then spin and knit a little Priss. If it works out - I have a special friend who needs a little dog spun and knit from his beloved pet's fur.

There was time for one more lunch avec desert(S) before loading up the car and heading home. There was a room where you could store your luggage between checking out and driving off - with ample time to eat lunch and even make a final stroll through the vendor area. It was hot and sticky, but you could see a stormy sky threatening the horizon. Just outside of Warrenton the skies opened up and I actually missed the bypass and got shunted into downtown Warrenton because the visibility was so bad. Thirty minutes later the worst had passed and the drive from Opal to Champlain is an easy trip. I took 3 through Falmouth, where the tiny church is, and crossed the Rappahannock on the new bridge. I didn't even stop at Carl's for frozen custard -
though I did pick up some corn and fruit at Sneed's, a favorite vegetable stand on Highway 17.

And then I was home again, hugged, pawed, and nibbled by my darlings. It was a pluperfect weekend that has left its glow all week. I have a bobbin full of Wall-0-Color singles, a second one started, and beautiful merino spun over the fold on my Golding spindle. The jump-start sock is coming down the instep towards a toe and it is already destined to become a Christmas Present!

Life is good. Thank you MAFA for picking Virginia for your conference.

So.....just what is on the schedule at John C. Campbell......????? posted by Bess | 7:03 AM
---