0 Comments:
Subscribe to Post Comments [Atom]



Tuesday, July 26, 2005 The lovely post I wrote yesterday morning was vaporized in the blink of an electron so I can't create for you the glorious day of cool breezes and crisp visibility that was Sunday - for the mug of a Bermuda High has crashed down upon us again and we're gasping for the few molecules of air sandwiched between H2O misting up off the fields. Now, the best any of us can hope for is to suck in enough oxygen to survive till Thursday, when, we are promised by the weather dot com guys, that the heat will crack open and leave us, spent, panting, beat up, but living still, and ready to face a weekend in the 80's.

For me, the weekend will carry the added bonus of completion - the summer reading club will be over and we shan't have to keep that prize box full any more. No more reading logs, no more middle school helpers (cute, but sometimes twice the work) and no more Tuesday afternoon programs. Just nice quiet busywork, audit preparations and annual reports - coupled with vacations, family retreats, and all the other things that are August down on TheRivah.

Yesterday's post also was a real fiber post with News about Projects. In sterling prose I rolled out the plans for the Wall-0-Color Swing Coat in all it's gleaming splendor. But the mundane version is:

I filled 2 bobbins of the Bonfires in Forest Green colorway and plied up one bobbin full. It's a very soft spin.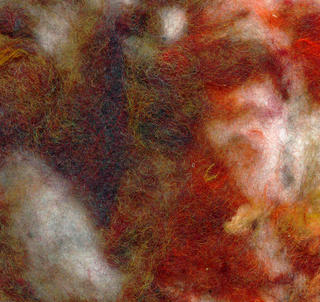 It has to be. It's carded, garneted wool & mohair with lots of colorful flecks. I'm spinning right off the bats, so a full bobbin came to only 80 yards of not very thick yarn.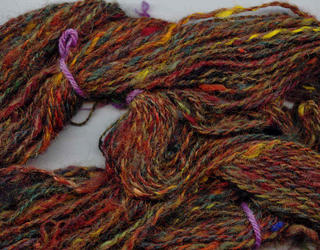 I could give you twist and grist only I'd have to get out of this chair and go measure - so just believe me - it's not very thick but it's very soft. It also does NOT look good plied with beads. I was so disappointed, since I know that this fiber cries out for beads - but after looking at a sample I realized that not all of the colorways want beads. Only the ones with very few variations. There is a peach and a pale green that will glisten if they're plied with beads. There are probably some others too - I should think the very purple colorway would look good with purple seed beads twined about the plies. But the colorways with lots of variations are very busy. All these flecks of yellow and red and even tiny bits of turquoise, in among the mossy greens and bonfire orange punctuate the yarn to perfection. Adding the beads is overkill - worse than that - they barely have any impact at all and when glittery beads have no impact - well. Plying beads into your yarn is a LOT of work. Heck! Just stringing the beads onto the thread is a picky, poky job. No point in working that hard to no effect.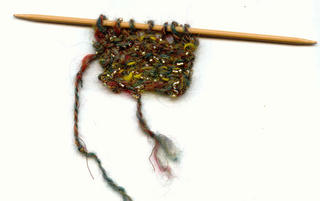 So. I will save the 700 beads still on the thread for a different colorway and ply up the rest of the Fiery Greens stuff. And no I will not be setting actual weekly yardage goals. I will just, after today, ply up whatever I've done during the week on Sunday afternoons and begin with a new color on Monday mornings. I figure this way the color change will keep me interested while I spin my way to 3K yards of yarn.

As for the project schedule - at the rate I spin I hope to be pretty much done by the beginning of November. Of course, I can begin doing other parts of this project before then: schematic drawing, math, even some knitting. But I'm going to need some of my colors spun into yarn before I can do much beyond the schematic drawing. Every time you do something to fiber you change it. Carding or combing, dyeing, spinning, washing: each of these alters the look so much, it takes a far more experienced fiber worker than I am, to envision the final garment before these steps have been taken. Oh - I have this idea - this flitting image in my mind - mostly of swaths of softly knit color wrapped around my fashion model body (Do you see the flaw in this vision?) - but I don't trust any of that yet. There is just an urge, a prompting and desire to see if I can create a garment that really does make me feel the way the image makes me feel. If I can, hooray - and if not - well, there. I will have had a lot of fun along the way.

BH and I ended up in Richmond, yesterday, instead of Williamsburg. Mostly we wanted to just hang out together and I wanted to take her by a shop I knew she'd love. We had a fabulous lunch with a mega-chocolate desert, waddled out into the heat and took the quick way west out to a mall. I gave her the Spring Fling bag I knit last April&May. I think it's a darling bag but I am not a bag person. It needed buttons and we tried to find some at Michael's - but failed. What we did find was Lion Brand's Moonlight Mohair blend - which looks a lot like Trendsetter's Dune, though the colors are perhaps a little less exciting. It costs only $9 instead of $13 - which is saying something. By the time we got there (our very last stop) we didn't really feel like browsing - so I don't know if they have the cashmere blend - besides, even thinking about cashmere blend in the heat of a Bermuda High July makes me nauseous. I will just have to go back sometime in the cool of autumn and see what they're offering.

After that we were ready for home and since she knew a back way out of the city it was a sweet drive. BD was content with salad for supper so we didn't have to turn on any heat producing appliances. I plan to do the same tonight and tomorrow - either that or I'll bring home someone else's cooking.

It's off to finish up the script for the puppet show now. I'm ready now, for the gentle down hill slope through the rest of the summer. posted by Bess | 6:39 AM
---