4 Comments:
Dare I say it? Perfect! Just perfect! I so enjoyed hearing about your fantastic day. And I didn't even feel any envy. Only happiness for you and BD et al. Hope it continues through the weekend, well, actually, forever.

Oh, dear dear Larry - thank you. Of course, it was Friday that was the PerfectDay but I'd scanned the puppypictures just before we headed out for Jamestown.

I wish I could bottle up yesterday and give it away to the whole world.

Just dreamy, sweetheart, and exactly what you needed. Thank you for sharing it with us. Hugs to you, hunko'man and darling puppers!

Love,

LWLY

You're welcome, hon. I'll pass along the hugs and pats.

Subscribe to Post Comments [Atom]



Friday, May 27, 2005 Vision Loss Is Reported in a Few Users of Viagra

Oh Wicked dreadful me - you know my first thought was "well, he was always lead by his ....anyway..." And no, I didn't read the article - who needs to, with titles like that!?

And for the curious - the answer is

YES

I did get a perfect haircut yesterday. Because yesterday was supposed to be a PerfectDay and one can't have perfect if one's hair looks like limp brown paint on a chubby cheeked face. But on a PerfectDay the scissors will snip exactly the right amount to give hair body but not put static into it. On a PerfectDay the Perfect Haircut will take so little time that you can get to the gym, do a 4 point workout (WW talk here) and get a shower in time to drop your film off at the 1-hour photo place before work. On a PerfectDay you'll get to work with time to prepare for the staff meeting and it will take only one hour to cover all the bases. You'll get your two articles for the newspaper done by 11:30 on the day everything has to be in by noon. On a PerfectDay you'll remember everything you wanted the Technology Priest to pray over when he visits Saturday morning. On a PerfectDay the car wash guys will have a special and you'll get the $22 job for $17.99. On a PerfectDay gas will be $1.89 a gallon and when you get back to work with the full tank, your BD will call and say "Hey - wanna go to Jamestown - Right Now? I have a HUGE delivery to make."

And even though you realized, at the staff meeting, that you are so far behind the 8-ball at work you are about to be knocked into a pocket - you say "YES!"

And you know how it is on a PerfectDay - you have extra staff on a PerfectDay and sure, they can stay till 6 and you can drive Mr. Heart Attack Man who isn't supposed to drive, or load 12 times 30 lbs worth of books into the truck and you make sure you load them into the car and then unload them at the two museums in Jamestown. But, since it is a PerfectDay, there is someone to take them into the museum at the "Settlement" and on the Island, not only is there a loading helper, but there is time for an author to sign all 72 books and sell two of them while he's there and 4 History Women can swoon and flirt, but in the nicest, cutest way, with your husband, so you feel smug that you got him and nya nya nya, again, in the nicest, cutest way, because you have to be big time way cool if he's Your Big Darling.

But PerfectDays have even more in store for you than a great drive in the country with your Object of Desire Husband who just made a Big Sale and can take you Out To Dinner. PerfectDays have one of your best friends working at "The Island" and he walks into the museum shop just when you finish all the delivering and signing and selling and there are hugs all around and you have lots of sunshine and warm weather and you can take the very slow trail around to the point of the island and look out on the Lower James and D, a man who is really still 12 years old says to BD, who is really still 12, "See those earthworks over there? That's one of 9 Confederate forts on the island" and of course the two 12 year olds get out and scramble all around the earthen breastworks and even when they come back covered in seed ticks you don't really care because on a PerfectDay, D has a lint remover in his satchel and they can catch all the ticks with sticky tape. (Really, that is the best way to get rid of seed ticks, though masking tape works well too.)

So you take the rest of the perfect drive around the island and then decide to go to dinner. Of course, on a PerfectDay D remembers to call his SO, who you tell your friend he really ought to just marry, and who is P from the wedding, and she's at her restaurant and instead of eating dinner at some fast food place outside of Williamsburg, you just take that shady forested Route 5 back to Richmond, past all the James River plantations and the ancient farms and over Curls Neck, where the Curls Neck Dairy used to be, and you long for your far away girlfriends because you want to show them your beautiful Virginia and then you go have dinner at P's restaurant where you eat the world's absolute best Prime Rib au Jus and nearly pass out it tastes so good - even if the restaurant is very honky tonk and doesn't have a no smoking room because bikers all smoke. And you don't mind, because the line dancers cavorting in front of the band are so cute and the food is so good and the friendship is so warm and flowing.

And on a PerfectDay you don't get sleepy driving home after 9:30. On a PerfectDay you step out of the car and your Cute Little Baby Puppy runs up to you first to get hugs and lovin', even though he spends all day with BD because you are HisMommy!. On a PerfectDay you can forget everything but how good life can be.

PerfectDays are rare jewels in an otherwise mixed bag world, so on a PerfectDay you just soak up the good stuff and say Thank You.

Of course - if you were a Cute Little Baby Puppy - all your days are perfect - see?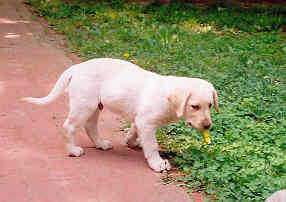 Mighty Hunter Capt. Jack of Chesituxent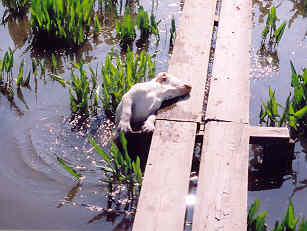 Capt. Jack "necks" himself up.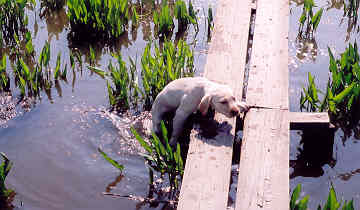 Capt. Jack proves he is a Water Dog. posted by Bess | 2:23 PM
---