2 Comments:
Oh no! Now something else for the "must have" list!

There's always room for another Nicky Epstein book! :D

Subscribe to Post Comments [Atom]



Monday, March 07, 2005 Woah - so how many edges, borderes and ribs can this woman come up with? She's going to be joining Barbara Walker, in the list of encyclopedic pattern gatherers, at this rate.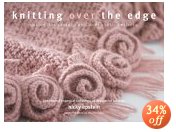 Due out in late July - I know I'll buy it for the cover design alone. I am a big fan of all her work anyway. She's so distinctive I can nearly always pick out her work in magazines, before I discover the designer.

And obviously I'm not working - but it's lunch break time. posted by Bess | 12:33 PM
---