4 Comments:
Gracious, Bess, that's just beautiful!!! This should be a Jen kit - I can't think of enough synonyms for gorgeous!!!

Love,
LYLY

The sweater is gorgeous! The pooling in the lace section just helps blend the two yarns in the overall garment. I'm looking forward to seeing the completed sweater.

Good grief. Another must have Nicki Epstein. I never got a birthday cake this past year, and I ask you why that wasn't given to me? Too adorable.

And you - oh, that beautiful sweater with what I don't even call pooling, just plain beautiful, and all crafted by your loving hands. That's a beauty of a job, sweetest...

I love the colors in your sweater! Its just lovely.

Subscribe to Post Comments [Atom]



Monday, March 07, 2005
Today I Bring You - PHOTOS!!
And a gripe


So I wrote clever witty interesting valuable wise profound comments about ThingsOfImportance and Blogger ate it.

That was the gripe.

Now for the grossly trunkated photo captions.

In lieu of having anything worth while saying today I offer here some progress shots of Mountains of Hearts. This first is a photo of the body of the sweater, unblocked, of course, and showing the two colors. Some folk don't like it when color pools, but I do - of course I like it when it doesn't too, and sometimes I like it when it stripes. But I just like this yarn all the way around. It's not quite as dark as the photo shows, but the hue is fairly accurate on my browser.





Here is the blocked sleeve showing the lovely transition from variegated yarn to solid color. It's about 17.5 inches long.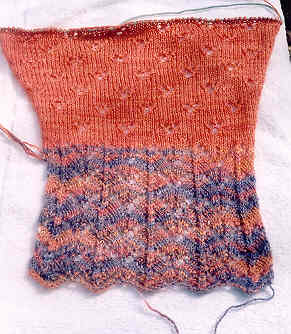 Here is a close-up of the "Mountain" lace. Some folk don't like color pooling but I don't mind it and I like this very much.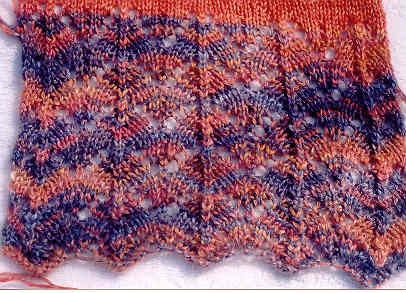 Here is a close-up of the "Heart" lace.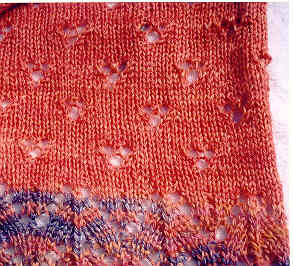 Cute, huh? And what follows is the photo that prompted all the lost verbiage - thoughts of greatness on the nature of sacrifice and diet and whatever. All gone, forever lost to the electric field of blogland. (so she posts prior to being embarassed by blogger actually posting both of these entries back to back just to make TheQueen wrong.) Still, this does make a rather darling Knitters Birthday Cake, doesn't it?





And now - post it da capo. posted by Bess | 3:12 PM
---