0 Comments:
Subscribe to Post Comments [Atom]



Wednesday, February 16, 2005 You don't have endless time or money. That's OK, you don't need either. You've got enough. Whenever we lack a particular resource, we assume that the required amount is enormous. We imagine that we will never attain the desired target. It really isn't a question, though, of getting more. You just have to use what you've got as wisely and as purposefully as possible. A small step today could produce a big result.

I am endlessly surprised at just how close to the bull's-eye this guy gets on such a regular basis. It's true - I have a work life full of fraying issues, little tasks undone, little efforts not made, that are beginning to scratch away the surface of my happiness. I'm just a little short on everything, but mostly time and money. Yet what is needed isn't a lot more money or a lot more time. Just a better, wiser, and more decisive use of the $ and time I have. Little steps - that's all I need to take, to make my work life, and perhaps even my home life, all fixed.

Though, home life right now is particularly sweet. And I didn't give BD nearly the praise and credit he deserves for the 2 dozen stunningly beautiful roses and the precious Valentine poem that showed up on Monday evening. He doesn't even know I've given up chocolate for Lent (It's also possible he doesn't know that chocolate is a traditional Valentine gift) and he does know that I'm back on the WWWagon. Lavish and non caloric - that's a very nice combo.

BTW, I went down 1 lb. last night. Not bad. There are still plenty of lbs to go but I don't feel so far behind the starting line as I did 2 weeks ago. And I got in a couple good workouts at the gym. Monday was the first time I'd been able to do a weight routine since I'd worked with TthePT. Thank goodness I still remembered what it was supposed to feel like. What is cool is that the joints are so comfortable, while the muscles feel worked at a far deeper level than ever before. She and I have another session today and just knowing it makes the day seem richer.

Two students showed up for the beginner class last night - but the two students I had actually set this class up for did not! I am not sure if they forgot the day or forgot the location or changed their minds, but I'll see them both tomorrow, since they both work at the nail salon I frequent, and will find out. If it was a mental slip, and not a change of heart, I will just let them come next week and work with folk at two different stages. With only 4 people it's not too difficult to help some with ribbing and some with color work. I've taught this class enough to know how most people progress. I can actually see if it will "take" within the first hour. If the student can "see" what she's doing - if she can begin to read her knitting, then she will learn to knit at a brisk pace. If she can't read her knitting by the end of the 2 hours, she probably won't enjoy knitting and will move on to something else. The two women who showed up last night were reading their knitting within the hour.

The fun thing for me was a revelatory moment when I read a knitting error and could instantly explain why it occurred. It's a common enough beginner's mistake; to somehow add stitches to their knitting - add unwanted stitches, that is. Both of my students were doing that while ribbing away on their hat brims. The sudden cry of "Oh I've made a mistake!" was answered with Knitting Fairy words drawn from some deep understanding I didn't realize I had. The knitter was not moving the yarn to the front to purl, or to the back to knit, as she ribbed away. This hooked the yarn around the needle as if she were making a YO. So I knit a lot of those mistakes, both in purl and in knitting, and showed them what to look for when they came to their errors and how to fix them. I'm really pleased that I found such a verbal, as well as physical, way of addressing this common mistake.

I didn't finish the Wool of the Andes tam last night. I'm down to about 8 stitches to a section in the wheel decrease - I'll finish it up before I go to work today. It's a thick cushiony hat, fat with stranded color work in a worsted weight yarn. I really like it, but I wonder if it will be too hot for any but the most icy days. Eh. I will find out. What I really want to do, though - is to knit a suit in this yarn. A suit to match the hat. (God - let us hope the hat is unbecoming to me so this feeling will go away.) I am seeing a gored skirt knit in the 3 stitch garter/seed stitch that Jen was using to make her sweater sleeves last weekend. That flare of increases to create a sleeve begged to be copied into a skirt gore. And then a little belted sweater jacket. In this blueberry color. With the pumpkin and blueberry hat? In a size 0 I suppose. That is the balloon pricking issue, isn't it. So much knitted fabric might merely make me look like the Michelin tire man.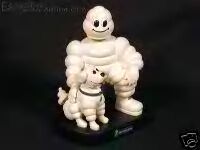 Oh curse the DNA that didn't give me one of those 5'10" long'n'lean bodies. Imagine Pillsbury Doughboy in a belted knitted jacket.


Well. Perhaps this fantasy will go away. Perhaps I will get skinny. Perhaps 3 extra inches will suddenly grow between rib cage and hip bone. All these are possibilities of one sort or another. But one surety is that it's nigh on to 8 o'clock and today is Wednesday - and we all know what that means.

Off to story hour. Ta. posted by Bess | 7:37 AM
---