2 Comments:
Poor sweet Topsy...

I don't think I have to tell you I'm crying with you...

Give LD an extra hug for me, please...

I'm SO sorry... what is it about weddings that tells our little loved ones it's okay to move on????

Sadness and sweetness all at once! Hugs to you, dear Bess...for your beautiful new daughter, and for the loss of an old friend and faithful companion.

Subscribe to Post Comments [Atom]



Thursday, January 27, 2005
Farewell Topsy


May you dig forever in that groundhog hole in heaven, Pokey by your side, the scent of prey tickling your nose. You were special in your own right and as the last of the Tru dynasty, you proved your sturdy stock. We'll see you again someday.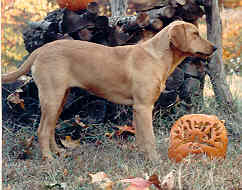 TopsyTurvy Haile

April 1987

January 2005
posted by Bess | 6:58 AM
---