2 Comments:
Oh, I like your version much better than the "inspiration" though I can see where the launch off point was... and yes, she'll look amazing in it... what a special gift...

It's now Wednesday...You must be working on La Belle Robe! As for me...I've been quilting...Stay well, dear Bess. Hope you are enjoying every stitch!

Subscribe to Post Comments [Atom]



Monday, December 06, 2004 It's Monday again?

(Bess looks at the calendar)

Yep. Back to work. Let us hope I can remember everything I have to do this week. First off I must review the huge statistical report I completed last Monday, thinking it was due Dec. 1, then submit it. There is a list of phone calls to make. I also realized, over the weekend, that there are some preliminary tasks that must be taken in order for me to meet the February goals in the current 5-year plan. I'd completely forgotten about them in the upheaval that has been Autumn 2004. And somehow I must make time to get to the gym.

So - nothing out of the ordinary for a Monday.

Now for the WeddingDressReport.
Bride called early and said she was coming over to get something - so I quickly made up samples of my midnight brainstorm. The dress is a fitted bodice with an steep diagonal line from about 2 inches below the waist on the right hip to the widest point of the hip - about 9 inches below the waist - on the left hip. From there a full skirt bells out to the floor. Bride has a wonderful body for this design and a sharp taste for heavily textured fabrics. The plan had been to cover the bodice with shirring from silk organza. I'd gathered a bit of the silk on Saturday night and showed her how it would look. She liked it - a lot, actually - but evidently something in her voice triggered something in my brain and while I was sleeping another idea was born. What about ruching made of the taffeta? What if I pressed the organza shirring flat?

I had two samples when she showed up - was actually steaming the organza - so I could show her that first. Now, really, it's difficult to not like anything made of gorgeous silk. The fabric has a gleam to it that draws the eye even if you don't care for how it's used. She liked the steamed gathers a lot - but when I pulled out the gathered taffeta the penny dropped.

This was what she'd been lusting and hungering for, deep in her little Fashion-loving heart. I heard it in her voice. I saw it in her body. I felt it in her spirit. This was it. That blend of rich luster, rustling texture and high fashion brash that she wants to present on the day when everyone who loves her is watching. I swear - it's not something I would ever have chosen for myself - not for my shape, and not for my taste. But it is exactly right for her.

With that decision made, it was easy to decide about the skirt. It will be gathered into the ruching, but cut wider at the bottom than at the top so it can flare out proportional to the bodice.

After vacuuming the living room floor I spread out a large bed sheet and started working on the RealThing. When I made the prototype, I cut out 2 sets of bodice pieces from the heavy interfacing, saving one to use as a new pattern. With the alterations we made on Saturday, I cut out a new set of bodice pieces from more heavy interfacing and used them to cut out the silk. I really took my time over this, measuring several times, because when it came time to cut fabric, could only cut once. Once the new patterns were cut out I pulled out the silk.

Oh my heavenly stars - this is the most beautiful silk. I didn't work very fast yesterday. Only cut out bodice pieces, sewed the front pieces, then the back pieces together and worked with the ruched silk taffeta overlay on the front only. There's no hurry on this. The actual sewing will zip along at a steady, if not fast, clip. But each step has to be perfect and gathers really need to be well spaced.

I've always been particularly good at distributing gathers. Producing them requires a marriage of vision and touch. I like to make 4 rows of basting stitches when I make gathers. It makes for a much more stable distribution. Then, while I'm watching my fingers, I listen to them while they tell me if the little puckers are evenly spaced. I put more gathers at the bust than across the belly so that the fabric can glide over that curve. Bride is small, so these extra puffs of fabric won't look out of proportion.

The difficult in this is that the gathers have to be put in straight lines and the bodice curves in at the waist and back out at the hip. I had a 20 x 27 inch rectangle of silk with gathering stitches down both sides. I could line up one side of the rectangle to the longest side of the front bodice, and they're sewed in beautifully. The gathers on the other side were a different story. That side is shorter by a good 7 inches and most of that was the curved in part of the waist. I fiddled and ripped and sewed and adjusted those gathers for a long time and I'm still not absolutely satisfied with them, but they are good enough.

The back bodice pieces will be much easier to do because they're narrower - being half the width of the back each - and with less of an angle to work with. The front had a bottom seam line that went from the lowest point to the highest point on the hip. Each half of the back only has to cover half of the diagonal.

Bah - I know what I'm talking about, but I don't expect anybody else does. Suffice it to say - at 5:30 I slid that bodice and all the other cut out pieces into a large plastic bag and laid it on the bed in LD's old room. The rest of the stuff is backed in bags and on tubes and put away too. I'm sewing this dress in the living room because I have the best light and the most space there, but that does mean that everything has to be packed up when I'm done.

I don't have any photos yet - but I do have some sketches from the idea book which I offer here:

This was the inspiration for TheWeddingDress.





Here are some sketches.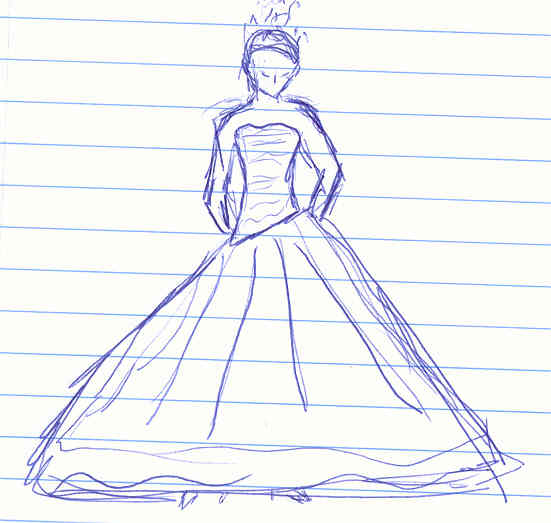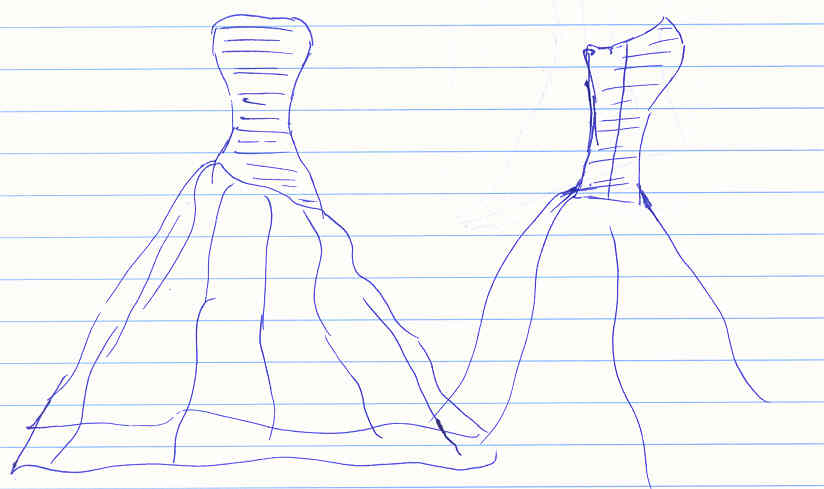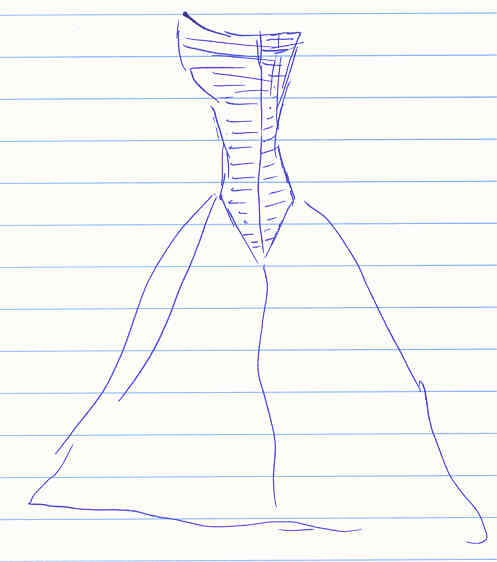 Oh - and I looked at knitting yesterday. And addressed Christmas Cards up through the G's in the rolodex.
posted by Bess | 7:33 AM
---