2 Comments:
Lovely girl! Lovely mothers! Though I must say you're lookin' mighty intense there, Bess Darlin'! I know, it's all that bridal gown contstruction stuff...for which I admire you greatly, and yet continue to wonder about your sanity! ;-)

HA! The camera had this little light that flashed before the real flash went off and the picture got taken. I kept blinking my eyes. that was probably picture #8 - because by gum, I was determined to NOT BLINK.

Subscribe to Post Comments [Atom]



Monday, December 13, 2004 Her are the mothers, flanking Bride. I keep thinking of Sally Field's brown football helmet hairdo in Steel Magnolias. This was taken at the shower, of course.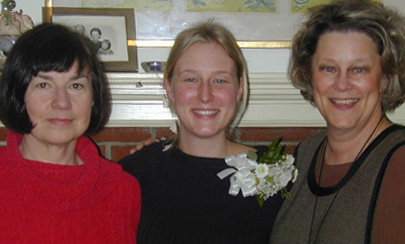 posted by Bess | 3:05 PM
---