2 Comments:
Oh, drat, I already have all those outfits!

I'm wearing that not-closed-bustier right now!

Really, is it me, or is it getting harder and harder to tell the difference between cirque du soleil and a runway show?

I would love to see a picture of your Poupre sweater. I have only 2 ball of that yarn ): I need more for a project but it is so expensive. I just love that color though. ~Page

Subscribe to Post Comments [Atom]



Thursday, September 16, 2004 In consequence of still not having a schedule that completely satisfies me, but because I want to be sure to get this post in, and this news out, I am writing the blog entry before reading any my favorite blogs. Of course our snail-like dial up internet service didn't make it any easier for me, and hotmail ate an important email I copied to myself and I wasted 15 minutes trying to find it by backing up.

Gone

Rats

So - would She Who Knows What I'm Talking About please send it back to me. I want to be sure of what I've promised to do.

so now for the big news


TA DA!


The Purple Mohair Lace Sweater is finished.

Yep. Done. Finis. Complete. And, for all that I stretched out what should have been a 1 month project into 6, it was still fun at the end. In fact, it was one of the most fun sweaters I've ever finished. And it will be available in kit form at Spirit Trail Fiberworks soon!

So now the $64,000 question - will the brick red yarn for my aran sweater be here before vacation? Jen got her RamWools order in 10 days. For me ten days would be tomorrow. Ooooo I hope.

Yikes! got to get. Interesting, well informed, clever, witty writing is sure to be in the future, but in the mean time, check out the spring clothes here. Very fluffy, no? But for the vampirilla froufrou in you, you might try these: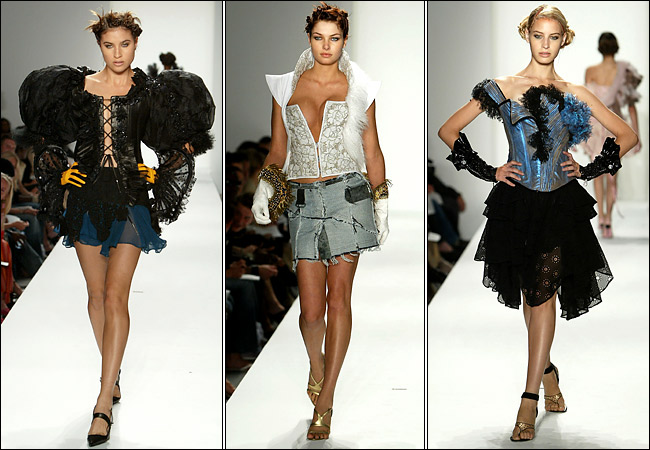 Especially those poison yellow gloves with the black lace gauntletts. posted by Bess | 7:37 AM
---