0 Comments:
Subscribe to Post Comments [Atom]



Sunday, September 05, 2004 Back from the city with a brand new copy of the fall issue of Vogue Knitting. I don't subscribe to that magazine, nor to Knitters any more, nor CastOff, come to think of it - but I do like to check out the fall issues. Those are the ones with the most cabled items, the most traditional designs, the most structural, suity kind of sweaters. They tend to be the ones that float my boat the most. I didn't care enough for the Knitters issue to plunk down the $ but Vogue had some things in it I want to look at more closely.

It got me to thinking about why I buy knitting magazines anyway and the reason is: for inspiration. I haven't knit someone else's design since 2000 when I knit BD's blue cardigan from one of the Classic Elite books. Mind, now, I see lots of designs I like - would like to own, were even the reason I bought a magazine or book. But when I pick up needles, I just tend to knit something I've made up myself - perhaps based on what someone else has already put together, but always tampered with beyond making the pattern useful for more than schematics. I'm afraid I'm the same with cookbooks and recipes.

But inspiration is extremely important. What is possible;
what is available; a new slant on things; these will all inspire me to use yarn and needles (or food and cookware) to let you get to know me a little better - to present myself to the world in the way I want to be known.

So, what did I like in the VK? Well, first of all I liked this combo of cable and intarsia.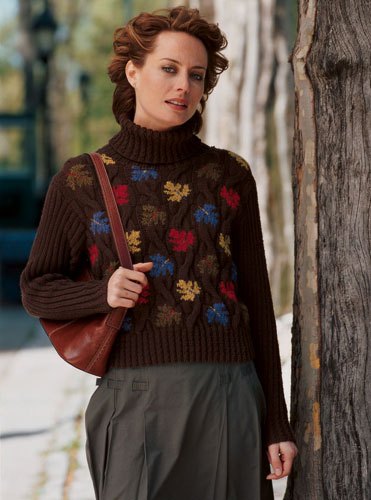 I probably wouldn't make it because I'm too lazy to do intarsia, but I might and I love the colors and I love the shape.

I adore this cabled coat too.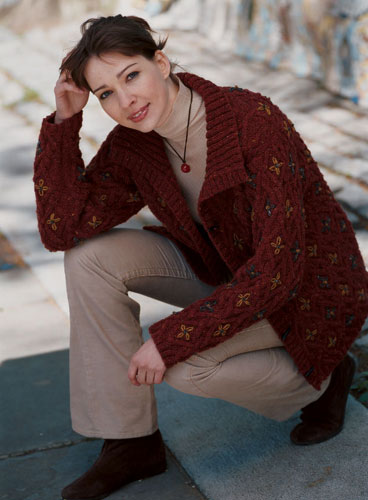 Again, the color does it for me, but I also like the shape, length and embroidery.

I adore this because I'm half magpie and in the magazine it's shown worn this way and as a surplice top.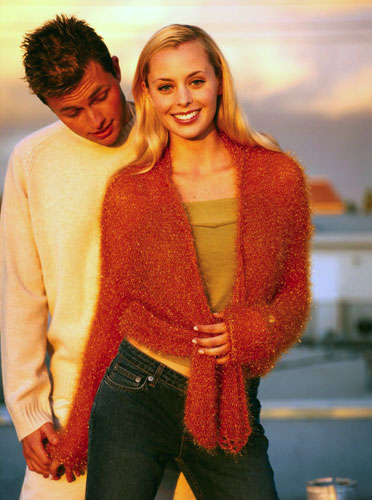 And someday I hope I will be wearing this (probably in my next life, my face has too much experience on it to pull it off this time around) in a size 6.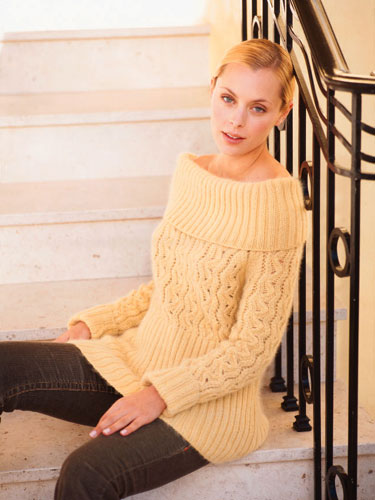 I'll be paring it with chocolate brown stretch pants on a cream colored couch long enough to stretch out on full length. There will have been a delicious meal before, served and whisked away by silent hands, and floating through the atmosphere will be the soft strains of Debussy or Faure. Something Frenchy. Handsome Mr. Right-With-Big-Bucks will be drawing closer to me with an assortment of fine liquors and jewelry, whispering exactly the right words.

* * *

And Bess returns to the present.

Yes. Well. A major thanks to Dana of GotYarn, who mentioned, in her latest newsletter, that she'd crossed the James River on the new 288 bridge. That was the first time I'd heard it was open - but then, the Richmond papers have all been full of nothing but flood damage from last Monday's rain. Still, I took the chance that it really was open and used it to get to my folks. It cuts 30 minutes off the trip - although it does entail driving on what is essentially an interstate; not one of my favorite things. And at this point, there's nobody really driving on 288. Construction is flying up as fast as nail guns can shoot it but right now it's pretty much an empty road. How nice.

This morning is cool, the skies still blue and the rain has been pushed off later into the week. Nevertheless - it is knitting day today for me. GF is returning home from a week in Michigan, so we don't expect to see LD, but I've offered to roast a chicken tomorrow - well, I'll roast it anyway, but they have been invited.

And the $64,000 question? Should Bess finish the sleeve today and read tomorrow or should she read today and knit tomorrow. Hmm. Life is short. Knit first. posted by Bess | 6:55 AM
---