0 Comments:
Subscribe to Post Comments [Atom]



Thursday, May 06, 2004
PHOTOS!


Here are the visuals you've been longing for.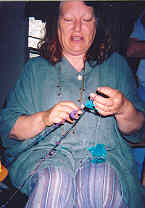 Judith MacKenzie McCuin.
Look at these beautiful hands! Spinning strips of silk fabric into a yarn - what an eyelash that will make!
5 shots of Saturday's KR Forumite luncheon on the grass.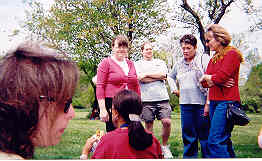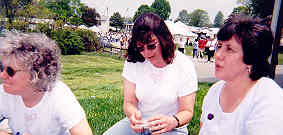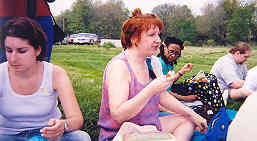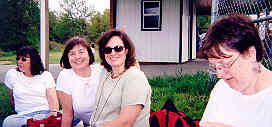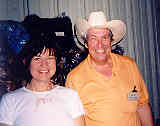 Yours truly with the folk from Ohio Valley - don't I look pleased with myself?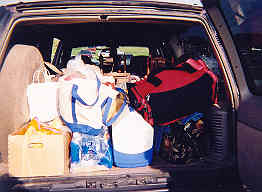 Saturday's haul. How shocking - this was only 1/2 the purchases made!!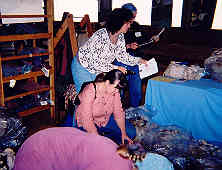 Selecting a fleece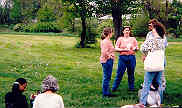 Sunday's smaller lunch gathering.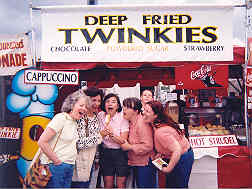 The ultimate indulgence.
So many choices. This little girl has it right - just take one of each!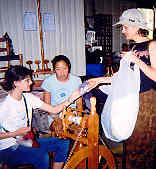 Here was another special moment - Mom, daughter and daughter's friend. Everyone a spinner. Mom had just bought something special for her daughter. The dynamics were so good, between these three women - strangers but for the fact that I completely understood every pulse in the current flowing among them.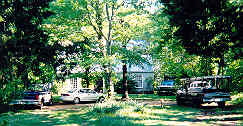 And when I got home - MenWithTrucks full of tools, of course.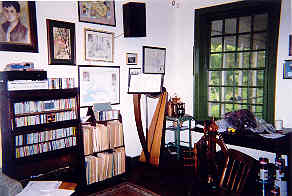 Here is an example of the results of their labor.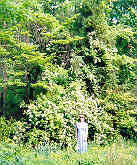 It may not show up in this photo, but that is moi standing in front of a wild rose which has climbed 15 feet into the trees. We call it the Kentucky Rose because I brought the slip home from a ramble through the countryside past Kentucky, ancestral home of the Overtons, who are BelovedHannah's paternal (not kin to us) grandparents. She's in flux now, but the plan is to start her own slip once she buys a home.
And doesn't this look like a nice porch to sit on with one's spinning wheel?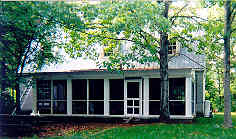 posted by Bess | 6:35 AM
---