0 Comments:
Subscribe to Post Comments [Atom]



Thursday, April 29, 2004 Oh.

Well.

I had never heard of Lilly Pulitzer. So she shows up in Catherine's blog with a reference to needing sunglasses indoors and now in Threadbear's newsletter.

So of course I had to go look.

And then I had to go brush my teeth. That is entirely too much birthday cake frosting.

Ick.

Sigh.

So. I guess now I'll have to buy the book. "The next Martha Stewart"? Can't afford to be behind hand.

Sigh. It looks like the Florida version of L.L.Bean Preppy. It looks like my creepy sister in law. Huh. Well. Yeah. She lives in Key West. Duh, Bess. It will go over big at my library.

(vomit)

Huh. I am flummoxed. I can't seem to write anything after looking at that web site. Weird. And I had this beautiful picture to post today - all about gorgeous color. Best just post that and be done with it.

Oh. No - I also have to report that the MwT painted the hideous wardrobe that is to be my stash container and now it is beautiful. A pale blue, a color I chose to compromise with BD who likes all colors as long as they are blue. He really likes this blue.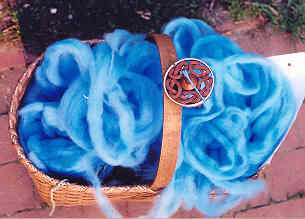 So - it's off to work I go, with two objectives: type up the board minutes from last week and tidy my desk.
posted by Bess | 7:05 AM
---