0 Comments:
Subscribe to Post Comments [Atom]



Tuesday, March 09, 2004 Oh. My. I finally got this film developed. That red glow is my blushing face. I had no idea I had taken these photos - It was so long ago.

So won't you step into my gallery?

First is a shot or two of Isabell damage. Here is what BD did so we could get back into the woods. This tumble of trees is 1,000 feet long, right outside the front door. They fell like dominoes from the marsh to just behind ld's car. It has changed my home forever.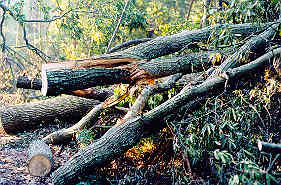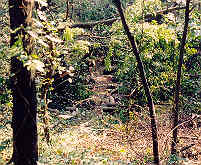 Here are some photos of the stained glass vest, which, alas, is still in this condition.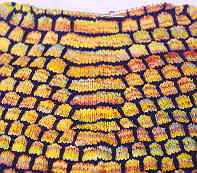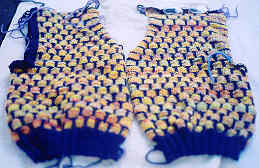 The repairs will include ripping out the shoulder seams, taking off the garter border around the arms, and putting on a thin i-cord trim, probably a few stitches further into the body of the sweater. As things stand now, the shoulders wing out in a most unflattering manner.


This is a set of before and after shots of my stash - not much difference, alas. I really do need something better than cramped corner to store my goodies. I need a studio, don't I?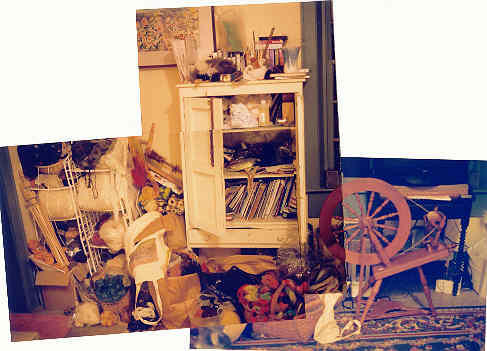 Here is Sunday's shawl - and the dyed silk. The match is pretty good. Too bad about the fading. It doesn't show much in the photos. Fortunately, there is a heck of a lot of blue so I don't think it will be too bad.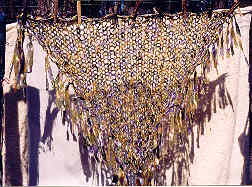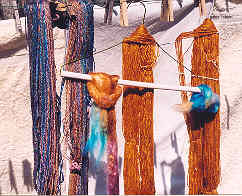 posted by Bess | 7:19 AM
---