0 Comments:
Subscribe to Post Comments [Atom]



Monday, February 23, 2004
All Spinning Talk


I fell in love with these glorious hanks of silk roving, dyed by Interlacements last month, when I was at Stony Mt. Fibers. Alas, the predominant color is blue and I look like death, unwarmed, in blue. In my next life I will come back as a blue gal - with either pale blonde hair and that cool skin, or maybe one of those luminous white skinned brunettes. I will be able to wear candy pink, lavender, all the colors that L.L.Bean makes their clothes in - I will be a Winter.

Mind, now, I love the autumnal colors, love being born in the autumn, and am secretly pleased when I put on an olive sweater and my skin looks like cream. But these heavy colors are a real weight to wear from longing-for-spring-late February all the way through to sweat-your-guts-out late June. Once the sun hits its summer apogee, I can wear those desert colors and look just fine and quite au courant.

(Yes, Yes, this is going to be about spinning, just hold your horses)

So - here I am, unable to resist this stuff - and at the same time, not really interested in spinning and knitting it up for someone else. I don't want this to be a scarf, either. I want a tank top out of it with the color changes in places that put the warm tones up near my face and all the blues and pinks down around my waist. A spun-to-order yarn. What a challenge.

I have 8 oz of this stuff, dyed in two different, but similar, colorways. Color 206 has blues, purples, a tiny bit of teal green, bronze and orange.


Color 213 has blues, a little lime green, strawberry pink, Barbie pink and dark lemon yellow.


No matter how you add it up, though, the warm colors are a far smaller percentage than the cool colors.

I really like the way the Noro yarns have those long stretches of color before a change comes in. I've even thought about buying them, and when I see them knit up I adore them. But I have a visceral reaction to those yarns in their skeins. There is a black darkness that literally rejects even my eye?s touch, much less my finger's. I don't know what it is, but I suspect I shall never buy Noro yarns. (Was I the slave of a Japanese weaver in a past life?)

But I would like to try to spin a yarn that did what theirs does - move gradually from one color to another. That means spinning two bobbins of long lengths of the colors in the same sequence - or - be careful Bess that you start spinning the second bobbin at the same end with the same sequence of colors. Here is a swatch of that sort of spinning.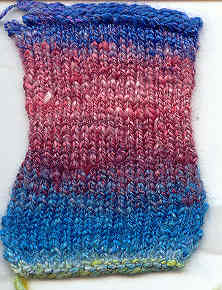 Interesting, but a little dull, maybe? At least, I know I can spin something with more energy to it. And as I worked with this I began to ponder whether it wouldn't be better to just buy some silk yarn and dye it in long segments. How to lay the yarn out to do it that way would be a real challenge. I don't have an industrial dye shop. My studio al fresco is the picnic table in the back yard, by the gas grill. Just how big would the skein have to be? Would I have to re-skein the stuff around two chairs set 10 feet apart? An interesting puzzle, that is - but might be worth finding an answer to it.

Another technique would be to draft lengths of the silk from each colorway together. The subtle changes would make for more of a speckled yarn. Here's a swatch where I pre-drafted the two strips with the blues lined up pretty much with other blues.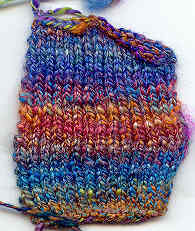 I like this only - the pinks overpower the oranges and give this more of a bluish cast than I want.

Here is a swatch where I matched the blues with any other color but blue - but you see - that makes the entire swatch pretty much blue, with a small stripe of carnival colored speckled yarn.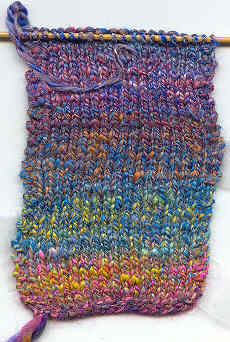 Sigh.

So, I'm getting some interesting fabrics, but nothing I would wear. The worst part of this is that no matter what I end up doing I can later think of things I ought to have done. What I chose to do was to take colorway 206 and go with the first technique - taking the entire roving and creating only a few sequences of the color change - and spinning long lengths of each color. Now that I'm writing about this I realize there was nothing that prevented me from separating the warm colors from the cool colors and spinning all the blues and turquoise and purples first, then the oranges, bronzes, and yellows. That would have ensured I had a yarn that went from the blues and purples at the hem to the golds at the neckline.

Well - too late now. I've spun up half the colorway already.

Or is it?

I could spin the other half with all golds and then all blues - and ply it with the first single. There was going to be some variation anyway, because no two segments of any given color contain the same amount of fiber, and besides, my spinning isn't exact enough to guarantee the thickness will always be the same.

Well, I have all day to think about it because there shan't be enough time this morning to do more than finish out the first bobbin.

And then - there is the question - how much silk do I need to knit a tank top?

I shall write about that tomorrow.

Lawsee, this is fun! posted by Bess | 6:53 AM
---