0 Comments:
Subscribe to Post Comments [Atom]



Monday, July 07, 2003 I am back. I am better. And many, many thanks to you all for your kind wishes. There was no serious damage. My wrists are an interestingly bruised color and were a little swollen on Saturday so I didn't feel like typing, but the ankle was only wrenched. I spent Saturday lying, lizard-like, on the couch in the den, watching The Vicar of Dibley videos and laughing so hard I kept having to run to the bathroom - a great therapeutic treatment. In the p.m. BigDarling insisted on a swim and he did all the canoeing (we have to canoe from our place to the good swimming hole) and my theory that water is the first medicine was once again proved (to my satisfaction, at least). There was a swift high tide coming in and the current rippling past those tender places loosened everything up. Another hour spent in high tide yesterday has worked wonders.

Sunday, the lure of the dye pot was irresistible, and since it's mostly sit down work, I sat down. BigDarling carried all my paraphernalia out to the picnic table and I did the actual cooking on the grill. I've been studying the Twisted Sisters Sock Workbook all week - as well as the Deb Menz's Color in Spinning, (unavailable now, and if you are interested in color you should badger Interweave Press to bring it out again) and was ready to do some hand painting. That is a little slower method than pour dye - at least, you put the color in slower, but with the pour method a. you have to keep the pot hot longer, and at a consistent temperature, and b. you have to stand more while doing it. Besides, I love painting fibers.

In this method, you do the following:
· stretch out a long piece of plastic wrap (and saran wrap works better than generic Walmart brand, btw)
· lay out your pre-wetted roving
· paint it with colors
· spray it with full strength white vinegar
· wrap the plastic around it
· fold it into packets
· steam it for 20 minutes

It really is that easy. You can do this with KoolAid too - though you are stuck with the few colors available. But it's the sort of thing you could do in your kitchen with KoolAid and not worry about chemistry.

I found I really enjoyed putting the color on with plastic picnic spoons. I had a bag of them, so I could use one spoon for each color. It's not a precisely measured amount - depending on how deep the jar and how much dye stock is left, your spoon will hold different amounts, but it was "close enough" and as a tool for actually applying the color, I think it is great. It was possible to apply a straight line across the roving, and to gently mash the dye along the length of the fibers to spread the color and it didn't mat or felt the wool.

One thing I did notice was that I got a little heavy handed as I worked down the length of the roving. It didn't seem to effect the finished product, but that end of the package was a little wet when I took it out of the steam bath.

I had ordered 1 lb. of merino roving from Stony Mountain Fibers when I ordered the dyes and I divided it into 1 oz pieces. I dyed 8 pieces. Two were inspired by the colors of the sweet gum tree in October, from memory, of course, but I've spent probably 50 hours over the past 10 years, studying that tree in the fall. That tree can have 6 different colored leaves on it, from purple so deep it's almost black to lime green. That roving spun up quite rusty red/brown with a greenish cast and lots of bits of gold. I seem to like to spin at a grist that gets 1200 yards out of 1 lb. of fiber. The 2 oz gave me about 140 yards so I think, to make socks out of the yarn I'll need 4 oz. But I suspect I might just squeeze a hat out of the 140 yards. Maybe with a bit of solid color for cuff like brim. A lime green seems to be the easiest color to make out of the yellow/blue mix. In fact, I had to work hard to not make lime green.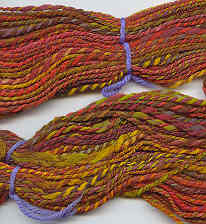 I had 3 other colorways in my mind's eye when I sat down to dye. One was a stormy blue sky out over the ocean - dark blue, pale blue, medium blue and a sort of rose red. I didn't keep a record of how I mixed this colorway, but I believe I used the following:

· turquoise with a bit of the warm red to make a dark blue
· add water to make the same blue only pale
· turquoise, unmixed, but diluted with water
· warm red with just a drop of turquoise to give it a warm rosy red color, also diluted with water.

It turned out very pretty. Only, I have only 1 oz of the stuff. I spun half of it up as singles and knit this little swatch:



The next set I did was inspired by a photograph I've kept in my mind since 1969 - a desert landscape with all sorts of tans and browns and oranges with a punch of turquoise blue. I didn't quite succeed at recapturing a memory but I did make something I liked.

The last colorway was an attempt to copy a wrapping paper I have that I really love. It's a mixture of blue, purple, orangey red, and soft buttery yellow. This one I mixed up all with cool colors. This was really successful, though when I do it again - for I really like this colorway - I'll go with lighter versions of the colors. It was extremely fun trying to copy something like this - adding colors by the spoonful till I was happy, and in this one I did keep some sort of halfhearted records. For the blue I used 8 parts water, 8 parts blue stock solution and 1 part red stock solution The purple was 6 parts water, 6 parts blue and 1 part red.

I took pictures of these rovings but they are still on the camera - BigDarling will use up that roll of film today when he picks up the NewBoat, for which he has been waiting one year. So I should be able to post them later in the week. I'm really pleased with these experiments with color. I only wish I'd dyed 4 oz pieces instead of 2, because you can be assured of being able to make something out of 4 oz. I am thinking, also, of purchasing superwash merino and even hunting up an undyed sock yarn because I do like the idea of being able to knit socks out of small colorway samples.

But this weekend only reinforces the lurking suspicion that I've been trying to ignore - I need a studio!!

posted by Bess | 6:24 AM
---