0 Comments:
Subscribe to Post Comments [Atom]



Tuesday, May 27, 2003
ENGLAND IN MAY
Days 1&2

Every trip begins somewhere and mine began at Dulles Airport since I had to stay there so long. Our dear cousin P drove us up there but the thought of heading into the D.C. rush hour, which runs from 3 p.m. to 7 p.m. is so daunting that we told him we'd be glad to leave here at noon. He could escape the gridlock before 3 and we'd probably have more luck getting a seat together, for we'd left off buying our tickets till just the week before.

I'd called ahead to see if I could take my knitting but the voice on the other end said in shocked tones that of course knitting needles were not allowed. I wasn't in the mood to cause any fuss. I don't have to knit 100% of the time, but when we boarded I did ask the baggage inspectors and they all said "of course you can bring knitting". Truth is - I never knit the whole trip except 1 round on a pair of socks to demonstrate the 2 circular technique to my hostess. I wish I hadn't brought the stuff because my luggage was heavy enough.

Of course, the whole issue of WhatToPack is fraught with such angst. Especially when you are going into the unknown. "will I need to dress up?" "Will one pair of shoes be enough?" "What if it gets hot?" - in the end we took more than we needed, but at least not more than we could carry.

I hate the emptiness of airports these days. It used to be you'd see crowds of people rushing here and there, waiting - to say good-bye - to hug hello. Now it's just the passengers and everything seems so staid and unthrilling. Now and then you'd get to witness a little vignette or eavesdrop on an interesting conversation, but mostly I sat sketching,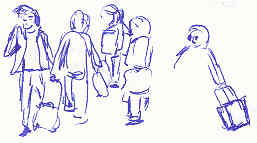 or bored, or walked around while BigDarling watched our carryon stuff.

Everyone is talking on the phone. Talk Talk Talk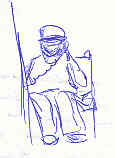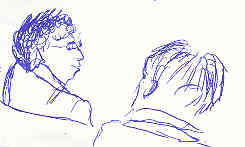 The flight was long, dark, cramped and friendly so hey - 1 out of 4 ain't bad. BigDarling was all agog to stare out the window but there was not that much to see. I will know better, next time, to let him have the window seat, though, for he was all the time leaning across me to have a look.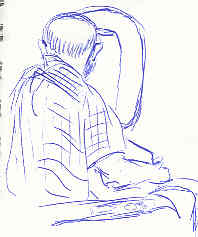 D, our host, greeted us with wide open arms as we made our way up from the baggage claim. A's greeting was hardly less restrained, though we had only corresponded -never met. I think about this now - what an enormous heart she must have to open her home to 2 strangers - "yanks" at that (though we soon explained to her how it is impossible for a couple from Virginia to be "Yankees"). Everyone was excited, if the US team was also a wee bit tired.

Heathrow is so much like AIRPORTLAND I rather knew myself to be in London than felt it. Getting away from the airport reminded me of driving around Regan National, with its ramps and circles. "Roundabouts" they are called in England. But we got on our way to Beackonsfield, with its ancient buildings faced with "new" Georgian fronts. This is where Enid Blyton lived and wrote her books. Here is a trendy grocery store where A likes to shop when she's in the city. On the way we pass signs for The Model Village. I ask what that is and we are suddenly in the land of Lilliput - with a 1/12 scale village complete with trains, ponds, mills, shops, schools - the whole of England circa 1920.

Next stop is Jordans, to see the Mayflower Barn, built from the timbers of the Mayflower after it was broken up in the 17th century. As well, there is the first Quaker meeting house in England with the grave of William Penn. It looks like a regular house, large, but not a mansion, but you arrive by strolling down a gentle hill awash with bluebells sprinkled with cowslips.

A drives, for D never did care to learn, and in the back seat I can barely hold my head up. She is as charming as D. She is also is very knowledgeable of local flora. She complains, though, that the Spanish bluebell is wiping out the native English.

Our drive takes us through Chalfont St. Giles, where is Milton's cottage - now a museum - where he lived for a year in hiding from the plague. And where he finished Paradise Lost. The museum guide is a passionate proponent of Milton, deep in defense of his Puritan politics - which name he stoutly denies, btw, saying only that the Royalists won, so they got to write the history. heh. well. I understand how that works.

We strolled past the first of hundreds of magnificent stone churches with green dappled graveyards along the way to Milton's Cottage. So many photos snapped - it had very old frescoes, a wonderful carved rabbit - This was a poet's garden, fit to inspire wordy flights in anyone.

We stopped at a tea shop along the village green. I was awfully tired by then, but tired never kept me from eating. I had a ham sandwich, hot with buttered toasted brown bread. And tea, of course. I will drink no home brew while abroad, but only the local stuff.

And then to Chelmsford, with BigDarling up front, navigating us out of the city and A driving. I mostly slept and remember little of the drive.

Our hosts live in what we call a duplex, but they call a semidetached. It's all very tidy and artistically arranged. A is quite a watercolorist (and I am to find she is just full of surprises and talents and very diffident about her gifts.) Our room is pristine and dainty without being frilly. I am in bed by 10 and sleep around the clock.
posted by Bess | 7:23 AM
---