0 Comments:
Subscribe to Post Comments [Atom]



Friday, May 30, 2003
ENGLAND IN MAY
Day 5


An outstandingly perfect day – the trip to Bath and Bradford-on-Avon.

Bath – I don't want to admit why I am so keen to go – and I am asked frequently why – so I cavil a bit and then say "well, Jane Austen is a Bath girl" but the real reason is that I have read every one of Georgette Heyer's wonderful Regency Romances – funny novels – funny love stories – well crafted, elegant. She is the only author I know who can give you the flavor of Jane Austen and yet she is obviously a 20th century writer. So – to Bath we must go. And Dennis is very excited to guide us.

A taxi at 7 takes us to the train – up to London's Liverpool Station. Then a bus ride to Baker Street (of Holmes and Watson fame), the tube to Padding station and then a train through Swindon, past Reading to Bath. The ride is through verdant green farms with
hedgerows, sheep, little villages.

Bath is all yellow/gray stone – completely in a bowl of mountainous landscape, with the river Avon running through it.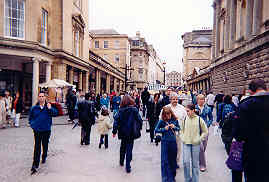 We stay in a small area – only a block or two – visiting the Roman Baths, the Pump Room, Pultney Bridge – but it is stepping up from the street running past Sally Lunn's House onto the square where Bath Abby stands that left me struck dumb with tears. A lurch of my heart – I could feel some powerful emotion: Glory to God, perhaps, utter reverence, joy, but wonder. I really am swept away. Inside enormous vases of lilies filled the church with fragrance. The walls are covered with stone tablets given in memory of honor. But it is the ceilings, faulted, veined, delicate, flung up high, that insisted upon hushed reverence. It is very like my praying place the way you are lifted up up up.

I buy a clutch of postcards for keeping which I did not bring today, so I can't post them till Monday.

The Pump Room and Roman Baths are to the left of the Abby. We are for the Pump Room first, for Tea and Bath Buns; not-too-sweet rolls with a lump of sugar baked in the center of the dough. BigDarling and I tasted the water – I've had worse, but A & D declined. A costumed gentleman will sell you a tiny glass of the sulfuric waters for 50 pence. I sip a bit of mine and he tells us how deep the aquifer is and other statistics about it while BD not only drinks all of his, but finishes off mine. I wonder if he really likes the stuff – but I must suppose he does, since he drank even worse water in Saratoga Springs and even wanted to bring jugs of it home – so he must. The fellow selling the stuff then says that when a customer drinks a full glass it is the custom for him to drink a toast to said customer – which he does with a flourish.

A trio of piano, violin and cello plays Gilbert and Sullivan tunes. BD picks up a disposable camera in the shop and we tour the roman baths – fee – L16 which was a bit more than I had bargained for. We would have passed on the tour but D insists and in the end we make the tour with headphones. Very crowded, though, for not only is it Saturday but it is cool and raining lightly. The baths are old, but for some reason, not as spectacular as the Colchester Roman evidence.

Pultney Bridge is a delight – tiny shops line the bridge – we have a sandwich or Cornish pasty – too much dough for me – dough and potato. We peek in a jeweler's, a boating shop and a coin shop. Across the bridge is a red pillar post box, a circle and a road with regency houses. No lawns – no trees – the pavement runs from door to door.

We bypass the other Bath attractions for a side trip to Bradford-on-Avon. But what a side trip! We ride a little 2 car train through idyllic countryside, with sheep, sheared, nibbling grass - brick farm houses with brick out-buildings – often very cluttered.

The first magic stop is in Avoncliffe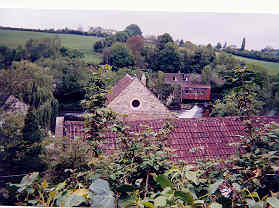 where the canal goes across the river on a bridge – we even see a canal boat going across!!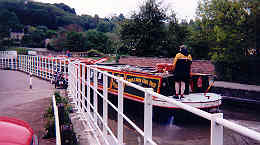 Long, lean, with flat sloping roofs – you just want to take a ride! Folk are walking with us on the towpath. There are plenty of dogs to pet. It's a gorgeous walk, less than 2 miles through Freshford, to the bridge into Bradford-on-Avon, where we are greeted first by an enormous Tithe Barn – owned by the church.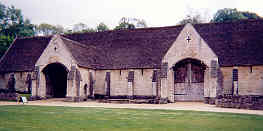 Here is a stone hillside town of stone houses growing out of the land.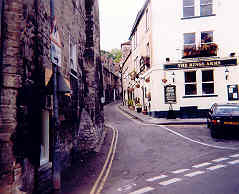 One house, a well-known teahouse, looked like it was sagging into the road. A swan and a duck have nested on the mudflats at one end of the bridge. We have only 30 minutes here, or we will not be home before midnight. We do peek into a hardware store to see what is available.

I am reluctant to leave this beautiful town. The more time I spend with my precious hosts, though, the better I get to understand them. They hover, worrying, on the bridge across the tracks, while I insist upon sketching the station. I'm done in plenty of time, too.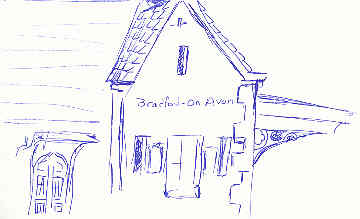 Bath Spa Station once again I gaze, while we wait, at the beautiful church steeple hidden among the trees.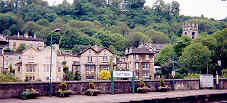 but there isn't enough time to do more than skim in a few lines of it in my sketchbook.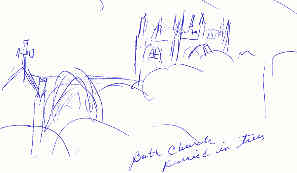 Back again at Liverpool Station all restaurants are closed except Burger King – which I have stoutly vetoed from day one, along with all food American. I am drinking so much tea and snacking so, I have hardly any appetite, anyway. D seldom eats, A grazes and BD is always ready to try something. And he wants Fish and Chips again – too heavy for me.

Back in Chelmsford we walk home, A & I separate to go grocery shopping. She confesses how much she loves meat and we plan a roast pork dinner for Monday. Tonight, it is scrambled eggs and lively talk till 11! I check my email, wish Mom Happy Mother's Day and forgo a shower to watch a wonderful British comedy – the Vicar of Dibley.

And it is to bed with me – My legs are getting used to this hiking schedule – it is a good thing too or I should grow too fat for anything I own.








posted by Bess | 2:59 PM
---