0 Comments:
Subscribe to Post Comments [Atom]



Wednesday, May 28, 2003
ENGLAND IN MAY
Day 4


Feeling more normal to wake up at 6, to the music of Birds with Opinions. The birds here are much louder than songbirds at home - and they begin their chorus at first light, which is around 4 a.m. Anyway - I am fresh and ready to go to Colchester today.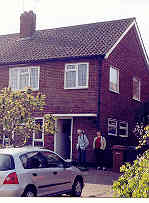 We dash out on foot to the train station - maybe a mile or so and are greeted by the town crier, Tony Appleton, in full regalia - with wig and bell.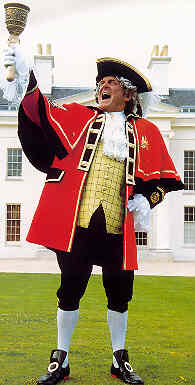 Our ticket taker, though, is an expatriate from New York . We take the train to North Colchester.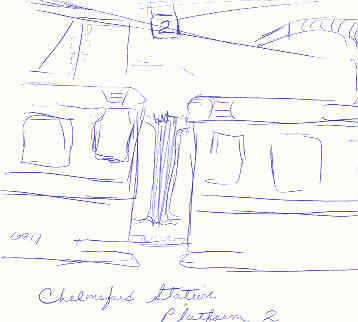 On the train there are many children, most of them look like they might be of Indian or Arab ancestry. I wonder about them, since it didn't seem like a whole class, but when we get off the train I see it is several school classes of 8 or 9 year-olds. As we make our way off the platform I hear the teacher say "Children - take a deep breath, now. You are in the COUNTRY!" Just then the engine puffs and the scent of diesel fuel floats about us. I can't help but laugh out loud. So many pretty children in uniforms. So many hip teens - out at night - but friendly and youth filled, looking hopeful and barely clothed.

We catch the bus to Beth Chatto's garden after a brisk walk through town, past the Norman Castle with the moat planted in parterre beds. Its a hurry hurry dash, with BigDarling pausing to snap street scenes along the way.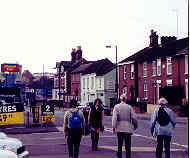 The garden is in Elmstead. We walk along the highway to the entrance and are photographing almost immediately. To enter you step between Leyland Cyprus hedges, clipped like yews - maybe 10 feet high. D & A are hungry, it's about 11:30, so we have tea and I get a Victoria Sponge - a slightly dry sponge cake, split, with a layer of jam and a thick cream filling - somewhere slightly softer than butter cream frosting - simply wicked and delicious. There is something familiar about Beth Chatto and I niggle my brain a bit but it's not till much later that I look on my library's web site and see that I had just bought her shade garden book for the collection!

The first part of the garden is the dry garden - beds in gravel paths, filled with plants that can take the heat without watering. It's an impressive garden - in fact there is a book about this garden which will get added to our library collection, since in Virginia you can have a drought in the midst of 98% humidity. This is where the tea house is.

At the main house is a kiosk for tickets. You walk down shady steps to magnificent English grass. A series of ponds dot the little curve of a mini-valley all filled with aquatic plants - not an enormous variety, nor even exotic - familiar plants, but in great quantity. Huge beds surround trees, the land slopes to shady beds with more of that velvet grass. There is a shade garden with enormous plantings of forget-me-not, Solomon's seal, geraniums... Now and then a clump of peonies - some single poppies, all orange.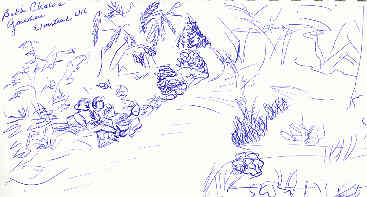 Off in the woods you can see the carpet of wild bluebells. All is so peaceful. It's a dream garden, well designed, with a plant list that is not so vast as to be confusing or a messy hodgepodge.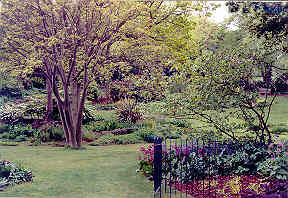 Peace is the overwhelming theme. But it's an enormous garden and it obviously requires GardenMen. A says many people volunteer there and I am sure they are most needed. There is a plant shop as well, but I am not tempted. Thank goodness - or I should be broke before the weekend. We stroll the elegant grounds till about 2 and take tea once again before we leave.

The bus ride back to Colchester is on the top of a double decker and we're entertained by a loud, possibly drunk, girl with her boyfriend, who is also not feeling any pain. We drive past the University of Essex and several foreign looking students get on. Right away the garrulous one begins interviewing them with inane questions. I take a good look at her. She was missing all her front teeth and looked long past any claim to youth, though perhaps under 40. She also looked just like my youngest sister B! Talk about ethnic ancestry!

Colchester is - my goodness - it is the land of Old King Cole. The following is quoted from After the Flood, by Bill Cooper
Chapter 5 History of the Early British Kings found here.

"Asclepiodotus was finally defeated and killed by the king whose name has been immortalized in the nursery rhyme, Coel (Old King Cole), who reigned from ca AD 306-309. Known in other histories as Coel Hen Godhebog, Coel founded the city of Colchester that still bears his name (Kaercolim). His daughter, Helen, was married to Constantius, a Roman Senator, who was sent to Britain as legate. He became king on Coel's death. He in turn was succeeded by his son Constantine (I), who ruled Britain from ca AD 312-37. He went on to become the famous emperor of Rome who legalised the Christian religion. Octavius (Eydaf) took the crown in Constantine's absence at Rome, ruling during the periods of ca AD 330-335 and 335-348. He revolted whilst Constantine was in Rome, and assumed the British crown. In AD 348, he was succeeded by Maximianus (Maxen Wledic), the nephew of Coel, who held the crown by virtue of that descent. He eventually left Britain to rule in Gaul and Germany, making Caradocus (Kradawc) king of the Britons in his stead in about the year AD 362. He was later assassinated in Rome (AD 375) by one of the friends of his successor but one, Gracianus. Dionotus (unnamed in the Welsh chronicle) of the kingdom of Cornwall took the crown of Britain and ruled from ca AD 375-389. Then Gracianus reigned from ca AD 389-402. He was originally sent to Britain by Maximianus to fight off an invasion of the Picts and Huns. However, upon successfully repelling the invaders he assumed the crown and ordered the murder of Maximianus. He was later himself to suffer death at the hands of an assassin."

We tour the castle museum - the sight of Bodicca's attack and of Roman forts, of Saxon strongholds and Norman castles bombarded by Sir Thomas Fairfax. It is old, old, old. A town of Flemish weavers, stone walls, Christian martyrs. We are swept away by the English Civil War.

After an Italian supper in a restaurant located in a small, ancient building just outside the castle, we take the historic tour. What is most thrilling? The Roman wall? That certainly is the most impressive Roman ruin since it is still a part of the town structure. The Saxon tower on the 15th century church? Perhaps. Most quaint, certainly, was the house of the sisters who wrote, among many poems for children, Twinkle, Twinkle Little Star. (Too bad I forget their names)
The ruins of St. Boltolph's Priory?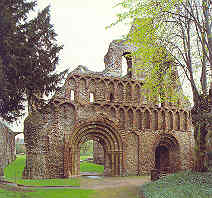 ahh, but it is now a hangout for homeless and perhaps addicted souls. Or was it stumbling upon the orchestra rehearsing in the ancient church that is now a cultural center. We creep inside and sit in the back pews for a bit of a listen. (and to rest my aching legs - though I would never admit that for 1,000 years!)

We're glad to catch the train and head home. I fear our hosts are wearing out in spite of their obvious joy at sharing their home with us. Somehow we'll have to fit in a "down time" day. posted by Bess | 12:42 PM
---