0 Comments:
Subscribe to Post Comments [Atom]



Wednesday, May 28, 2003
ENGLAND IN MAY
Day 3


I wake up slowly, shower at last - and since it is so late we have a brunch. A and I dash out to a farm market for cheese - aged farm cheddar, pale cream colored - and fresh strawberries. The doors and windows are open at the shop and a little bird keeps flying in and pecking at a seed studded suet cake. He looks so sneaky we all have a laugh.

I still can't get used to the traffic patterns.

After we eat we walk down town to the main library, where I am to meet the director, Graham Banister. The walk is about a mile, through a neighborhood of perfect gardens - though many people are doing renovation on either house or yard - er - garden. There is an underpass beneath a busy highway with a bike lane and a pedestrian lane. There are 4 turns with 2 additional road name changes before we reach High Street, Chelmsford - which is a main street and the start of the business district. BigDarling and I are staring at architecture every step.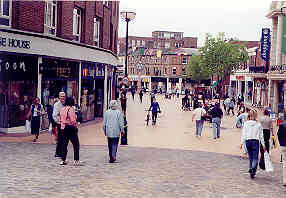 High Street - that's me in the pink.

Downtown is traffic - busy for this country girl, but nothing serious - and people. We pass Mrs. Cod's Fish and Chips and I can hear BD's lips smack. He is promised a serving before we get home, but already I suspect there is an impresario's flair in our host - who is counting on surprising us with treats at every step. Imagine my excitement at finding a Woolworth's in the middle of town. This was a Mecca of delight for the 9 year old Bess, oh so many decades ago, when Daddy would come home from his 2 weeks of Army Reserve training and give us each a FIVE dollar bill. 20 weeks of savings went into a FIVE dollar bill, and this one was just for playing with - spending with reckless abandon. Mama would take us to Southside Plaza, with the first stop at Woolworth's - where you could buy a doll, a tube of that pungent plastic goo you put on the end of a straw which you then blew into, to form a lopsided iridescent balloon. I am sure the EPA has banned the stuff by now, but it was exotic and smacked of chemistry back then. You could also get some candy, crayons, a coloring book, and jacks with that $5 and still have money left over. The floor was wooden and the candy came in bins. They are long gone now, but it's not too hard to conjure up the scent and sensation of that magical place. I never was so rich as back then - and I never shall be.

Unfortunately, Mr. Banister is out of the building - in a meeting . This causes some true consternation - for D had made this appointment and confirmed it this week. The pride of the county is under scrutiny. Several people apologize, including his boss, a lovely woman in charge of all cultural activities in the county. In the mean time, BigDarling finds a book he had wanted to read before our vacation, A gets some information she had been looking for and all the staff is outstandingly warm and friendly - in fact, they were before it was discovered there was a scheduling mixup. We are invited to step upstairs for a "pot of tea" - and I am witness to that English conviction that a "pot of tea" will cure most anything. Mr. B is called out of his meeting and we chat libraries - their Internet computers are filtered but the county provides a wonderful computer training program with a large lab. They have 2 million books in the system with a loss of about 5% - proportionally the same as we do. I tell him my Russian patron porn story and we both have a good laugh. They charge for AV materials and I find it hard to not look disapproving - but I do make a thrust for FreePublicLibraryService - and for not distinguishing between format, title, or accessibility.

An aside here - there are NO public bathrooms in the library! Nor in the building in which the library resides. You have to leave the building and go half a block away to the public toilets. Finding bathrooms is one of my little private sleuthing projects on this trip. Perhaps it is my age - or just that the body adjusts to travel in the most embarrassing ways. I'm amazed that there are eating establishments that don't have public restrooms - a major no no in the US. But I'm delighted that now and then you will find a little building on a street corner, that is devoted solely to this important function. Another problem I have is what to call them. A polite girl in 1950's south was taught to ask for the "Restroom", or the "Ladies Room" - presumably because in those days there were couches in them, where the gentler sex could pause in the midst of her strenuous efforts, at least in the only public ones I ever visited - which were the ones in the big down town department stores. One might ask for the "bathroom" but never the "toilet", evidently bathing was the lesser risqué function performed in these places. So of course, what is this necessary room called in England, but the "toilet" - even the "Public Toilet" and I have the most difficult time actually saying the word. And when I ask for a restroom I get the blankest stares. Silliest of all - everywhere on large office buildings and apartment blocks I see huge banners that say "TO LET" and my dyslexic eye skims the word, inserts the missing "I" and I see ....

hurm. well. I digress - but I'll say here, be sure to have 20 pence pieces in Padding Station for the TO LET there costs. If you can't find your glasses while searching through the handful of mystery coins, the 20 pence piece is the smaller of the octagonal coins.

It's about 4 p.m. so we walk to Writtle - a lovely village reached by walking along the Can River through Central Park, then Admiral Park, then down Lawford Lane - a pre-Roman footpath, hedged by hawthorn and ancient oaks.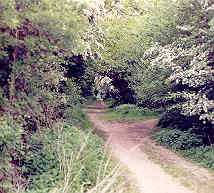 We come into the village quietly and stop for fish and chips, which we eat on the village green. Delicious, crisp, filling - the fat is something different from any I have ever tasted, not lard, not corn oil, not olive oil. Is it canola oil? The fields all around are full of a plant called "rape" which looks like canola and I'm told rape is grown for it's oil. A Chinese family runs the shop.

It grows cool as we eat. A circus is on the green and many families with small children walk past. Twin elfin men- suit clad - shy - with a very fat black Lab, stop to chat. Organists at the Writtle church . Their dog sat worshipping BigDarling's chips and sweeping the grass with it's tail.

I don't have on enough clothing for the chilling evening air, so A lends me her coat, for she was wearing 2 light jackets. D had suggested a walk through the Hylands Park but dark is on its way so instead we walk to Widford to see the church, snapping pictures all the way.

Home at last to tea and fruit salad and lively talk.



In bed by 10:30 and asleep by 11. The bed is as perfect as the first night.
posted by Bess | 7:18 AM
---