0 Comments:
Subscribe to Post Comments [Atom]



Monday, March 03, 2003 "Have you forgotten your 2003 resolution? Do you no longer believe in your ambition? Are you at an impasse? Is an argument going nowhere? Could a relationship use new wind in its sails? Does a project seem pointless? If you can answer yes to any of the above you are probably suffering from Saturn-itis. Other symptoms include an aggravated sense of pessimism and futility. Happily, there's a natural cure. This week brings a brand new moon plus the arrival of Mercury, Venus and Mars in fresh signs of the zodiac. Expect, soon, to feel much more inspired and refreshed. " Jonathan Cainer's Zodiac Forecasts 3/3/03

Well. It's good to find a reason. Nothing like being able to blame it on the stars. 'cause this weekend has been sort of a low one - in spite of having all sorts of fun things to do with people I like. Now I can quit worrying about the feelings and just enjoy the process.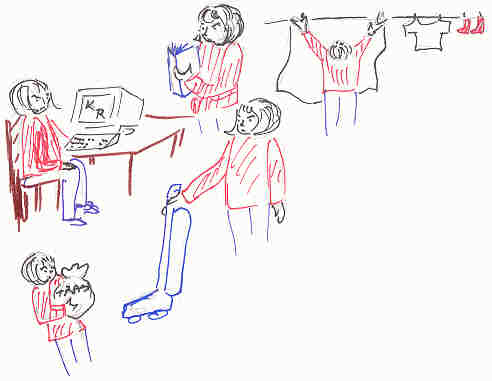 Bess tries to hide from Goldie the UFO.

And you will all be glad to know that I have begun working on Goldie. This is a terrible name for that sweater - it's almost an insult, I'm sure in response to her domineering stance. She was intended to be a Nerfertiti or perhaps Medb or Boudicca, since she has glorious cabled cuffs trimmed with knitted on i-cord edges and borders. I shall have to have a rechristening ceremony when she is finished - which absolutely must be this week because I've promised to ride up to MD to look at the NewBoat being built somewhere "up there" (do you get the picture - I am a BoatBimbo). A long drive in a car necessitates a knitting project, and, while I have the socks I'm making for my darling step-son, they are really Christmas socks. What I really want to do is to figure out the Ozeyarn boucle cap sleeved cropped sweater design before Saturday so I can work on it in the car. That is - I want to wear the sweater before I want to give the socks.

So - why is this absolutely gorgeously golden cuffed sweater being snubbed? ahh well

She is knitted in the round with a wide hem, cuffs, and central design element knitted in the hollow oak cables. (See Barbara Walker's Second Treasury of Knitting Patterns, p. 195) But I wanted set-in sleeves a la Elizabeth Zimmerna's instructions, which are pithy to the max. I want a stand-up collar also knitted in at least part of the cable - either the popcorns or the diamond - and I have a short neck. figuring out the sleve decrease is pretty easy but how do I incorporate the ending of the central cable, the depth of the neck opening, the slope of the shoulders and the height and width of the back neck? And have the whole thing fit me. EZ's instructions are to get to 10 stitches on the sleeve cap and then knit back and forth on the front eating up 5 stitches on each sleeve cap, then go around to the back and knit back and forth there to eat up the other 5 stitches on each sleeve and then join front to back for 1/3 of the stitches via weaving or 3-needle bindoff, leaving the central 1/3 for a neck opening. Well... That is not the neck opening I want.

I ripped back to where the sleeve caps had 8 stitches on one sleeve and 10 on the other and the front neck edge was not too high AND the cable pattern had just completed a diamond. then I put the whole central cable on a piece of contrasting yarn. There were 30 stitches on the right shoulder and I knit back and forth over those stitches, decreasing 1 stitch at the neck opening immediately after the first stitch at the beginning of every knit row as well as eating up 1 stitch on the sleeve cap on the same row. The Purl back rows had no decreases in them. When I'd eaten up all but 1 of the front sleeve cap stitches I knit 4 pair of short rows, each 2 stitches apart.

and that is where I stopped

What I plan to do next is to knit back across the right shoulder, finishing up the short rows, and then knit on around to the back, eating up all but one of the sleeve cap stitches on both sides of the back. At that point I will knit 4 pairs of short rows to make the back shoulders match the front and then perhaps 4 more pair to raise the back of the neck an inch, then finish up all those short rows and knit around to the front left shoulder. I'll knit it to match the front right shoulder. By finishing off the short row what I mean is that I will knit one round around, knitting into the wrap and the stitch at the same time, closing up the holes created when one turns around in the middle of a row.

This should give me a schematic that looks like this: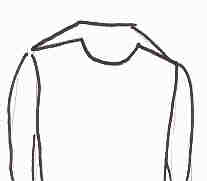 and if it does I will figure out how many stitches the neck band has to be to contain a balanced number of cable stitches, then close up the shoulders till I have room enough to pick up that many stitches and knit up the collar.

I'll try it on and if the sweater looks alright at that point it will be, as far as I am concerned, finished. I don't mind doing all the little fiddly bits to finish up a sweater. In fact, I rather love it. The Deer in the Headlights Frozen Stance only hits me when I don't know what to do, not when the work to do is picky or slow. In fact, there are not only ends to weave in and underarms to join, but lots more i-ford trim to knit onto the sweater. But the i-cord trim is totally fun to do and honestly - the sweater really was fun except for this darn neck portion.

and myohmy boyohboy goodnessme do I ever have respect for the wonderful designers out there who not only figure out how to make things like this but figure out how to do it in more than one size! Hats off to all you designers out there. posted by Bess | 7:06 AM
---