0 Comments:
Subscribe to Post Comments [Atom]



Thursday, February 27, 2003 Whoopee. another day off. This snow is much prettier than the last one. It's more ChristmasCardLike. puffy white without any sleet - yet. They're calling for that later today. But for now there's beauty everywhere I look. We have a lovely trail between here and the tar road that winds 1/2 a mile through the woods and for years when DS and I would walk down it we'd try to see who could grab a snow laden holly tree, bent low overhead, and give it a shake ... just at the moment the other was positioned in the path of the plummeting heap of snow. We usually got home soaking wet. And we have had years of snow so deep that DH would have to shovel that whole path out - leaving a trench 4 feet deep. Well - we were younger then and thought nothing of shoveling 1/2 a mile of snow or hauling groceries and even laundry back down that path. Or carrying a snowsuit slippery toddler who was in no hurry to get home.

We've been living on this farm for nigh on to 30 years and I have a treasure trove of glorious memories. Many of them have to do with being outdoors. Sometimes I get a little weepy thinking about them. Like the time we were swimming one August, out in the bay and a flock of birds flew overhead and reminded me that one day soon it would be autumn and hot soup would taste good. Or the time DS and I got lost in the east woods and discovered the secret path home. My praying place just past the first sharp turn in the lane - the secret anniversary picnic spot DH found for me back in '94.

Someone once asked me what I hoped heaven was like and I said "It'll be summer - early evening, with the sun down but plenty of color still left in the sky. The baking heat of the day will be gone and maybe a little breeze will kiss my arms. I'll be walking down the dirt road that skirts the western fields. I'll be barefoot with shorts and a tank top on, and my 2 year old will be walking with me, buck naked, and he'll look up at me and say "Sing 'Seein' Nelly Home' again for me, mama".


Reindeer Cartoon


I realized maybe that cartoon of the reindeer who lost his antlers doesn't make much sense to some, though I laugh every time I see it. See, my first ever picking up of knitting needles was when I braggingly promised to knit a sweater for a neighbor boy - if he paid for everything, which he did - but he chose an all over patterned Norwegian Sweater with reindeer and Christmas trees and stars! That's right. First project. No scarf or dishcloth or hat. Jump right into a stranded color pattern sweater. For a 6 foot tall guy. It took months. The graph was dizzyingly complicated. It was navy blue and white. I hated it. It was of a hideosity so gigantic in my memory I sometimes wonder if it ever really happened.

Needless to say, the antlers frequently separated from the poor animals' heads and the stars exploded. Trees fell from their trunks. It took up every moment of my spare time. My mama finally offered to help me knit the thing, though she had only ever knit one sweater herself - and she knits tight while I knit loose, so it ended up looking like wool seersucker. We sewed the pieces together on the sewing machine because I was so heartily sick of it I wanted it out of my sight, out of the house, out of my life! I can still hear Mama murmuring "I believe we could whip that up on the sewing machine." Such a southern phrase - to "whip that up on the sewing machine."

In true sweater curse fashion, though this fellow was not a boyfriend, we never saw each other again after it was delivered, to a chorus of chortles and laughter from his friends. And now I promise never to tell this story again. But if Kenny Mays who grew up in Richmond VA has any knitting relatives or friends who read this post, do tell him I've never forgotten him or his sweater and I appreciate his funding my knitting education.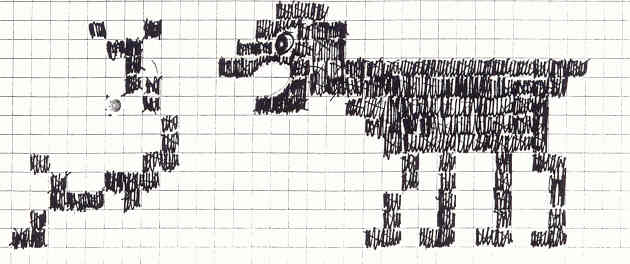 Bess' first knitting project comes back to haunt her.




posted by Bess | 7:30 AM
---